Convex Dominated Curve's TVL

Recently, the "Curve Wars" have been a hot topic. Simply put, Curve's stablecoin AMM rewards its liquidity providers with CRV, which can be 1) sold to realize yield or 2) staked into veCRV (voting escrowed CRV), where a weekly vote decides how rewards are allocated across Curve's pools. Major stablecoin projects have realized this weekly vote allocation is critical to keeping their Curve liquidity high. (Losing that vote means LPs' yields drop, and capital may move elsewhere.) Now, a so-called "war" has ensued, with various protocols openly bribing votes and rewarding veCRV holders with their native tokens.
In April 2021, Convex pioneered this bribing game with a 1% airdrop in exchange for support from veCRV holders. Now, it has grown to have great sway on Curve's valuable governance vote: 85% of Curve TVL is now routed and staked via Convex. And nearly half of all veCRV supply is owned by Convex (more on that below).
To dive deeper, check out our latest Convex report.
Convex Has the Most Influence Over Curve's Liquidity Incentives
Convex is now the single largest owner of veCRV at 47% of total supply. This gives them the most governance power to decide where CRV incentives should be distributed.
Now that Convex dominates Curve's voting power, protocols have focused their bribing efforts on Convex directly, creating a proxy war of sorts. Instead of buying CRV tokens and staking them for veCRV to vote, protocols have resorted to bribing vlCVX holders directly. (For reference, vlCVX is Convex's token that's locked for 16 weeks that can harness Convex's underlying veCRV governance powers.)
This has been a rather lucrative practice for vlCVX holders who have received ~$2.75 worth of bribes per locked CVX since the Sep. 21 last year.
Protocols Have Been Accumulating CVX

Edit: A community member identified a mistake in the number of CVX owned by Frax. This was initially stated as ~2.6m CVX, however the correct number is ~1.2m CVX. We have adjusted the graph accordingly, with reference to Frax's CVX locker here. 
Besides bribing, protocols looking to incentivize liquidity can also buy CVX, lock it up, and delegate their votes to their own pools. We've seen this recently when TerraForm Labs bought 500K tokens, presumably with the goal of incentivizing UST Curve pools.
Other protocols have also been accumulating CVX, chief of all Frax Finance which owns the most CVX at the moment. DAOs such as [REDACTED] have sprung up to offer "voting-efficiency-as-a-service" and accumulate productive assets that are useful in protocol governance. CVX and CRV justly fit under their mandate.

Separately, Convex Finance will be including Frax Finance's veFXS alongside veCRV, giving the protocol governance rights and voting power on Frax gauges. Truly, the Curve Wars are simultaneously evolving into "Convex Wars."
OpenSea Volume, Activity Recover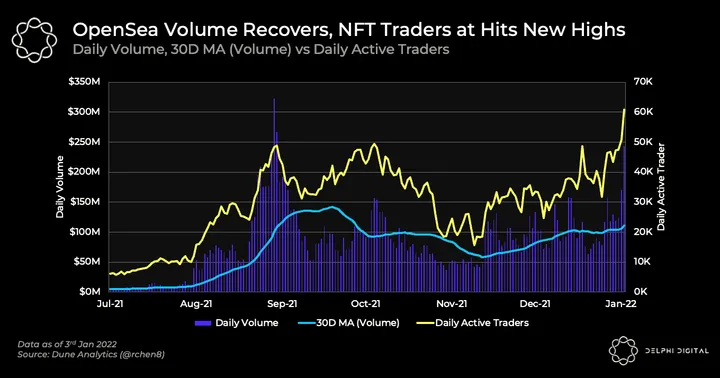 OpenSea volume is showing recovery signs as volume starts to trend upwards. Yesterday alone, daily volumes hit near $250M, the highest it has ever been since the peaks of Sep. 2021. Alongside that, it was also the platform's most actively traded day yet in terms of users, hitting a new high of 60K daily active traders.
30-day average volumes have been consistent for the past 3 weeks at around $100M. Back in Sept. 2021, volume spikes were much more volatile, potentially caused by hyped-up NFT mints. Currently, the volume trend is less volatile and could indicate more sustainable growth that is not derived primarily from exuberance.
NFTs Now Endorsed by Brands and Celebrities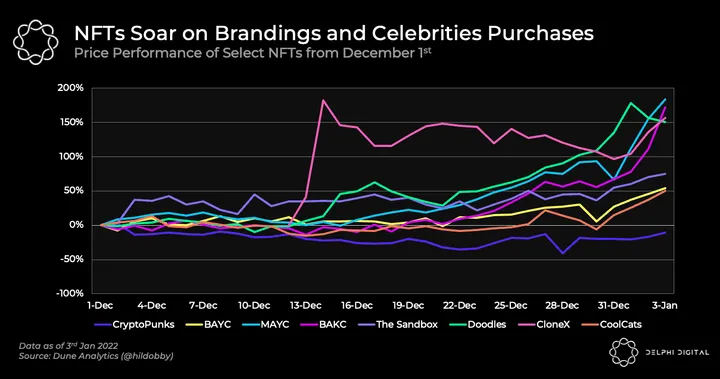 While it might have looked gloomy for the wider crypto markets, the NFT market had it good the past month. Dec. started out with Metaverse real estate from Sandbox soaring, triggered by Softbank and Adidas's purchase.
BAYC season is next as Adidas Originals purchased an ape. This was followed by multiple celebrities (too many to be named), with the latest being Eminem. This BAYC hype spilled over to its sister projects MAYC and BAKC as they are the cheaper alternatives to BAYC. These branding partnerships and celebrity purchases have brought in a lot of attention to BAYC, ultimately forcing BAYC prices higher, and bringing it closer to flipping CryptoPunks in floor price.
RTFKT studios (Creators of CloneX) were also acquired by a large brand you may have heard of — Nike.
Mutants (MAYC) were late to the party but caused a huge commotion as 'Mega Serums' started to get acquired. When used, they revealed a newly minted Mega Mutant. The latest one to be revealed was bought for 888 ETH by Taylor Gerring, co-founder of Ethereum. This led to the acquisition of "Mega Serums," and another one was bought by 0x_b1 for 999 ETH. Following that, CEO of Chain Protocol, Deepak Thapliyal purchased one at a new high of 1,542 ETH.
Other notable mentions are Doodles which rose by 150%, and Cool Cats which rose by 50%.
Notable Tweets
Decade in review by Vitalik
Zapper's 2022 roadmap
WTF is Web3