No Curve Balls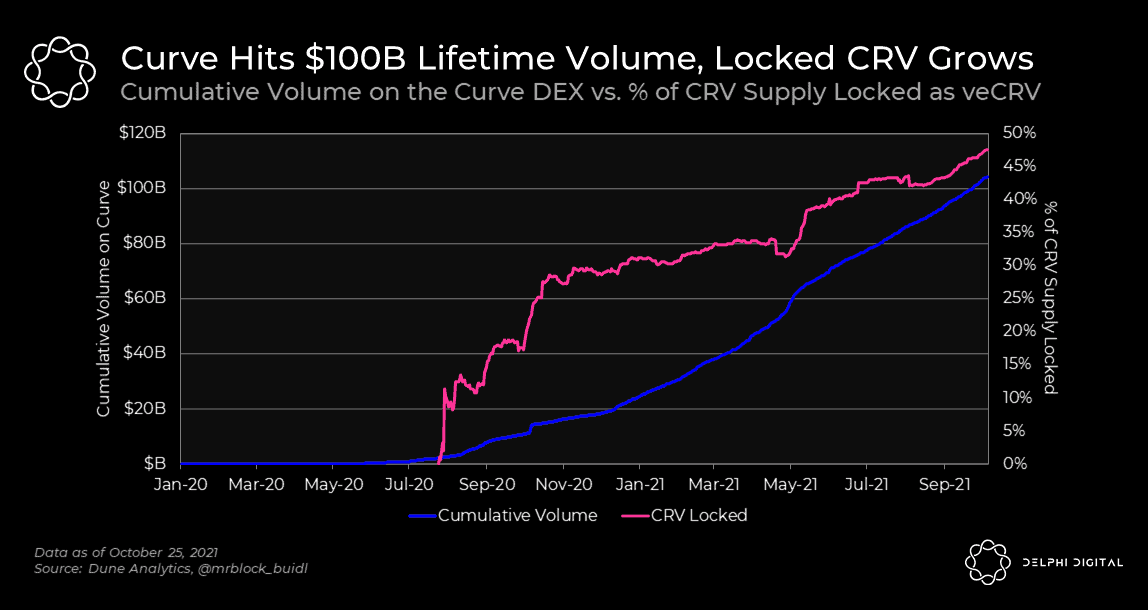 Curve has facilitated over $100B of volume since launching in Jan. 2020. The CRV token launched in Aug. 2020 with an incredibly small float and rapid emissions, causing its price to collapse from its initial range. At the time, CRV's token economics were heavily criticized, but they've since proven their token model works and is potentially one of the most efficient across DeFi projects.
LPs on Curve get a boosted yield by locking CRV tokens into veCRV. Over 47% of all CRV tokens circulating are currently locked in the protocol, and it looks like that number will continue to increase in the coming months. It's worth noting that the majority of the newly emitted CRV is locked within Convex. In exchange, users receive cvxCRV — a liquid staking derivative of veCRV.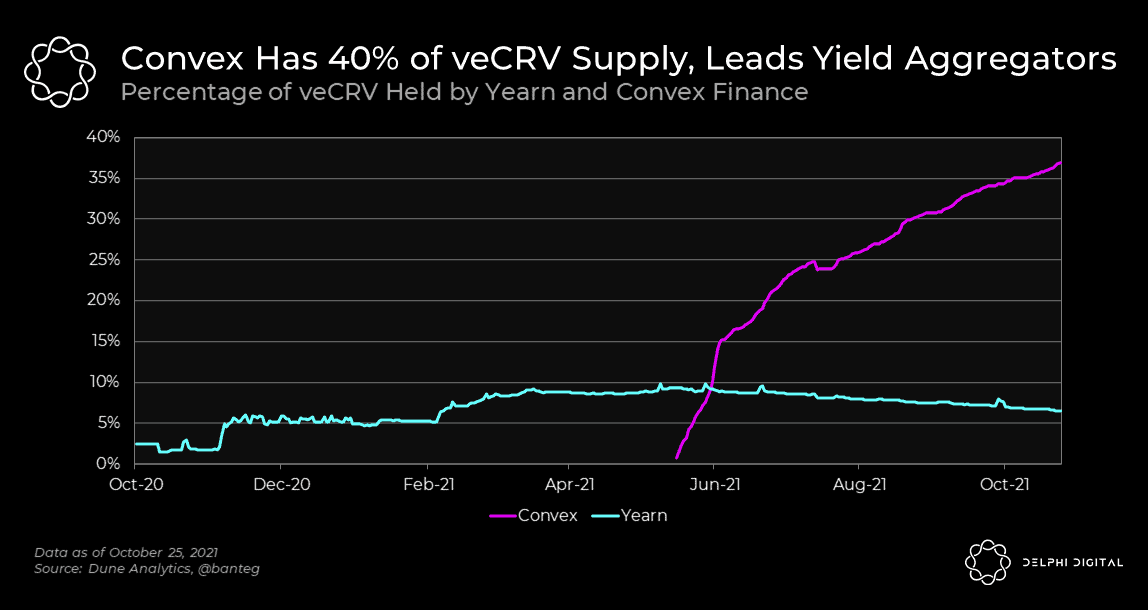 Curve's liquidity provision and token locking model have led to competition amongst farming products built on top of Curve. Convex's model has quickly helped it establish itself as the leader with over 35% of veCRV supply held by Convex. Convex built its advantage through its unique flywheel (which we outlined in a previous report). Despite launching later, Convex's laser-sharp focus has helped set itself apart from traditional Curve strategies employed by yield aggregators like Yearn and Harvest. Its political dominance within the Curve ecosystem also allows it to benefit from bribes from other protocols in exchange for influencing CRV emissions gauge weights.
Ethereum DeFi Resurgence Fails to Prop Up Token Prices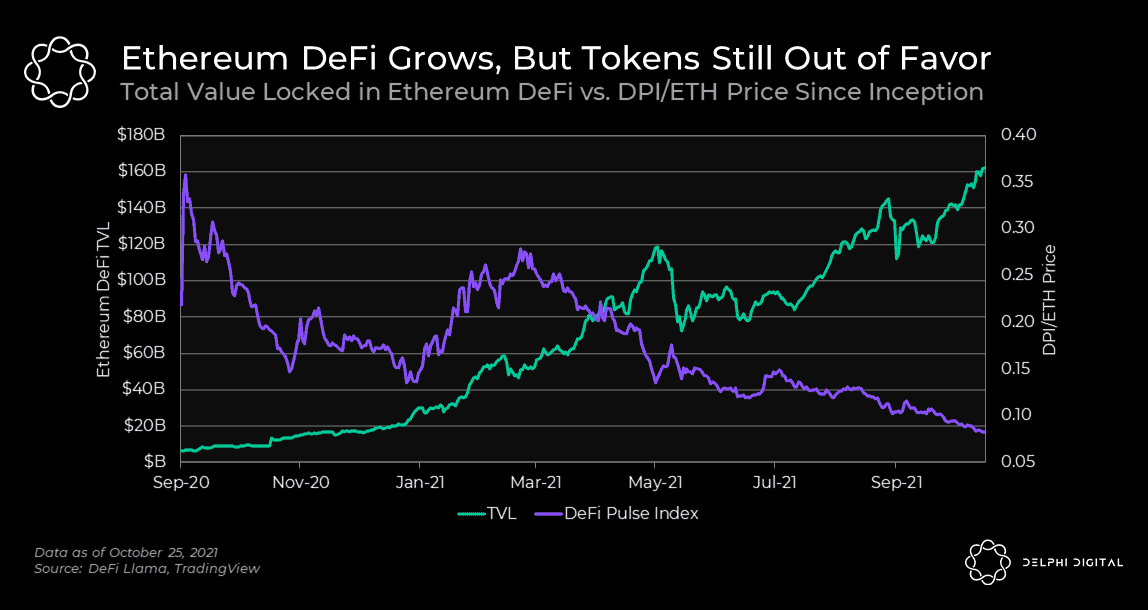 Total value locked in Ethereum DeFi protocols crossed $160B, surging to its highest level ever. But DeFi tokens haven't gotten the memo and have lagged the rest of the market (with certain exceptions). The DeFi Pulse Index, the closest thing to a consolidated proxy for DeFi token performance, has consistently lost value against ETH.
L1s have been hogging the limelight lately, seemingly at the expense of DeFi tokens. For now, they continue to remain out of favor and it's not clear what could catalyze fresh capital inflows.
It's Happening, Again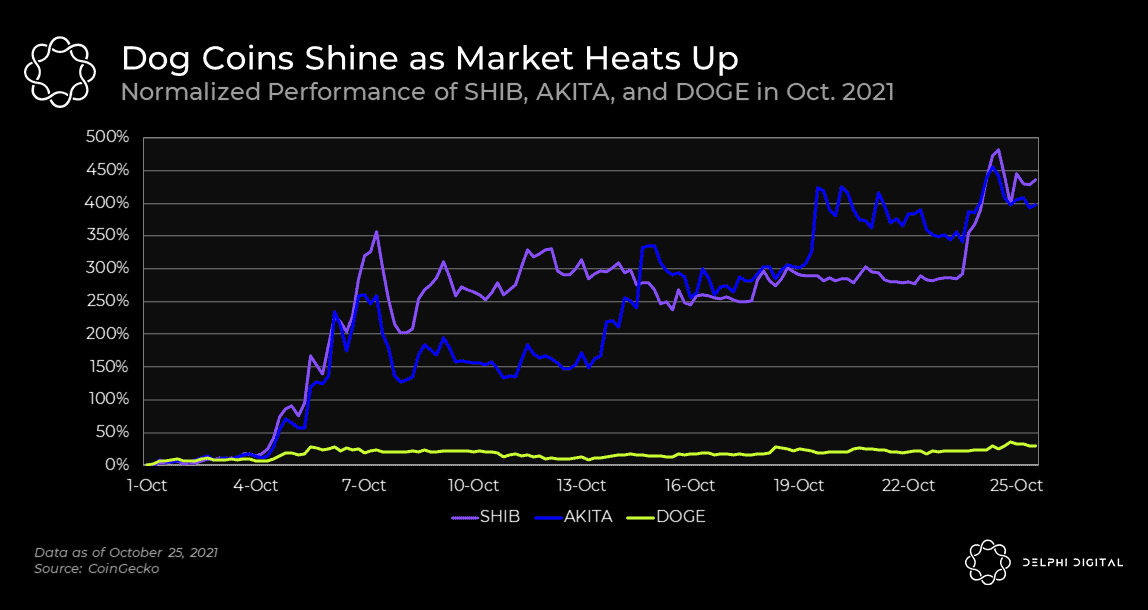 Dog coins are mooning again, which has historically been a pretty good indication of an overheated market. The first time dog coins went wild was Apr. – May. this year, and quickly cratered as crypto markets cooled off. In early Sept., dog coins were all the rage again and the broader crypto market saw a fairly deep de-leveraging.
The general thesis here is that dog coins are high-risk assets. So when they perform well, it's a sign that traders are pumping money into highly speculative assets, implying a higher risk tolerance. With these assets once again outperforming the rest of crypto, and the Fear & Greed index still sitting at "greed," we could see the market consolidate a bit further from here (though our bias remains to the upside at the moment).
Notable Tweets
Facebook's whistleblower talks briefly about her crypto
Interesting discussion about the power wielded by the Facebook whistleblower, how her approach to journalists and her media presence differs from Snowden's, and a quick aside about her personal wealth and "crypto friends"https://t.co/d7Lm4ivAD1 pic.twitter.com/Hi2T4rvqIp

— Hamza Shaban (@hshaban) October 25, 2021
The Wolf of Wall Street got himself a punk
Cryptopunk #6033

wgmi pic.twitter.com/i4e1fa0xOH

— Jordan Belfort (@wolfofwallst) October 25, 2021
The Korean Teachers Union is aping into Bitcoin
The Korean Teachers Union, which manages $40.2B, is now investing in #Bitcoin Don't let your teachers take your $BTC #Crypto https://t.co/t1JmsJZEIp

— The Money Raccoon (@TheMoneyRaccoon) October 25, 2021