🌅 Welcome!
Barry Silbert speaks on Genesis in a letter to shareholders as Gemini officially ends the Earn program.
Today, we take a look at the surging daily transactions on Ethereum L2s, while our Research team provides insights into the future of ETH liquid staking.
This is the Delphi Daily. Let's dive in.
---
🚨 In Case You Missed It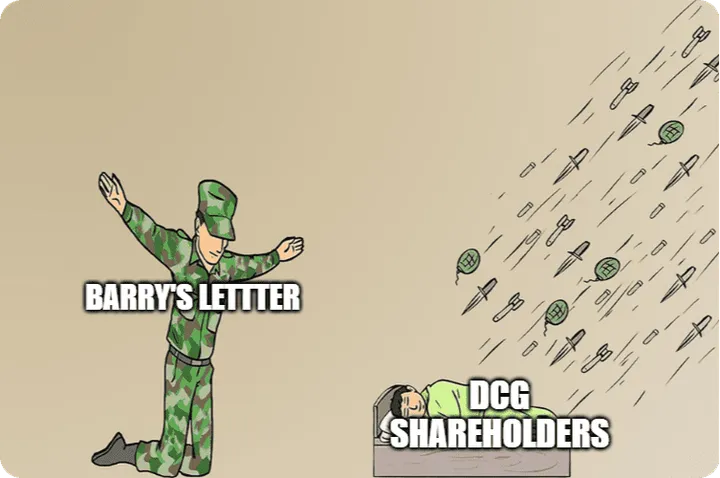 ---
📊 Transactions on Arbitrum & Optimism Inch Closer to Ethereum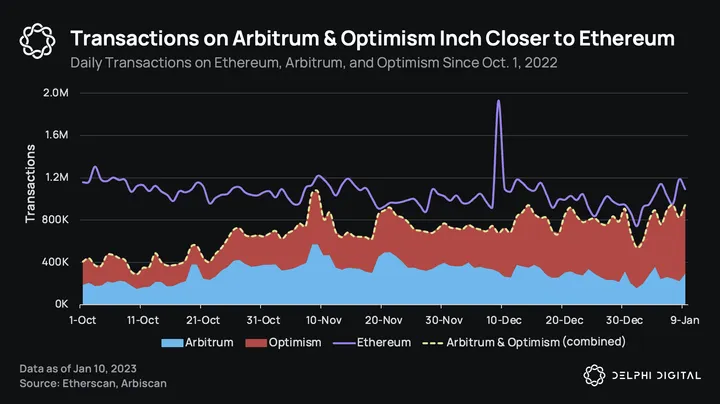 On Jan. 7, the combined daily transactions on Arbitrum and Optimism totaled 942K, only 16K transactions short of Ethereum's 958K.
On the same day, Optimism also hit an all-time high for daily transactions at 691K. Optimism's daily transaction count has steadily increased since March 2022 despite the bear market.
On the other hand, Arbitrum's daily transaction count is down 50% from an all-time high in November 2022, even as the network still processes over 200K transactions daily.
Combined, the daily transaction count on the two L2s has tripled from 315K to 942K over the past three months, with Optimism's share increasing from 41% to 73%.
The increase in transactions can be attributed to multiple factors including quests that reward NFTs, new protocols offering boosted rewards, users hunting for airdrops, and lower fees than Ethereum.
Ethereum hit an all-time high for daily transactions at 1.9M on Dec. 9, 2022. The spike occurred due to an abnormally large amount of pure ETH transfers between externally owned accounts.
---
⚡ The Future of ETH Liquid Staking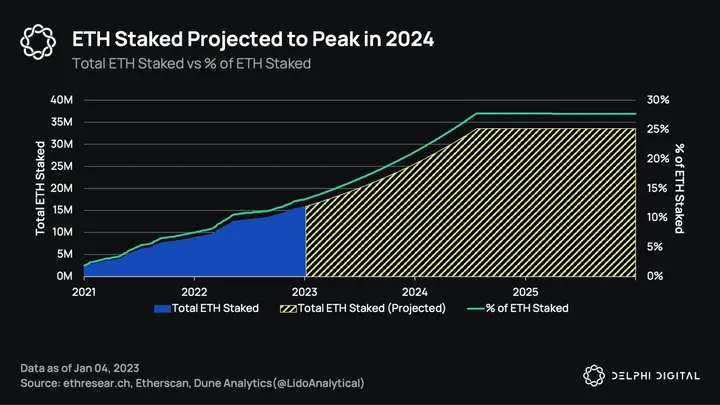 In 2019, Ethereum researcher Justin Drake said that a target of approximately 33.5M ETH staked, or about 27% of the total ETH supply, "feels about right for strong security."

Using that as a target and considering the average daily ETH burned and projected daily ETH emissions, approximately 33.5M ETH will be staked by April 2024.

There are, of course, concerns about the potential unstaking of ETH following the Shanghai upgrade. However, our model still projects growth for a few reasons.
After the Shanghai upgrade, there will still be a queue for unstaking, and not all staked ETH will immediately become liquid. This reduces uncertainty for ETH holders as it resolves ongoing concerns about the duration of unstaking.
Once the duration of unstaking is established, ETH liquid staking derivatives will be priced more accurately, as ETH redemptions enable true arbitrage. Any premium or discount will converge towards the market pricing of near 1:1 with ETH.
With more stable prices, liquidity will increase as more liquidity providers become comfortable with lower risks of a depeg. With higher liquidity, ETH holders will be more likely to stake, knowing they can sell the liquid staking token back to ETH if they do not want to wait for unstaking.
In addition, lending protocols will also start seeing ETH being borrowed for staking as arbitrageurs capture the difference between borrowing rates and staked ETH yields.
This could drive more levered staked ETH positions to maximize yields and also bodes well for ETH lenders. We expect the divergence between ETH lending rates and staking rates to narrow.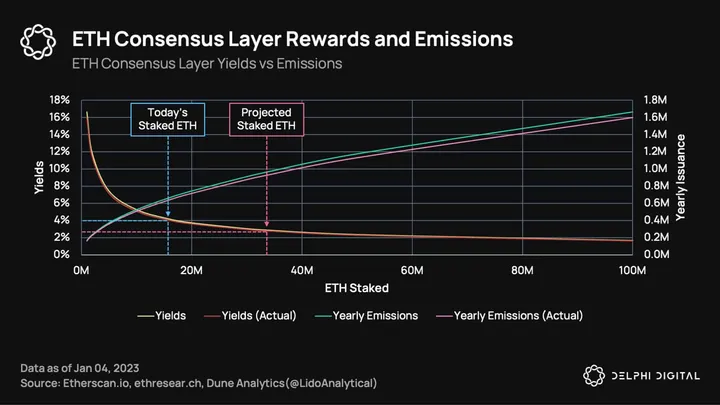 The amount of staked ETH has an inverse relationship with staking yield. Rewards for staked ETH come from two sources — the consensus layer and the execution layer.
Validators receive rewards from the consensus layer for proposing or validating blocks, attesting to their view of the chain, and participating in sync committees. The consensus-layer rewards are fixed and emitted based on the amount of ETH staked.

There is currently about 15M staked ETH, coinciding with a yield of approximately 4%. As the amount of staked ETH approaches the projected total of 33.5M, yields will drop to about 2.76%.

Rewards for the execution layer are variable and dependent on the level of activity on the blockchain. These rewards consist of MEV tips and transaction priority tips. In a bullish market, there are typically more transactions, which leads to higher levels of MEV and priority tips.
Conversely, a bearish market results in lower levels of these rewards. Currently, daily rewards for the execution layer generally range between 1-2% APR, with an average of

1.

84% APR since the Merge.
For more on liquid staking derivatives, Delphi members can read our Delphi Pro report here.
---
🐣 Notable Tweets
More on Liquid Staking Derivatives
Liquidations on Euler