Governance Digest
OCT 04, 2021 • 5 Min Read
DISCLOSURE: DELPHI VENTURES HAS INVESTED IN TOKE. MEMBERS OF OUR TEAM ALSO HOLD RBN, SNX AND FXS. THE AUTHOR IS ALSO A COMMUNITY REPRESENTATIVE ON THE RBN MULTISIG. THESE STATEMENTS ARE INTENDED TO DISCLOSE ANY CONFLICT OF INTEREST AND SHOULD NOT BE MISCONSTRUED AS A RECOMMENDATION TO PURCHASE ANY TOKEN. THIS CONTENT IS FOR INFORMATIONAL PURPOSES ONLY AND YOU SHOULD NOT MAKE DECISIONS BASED SOLELY ON IT. THIS IS NOT INVESTMENT ADVICE.
Active Votes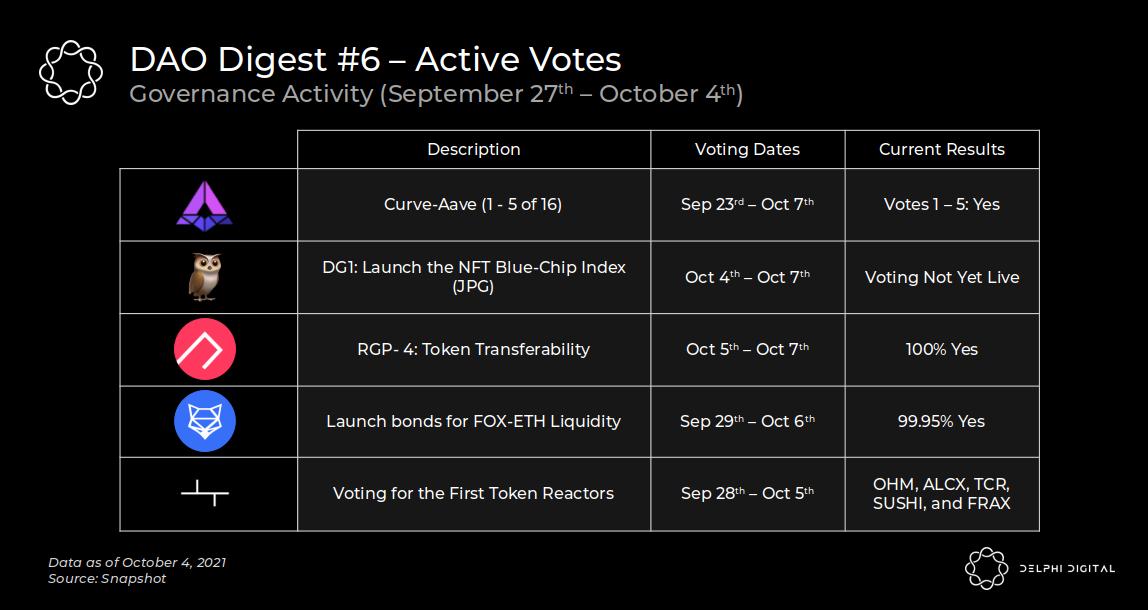 APY.Finance 5 of 16 votes are currently live which will decide where the initial deposited funds of their protocol will be deployed to earn yield. These 5 pools are Curve-Aave
Unlock this & more for only $100
Delphi Insights is packed with professional research covering Metaverse, Markets, DAO's and Yield strategies every week. Institutional-grade research doesn't have to come at institutional-grade prices.
Dive into DAO's each week with Aaron D's DAO Insights

Become a Metaverse master with Teng Yan's NFT Insights

Break down the charts with Jason Pagoulatos in Markets Insights

Do some honest work with Jimin Noh's Yield Strategy Insights

Early Access to Delphi Media
Yours for only $100 a month*
Get Delphi Insights
* Based on purchase of annual subscription.