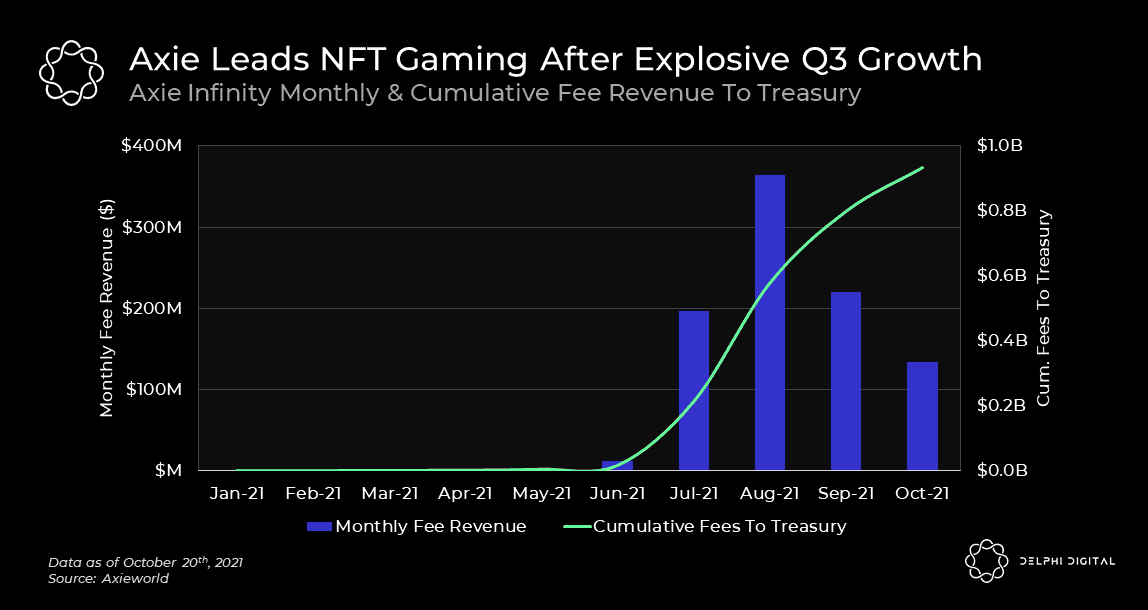 Axie Infinity, having pioneered the concept of Play-to-Earn, experienced a meteoric rise in Q3 of this year. It now sits second only to Ethereum itself in terms of revenue generated. It's brought significant attention to crypto gaming as a sector and has become a strong indicator for its overall health. The staggering growth of its economy and user base has prompted many to draw parallel's with the hockey stick growth of games like Candy Crush, at the advent of free-to-play mobile. Axie is actively onboarding millions of players into the blockchain space, validating the thesis that gaming may well be the trojan horse for blockchain adoption globally. For a deeper dive into Axie's rise, check out our multi-part Axie Infinity report series which explains some of the core mechanics behind this fascinating virtual economy.
In order to capitalize on this new frontier in gaming, we are seeing the emergence of guilds that deploy a number of yield-generating strategies across these economies. Generally speaking, guild activity manifests across scholarship provision, investing in core game assets (NFTs to be deployed + game tokens themselves), and even allocating resources to new guilds, as pioneered by Yield Guild Games (YGG).
---
Yield Guild founded the concept of a play-to-earn gaming DAO and as such has benefitted from their first-mover advantage. Having found robust institutional backing early on with successive investment rounds led by Delphi, BITKRAFT, and a16z, it has emerged as a strong index play on this emerging sector as we shall explore below. Not only have they managed to establish themselves as a leading scholarship provider in Axie Infinity, their investment arm has secured prime assets across a number of leading blockchain games as well as making seed investments in new projects looking to launch. As the most well-known P2E DAO out there, they are able to secure preferential terms as an early source of player liquidity for games looking to bootstrap.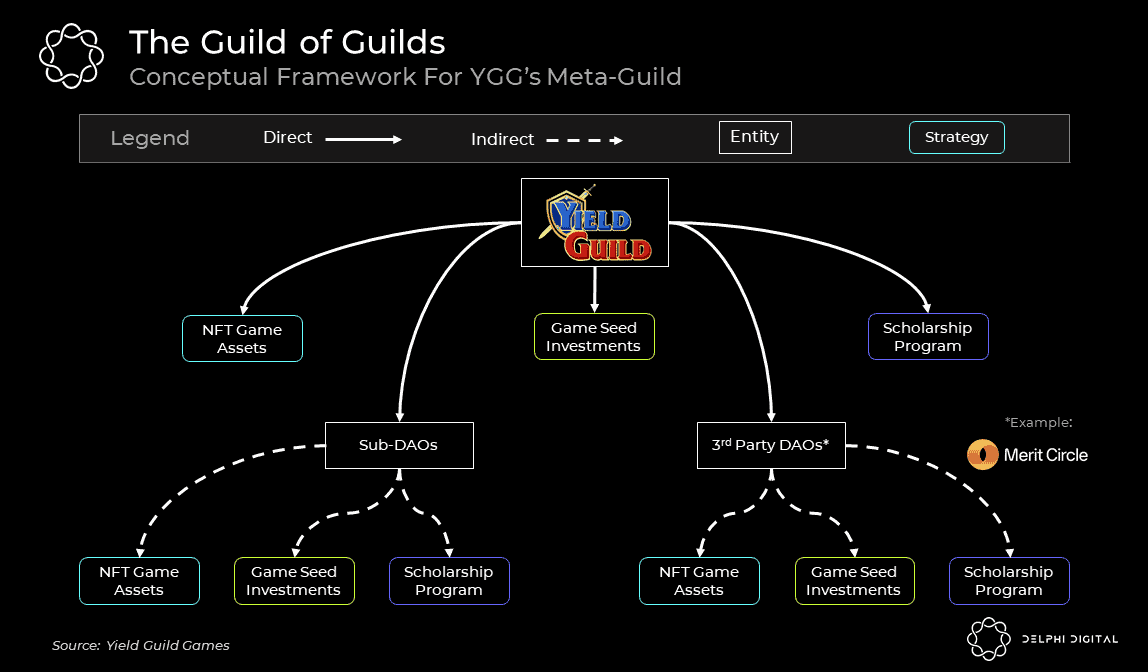 Since inception, Yield Guild has always intended to operate various subDAOs with different game or regional focuses in order to accommodate rapid growth, as well as afford users granularity with regard to the parts of the broader guild they engage with. As illustrated in the diagram above, you can think of YGG as a multicellular organism with sub-units working to sustain the whole. The graphic below further illustrates the concept of a subDAO.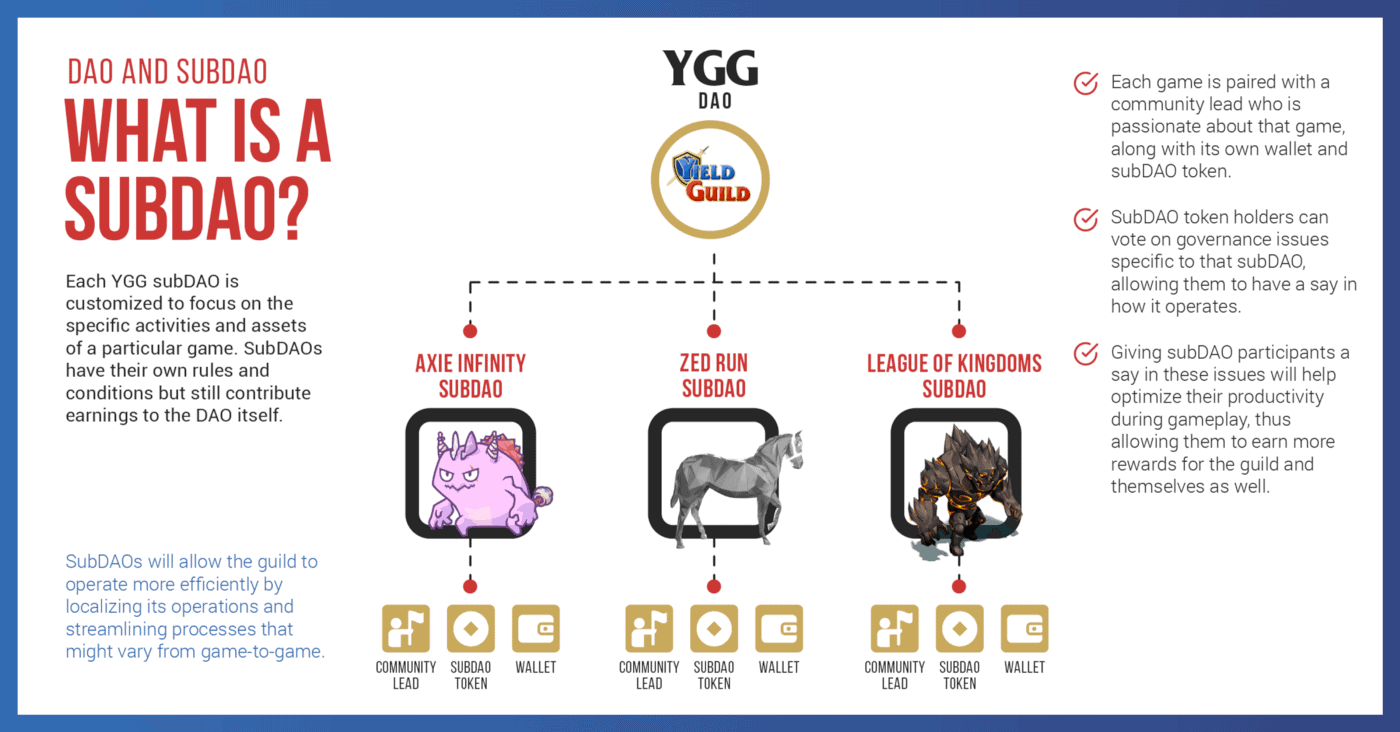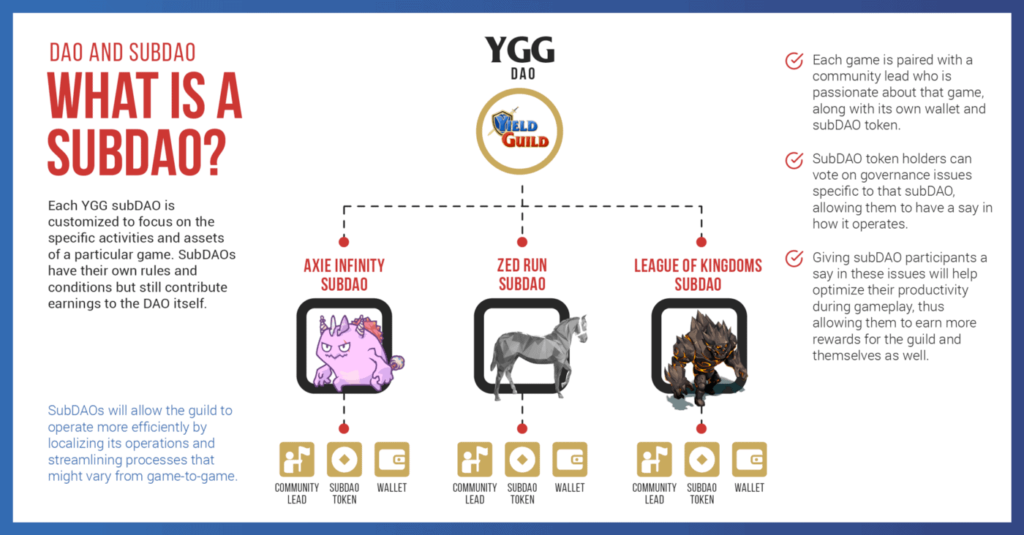 Having achieved escape velocity well before others, Yield Guild is in a position to provide early financial and operational support to new 3rd party guilds creating strong synergies across their growing ecosystem. One such guild that is beginning to explore synergies with Yield Guild is BlackPool (founder Julien Bouteloup is a YGG advisor). The guild was founded in September 2020 and describes itself as having more of a quantitative approach. It is differentiated from YGG across its strategies, game focus, and overall revenue composition. We provide a high level overview of the two guilds in the table below.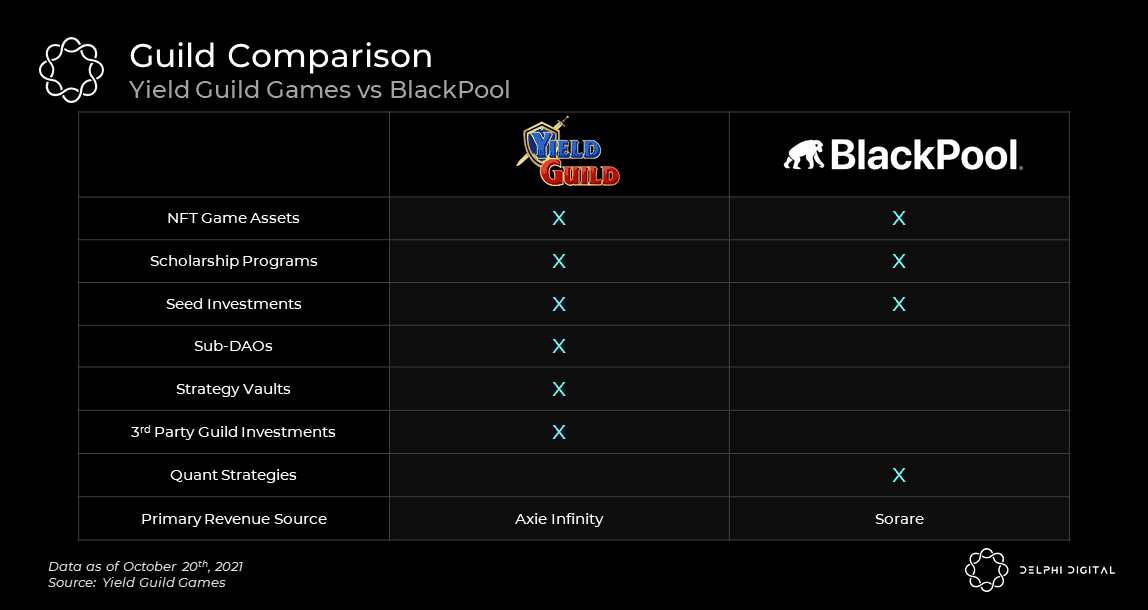 Axie Infinity and Sorare combined account for the majority of assets owned by Yield Guild Games and BlackPool, as seen in the chart below. This makes sense when considering the majority of play-to-earn revenue generated by the guilds is earned from those games, which we explore later in this report. In time, as more economies come online with strong play-to-earn loops, we expect further diversification.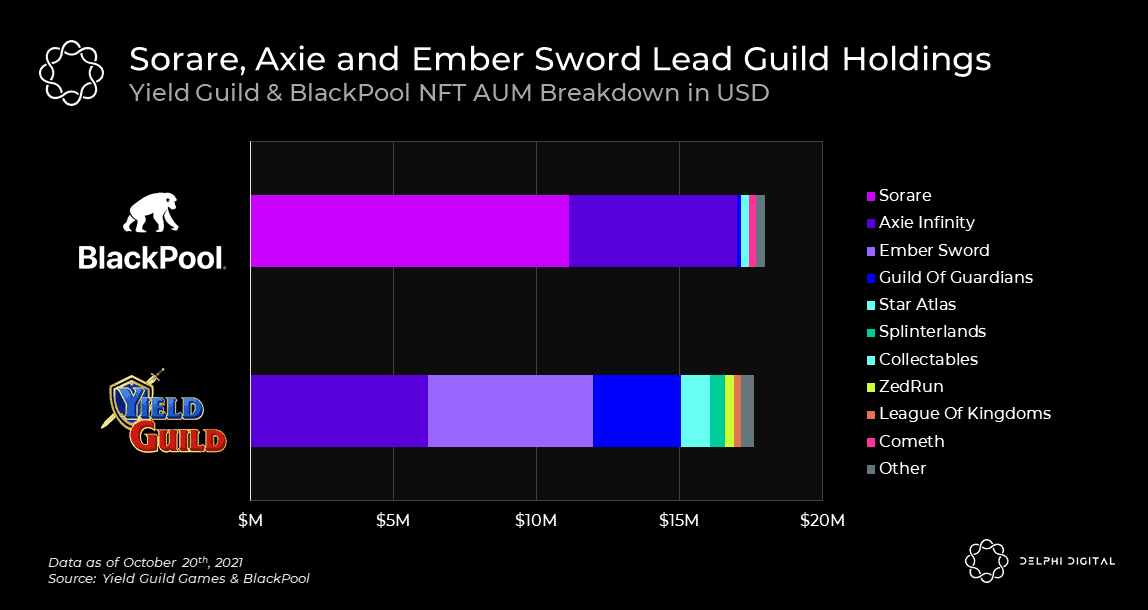 Already, between these two guilds we see a divergence in game and asset focus. In time, it's likely we will see different guilds specialize in certain game ecosystems and geographies as the investable and "farmable" universe of virtual economies expands. This plays nicely into the "Guild of Guilds" strategy we are seeing form with Yield Guild, permitting far-reaching exposure to communities all over the globe.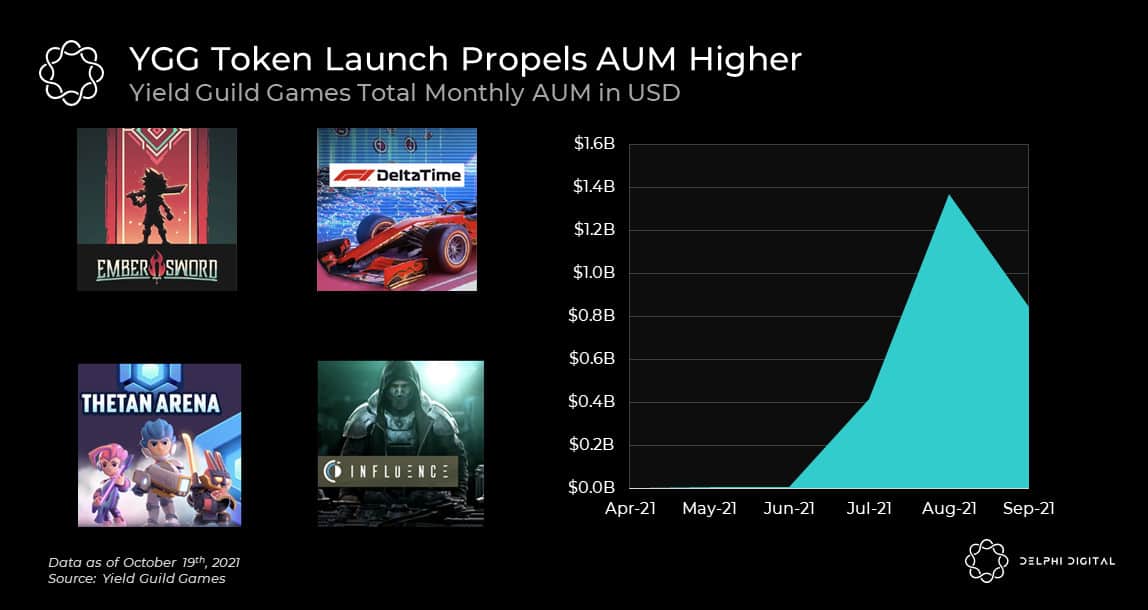 The chart above shows Yield Guild's total assets under management, including NFTs and ERC-20 tokens. As you can see, there was an enormous increase in total AUM from June to July. This is explained by the launch of the YGG governance token on July 27th. Upon YGG's release 133,333,334 YGG tokens were added to the Yield Guild Games treasury, intended for future fundraising and long-term management of the DAO. The slight downturn towards the end of September was driven by a broader market sell-off affecting the governance token—13.3% of the total token supply is held by the treasury.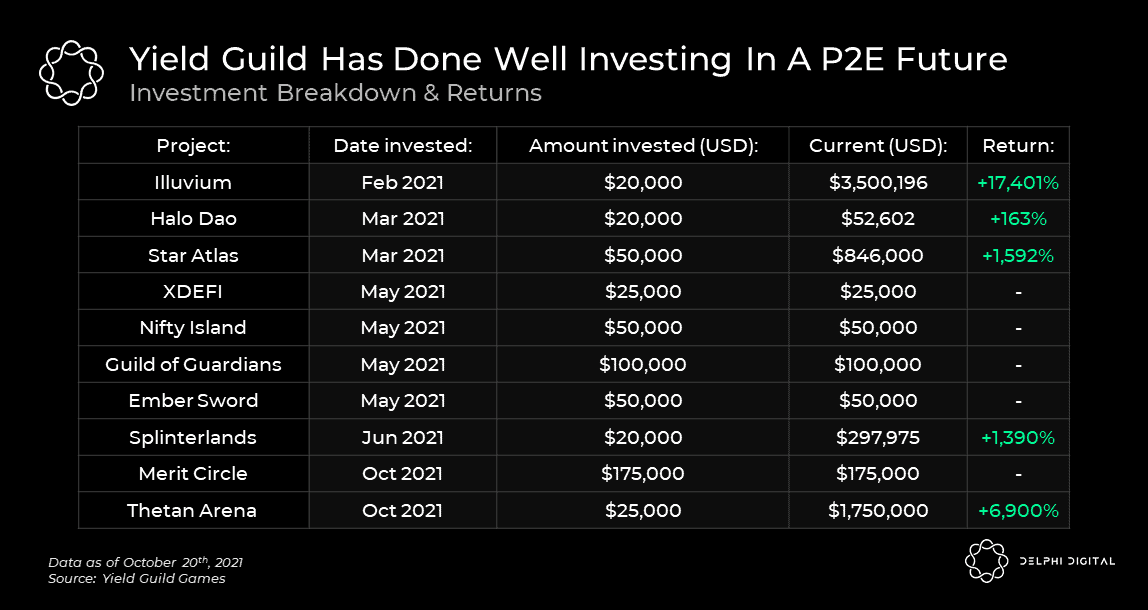 The table above highlights the investments Yield Guild Games has made in the play-to-earn ecosystem in 2021. Their recent $175K investment in Merit Circle is a testament to their cooperative attitude towards other guilds entering the arena. The crypto gaming ecosystem is growing at a rapid pace, so it makes sense to support smaller players in getting off the ground. By making early investments in promising new projects, Yield Guild Games is entrenching itself as perhaps the greatest index play in this emerging sector whilst maximizing the success prospects of early projects finding their way.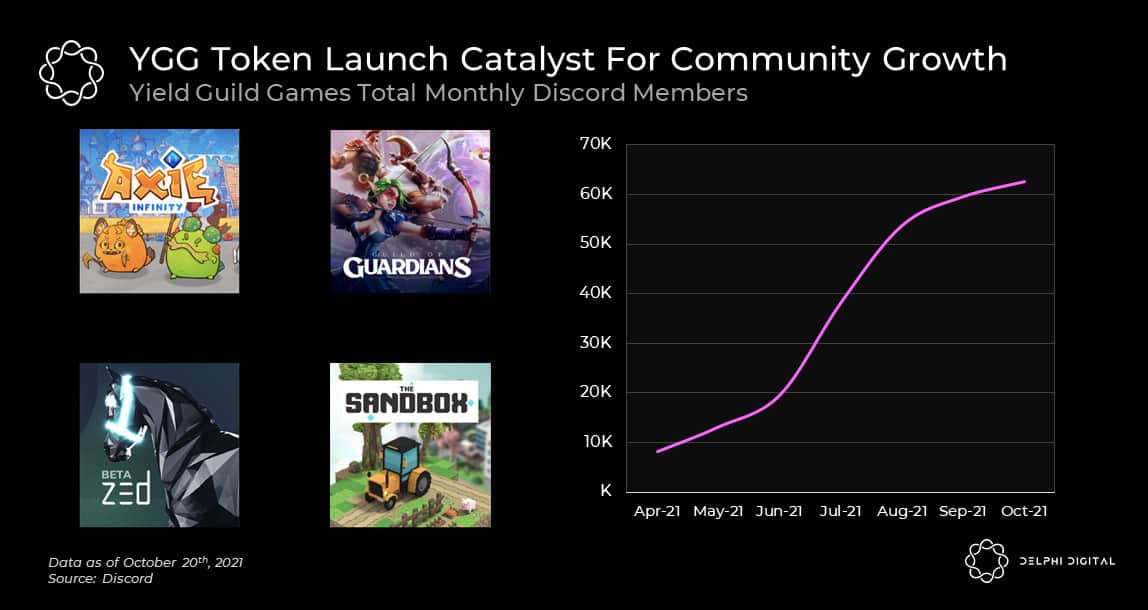 As shown above, Yield Guild Games' Discord members have increased significantly since November 2020, but the real growth started around the time of the YGG token launch in July, 2021. Yet another example of the power of having a token to rally around for community building in crypto. From June to the October 2021, Yield Guild Games' Discord member count has gone from 19,546 to over 62,545, an increase of 220%.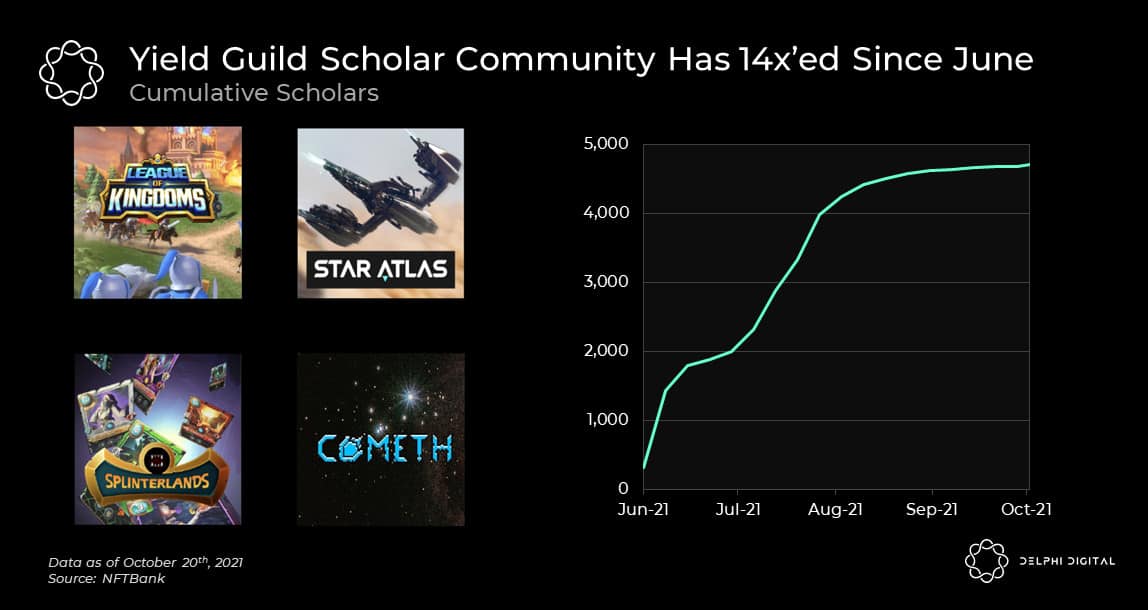 Earlier this year Axie Infinity limited certain behavior within the game due to abuse, which impacted scholar growth as shown on the chart above. Despite this temporary bottleneck, a solution is expected to be implemented and available to everyone in the near future. We anticipate this will stimulate activity for many guilds and scholarship programs operating across the Axie economy.
The sheer number of Yield Guild scholars, Discord members, and community members more broadly position the guild as an attractive source of player liquidity. Due to this, Yield Guild has become a very useful resource beyond purely financial and operational support for new projects in this sector.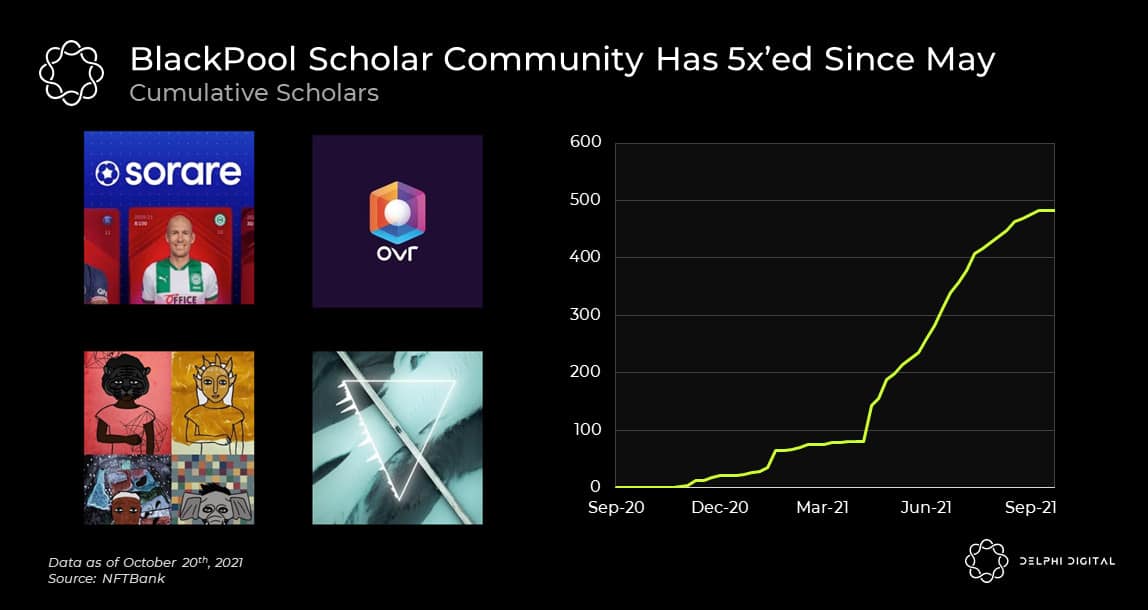 Since the start of 2021, BlackPool's scholar community has seen rapid expansion, highlighted in the chart above. Going from 21 scholars on January 1st to 482 on October 3rd, an increase of 2195%. Following their dominant presence in Sorare, it's great to see them building material traction in a second strong revenue stream.
Guild Revenue Sources: Axie Infinity & Sorare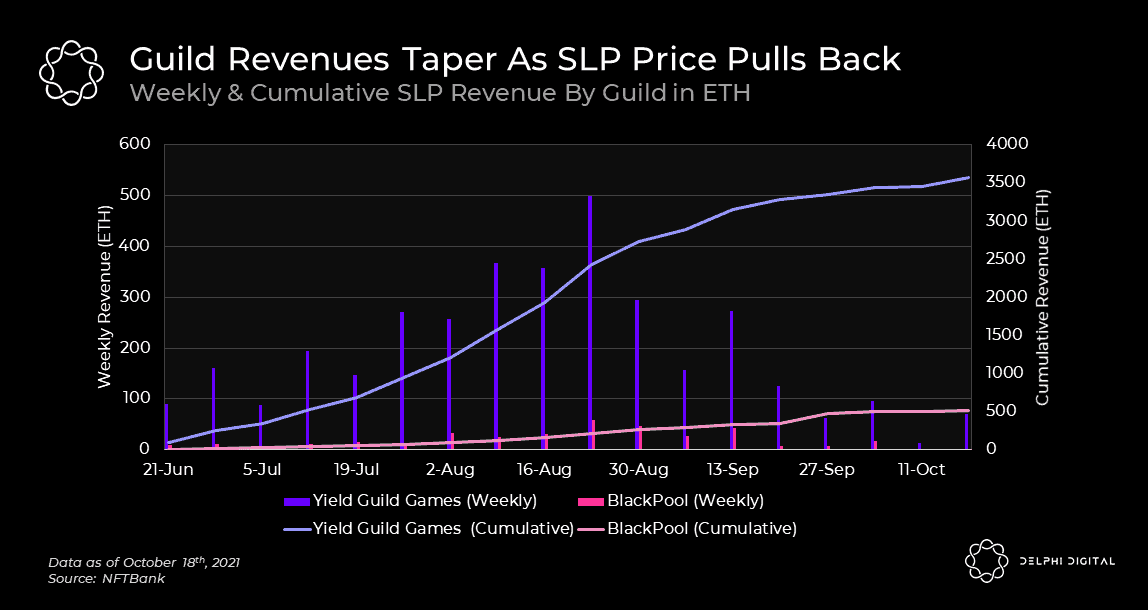 The chart above illustrates the weekly and cumulative SLP revenues earned by the two guilds. SLP earned from Axie Infinity currently makes up 100% and 30.5% of total revenue generated by Yield Guild Games and BlackPool Finance respectively. Once again, we expect revenue sources to diversify overtime as new crypto game economies reach maturity.  One clear trend is the major impact of SLP prices for guild profitability, which we explore below.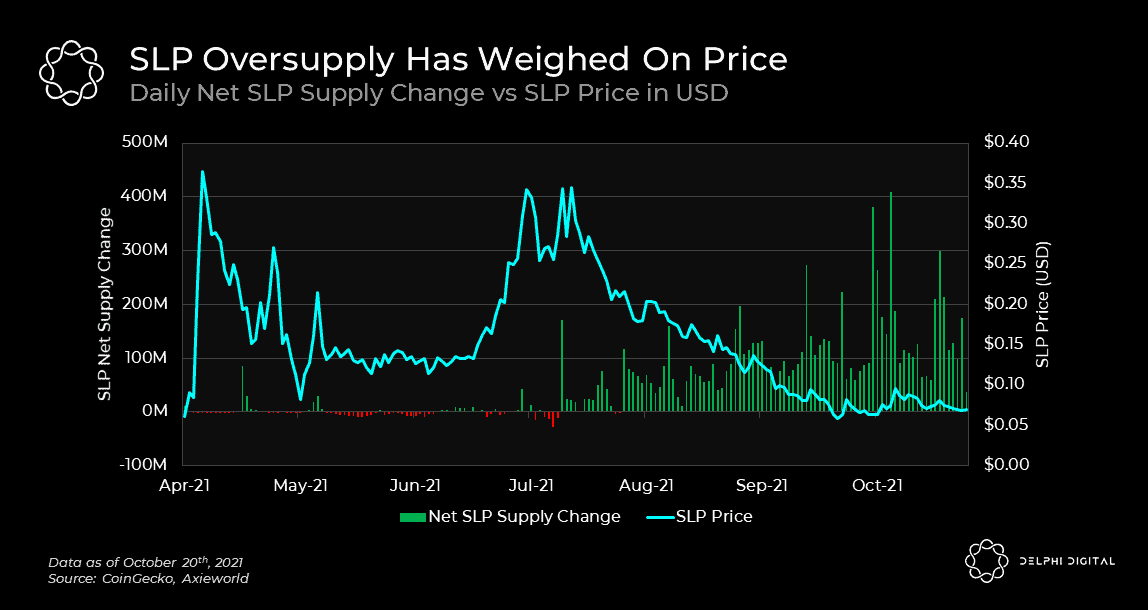 The chart above shows SLP Price trending down since late July. This is in line with Net SLP Supply Change remaining positive throughout the same time period. From this we can derive that there has been an oversupply of SLP being minted by players (winning games) without enough SLP burn to match it (breeding Axies).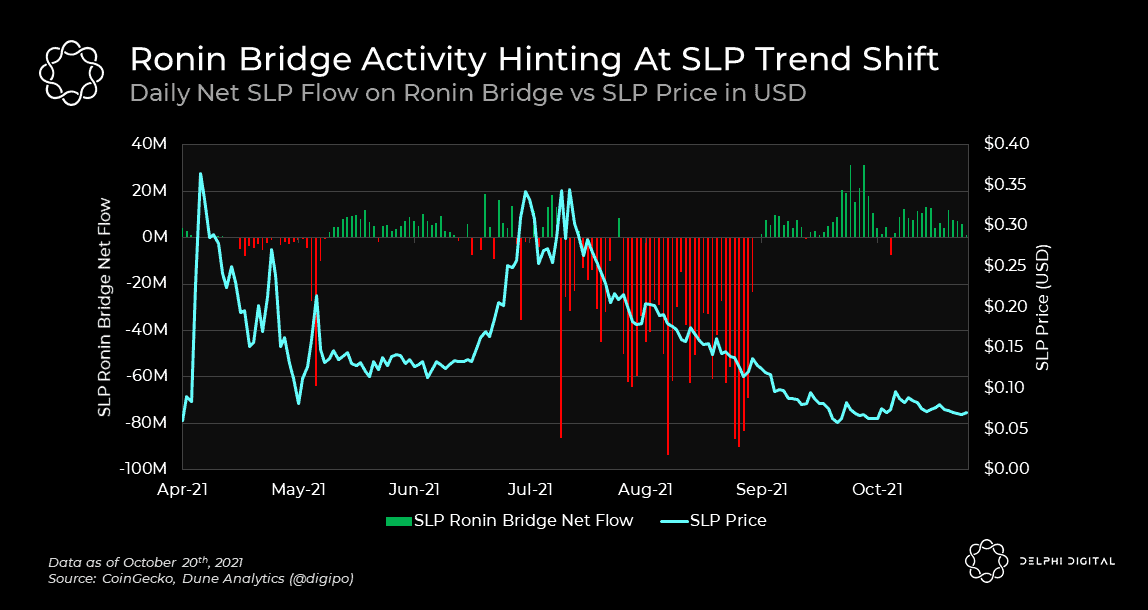 As observed in the chart above, net negative SLP flow from the Ronin blockchain appears to be in line with downward price action for SLP. Conversely, net positive SLP flow onto Ronin has previously precipitated upwards price action for SLP. Although we need more data to determine the strength of this relationship, it's worth considering nonetheless. Net positive SLP flow to Ronin in recent times could be hinting at a possible trend reversal for SLP price in the near future, further strengthening the allure of scholarship programs within the game. If the dynamic between SLP Price and SLP Ronin Bridge Net Flow holds true, it will prove to be an interesting leading indicator of SLP Price direction and therefore guild revenues, for those that rely heavily on Axie for revenue generation.
Sorare
Sorare's play-to-earn system is different compared to Axie Infinity's, as there are no native tokens such as AXS or SLP in Axie.  Instead, players earn Sorare NFTs, the player cards themselves. Which cards they earn depends on their place in the ranking and the tournament type.  Additionally, players can earn ETH depending on performance.
The chart above shows BlackPool's Sorare AUM over time, of which total AUM has been steadily increasing. Something worth considering, Sorare being a soccer game means there is strong seasonality from month to month where there are international games (no leagues playing) or summer, where there is very little happening.
Recently, we saw the addition of new dynamic rewards where the top podium places can get even larger ETH rewards. A few months ago, we also saw the introduction of a new Unique division. Only Unique cards are allowed, and the winner takes all for the division with a prize of up to 4 ETH. As such, we might expect revenues to gradually be composed more of ETH than Sorare NFT rewards over time.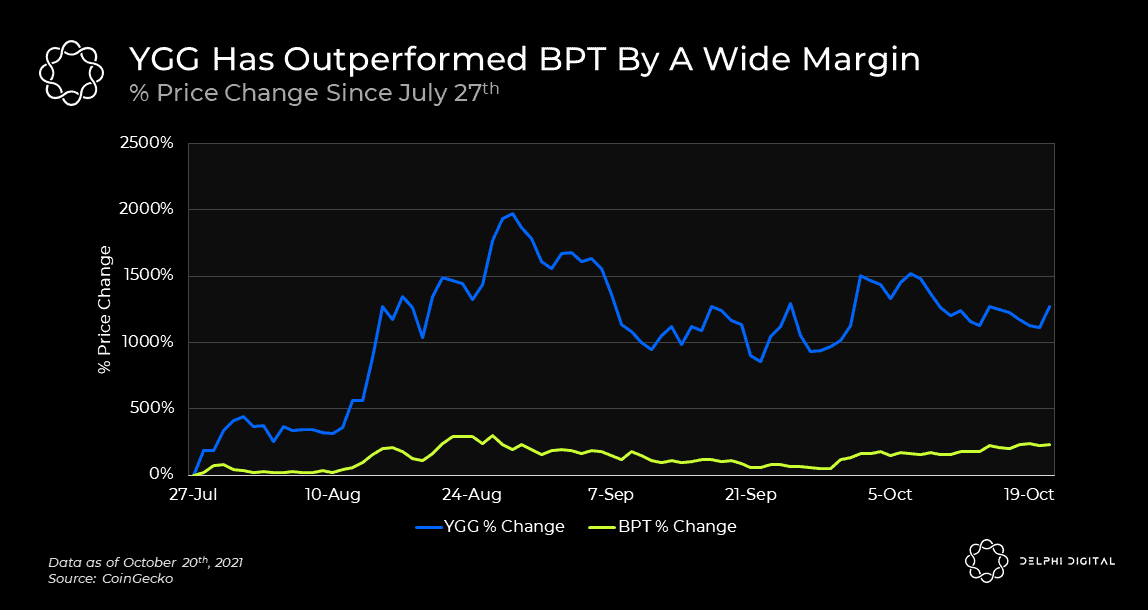 YGG has outperformed BPT since its launch on Sushiswap's MISO platform on July 27th, as seen in the chart above. YGG's strong institutional backing seems to be providing a broad base of support for the token. Yield Guild Games has significantly more exposure in the media, and holds strong brand appeal as the first-to-market proxy play on this sector. It is worth noting that BPT has not yet launched at full capacity, rather an airdrop occurred to the early community after which it began trading on SushiSwap ($1.50 initially). A larger BPT token sale may happen at some point in the future.
Closing Thoughts:
Crypto gaming has exploded in 2021, with a particular surge of interest led by Axie Infinity that defied all expectation. As the world slowly begins to pay attention to this fascinating new paradigm of virtual economies, investors are actively seeking new ways for diversified exposure to the sector. The pace of its evolution means it's tricky to keep up with and vet the many new projects coming to market, so passive indexes are forming as an attractive proposition to many. Across these proxies, there remains a spectrum of proximity (and passivity) to the front lines of emerging play-to-earn economies.
For example, more traditional private market investors that are either unable or don't necessarily want direct token exposure yet might opt to invest in something like Animoca Brands. This year alone, the company has raised $203M at a $2B valuation off the back of their portfolio of NFT game and infrastructure investments such as Axie Infinity, Immutable, and Dapper Labs. It's worth noting that we are also beginning to see traditional public market offerings to portfolios of metaverse-related companies, such as Matthew Ball's $META ETF powered by Roundhill ($123M AUM). A step further towards direct token exposure, we see products on the market such as IndexCoop's "Metaverse Index" ($23.62M mcap) or PieDAO's "$PLAY Index" ($2.5M mcap). Whilst both decent vehicles for liquid token exposure, they pale in comparison to the depth, breadth, and actively-managed nature of a project like Yield Guild ($875M AUM).
Part of Delphi's thesis for investing in Yield Guild was that not only does it afford exposure to the earliest stages of projects, their game vault mechanics actually afford investors agency within the meta-economy. Bullish on one game or region over another? You're able to get exposure to that subDAO's (or micro-index) revenue generation specifically. Bullish on a particular yield-generating strategy within the broader guild? You can stake in a YGG Vault to earn rewards for that specific activity. For those not interested in engaging too closely, there will also be a vault that earns token rewards from all of YGG's strategies—a super-index.
In addition to affording more granularity of engagement vs other indexes, they are also able to participate in the most attractive (often off-market) deals at the earliest stages via SAFTs, public sales, and other types of transactions for in-game assets with which to generate revenue. Many promising new game projects are flocking to Yield Guild for support, as they offer a unique combination of capital, player liquidity, and operational support. Due to their position at the epicentre of this movement, Yield Guild is already able to invest in their own subDAOs as well as 3rd party guilds that might be running exotic strategies—an offering yet to be found elsewhere. Undeniably, this is a very compelling value proposition for many as demonstrated by the rapid growth of their community, assets under management, and market cap.
Given the momentum of the blockchain gaming sector, the prospects of emerging guilds with differentiated strategies are bright. It's likely we will see the continued evolution of this model as more guilds emerge to satisfy the growing demand for structured opportunities for engaging with new virtual economies. With the pie growing at a rapid pace, there currently exists room for collaboration between guilds—more harmony than discord. However, in the coming decade as the largest game and guild economies in the world begin to mature, we may well see warring factions in epic battles spanning millions of people across hundreds of virtual worlds. The settlers of the Metaverse will have arrived.