Chart of The Day: Declining Trading Volume Across Major DEXs

DeFi TVL on Ethereum has been trending down since its peak in November last year. More recently, it took a significant hit due to the events involving Terra, where the total value of UST locked in various liquidity pools (Curve Finance in particular) tanked in line with UST's devaluation.
Trading volume across the 3 largest Ethereum decentralized exchanges by TVL has followed suit, and Uniswap's April volume totaled less than half its November highs.
Data from Dune Analytics (@jefftshaw) also shows a declining number of monthly active users on all 3 exchanges with fewer "New" users interacting with the protocols on aggregate month-on-month.
---
[Excerpt from a Delphi Insights Report]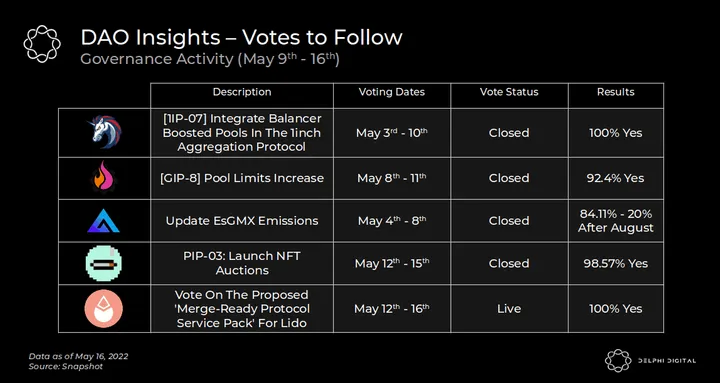 1inch has voted to add Balancer Boosted pools to their aggregator. If 1inch successfully integrates Balancer pools within three weeks of this proposal, Balancer will reward 1inch with 20k BAL tokens. This proposal specifically selects two stablecoin boosted pools with 350m TVL that 1inch will initially add to their aggregator.
Due to increased borrowing demand, Gearbox has voted to double the pool max values for USDC, ETH, and DAI. Increasing the pool max parameters allows users to access more leverage. The new limits are:

WETH pool max: 2400
USDC pool max: 12m
DAI pool max: 12m

GMX has voted to update its GMX and GLP emission schedule. GMX has adopted a dynamic emissions schedule targeting 35% APR for June and declining to 25% in August. GMX will source the tokens for this schedule from the floor price fund. The full schedule can be found below.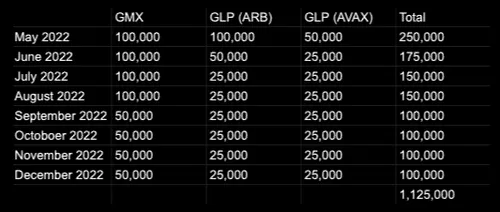 JPEG'd has voted to launch their NFT auctions. Their DAO will sometimes purchase liquidated NFTs to ensure debt solvency. This proposal creates a process where JPEG'd can auction these liquidated NFTs. Auctions will last for 24 hours with a starting ETH price determined by the multsig. The DAO will liquidate any proceeds from the auction for PUSd to underwrite more debt. Users will require 5m JPEG or 1 JPEG card to bid during the auction.
Lido DAO is voting on adopting their 'Merge-Ready Protocol Service Pack' in preparation for the Ethereum merge. The service pack contains a group of Lido protocol improvements that ensure their liquid staking protocol can handle the changes brought on by ETH 2. The service pack includes changes like an on-chain mechanism for reward distribution post-merge, protocol coverage, and a log for stETH burn events.
Forum Threads To Follow
Forum Spotlight
1inch Meta-Governance Initiative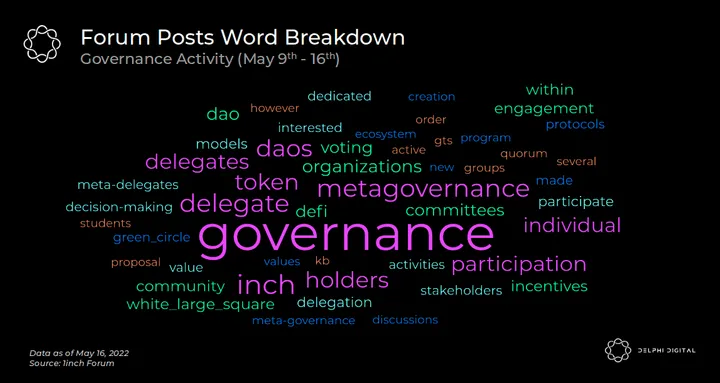 Synopsis: To increase governance participation, 1inch contributor Roxan has proposed onboarding 'meta-delegates' and consortia to participate and govern 1inch DAO. Meta-delegates are just committees that govern the protocol – like Standford Crypto or Blockchain Edu. Roxan recommends sourcing these groups from existing University clubs as this has a strong precedent in DeFi.
Pro Arguments: As the proposer points out, dedicated governance committees will probably be more engaged than individual delegates. Additionally, as the committees consist of a group of individuals, there is no single point of failure from the delegate. There is also the added benefit that student groups, or groups dedicated to the space, will be more passionate about their involvement in governance. The proposer also points out that dedicated governance committees are more likely to participate, as there is more downside risk to their lack of participation. Finally, through the sheer numbers of those involved, the governance committees are more likely to be able to scale their participation than individuals. Individuals could get overwhelmed with the scope of their task where a focused committee would not.
Con Arguments:  There are no con arguments presented in the thread. But another contributor, RoundElephant, pointed out there is nothing stopping groups from becoming delegates right now. But there also isn't any incentive either. As such, he feels that there would need to be an incentive schema to encourage the creation of these groups. He also asks how the community would hold the meta-governance teams accountable – to which the Roxan responded that they would create a scoring system that measures participation.
Our Position: This is an interesting proposal. It is no secret that governance participation is low in DeFi and DAOs. However, it's also low in almost every system that relies on democratic voting – for example, non-profits and democracies. These other systems have developed ways to mitigate low participation, usually through political parties, representatives, or annual general meetings. Given this meat-space governance trend, we don't find it surprising that DAOs lean toward specialized groups to act as stewards and governors of their protocols. There are definite trade-offs between individual and group delegates, but we think that, in general, group delegates will probably outperform individuals through sheer capacity. Additionally, group delegates, especially those that are clubs or those espousing the values of their DAO, are probably more aligned long-term with the protocol. There is also the potential for specialized governance DAOs to step into this role – like 

Governance House

. We expect group delegates to become more common in the space, and one day, we expect to see the emergence of full-blown DAO political governance parties with their own goals, agendas, and lobbies.
Notable Tweets
Vitalik's Open Contradictions
Terra Ecosystem Update
LUNA Analysis Thread by @gametheorizing