Market Update
BTC opened poorly in the Asia session, but reversed with strength later in the day as the Western world woke up. After a few days of focusing on market structure and derivatives, today's Daily will focus on interesting data points spotted in DeFi.
New DeFi Addresses Hits Yearly Low
The number of Ethereum addresses that have interacted with the network's DeFi ecosystem rocketed over the course of 2020 and H1 2021. But after a month of negative price action across DeFi tokens, the number of new addresses that interact with DeFi on a daily basis took a big hit.
This exposes an important point with respect to DeFi protocol's and their reflexivity with price. As prices go up, the number of users and amount of capital flowing in to DeFi goes up. But as prices go down and yield farming returns decline, users start to withdraw their capital and use DeFi less. This was inevitable given the vast majority of DeFi utility currently boils down to speculation.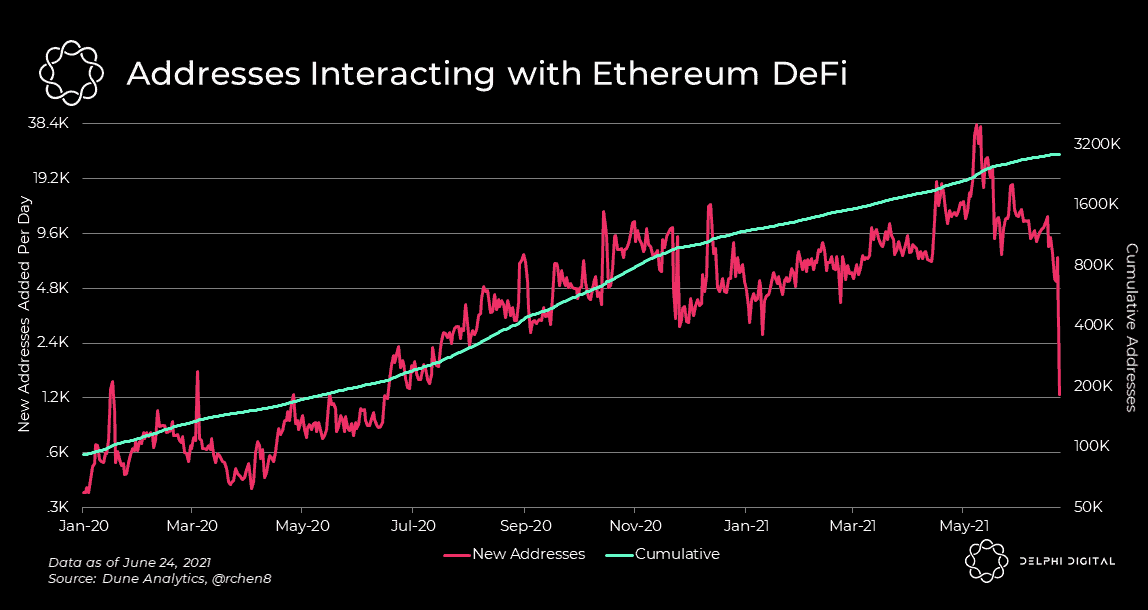 Crypto Dip Pushes Yearn's Usage Higher
Yearn Finance has been one of the biggest beneficiaries of the crypto dip. As investors exited to stablecoins en masse, the next logical step for them was to deposit those tokens into various pools/strategies to earn a yield.
From the chart below, you can see Yearn's initial growth was stellar, but that eventually stagnated between Oct. 2020 and Mar. 2021. Coincidentally, this was when DeFi tokens were making their second run up post the mid-2020 DeFi mania. Yearn's user base and AUM started to grow again in Mar. 2021, which is when most DeFi tokens topped and started to range.
As DeFi investors move further into stablecoins, Yearn's ability to grow expands.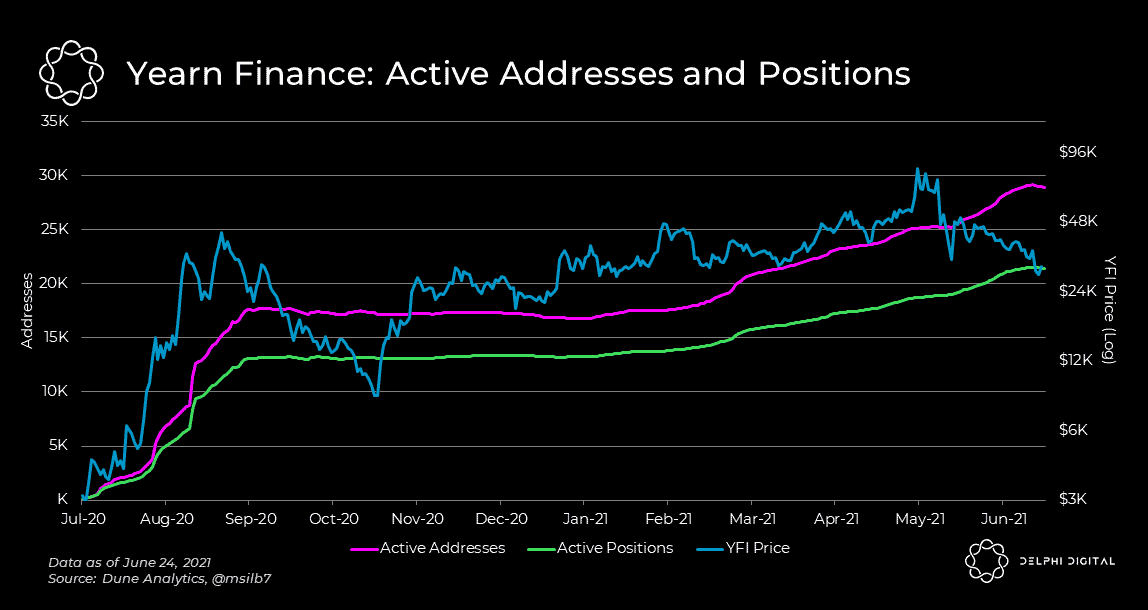 Real DeFi Yield, Powered by Options
DeFi yields are currently shrinking, in part for reasons mentioned above — investors re-balancing into stablecoins and increasing the supply side on stablecoin money markets and DEXes like Curve.
Ribbon is an exception to this, with strong yields that are actually sustainable. This is because Ribbon generates yield by selling options, and thus selling actual risk. As long as people trade options, Ribbon can continue to generate strong yields, albeit with higher risk than Aave or Compound yields.
Demand for Ribbon options continues to rise, as evidenced by its TVL growth as the DPI (a DeFi index) fell hard. Ribbon uses Opyn as it's settlement layer, and demand has been so strong that Ribbon now represents over 85% of Opyn's TVL. At times, Ribbon's TVL has even exceeded Opyn's — which is explained by the time differential in users depositing assets to Ribbon and Ribbon vaults deploying those assets.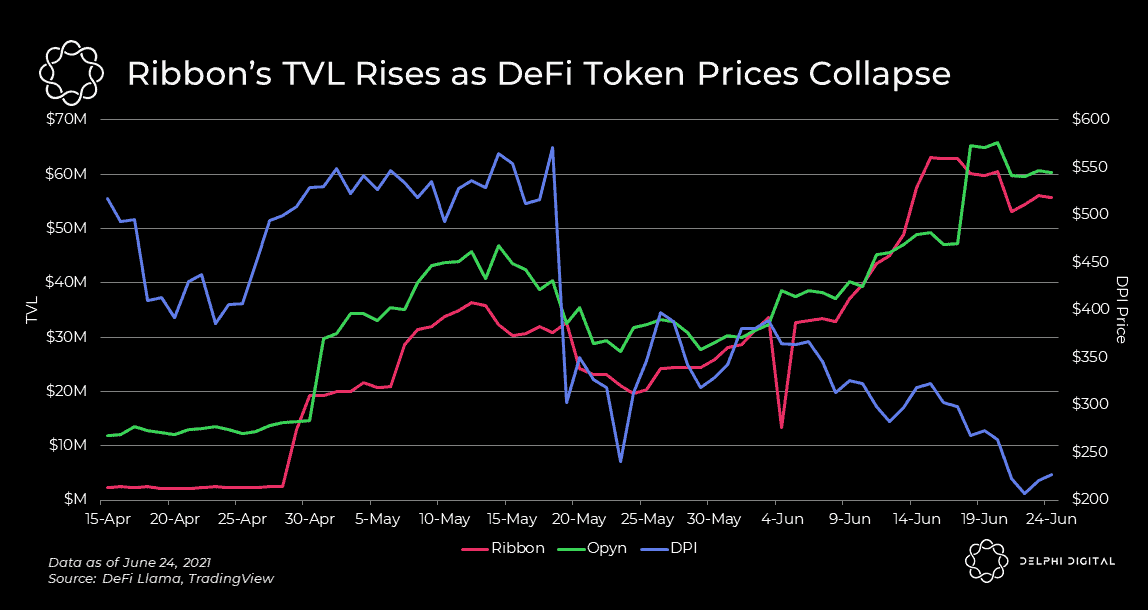 Mirror's Resilience
Mirror, a synthetic asset issuance and trading protocol on Terra and Ethereum, has seen a relatively muted drop in both liquidity and trading volume for its synthetic assets.
The asset mix on Mirror includes crypto assets like BTC and ETH; but most of the volume is for traditional assets like stocks, commodities, and indices. Considering most global equities are at or near their all-time highs, having a mix of crypto and legacy assets has proven to be a advantage for Mirror.
Note that the chart below captures the data from Mirror on Terra. Inclusive of Ethereum, these numbers are much higher.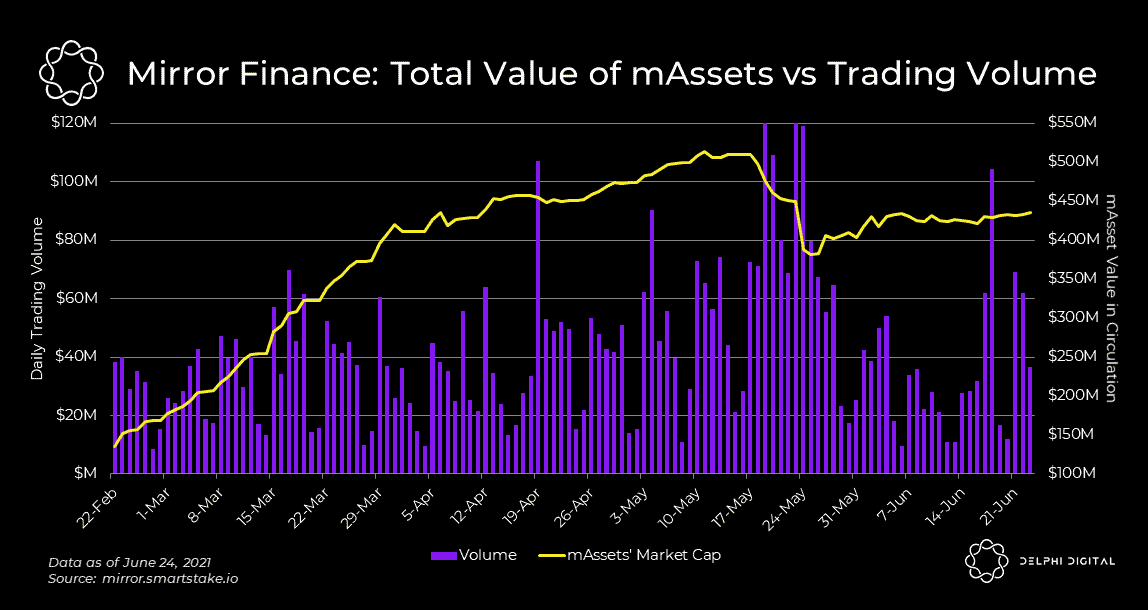 Notable Tweets
An update on the Solana hackathon.
1/ The Solana Season Hackathon was the ecosystem's biggest yet! Over 13,000 of you participated in the hackathon, producing 350+ project submissions from teams around the globe.

Congrats to the winners! #solanaszn https://t.co/YV4tawZVbw

— Solana (@solana) June 23, 2021
a16z announces a $2.2 billion fund to back crypto projects.
1/ Today we're announcing Crypto Fund III, a $2.2 billion fund to continue backing visionary crypto founders and help accelerate crypto into its next phase https://t.co/CQOlncAT7T

— Chris Dixon (@cdixon) June 24, 2021
Hong Kong based media outlet uploads its content to Arweave.
Yesterday, pro-democracy Hong Kong news outlet Apple Daily was forced to close.

But not before activists in Hong Kong uploaded much of its contents to Arweave.

You can read about it in CNBC, Reuters, etc.:https://t.co/jrABuX0Bvw 1/4

— Sam Williams (@samecwilliams) June 24, 2021