Data Digest
Over $2 billion of BTC exposure liquidated today
Deribit futures trade at -75% basis
Gas hits 1700 gwei
BTC exchange inflows at highest level since March 2020
Key Takeaways
May hasn't been kind to BTC bulls, but today was by far the worst day for the market since March 2020.
Over $2 billion in BTC positions — longs and shorts — were liquidated amidst today's choppy market. Over $10 billion were liquidated across crypto perps and futures.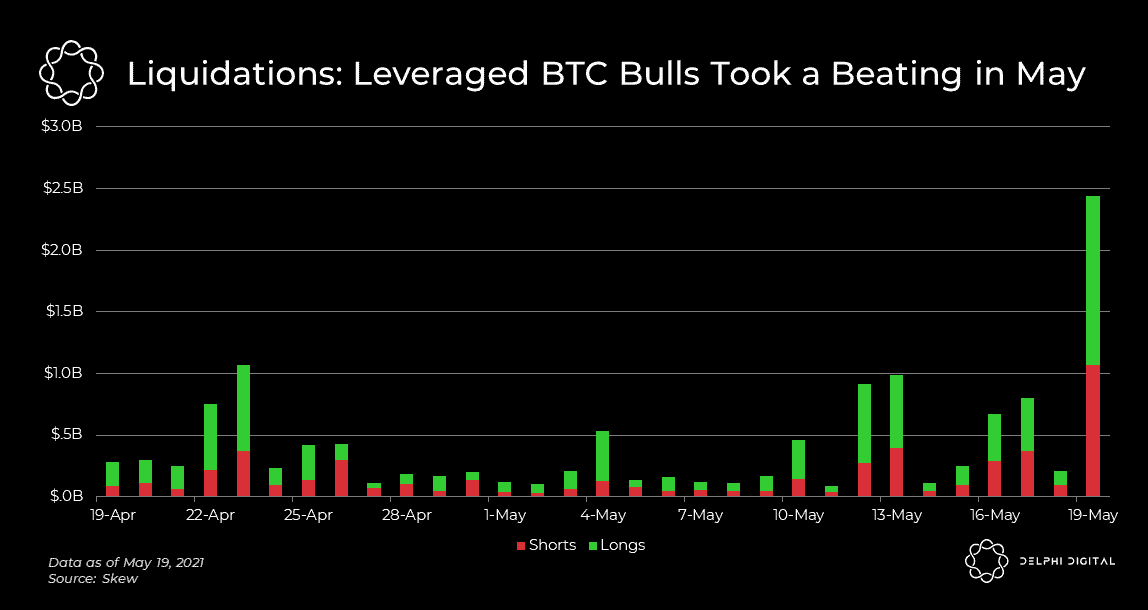 Key Takeaways
As demand dried across BTC markets, the annualize basis for one month futures briefly traded at a massive discount. Deribit had the worst reaction, with basis reaching -75%.
This was a result of heavy selling across futures market causing futures to go into backwardation (trade at a discount to spot).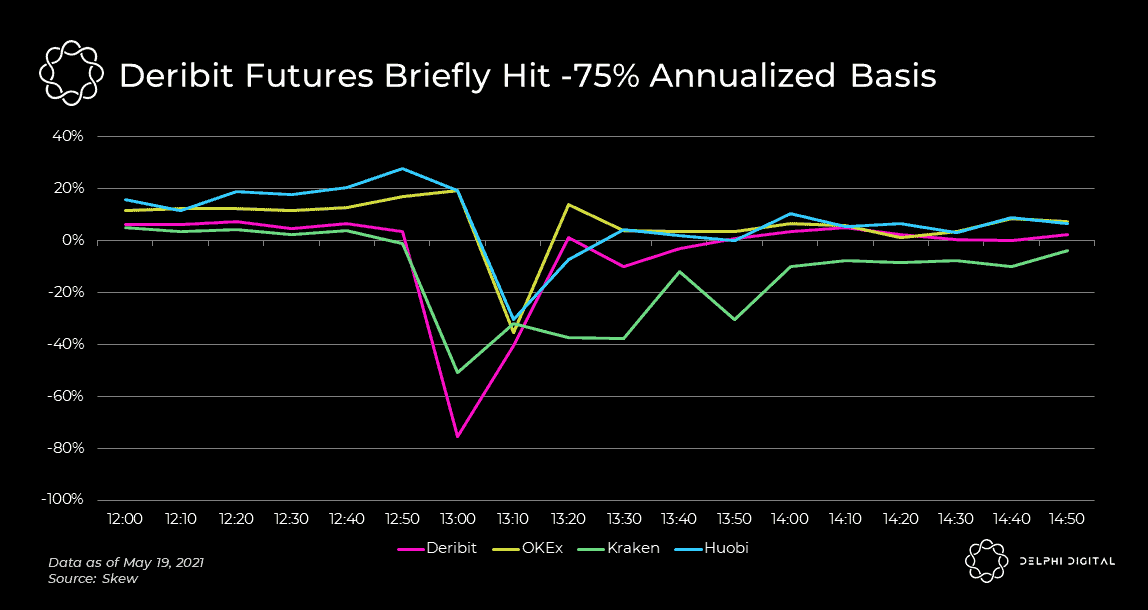 Key Takeaways
Gas eclipsed 2000 gwei briefly and was between 1500 and 1700 gwei for about an hour.
As markets crashed, DeFi liquidation opportunities popped up in every nook in corner, giving way to gas wars amongst liquidators and arbitrageurs.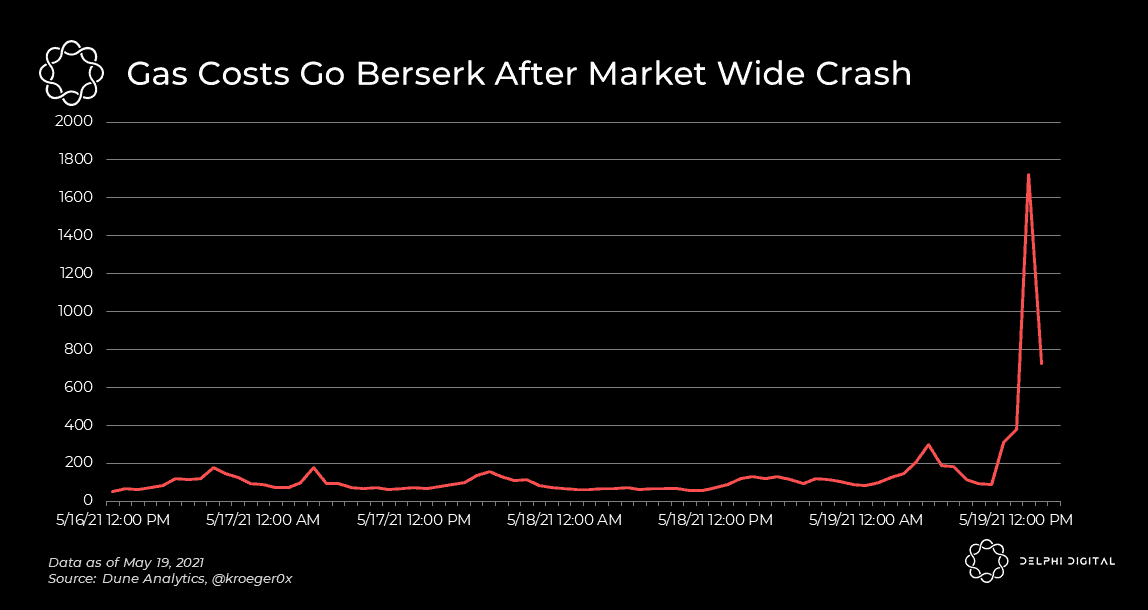 Key Takeaways
BTC inflow to exchanges exceeded 20,000 coins in just an hour today. This is the highest daily and hourly inflow since Black Thursday.
While this isn't a certain signal of a bottom, it's a sign of capitulation and shaking out "weak hands."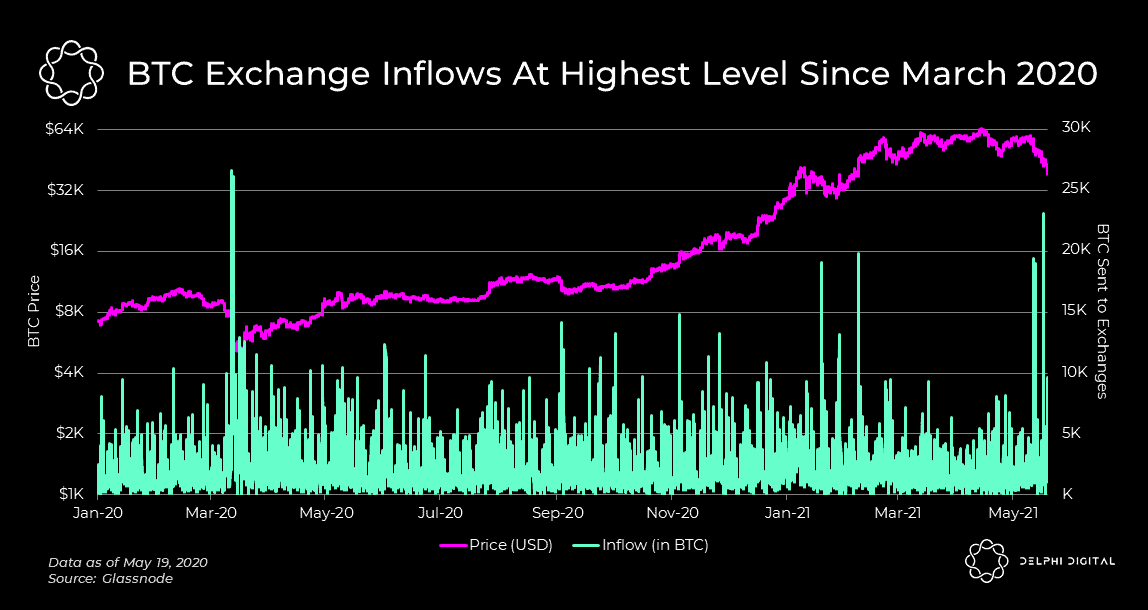 Notable Tweets
Zapper raises $15 million in Series A funding.
Announcing our $15M Series A, led by @hiFramework https://t.co/tHfpKytNOU pic.twitter.com/NcK2o1pLvT

— Zapper ⚡️ (@zapper_fi) May 17, 2021

The bright side of high collateralization ratios.
It's days like today where I'm glad we still have a 500% collateralisation ratio…

— kain.eth (@kaiynne) May 19, 2021

The potential impact of EIP 1559
Imagine if EIP-1559 was live today. Every block mined right now has 30 ETH in fees or more, going to ETH holders

Then, imagine if PoS was live as well. ETH Stakers would capture tens to hundreds of millions of dollars from MEV via liquidations

Gives you an idea of the potential

— Hasu (@hasufl) May 19, 2021