Market Update
The crypto market had a weak open during Asia hours and the futures premium on BTC has eroded. Given the amount of forced selling and leverage wipeouts that occurred in the past few weeks, the fact that BTC is still holding $30,000 implies there's a strong spot bid. However, conditions can reverse in an instant in crypto markets, and sellers have continued to offload coins with a vengeance.
1% of Total Supply of BTC is in DeFi
1% of all BTC that can ever exist is currently locked on the Ethereum blockchain. WBTC continues to lead the way and expand its market share with 79% of all BTC on Ethereum.
BTC is a proven store-of-value and the most resilient crypto asset. Its use as collateral in DeFi has skyrocketed in the past 1.5 years and is expected to continue growing as DeFi gathers more traction.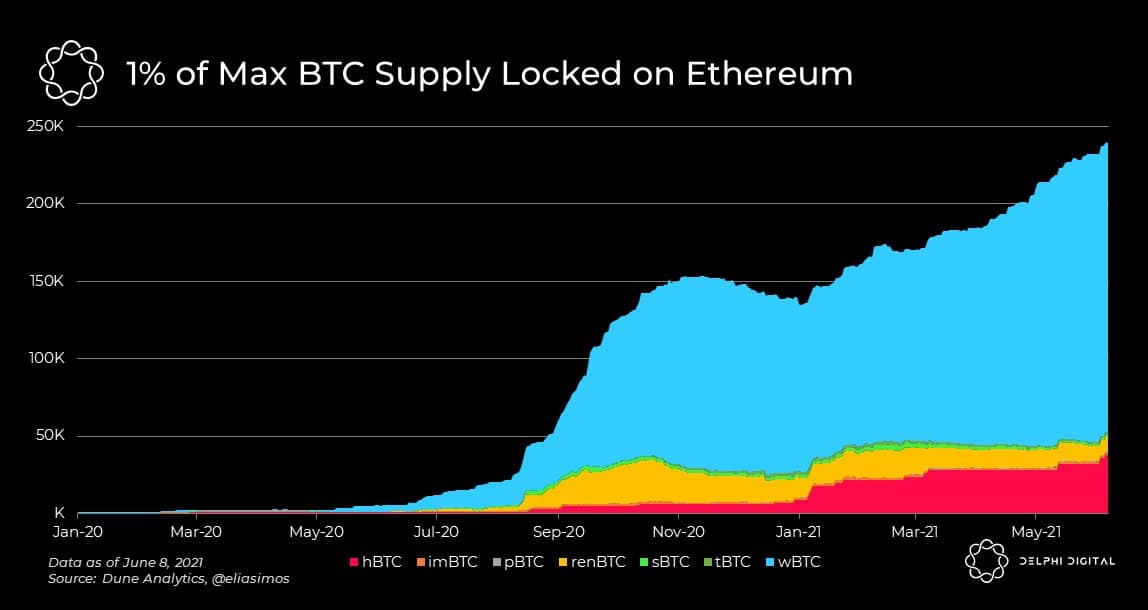 Largest Daily Outflow of BTC
Yesterday marked the largest daily outflow of BTC from exchanges year-to-date, with nearly 22,500 BTC leaving various exchange wallets. In this case, Kraken is the main culprit for the BTC outflows, accounting for 18,019 of the negative net flows.
Historically, large exchange outflows have been a sign of long-term accumulation. However, given various dynamics at play, it's important to be aware of BTC's growth in DeFi, as these coins leaving the exchange could be used as collateral in DeFi.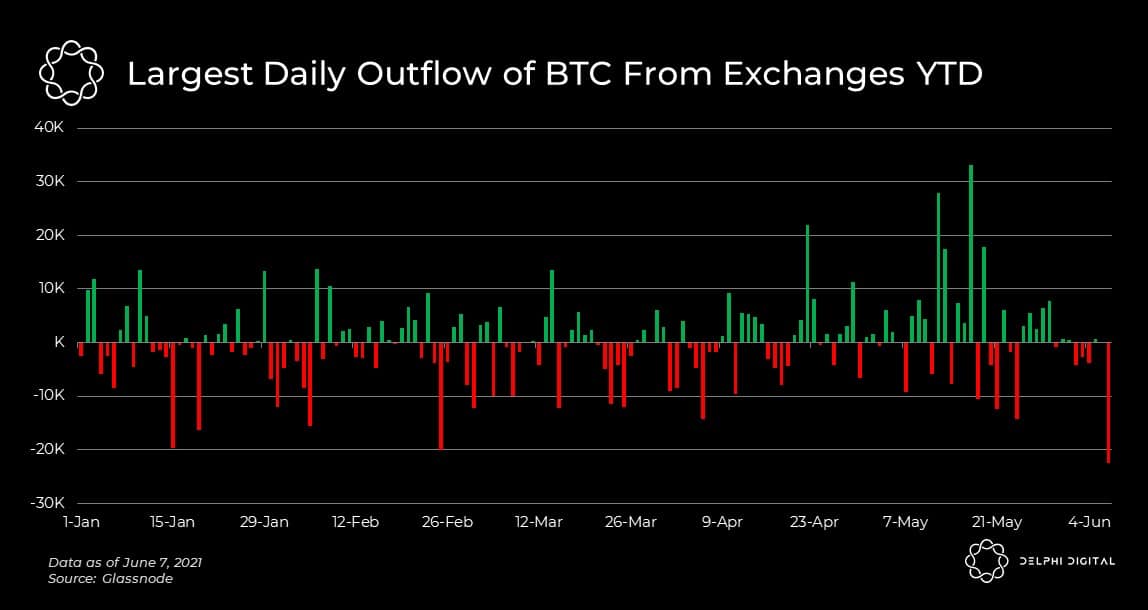 BTC Futures Backwardation
Futures basis on Deribit and CME have slipped into backwardation after a week of ranging near 0%. Backwardation is considered normal but potentially indicates that market participants expect lower prices in the future. On the flipside, backwardation also occurs when demand for spot is much higher than futures.
Given recent price action, it's prudent to assume most traders aren't looking to lever up hard again — at least not yet. In hindsight, the wide basis spread (between 30-60%) earlier this year was a sign of excessive leverage.
Term Check: Backwardation refers to a condition where spot price is higher than futures. Contango is a situation where futures prices are higher than spot prices.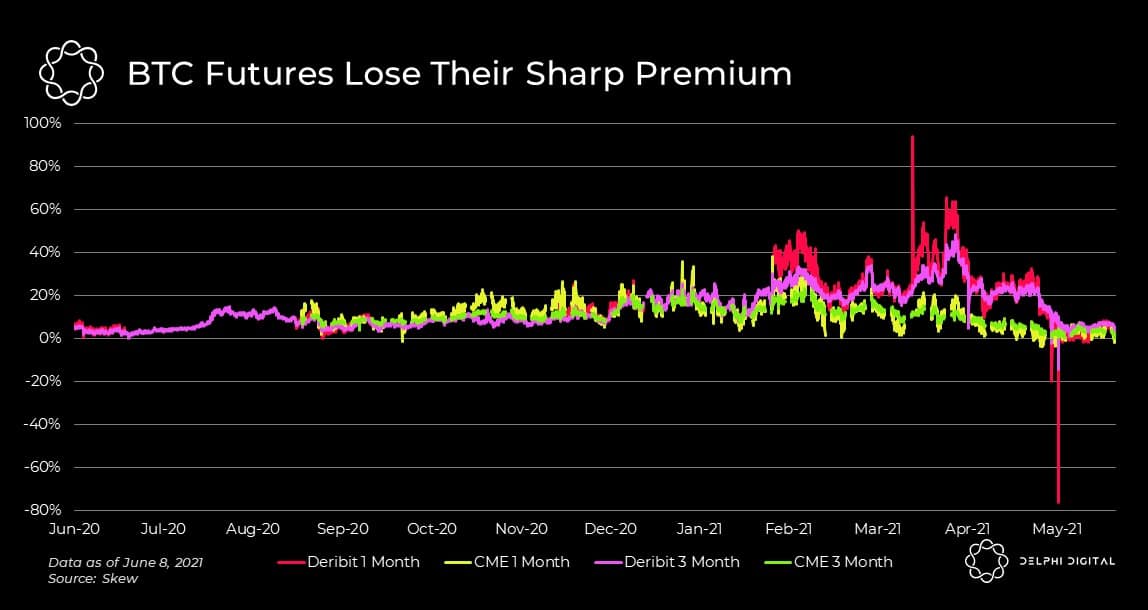 Aave, Maker Loans Recover From Lows
Loans outstanding in DeFi protocols is recovering despite muted market conditions, with Aave surpassing it's previous ATH and Maker closing in on fresh highs. Compound, however, has been a laggard with a sharp decrease in TVL and is yet to recover. A large amount of capital in Compound was likely mercenary capital farming COMP, which would explain the lack of bounce in outstanding loans so far.
Leverage in DeFi excludes high-risk derivatives positions, which possibly explains the stickiness of borrowers. As low risk stablecoin farmers look to deposit for yield in Aave, and higher-risk farmers borrow from Aave to farm on Curve and elsewhere, DeFi money markets are proving to be resilient.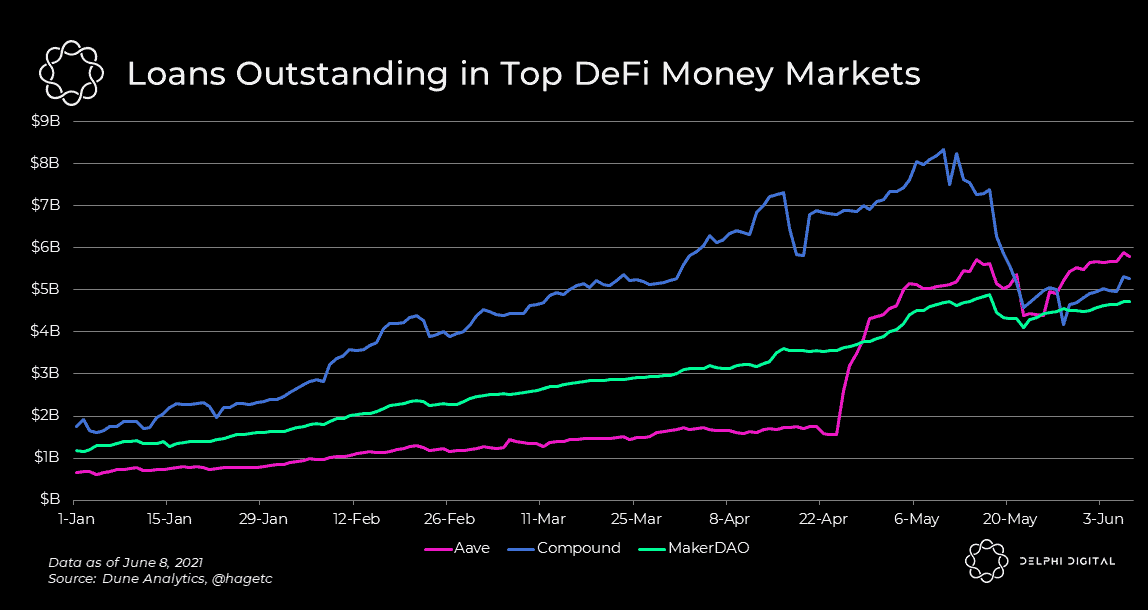 Notable Tweets
Interesting thread speculating Elon Musk's long term plans for BTC.
@elonmusk has had a big impact on crypto recently, & because some of his actions have been a bit unconventional, I was inspired to dig in a little deeper to find out what exactly his "end game" is

& what I've found does not disappoint.

I'll compile all of the info below ???

— croissant (@CroissantEth) June 1, 2021

The Federal Government seized $2.3m worth of BTCs from the Colonial Pipeline ransomware attack with private key access.
The federal government says it seized by court order $2.3 million of the ransom paid by Colonial Pipeline.

The FBI had the password to the hackers' Bitcoin account, @PeteWilliamsNBC reports.

"Today we turned the tables on DarkSide," says Deputy Attorney General Lisa Monaco.

— Geoff Bennett (@GeoffRBennett) June 7, 2021
Options flow continues to be mildly bearish with very little volume.
1) Normally write when Options active, but tape bereft of large trades, yet market sentiment (distinctly BTC) extreme negative and FUD rife.

Skew (extreme high) confirms.
But Implied Vol apathetic, <RV & barely reacting to FUD.
Interpretation: Protection on, concern, no panic. pic.twitter.com/YnwQzAjSXv

— Deribit Insights (@DeribitInsights) June 8, 2021