Today's Digest
Crypto markets had a fairly flat day before pulling back slightly upon the New York open. ETH volume across exchanges reached extremely high levels, and on-chain data suggests the network's fundamentals remain sound as ever.
Key Takeaways
In the last two weeks, ETH price took a bigger drawdown (-50%) than BTC (-35%). However, far more ETH has changed hands as seen in the spikes in volume on the 22nd and 25th of May. ETH volume across CEXes and DEXes was consistently over $100 billion per day and has flippened BTC's exchange volume.
Considering ETH's sharper drawdown, the high amount of volume is a potential indication of capitulation and coins moving from speculators to those with more conviction.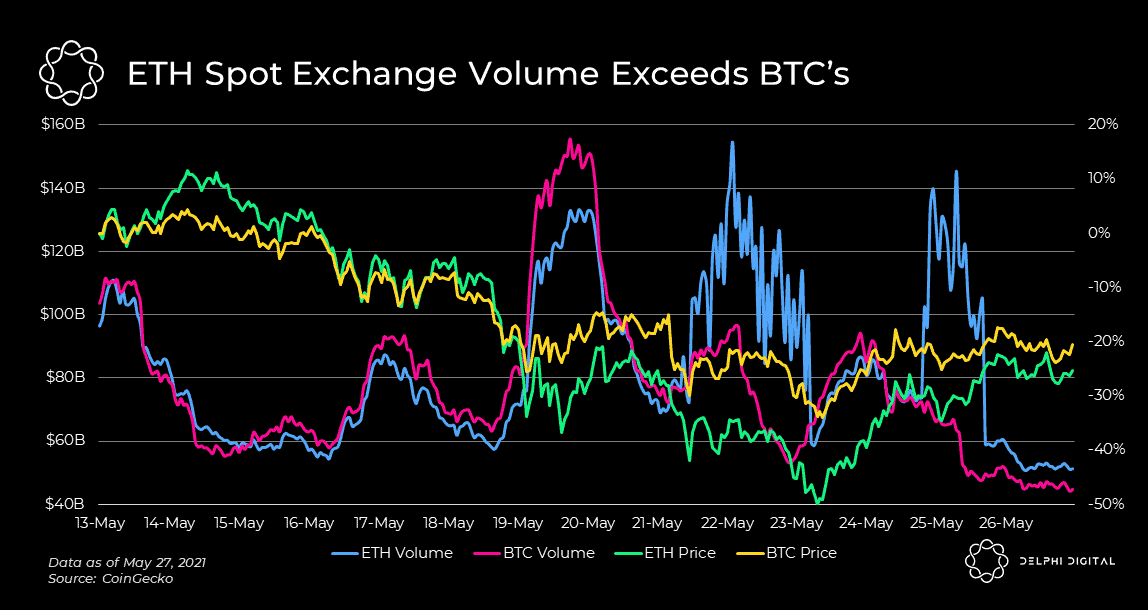 Key Takeaways
Monthly options for BTC and ETH are set to expire tomorrow at 8 AM UTC (4 AM EST). If BTC remains under $40,000 by then, over 15,000 BTC (13,000 BTC under $42,000) of puts will expire in-the-money, potentially alleviating some selling on spot markets.
The majority of calls expiring this month will expire worthless, which could prompt fresh purchases for June's options.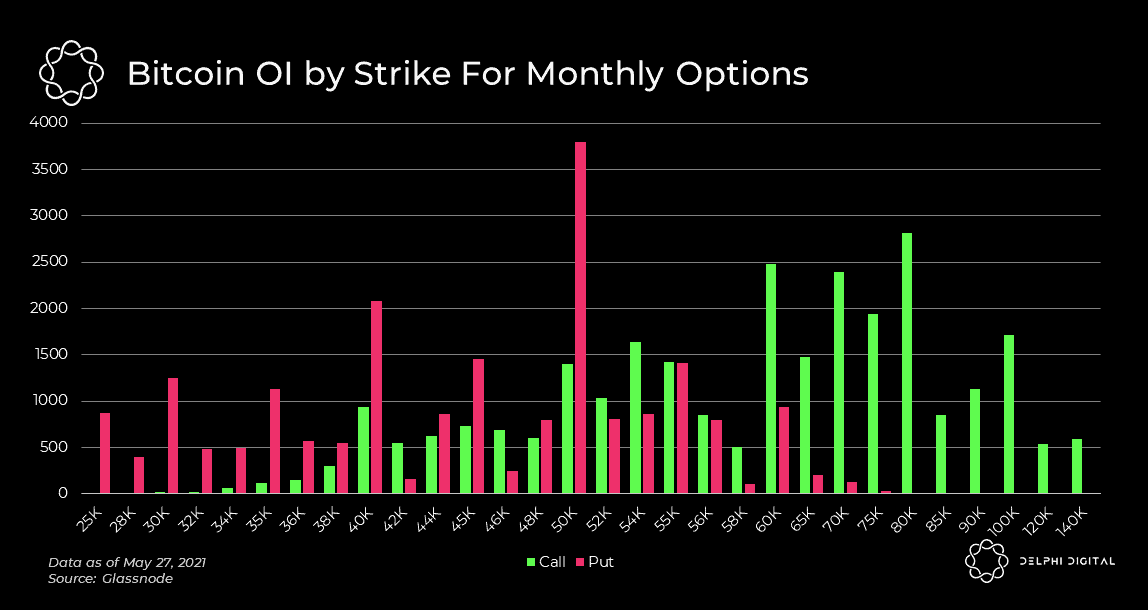 Key Takeaways
Despite the last week's volatility and price declines, Ethereum usage remains at all-time highs, according to Glassnode's on-chain report.
The percentage of ETH supply locked in smart contracts was unaffected by market conditions, and smart contract usage from users remains at elevated levels seen since DeFi summer kicked off.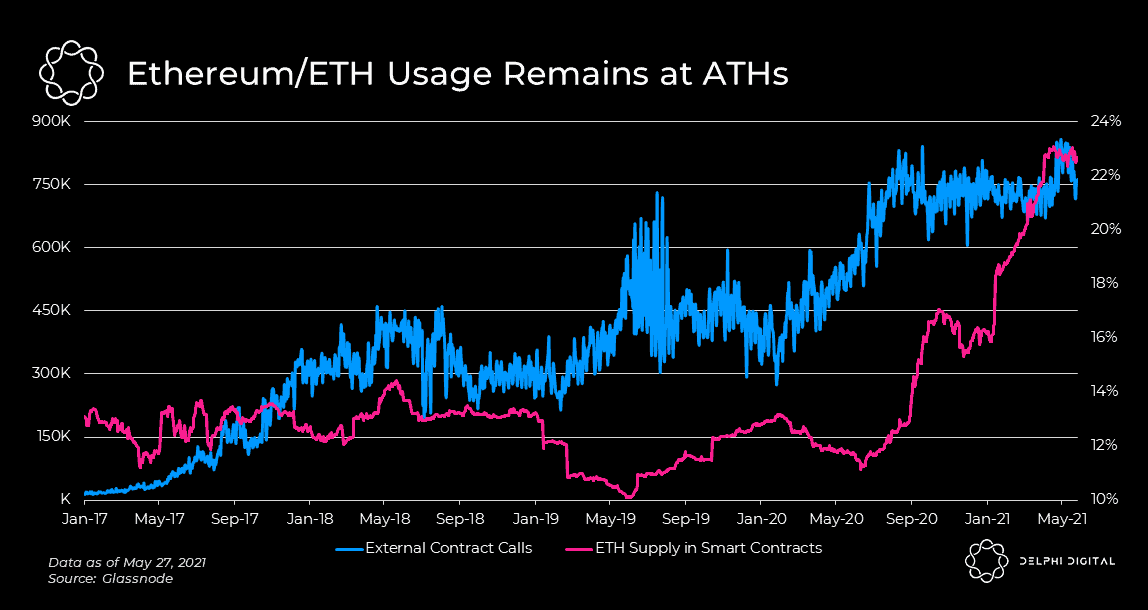 Key Takeaways
456,000 ETH ($1.25 billion at the time of writing) have been deposited in the ETH 2.0 staking contract in the last 10 days. 51% of that has been in just the last 3 days.
With over $14 billion staked and 80,000+ validators, ETH 2.0 is already the largest Proof of Stake network — and it isn't even functional yet.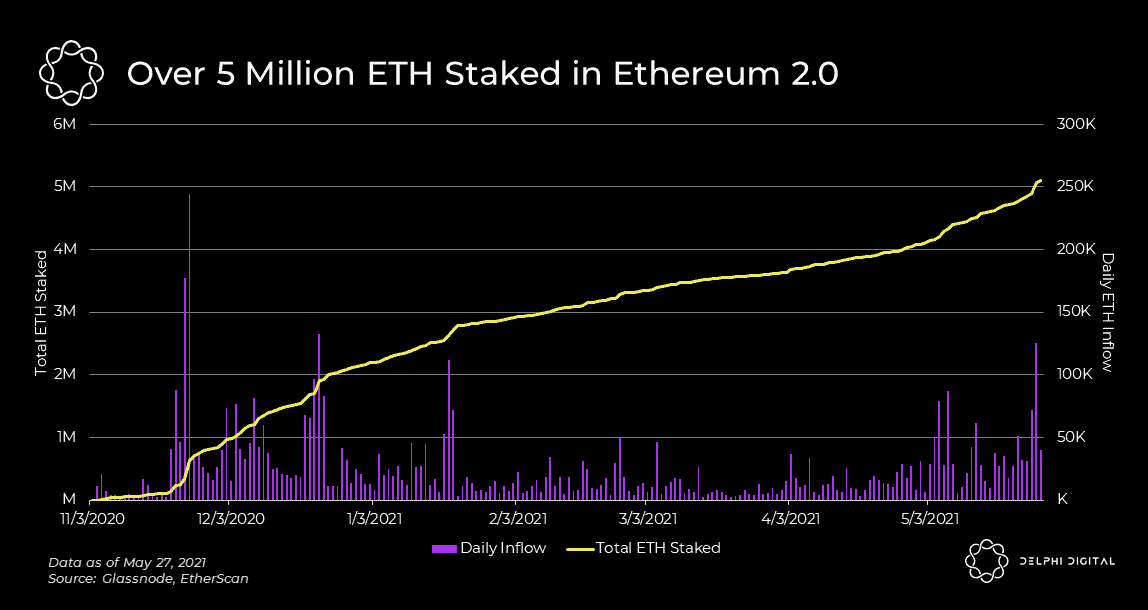 Key Takeaways
Ethereum's fee ratio multiple — a metric that measures how reliant a network's security budget is on block subsidies — has consistently been under 5 for all of 2021, which indicates a high security budget that isn't reliant on block subsidies.
Bitcoin's fee ratio multiple, while impressive, is much higher than Ethereum's (lower is better).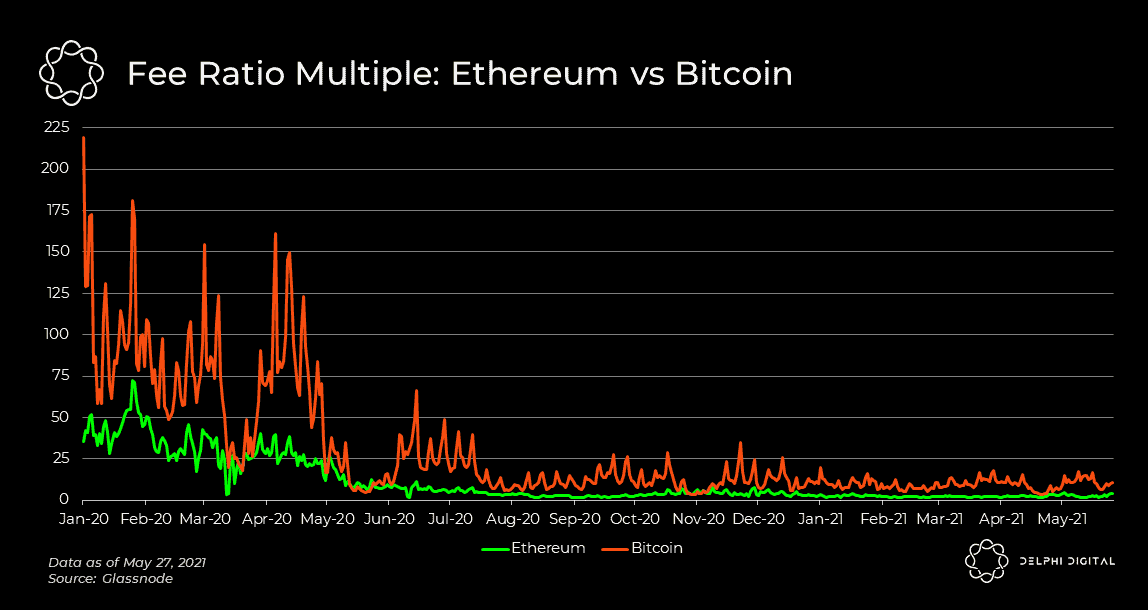 Notable Tweets
Uniswap Labs supports the community-led Arbitrum deployment effort.
2/

Assuming the snapshot passes we intend to support the community by deploying the v3 smart contracts to Arbitrum!

We have already begun work on interface support and planning the deployment.

— Hayden Adams ? (@haydenzadams) May 26, 2021
Upshot launches NFT appraisals on Polygon
1/2 ? We're thrilled to announce that @UpShotHQ is bringing crowdsourced NFT appraisals to Polygon!

While the NFT space is in a massive boom the last few months, the valuations are still tricky and highly subjective.

? Learn More: https://t.co/CYCBM6ARbh pic.twitter.com/puN4zP5HTm

— Polygon (previously Matic) (@0xPolygon) May 27, 2021
Learn about Mars Protocol, a new age bank on Terra
TRANSMISSION RECEIVED ?

The Mars Red Paper has arrivedhttps://t.co/YwQ3gAyiOg pic.twitter.com/M0tfD27X00

— Mars Protocol (@mars_protocol) May 27, 2021