Data Digest
Multi-Chain DeFi TVL
ETH DeFi Performance YTD
Meta Pools Push Curve's Liquidity Higher
DeFi Stablecoins Nearing $10 billion market cap
Key Takeaways
DeFi protocols across the top ecosystems — Ethereum, BSC, Solana, Avalanche, Polygon, Terra, etc — crossed $130 billion in cumulative TVL.
Ethereum still leads by a long shot, but growth on other L1 ecosystems is now undeniable as they account for 34% of DeFi TVL ($45.3 billion).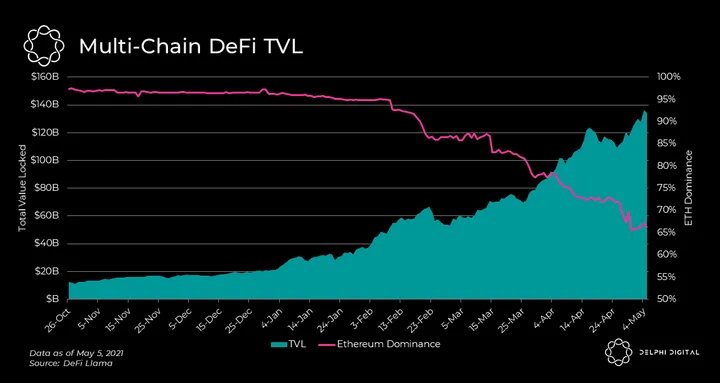 Key Takeaways
ALPHA, MKR, and UNI are clear market favorites amongst established DeFi projects.
SNX, YFI, and REN have been laggards, mostly due to a lack of short to mid term catalysts.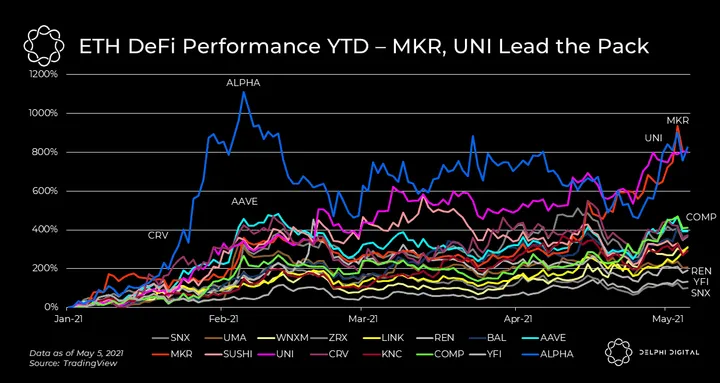 Key Takeaways
Curve's tripool (USDC, USDT, DAI) added over a billion dollars in liquidity in 2021. This is a result of Curve capturing the long tail of stablecoin liquidity through its meta pools.
All Curve meta pools are effectively bonded to the tripool. As new stablecoin projects set up Curve meta pools, the tripool's liquidity rises too.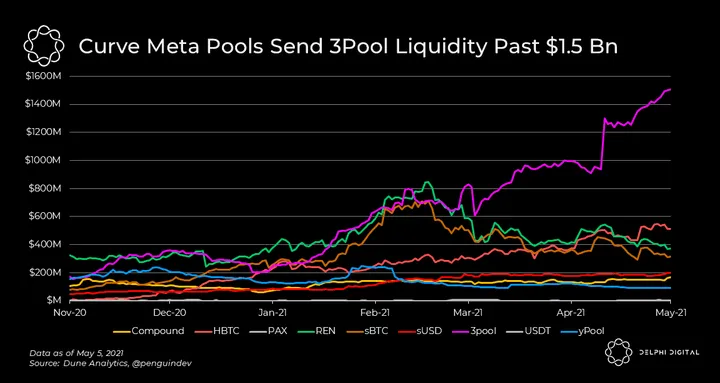 Key Takeaways
DeFi native stablecoins are on the cusp of cumulatively reaching the $10 billion market cap threshold.
DAI remains the largest DeFi stablecoin after crossing four billion in circulating supply, but UST continues to show formidable strength and could prove to be a challenger in the mid to long term.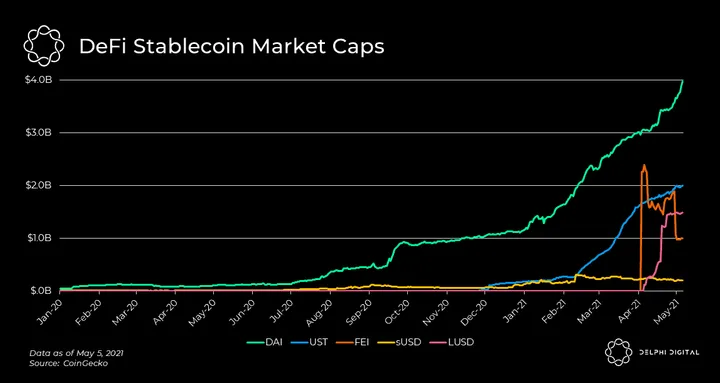 Notable Tweets
Michael Novogratz explains how Dogecoin evolved into a cultural phenomenon.

Uniswap v3 launches on mainnet today — a huge step forward for DEX capital efficiency.

Larry Sukernik, formerly of Digital Currency Group, pens a short piece highlighting the implications of DeFi treasuries starting to unlock their balance sheets.