Market Update
Today's been more choppy than usual with BTC trading between a 5% range from its current low and high. Overall, sentiment in crypto is looking much better than last week after Tuesday's dip and yesterday's 12% daily candle. Inflation expectations for the United States came in slighty above expectations at 5%.
SOL and KSM Rally Hard
Kusama (KSM) and Solana (SOL) have been two of the best performing crypto assets in the past few weeks despite being two of the hardest hit coins by May 18's crash.
Both tokens have been more resilient than crypto majors and are down less than 20% from their ATHs.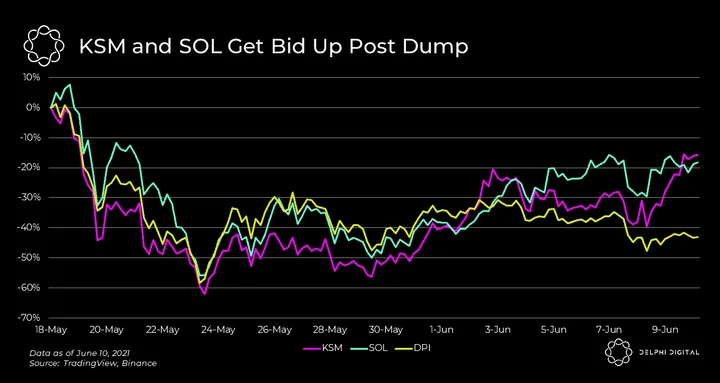 BTC Futures Basis Turns Positive Again
After a brief tango with backwardation, 1 month BTC futures are once again trading with positive annualized basis after testing long-term support levels on Tuesday.
While this indicates renewed sentiment in the short term, it doesn't offer any insight on how participants are thinking of BTC over the long-term. For what it's worth, the 3 month BTC futures are trading at a similar basis, which means mid-term expectations are fairly flat.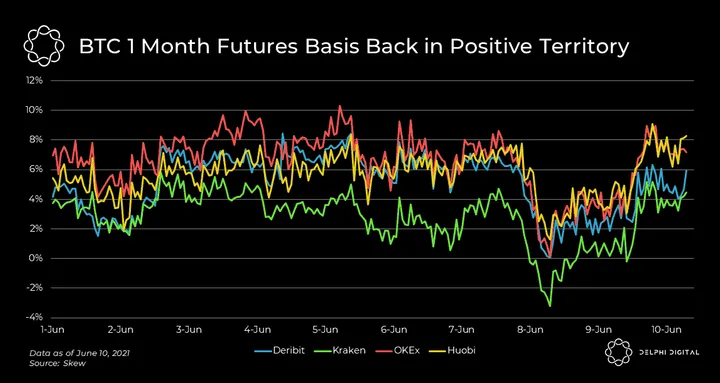 Sushiswap Loses Market Share
Looking at the market share for the top Ethereum DEXes excluding Uniswap (by volume), it's apparent that Sushiswap has lost a fair amount of market share since sentiment soured.
Balancer, Bancor, and 0x still command a similar percentage of market share while Curve's market share has been volatile with bias to the upside. While not pictured, Uniswap's market share grew by a small margin, and it still commands over 60% of all DEX volume.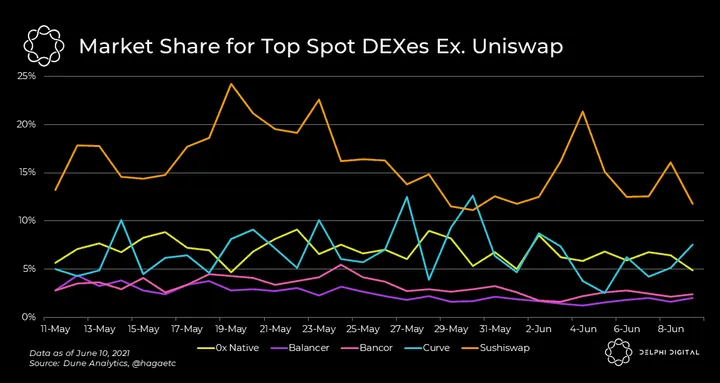 ETH 2.0 Hits Over 100K Deposits
Over 120,000 deposits have been made to ETH 2.0 staking contract from just under 30,000 unique depositors, making ETH 2.0 the largest (and most distributed) Proof of Stake network before even launching.
ETH 2.0 is scheduled to get its first upgrade in the next couple of months, and phase 1 — when the network goes live — is expected later this year. The queue for running a validator is expected to lengthen once the network is functional for regular users. Aspiring validators are attempting to front-run future demand by depositing ETH now.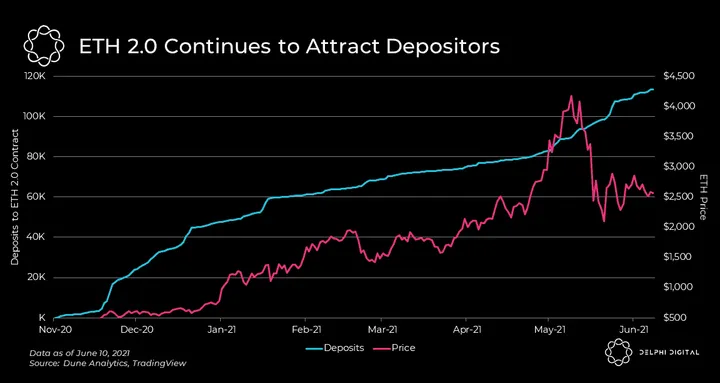 Notable Tweets
A rundown of today's CPI data.
Crypto is coming to 401Ks.
India may be set to reverse its stance on crypto.