Market Update
Crypto majors like BTC and ETH are up for the day, but have run into resistance at May 27ths daily open. FIL and SOL are the biggest winners of the day so far. Today's edition of the Delphi Daily will focus on this crash's hardest hit tokens, what ETH/BTC could be looking like, and the potential resurgence of positive market sentiment.
Tokens That Had a Forgettable May
ALPHA, LUNA, and FTM were a few of the worst hit coins over the past month.
FTM saw a sharp run up in March/April as the cross-chain narrative took off and a subsequent drawdown as the broader market crashed; ALPHA price action and sentiment had been choppy after peaking in February; and LUNA's drawdown was caused by the UST feedback loop, as we explained in an earlier edition.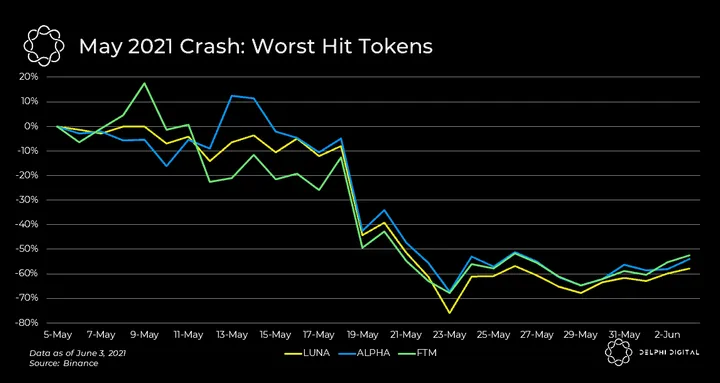 ETH/BTC Correlation is Peaking
ETH's one-month correlation to BTC has risen sharply over the past month. BTC price action stalled out after making an ATH in April, but ETH continued to rip well into May.
ETH tends to trade with high correlation to BTC during risk-off periods, while setting its own tone when the macro market is risk-on. Notably, ETH/BTC correlation tends to peak around 90% and BTC outperforms ETH during this period. Given historical data, it seems likely that ETH correlation has peaked and it may decouple further from BTC.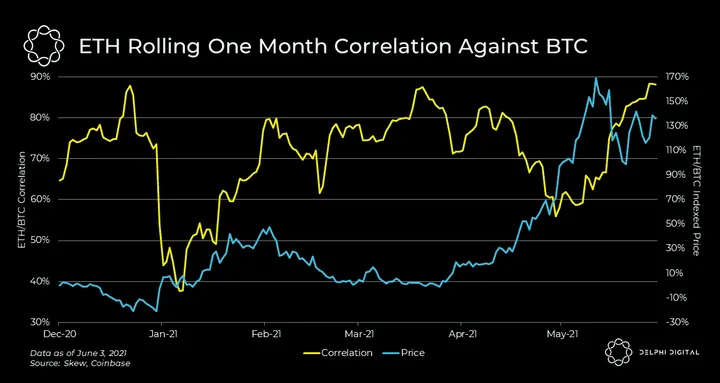 OTM Calls Dominate Today's Flows
Today's options purchases were dominated by calls — mostly durations 1-2 months out with fairly far out-of-the-money strike prices.
On the surface, this seems like bullish sentiment is returning to the options market. But overall trading volume is still muted, so it's difficult to say if this is speculators setting their upside targets for BTC or whether they're capitalizing on cheaper options (specifically calls) to deploy delta hedged options spreads.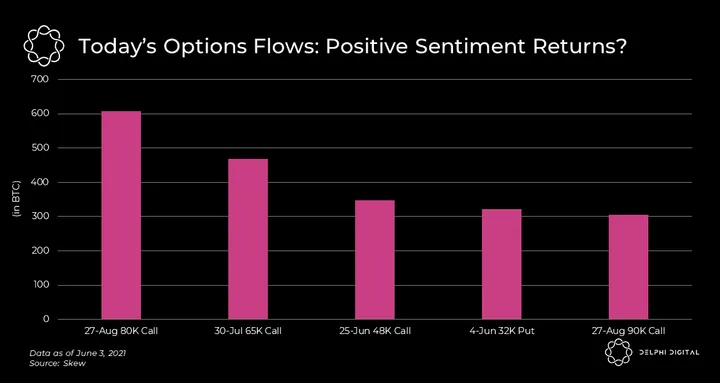 TVL Returning to ETH DeFi
TVL across DeFi protocols is starting to tick up again as coins in this sector attempt to stage a rally. Polygon's TVL hit an all time high of $6.2 billion yesterday thanks to various yield farming incentives.
Notably, Ethereum's dominance has been falling for most of 2021 as Solana, BSC, Polygon, and others garner traction. However, in recent weeks, Ethereum's dominance is actually trending up, potentially indicating a "flight to quality" from DeFi speculators.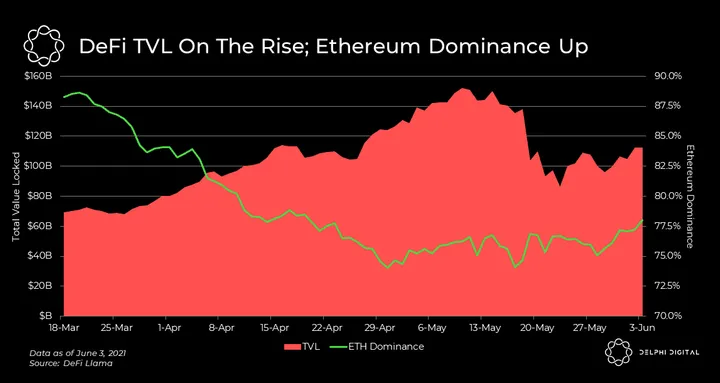 Notable Tweets
MATIC breaks into the Bitwise 10 Large Cap Index.
Derivatives protocol MCDEX is live on Arbitrum's mainnet rollup.
Knowing the difference between CeFi and DeFi.