Data Digest
1. ETH futures/perpetuals volume and open interest rise
2. ETH options volume flips BTC options volume
3. ETH funding still at sane levels
4. Meebits raises $78 million in half a day
Key Takeaways
We're barely four days into May and ETH is already up 20% for the month. Trading volume and open interest on futures and perpetuals are increasing in lockstep with price.
When trading volume and open interest increase together, it's a pretty reliable sign that the market's current trend is set for continuation i.e. that ETH still has some strength.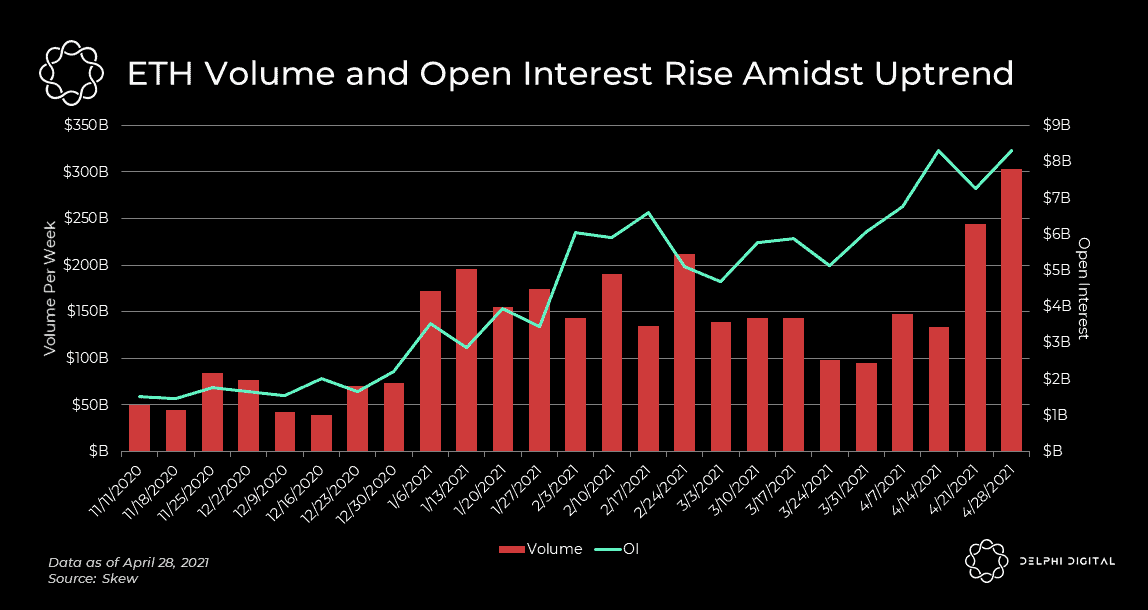 Key Takeaways
Ethereum options trading volume and open interest breached new ATHs this week.
For the first time, ETH option volume on exchanges like Deribit, CME, and others flipped the daily volume of BTC options.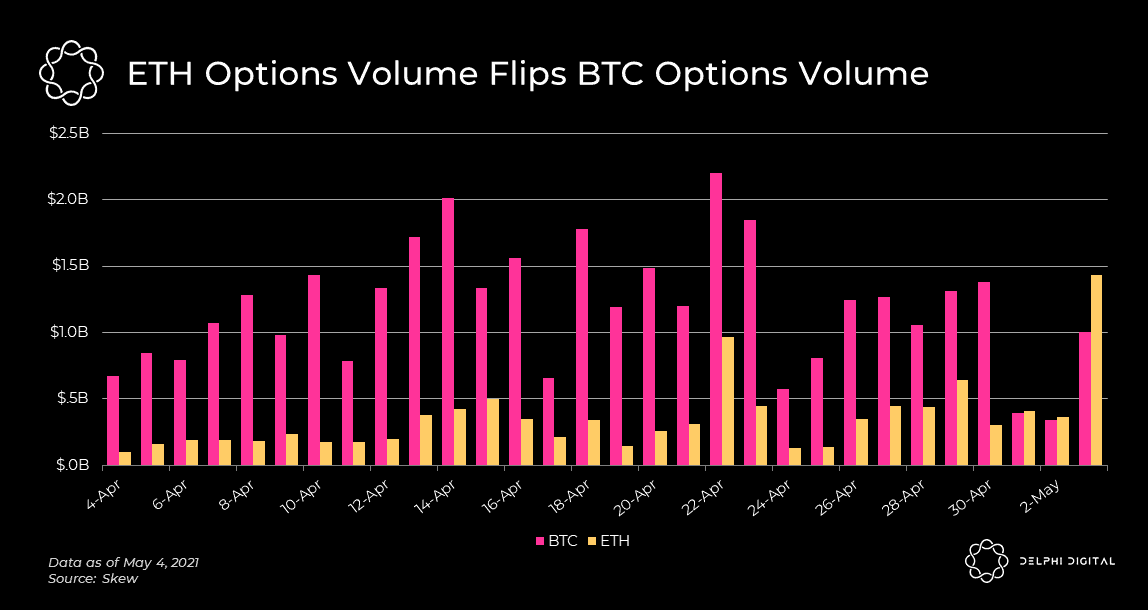 Key Takeaways
What's surprising is that despite ETH's price performance, perpetual swap funding rates are close to zero i.e. the perp market's ratio of longs to shorts is balanced.
When ETH pumps this hard, funding is usually incredibly high as leveraged traders rush into long positions. With consistent and organic demand for ETH in spot markets, and a balanced futures market, current outlook for ETH is overwhelmingly favorable.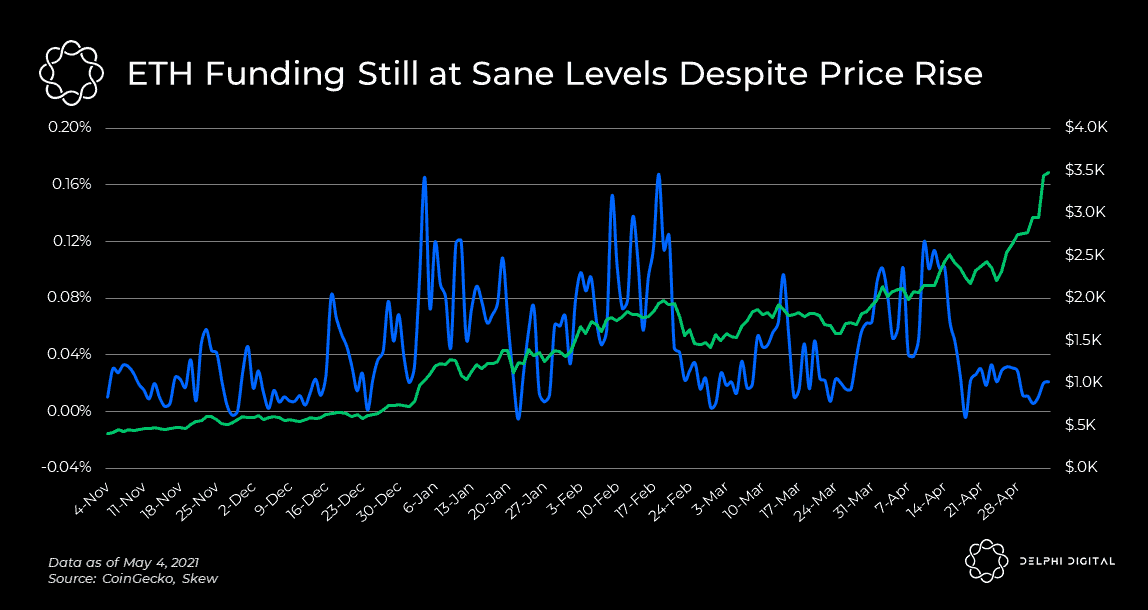 Key Takeaways
Larva Labs, the design studio behind Crypto Punks, launched it's latest project — Meebits.
During the public sale/minting of Meebit NFTs, Larva Labs raised close to $80 million in 8 hours.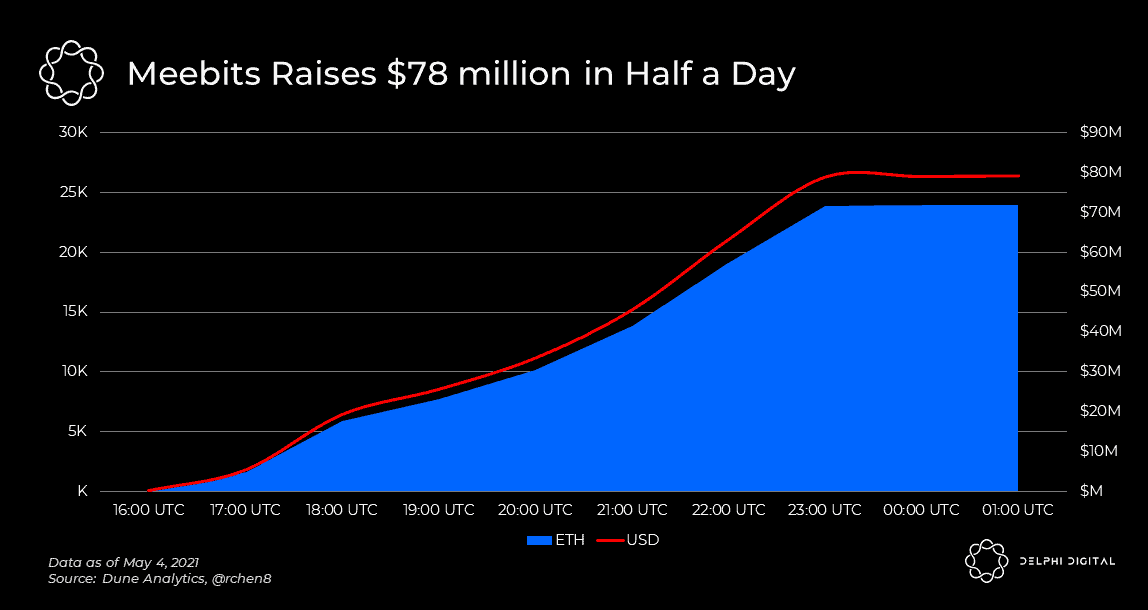 Notable Tweets
An introduction to Ethereum, DeFi, and NFTs with visual explainers.
If you're new to #Ethereum and want to understand the #DeFi and #NFT economy being built, here's a great visual primer.

? DeFi assets
? Stablecoins
? NFTs
⚖️ Regulation

And a lot more. https://t.co/76ukdDEEHU

— Joseph Lubin (@ethereumJoseph) May 3, 2021
The CI Galaxy Ethereum ETF is capturing Canada's attention.
$ETHX has already broken its volume record and it's not even Noon. It's also the THIRD overall most traded ETF in Canada today, even more than (gasp) the bitcoin ETF. All in all three crypto ETPs in Top 11 most active. pic.twitter.com/Lo8aMXQXBc

— Eric Balchunas (@EricBalchunas) May 4, 2021
Over 210k BTC (1% of total hypothetical supply) have been tokenized on Ethereum.
1% of all the $BTC that will ever exist now lives on Ethereum. GG everybody ??

More here ? https://t.co/eSvbBFTHXP pic.twitter.com/CHXvvVjIof

— Elias Simos (@eliasimos) May 4, 2021