Market Update
After a run up past $41,300 yesterday — a potential run on stop loss hunt — BTC is down around 2% for the day and dragged the rest of the crypto market down with it. The Federal Open Market Committee (FOMC) is convening today, so prepare yourself for some volatility. CHZ and SHIB are the biggest gainers of today thus far; LUNA, NEXO, and SNX are down the most.
BTC HODLers Back At It Again
The net positions of BTC HODLers is a strong indicator of how longer-term investors are thinking about BTC.
For the first time since turning negative in Nov. 2020, this metric has flipped positive, indicating HODLers are buyers here. We noted that long-term accumulation on BTC was ramping up in yesterday's daily, and this data point adds a layer of confluence to that.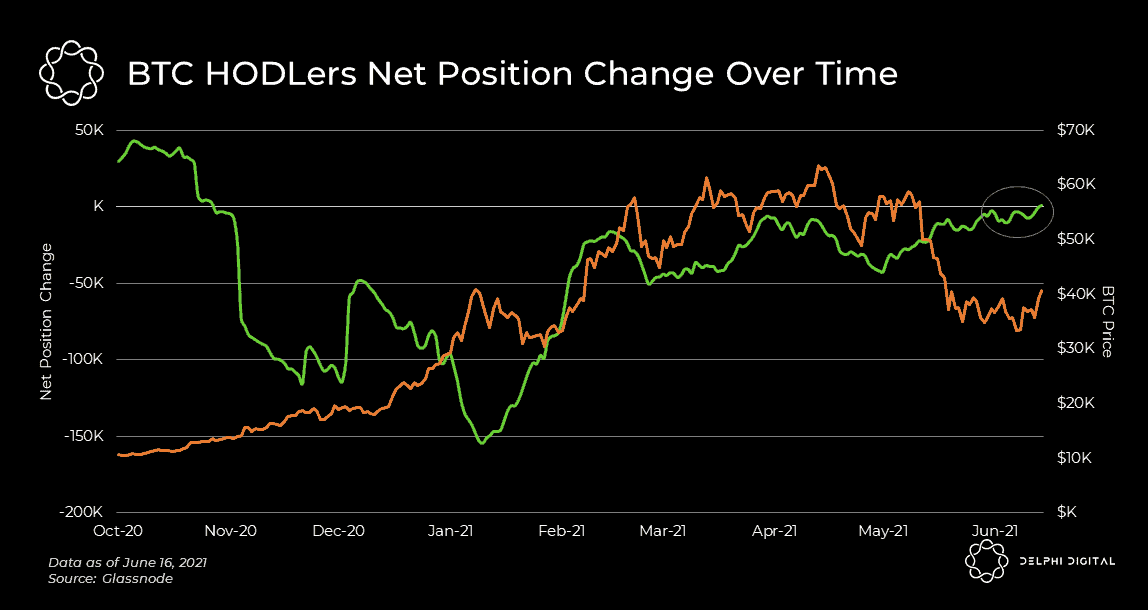 Options Market Showing Signs of Life
As mentioned yesterday, BTC futures OI is slowly ticking up. BTC options OI is also starting to rise, adding almost $2 billion of fresh contracts in the last week. OI rising in tandem with price is a sign that traders are still structurally bullish on BTC.
Volume for BTC options, however, is still far below what we saw in April and May. Considering a ton of open interest got wiped out on the move to $30,000, this isn't too surprising. Fresh demand would lead to the creation of new contracts (increasing open interest) — which we're seeing happen.
The lack of volume is thus not a major concern. If open interest continues to increase with price, volume will pick up the slack at some point.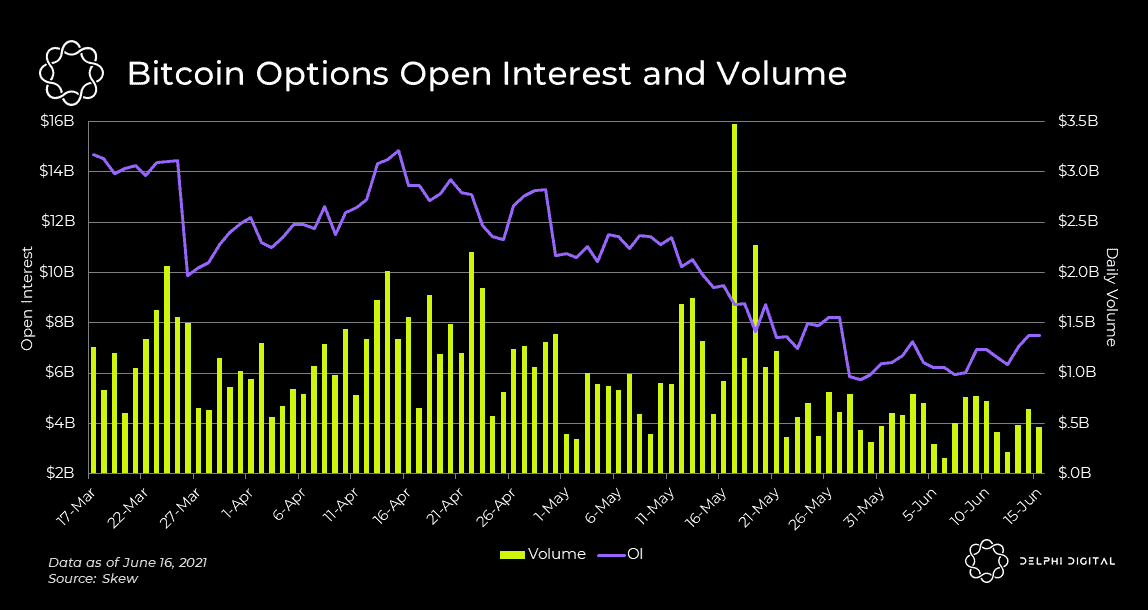 The Market is Ignoring Yearn
Yearn Finance's AUM has hit $5 billion this week after a slight dip in recent weeks. Yearn is one of the few protocols where TVL is monetizable and not just a proxy for investor/farmer demand.
Despite this, YFI price incurred a steep drawdown and hasn't recovered since. This is another example of a DeFi token whose price has detached from fundamentals, as noted in yesterday's daily with Uniswap.
The impact of this isn't particularly bullish for the rest of the market. Since Yearn's strategies primarily target Curve, and thus stablecoins, this might be a sign that investors are still risk-off. However, if the market poses a strong recovery from here, we could very well see Yearn lose TVL as investors tap into their dry powder.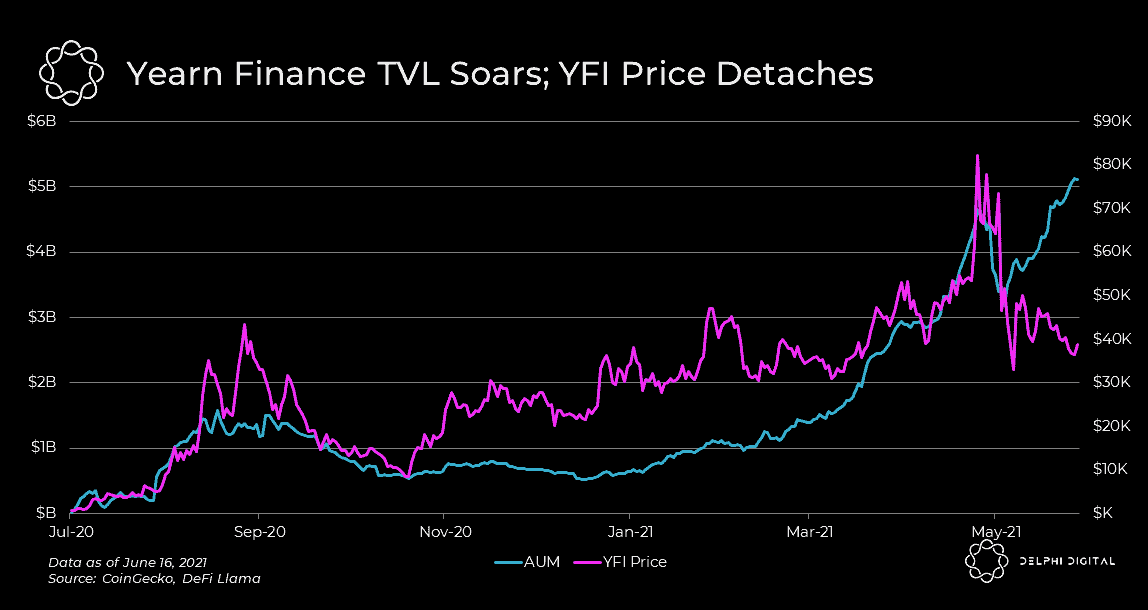 Polygon DEX Volume Recovers
DEX volumes on Ethereum are still beaten down and yet to recover. But DEX volume on Polygon has bounced hard off lows made earlier in June.
Thanks to a wide range of project launches and liquidity mining, Polygon has been able to thrive despite poor market conditions.
With Polygon's success and several layer two platforms set to launch in the coming months, this could spell a second bout of euphoria for DeFi — powered by new yield farms.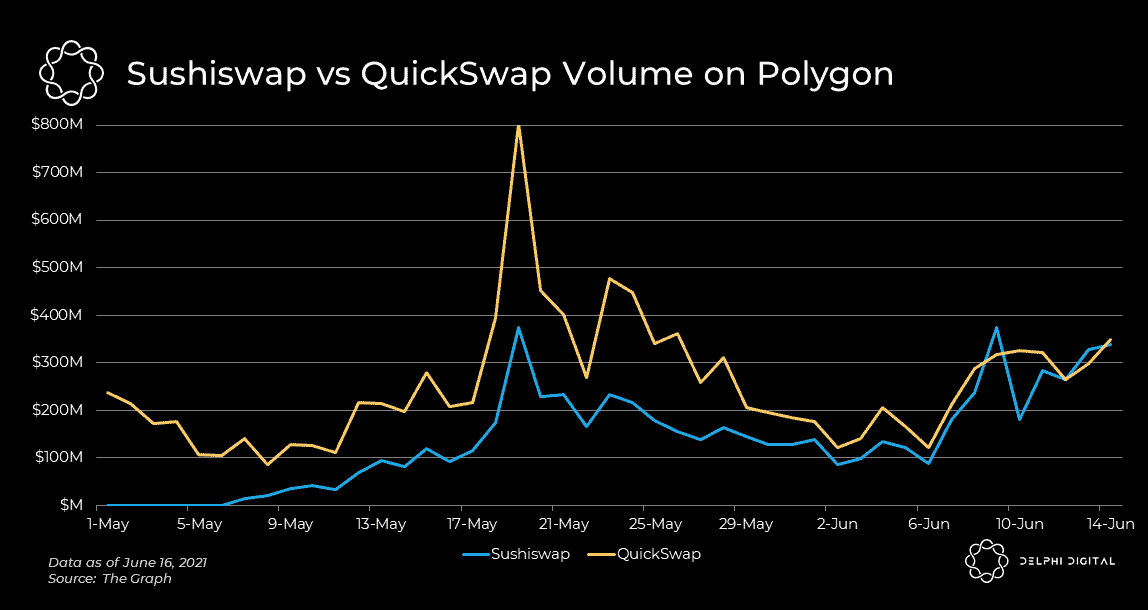 Notable Tweets
Ribbon Finance launches it's liquidity mining program.
Today we are launching the first Liquidity Mining program for the Ribbon vaults! ⛏️?

Ribbon users are now able to stake their vault deposit tokens and receive RBN over the next 1 month. ? pic.twitter.com/Rx7GshWoWb

— Ribbon Finance (@ribbonfinance) June 16, 2021
A market update from QCP Capital.
??? ?????? ?????? ?? ????

1/ The market looks like it's long gamma with BTC being pinned around the 40k level as we await FOMC headlines tomorrow. We agree with Paul Tudor Jones that this coming FOMC meeting will likely have a binary market reaction

— QCP Capital (@QCPCapital) June 15, 2021
Marc Andreessen on the impact of technology.
— Marc Andreessen (@pmarca) June 15, 2021