Today's Digest
Crypto markets enjoyed a green day during the Asia and Europe sessions, with the market pulling back as the New York session opened. Money continues to flow into DeFi across various chains, and a scary week for the Terra ecosystem has a silver lining.
Key Takeaways
MATIC has seen the sharpest rebound since crypto markets set in a local bottom last Sunday. SUSHI and LUNA, while far behind MATIC, have also bounced hard.
What stands out about MATIC, however, is that it's almost back to its ATH. On the other hand, SUSHI and LUNA were two of the hardest hit by this month's crash, and their rebounds can be considered more reflexive than demand driven. SUSHI and LUNA are still down 43% and 65% (from ATH) respectively against USD, while MATIC is 14% below its ATH.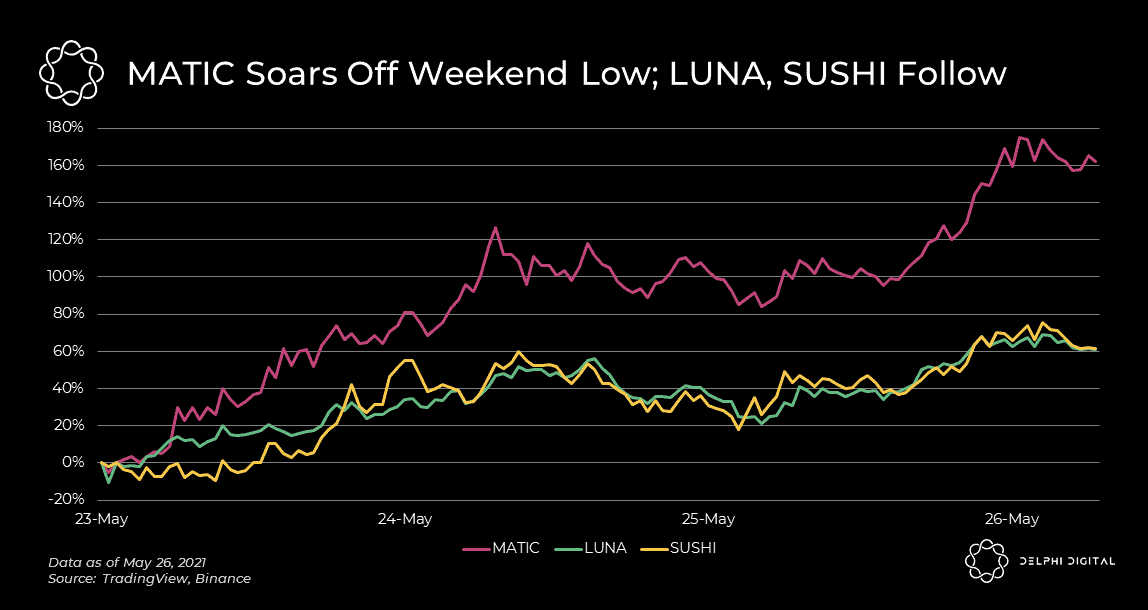 Key Takeaways
Terra suffered a scare as the network's native stablecoin, UST, de-pegged from the dollar. This happened because the price of LUNA fell rapidly, causing cascading liquidations on Anchor. As UST selling increased to unwind existing positions on Anchor, UST de-pegged and the incentive to restore the peg disappeared as volatility caused the arb spread to widen (less profitable).
Over the past couple of days, UST has returned back to its peg. However, these events have revived discussions to improve UST's mechanism design.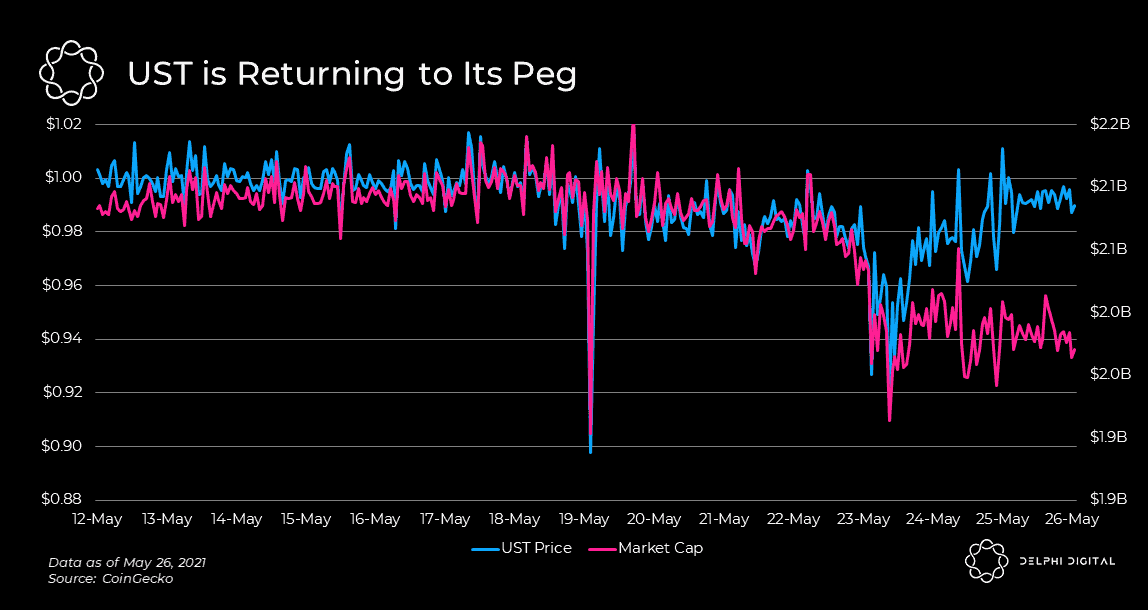 Key Takeaways
TVL in DeFi protocols nearly 40% from its ATH ($165 billion) earlier this month to it's monthly low ($95 billion). But capital is starting to flow back as market sentiment improves.
Notably, one might expect TVL in Ethereum DeFi to fall less than other ecosystems during downtrends given its relative maturity. But Ethereum's TVL dominance, a rough proxy for its eminence over DeFi, continues to fall, thus reinforcing that the multi-chain narrative is here to stay.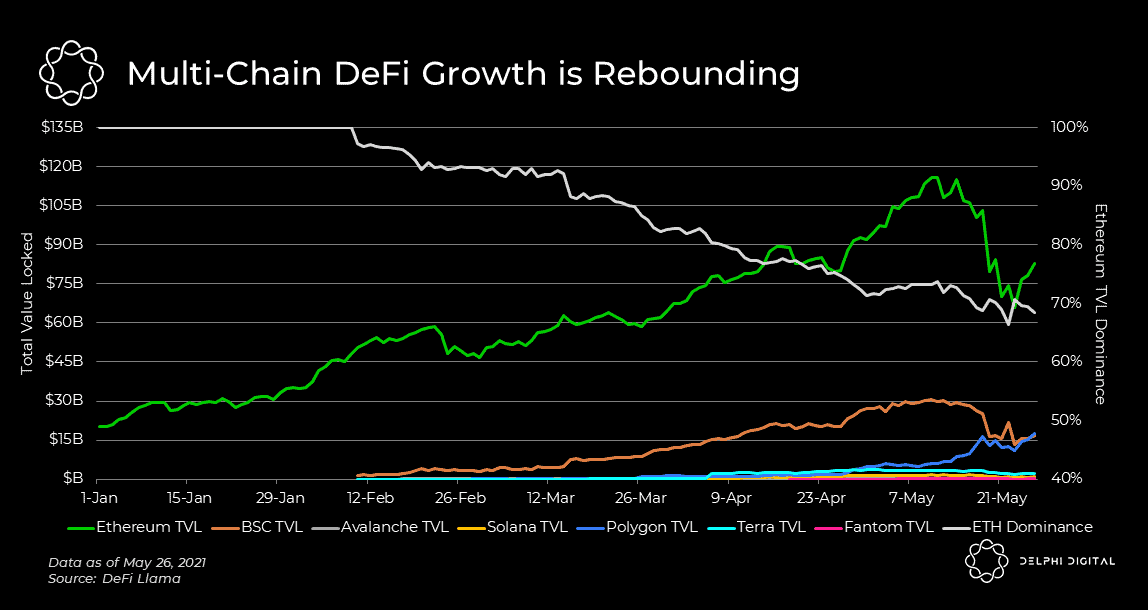 Key Takeaways
Maker's Peg Stability Module (PSM) is a new pool set up in Dec. 2020 to reduce DAI's volatility and strengthen its peg. Users can deposit USDC and mint DAI or sell DAI for USDC at 1:1 ratio. This has drastically improved DAI's peg retention.
The PSM is now at $1.4 billion of USDC liquidity, giving arbitrageurs a lot of firepower fix DAI's peg if it deviates.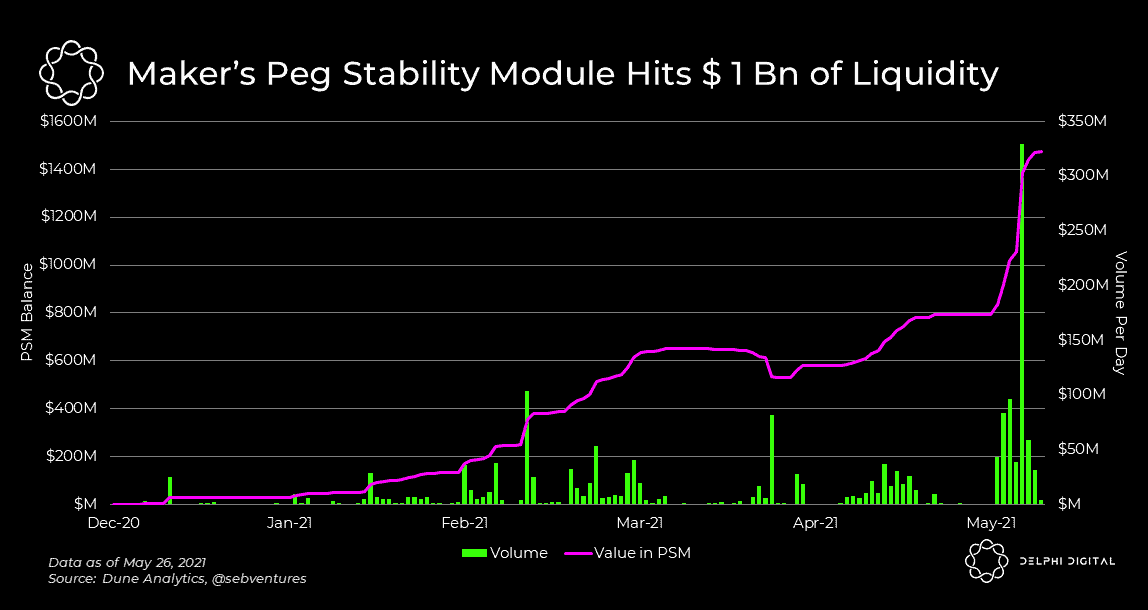 Notable Tweets
Polygon launches its SDK, bringing Cosmos-like interoperability and sovereignty to Ethereum.
1/9 Beloved @0xPolygon & Ethereum family and dear crypto community,

Today, we are proud and excited to announce Polygon SDK! ??

Polygon SDK is an important milestone for Polygon and a major step towards Multi-chain Ethereum! ??

Keep reading to learn more… pic.twitter.com/lGHLoPpPbU

— Polygon (previously Matic) (@0xPolygon) May 26, 2021
Evaluating whether DAOs are crypto's next big narrative.
Will DAOs be the next vertical to go mainstream? A nuanced question. ? ?

There are a few roads onto DAOs:

– DAOs are treasury technology for DeFi.
– DAOs are digital companies and organizations.
– DAOs are underlying financial coordination technology for consumers.

— (Miami) Jake Brukhman (@jbrukh) May 26, 2021
Ribbon Finance, an open source structured products dApp, has launched it's governance token.
Today we are excited to announce $RBN, the governance token of Ribbon. pic.twitter.com/aMRUa4JWa5

— Ribbon Finance (@ribbonfinance) May 25, 2021