Today's Digest
After yet another weekend of indecisive price action, crypto markets enjoyed a bounce across the board yesterday. Today, the market was finding its footing before Coinbase's announced its 4% rewards card can be spent through Apple Pay and Google Pay, causing another mini pump. While the next few weeks of price action are likely to be choppy and range bound, early data suggests volatility may be culled for now.
Key Takeaways
Implied volatility for various durations of BTC options have fallen over the past week, indicating cheaper options across the board (good for buyers, bad for sellers).
Implied volatility, as the name suggests, is not a measure of actual volatility. It's an output from the Black Scholes equation that measures the assumed volatility an option is being priced at. Thus, lower implied volatility means options are being priced with less volatility, which further indicates the options market believes volatility will continue to fall in the coming weeks.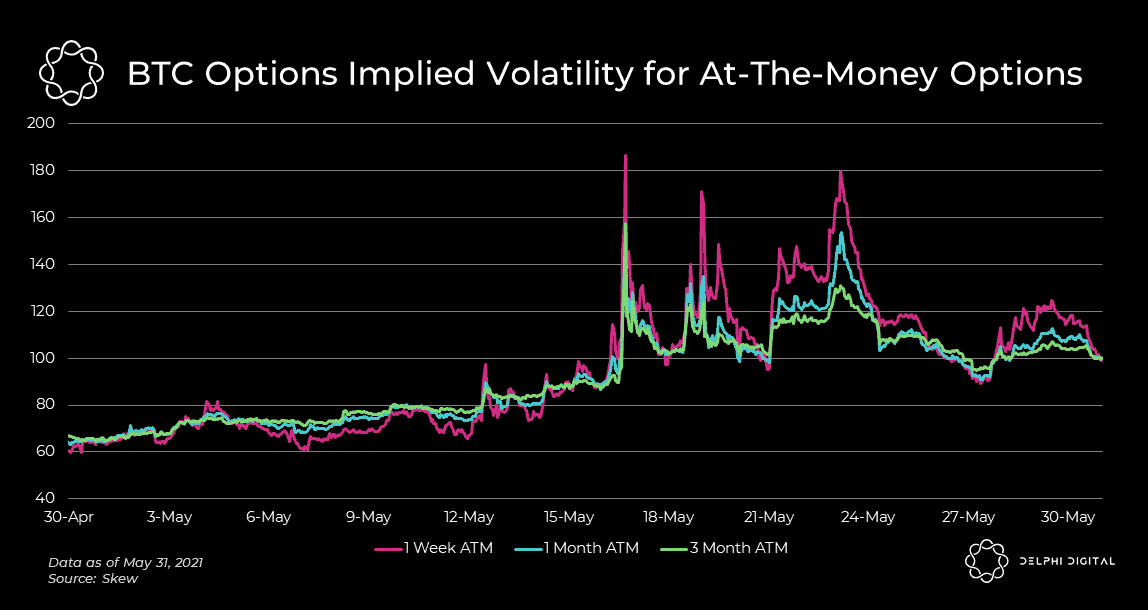 Key Takeaways
Gas prices have tanked to pre-DeFi summer levels, which signals lower demand for Ethereum blockspace in general. It's impossible to infer if this is a good or bad thing at this point, but low gas prices are another potential indicator of lower incoming volatility.
While not perfect, ETH volatility and gas prices tend to trend in the same direction for the most part. Given ETH's current 30-day volatility is at a year-high and gas price is at a year low, we expect ETH's volatility to revert and decline from here.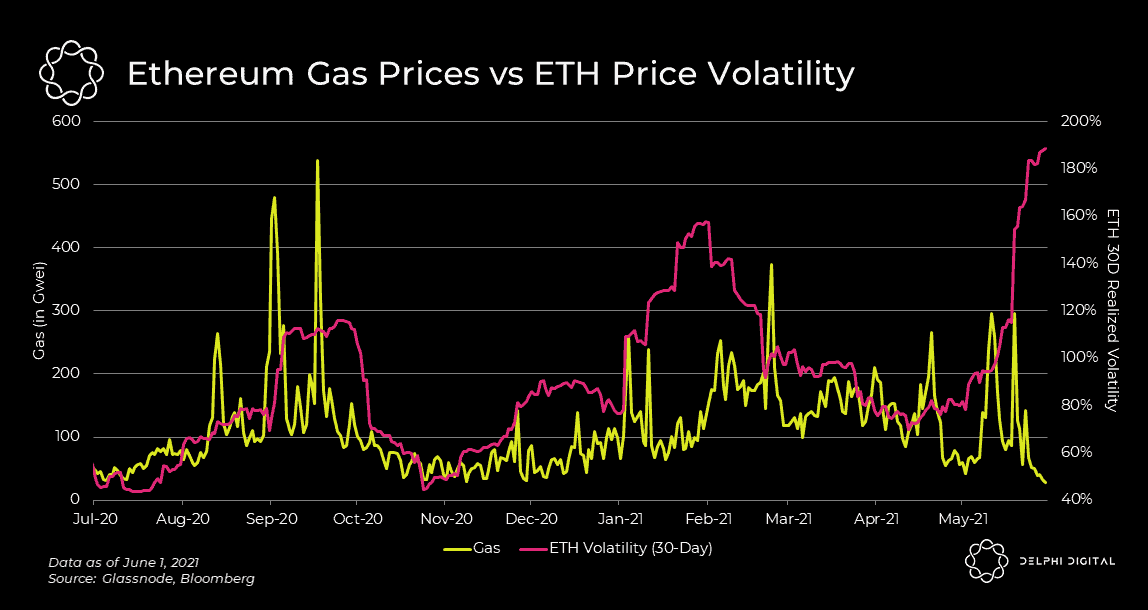 Key Takeaways
Despite the sell-off in DeFi tokens, utilization rates in DeFi native money markets are still quite high. While leverage wipe outs are healthy for any market, the quick bounce back in utilization suggests leveraged users in DeFi aren't as reckless as leveraged derivatives traders. It's worth noting TVL in Aave is back to pre-crash levels, while Compound and Maker are still far below ATHs.
For the uninitiated, the utilization ratio is a measure of loans outstanding divided by total assets in the protocol. While this is a useful metric for Compound and Aave to measure capital efficiency, it isn't as useful for Maker where collateral deposited cannot be loaned out and debt is issued only in DAI.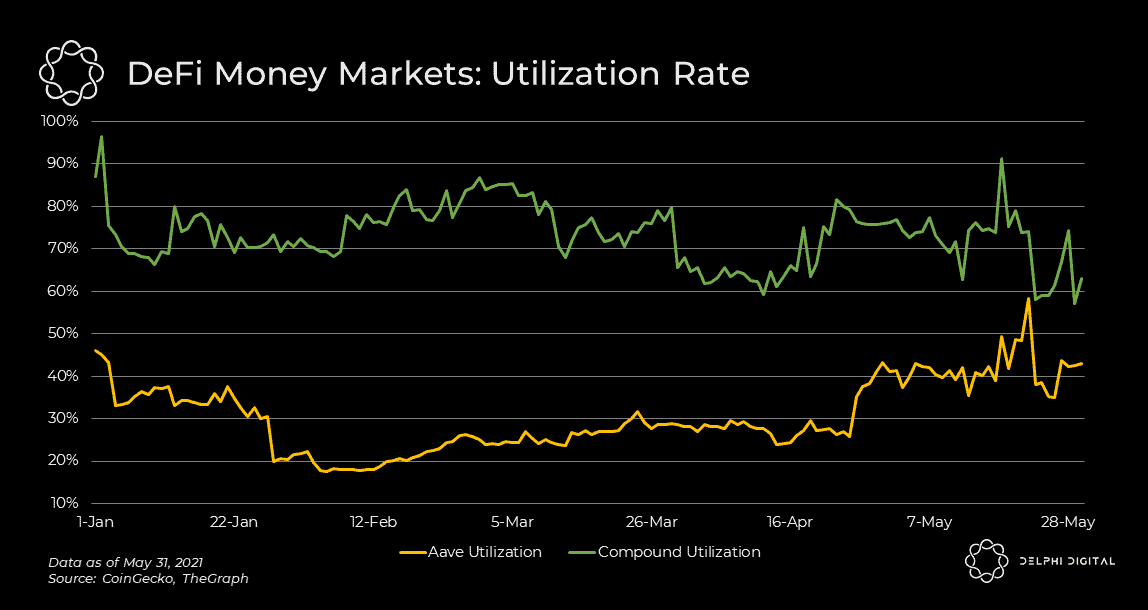 Valuation methodology is a murky topic in DeFi, but using a rough proxy of network value to monetizable value (market cap/total assets locked), all three major protocols' tokens trade in a similar range, but COMP has a slight edge over the rest.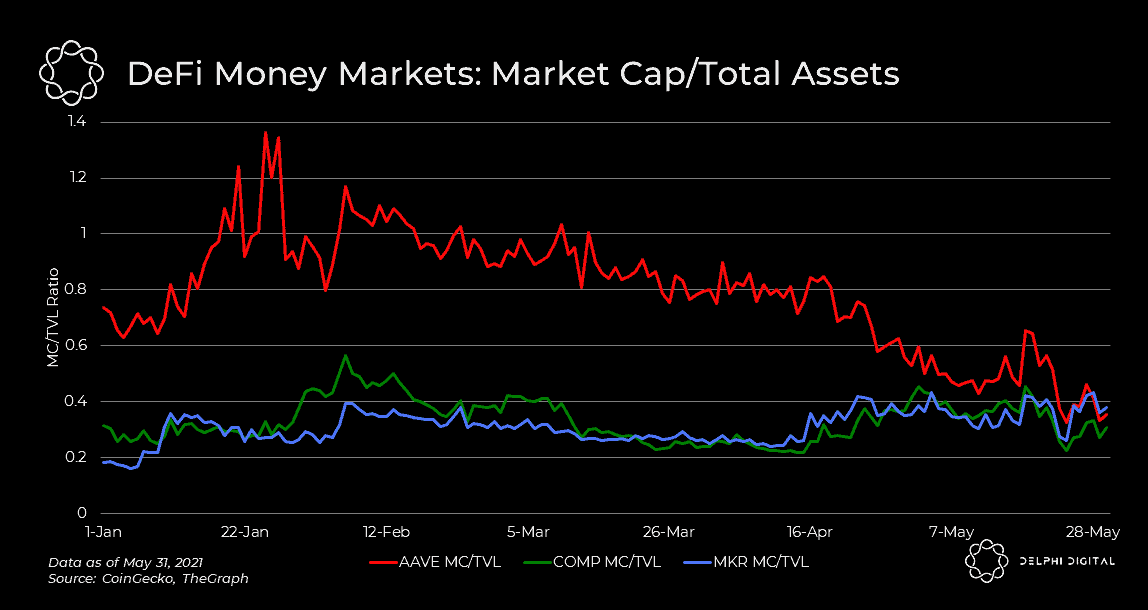 Key Takeaways
Bringing over the same network value to monetizable value proxy to general purpose AMMs (market cap/daily trading volume), it's apparent that Bancor tends to be on the higher side of the spectrum (relatively overvalued) and Sushiswap on the lower end (relatively undervalued).
Of the four listed, only Bancor (BNT) and Sushiswap (SUSHI) actually monetize value on a protocol level and distribute it to staked token holders. As long as DEX volumes stay in tact, stakers of BNT and SUSHI will continue to earn income from these protocols. This would provide a more tangible price floor for BNT and SUSHI vs UNI and BAL.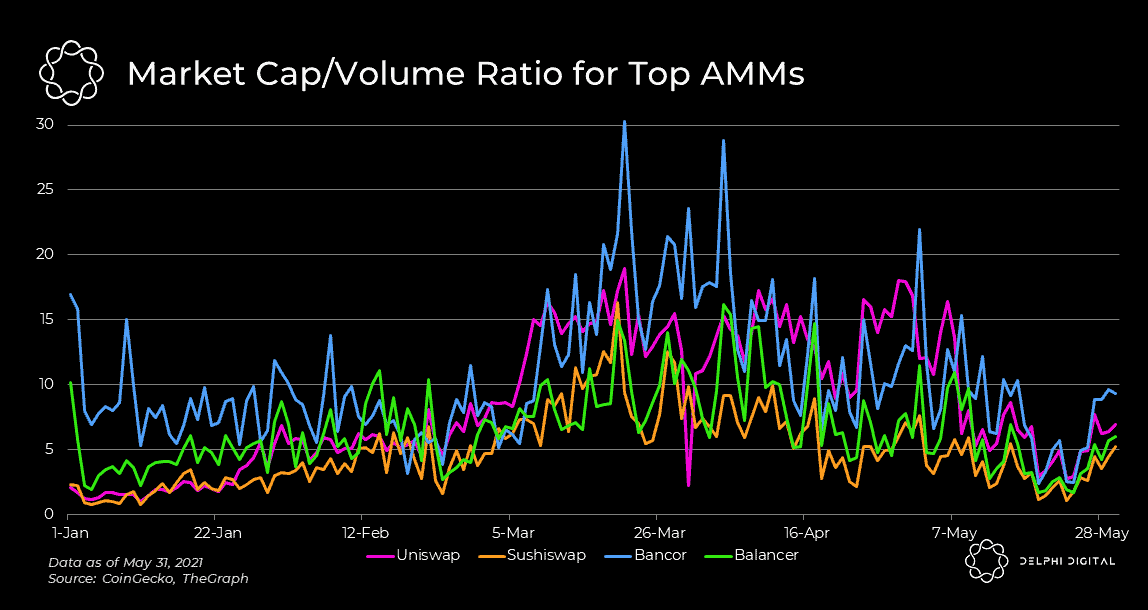 Notable Tweets
Valuing Bitcoin against on-chain volume.
A thread about NVT, one of the first on-chain signals first published in Feb 2017.

This is a 2021 re-hash of my NVT learnings since then.

"How to use on-chain volume to establish a fundamental valuation for Bitcoin." pic.twitter.com/m3BHsFx70o

— Willy Woo (@woonomic) June 1, 2021
Curve is the ultimate winner of the Convex vs Yearn situation.
Looking at the battle around $CVX now we will see $CRV price strengthening.$cvxCRV-$CRV is 138% APR, and almost 1:1.

No doubt yearn will need to incentivise back. Hopefully before I convert all my $yvBOOST over to $cvxCRV.

Either way $CRV up, all yields up, all of defi up.

— Cryptoyieldinfo (@Cryptoyieldinfo) June 1, 2021
As mentioned above, valuation in DeFi is a murky subject, precisely for the reasons outlined this tweet.
tradfi valuation metrics may map poorly to defi tokens

– presence of continued issuance
– absence of profits to distribute
– unclear tokenholders rights to profits (if any)
– no clear process to trigger dissolutions
– unclear if tokenholders have any rights to treasury / assets

— 찌 G 跻 じ MBA, CFA, FRM, CFP, NGMI, HFSP, HENTAI (@DegenSpartan) June 1, 2021