Data Digest
Polygon continues to grow as BSC stagnates
DeFi coins led relief rally
Uniswap v2 vs v3 capital efficiency
Perpetual Protocol's massive growth
Key Takeaways
Binance Smart Chain is experiencing capital outflow as Polygon's TVL swells to $15 billion.
Price performance for both tokens is tracking capital flows, with BNB experiencing a downturn and MATIC flying.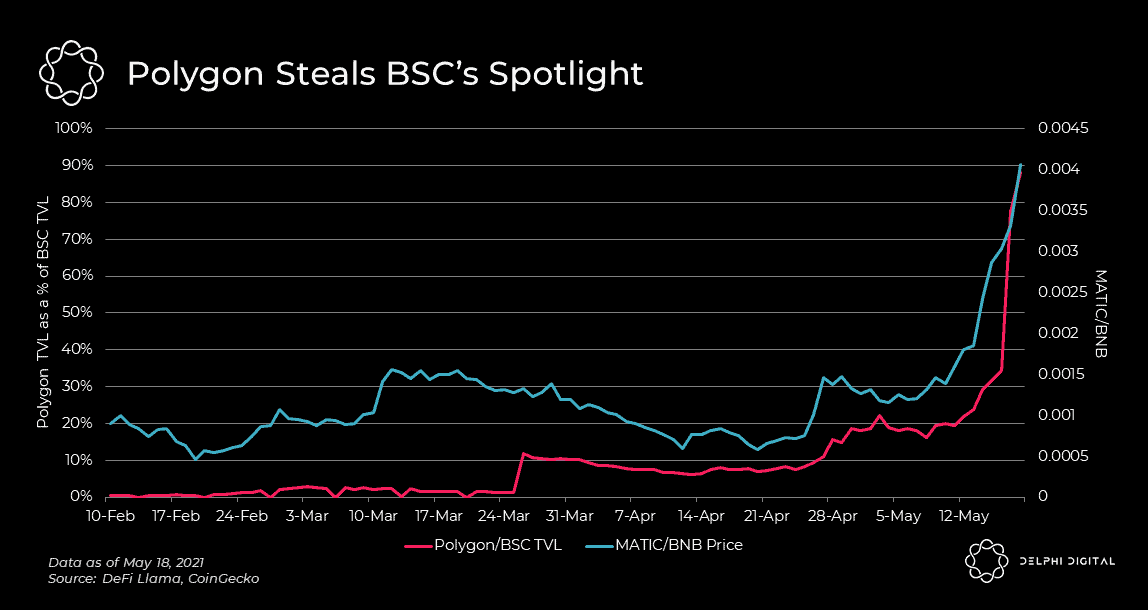 Key Takeaways
The Asia and Europe sessions caused a market bounce, with blue chips like AAVE and SUSHI leading the market.
Despite the US session opening with a sell off, these DeFi coins are still up over the past 2 days.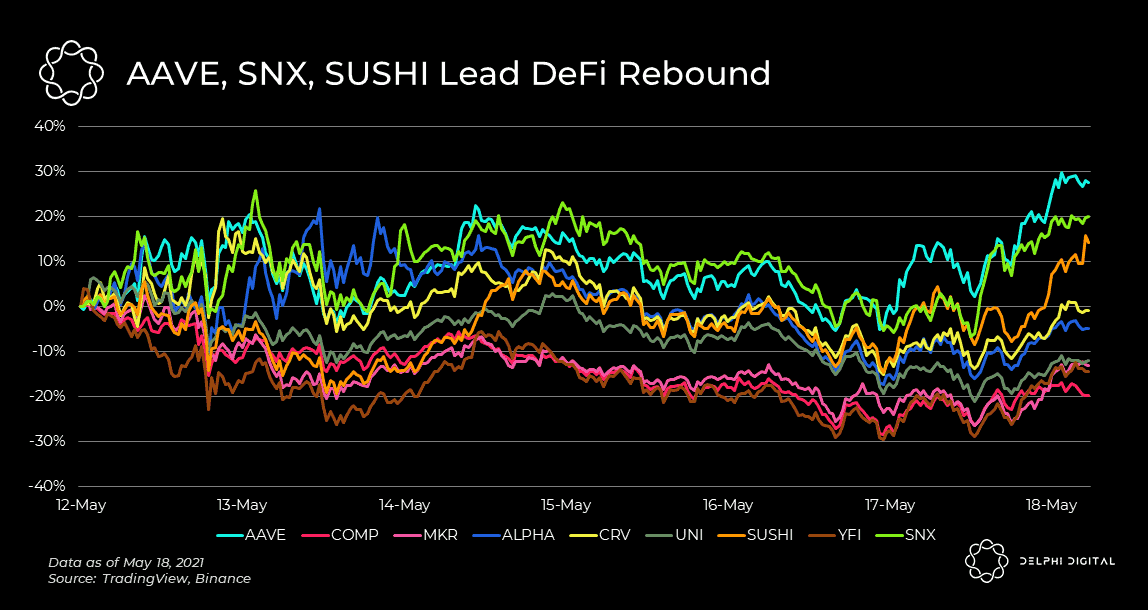 Key Takeaways
Uniswap v3's capital efficiency over v2 is glaringly obvious once we look compare liquidity and trading volume.
For every $1 of liquidity, v2 facilitates around $0.2 of volume. On v3, every $1 of liquidity produces between $0.8 and $1.6 of volume.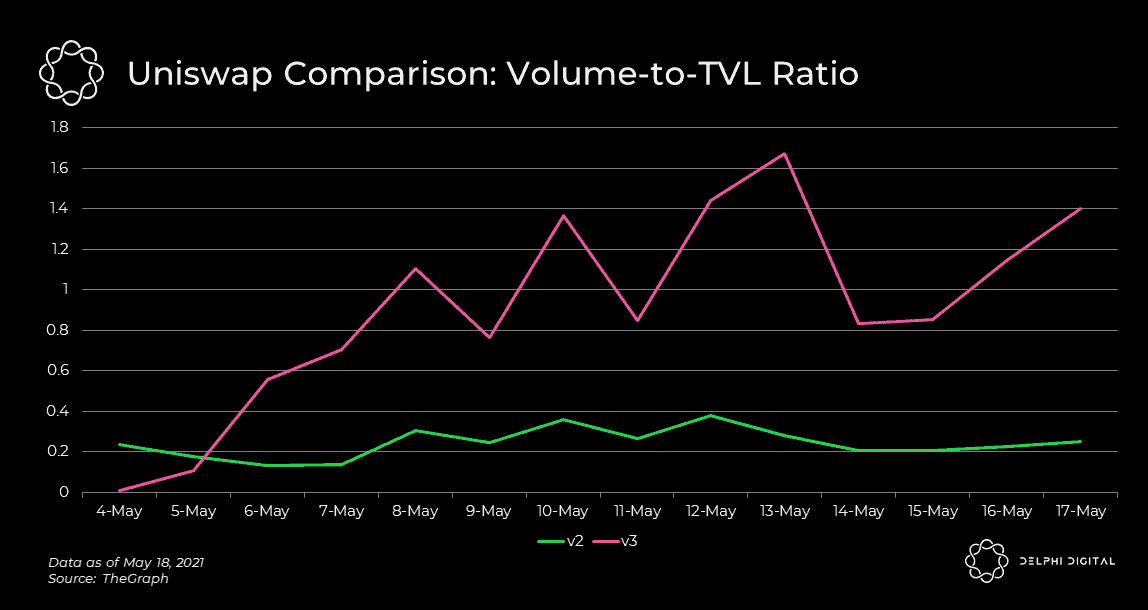 Key Takeaways
Since our DeFi derivatives deep dive, Perpetual Protocol's volume has boomed to over $300 million a day.
With a 0.1% fee, the protocol is earning $300-350k in fees per day. That's a run rate of $120-130 million per year.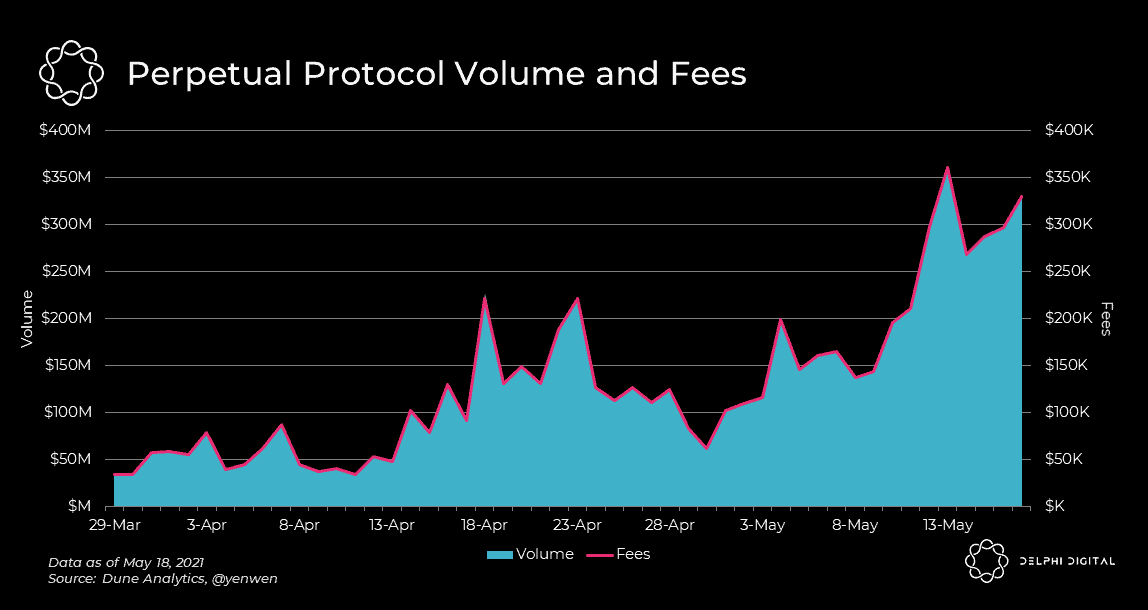 Notable Tweets
Ethereum transaction fees eclipse Bitcoin transaction fees.
Reminder: blockchains sell blocks. pic.twitter.com/XAd0M3okFR

— RYAN SΞAN ADAMS – rsa.eth ?? (@RyanSAdams) May 18, 2021
China bans Bitcoin again? Nope, it was just a reiteration of an old decision.
The PBoC's big 2017 notice already banned financial and payment institutions from dealing with crypto. It's more or less a reiteration today.

Four years is rather long time in crypto. Good time for post-17 newcomers to revisit the history. https://t.co/xjnUDK1aUP

— Wolfie Zhao (@WolfieZhao) May 18, 2021
TLDR for the Three Arrows Capital Bankless Podcast.
Sharing my notes from the bankless x 3AC podcast@BanklessHQ x @zhusu x @kyled116

???

mindblown how much alpha these guys leak, mucho appreciato senor papis pic.twitter.com/lopFxzU2vl

— eris (@smolEris) May 17, 2021