Market Update
BTC and ETH had been ranging from the Asia session into the London session, with a short bout of weakness emerging at New York open. As mentioned in yesterday's daily, BTC currently sits near its range high and traders are awaiting confirmation of either bearish continuation or an uptrend over the next week.
Polygon Search Trend Erupts
Google trends indicates Polygon is garnering attention from retail users as 1.4 million searches were made for Polygon/MATIC in May alone.
While "DeFi" and "Yield Farming" are growing in search volume as well, users are currently tilted towards Polygon. Given the barrage of liquidity mining programs on Polygon, this isn't much of a surprise.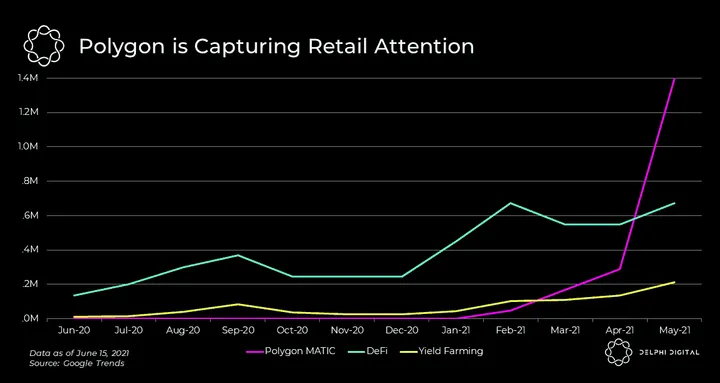 Whales Come Out From Hiding
According to Glassnode, the number of BTC held with long-term holders has been on the incline over the past few weeks after months of offloading BTC.
Selling from long-term holders died down near the top as the GBTC premium faded into a discount and Coinbase's equity listed publicly. The sharp rise in long-term holder accumulation is a positive sign for those with mid to long term time horizons for BTC.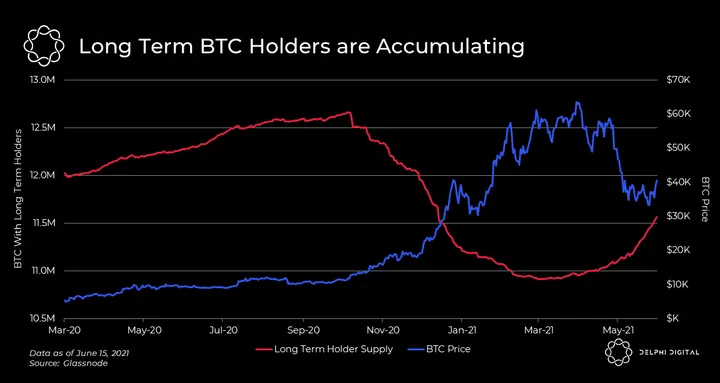 Is it Time For BTC Rotation?
Bitcoin futures open interest (OI)—the total value of outstanding futures contracts, and a rough proxy for investor appetite—is starting to tick up. After last month's price action wiped out over $15 billion in open interest, OI has stabilized. Meanwhile, bitcoin's streak of fading dominance also appears to be over. Bitcoin dominance is rising beside OI– as is normal when the market emerges from a spell of intense fear.
Between long-term holders accumulating coins again and BTC dominance resurfacing, the stage seems to be set for BTC to outperform other crypto assets for the foreseeable future.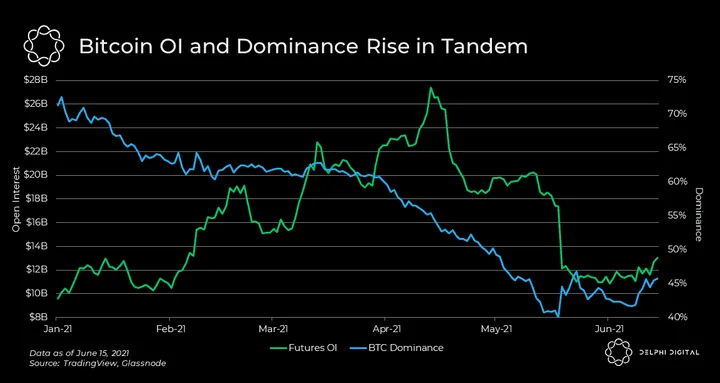 UNI Price Detached From Fundamentals
While DeFi assets are following the majors on this bounce, DEX volume (and CEX volume) is yet to recover. As a result of declining usage and a rising price, assets like UNI have seen their cash flow derived valuations shoot up in the last 2 weeks.
One would think that for assets like UNI and SUSHI, price would follows its volume (and thus cash flow). But their correlation to BTC is a stronger influence given the current state of the market. As DeFi eventually decouples from BTC, we will likely see the relationship between fundamentals and price grow stronger.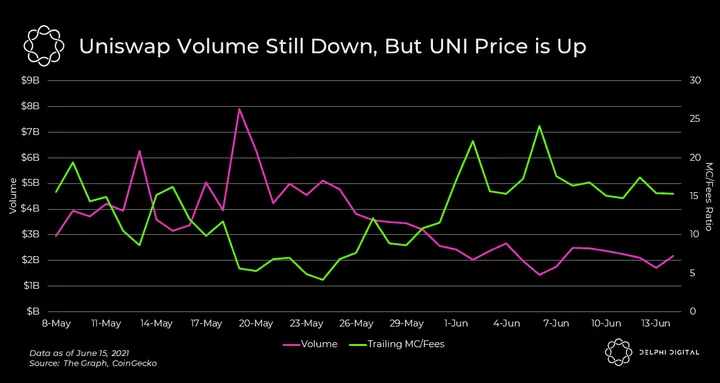 Notable Tweets
Delphi Labs introduces a new interest rate model for DeFi.
The inventor of the internet is selling a 1/1 NFT of his original code.
The United States House of Reps formed a cryptocurrency working group.