Data Digest
Binance facilitates nearly $100 billion of spot trades
Ethereum DEXes record over $10 billion in volume
Funding rates are still wayward
PancakeBunny Finance exploited, TVL and price drop dramatically
Key Takeaways
Binance facilitated close to $100 million of spot volume across its various markets.
Yesterday's crypto rout and subsequent re-buying were driven by spot market activity.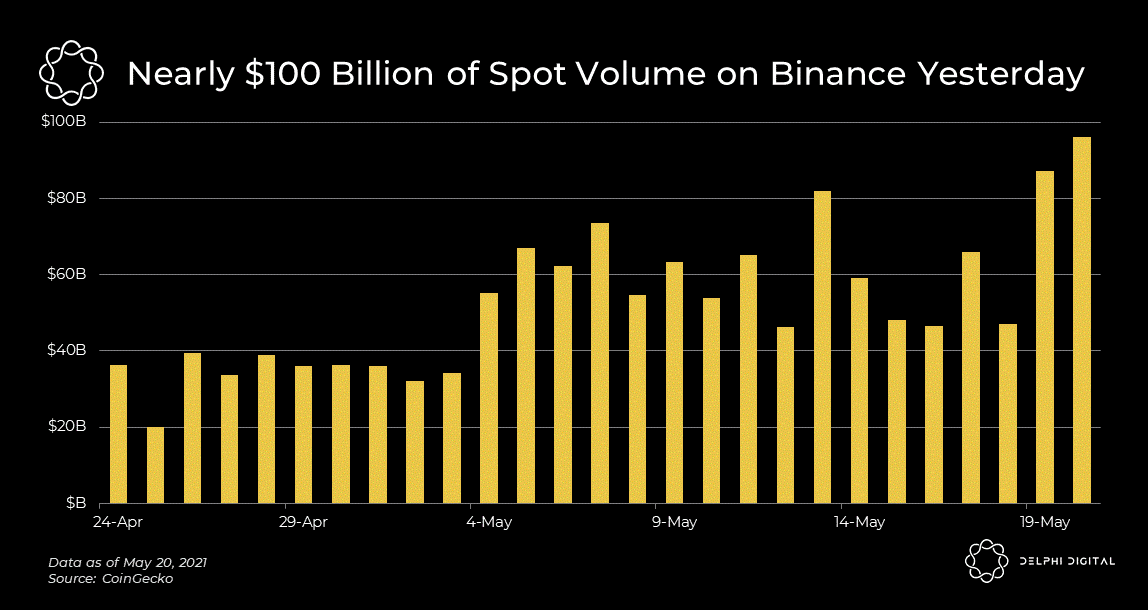 Key Takeaways
DEXes were no stranger to the onslaught of spot trading, with yesterday marking the single highest day of volume for all DEXes.
Uniswap led the way with nearly $6 billion of volume. Sushiswap was a distant second with around $3.5 billion.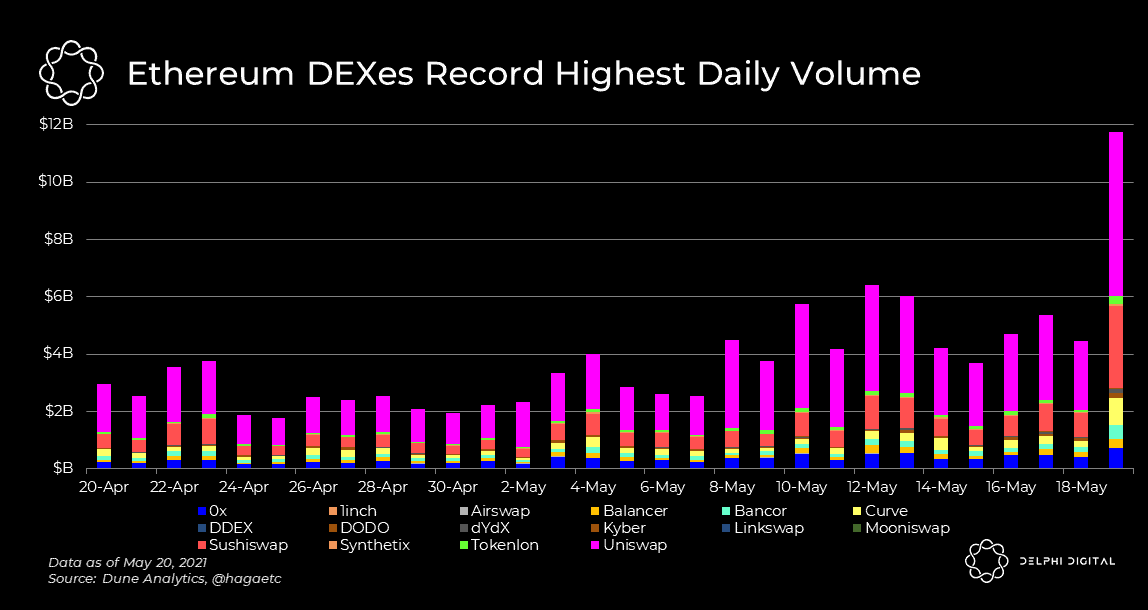 Key Takeaways
While many market participants believe a concrete bottom has been established, funding rates for perps are anything but normal with significant divergence between major exchanges. In healthy markets, funding rates should converge quite closely.
Until there's some semblance of stability on perp funding rates, the market's future direction is still uncertain.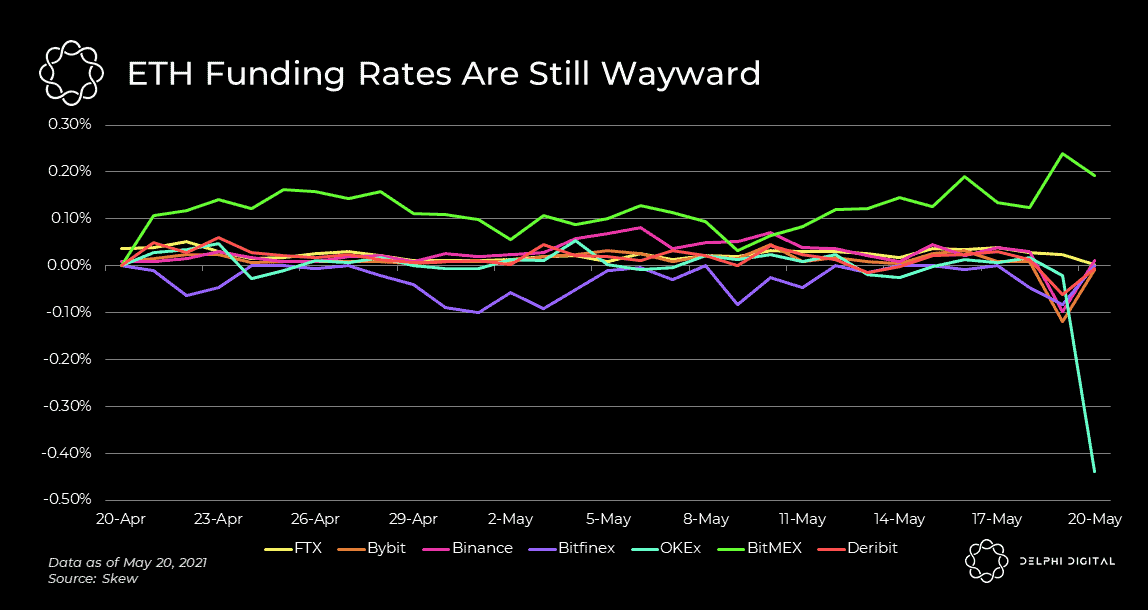 Key Takeaways
PancakeBunny Finance, a yield aggregator on BSC, was on the receiving end of a flash loan attack and lost $45 million in user funds.
The hacker pushed the price of the BUNNY token down from $150 to $6 with multiple flash loan enabled dumps.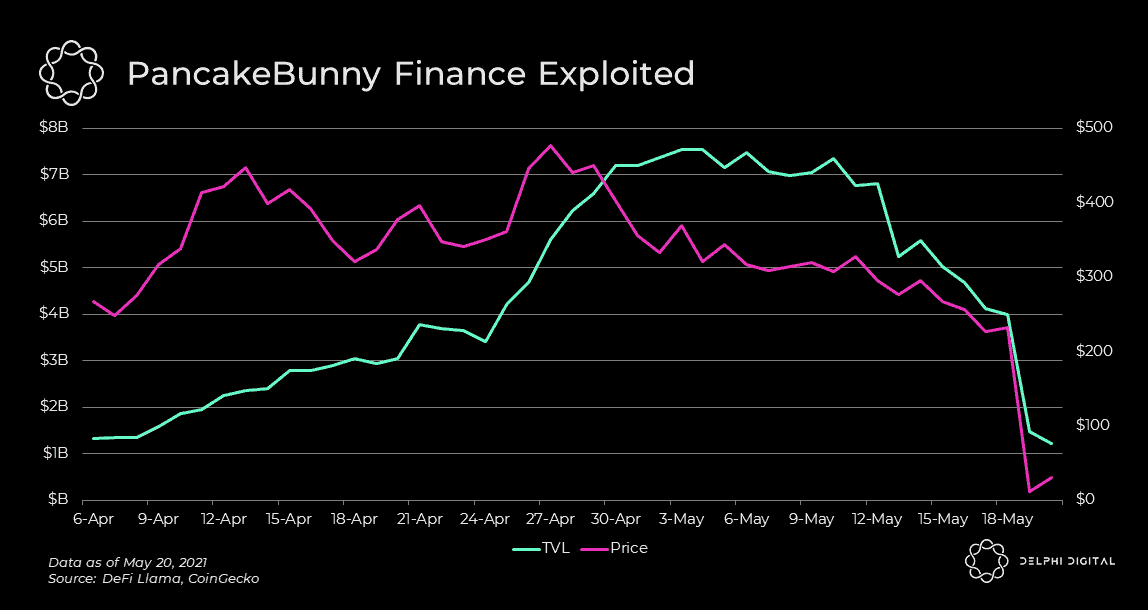 Notable Tweets
An update on Polkadot's path to parachain functionality.
Polkadot's parachains launch is expected to begin once two things have happened:
1. A full external audit is completed.
2. @kusamanetwork executes at least one successful auction involving crowdloans and hosting at least one functional parachain.
Read more from @gavofyork: https://t.co/m03AFJueXR

— Polkadot (@Polkadot) May 17, 2021
Flashbots miner's made a killing during yesterday's Ethereum congestion.
Flashbots daily miner profit ATH (in ETH or $) yesterdayhttps://t.co/mQbod1OucB pic.twitter.com/zzOaZ7hTsj

— Robert Miller (@bertcmiller) May 20, 2021
An update on ZCASH metrics
The #zcash privacy set continues to grow. In general, the more shielded outputs in a given pool, the more difficult it is to link transactions that interact with that pool. https://t.co/J1OnIPjK66

— Electric Coin Company ?️ (@ElectricCoinCo) May 20, 2021