Market Update
After multiple consecutive weekend dumps, this past weekend saw the bulls come out on top, indicating retail sentiment is recovering. BTC held its high over the course of Monday before swiftly moving up another 3% at New York open. Bullish sentiment is making a comeback as Microstrategy's $500 million debt raise settles today. BTC is at its current range high; a break down from here could spell fresh lows while taking out the high would confirm a continuation of the uptrend.
MATIC, SOL Top Performing Chains
Polygon (MATIC), Solana (SOL), and Fantom (FTM) are the three best performing Layer 1 smart contracts platforms in 2021 so far. LUNA was performing on par with these assets but suffered a much sharper decline during the latest market downturn.
Tezos (XTZ), Near Protocol (NEAR), and Polkadot (DOT) were at the bottom end of the bracket. Tezos and Near have struggled to capture attention and adoption, while Polkadot saw a fair amount of hype but is yet to ship essential features such as Parachain functionality.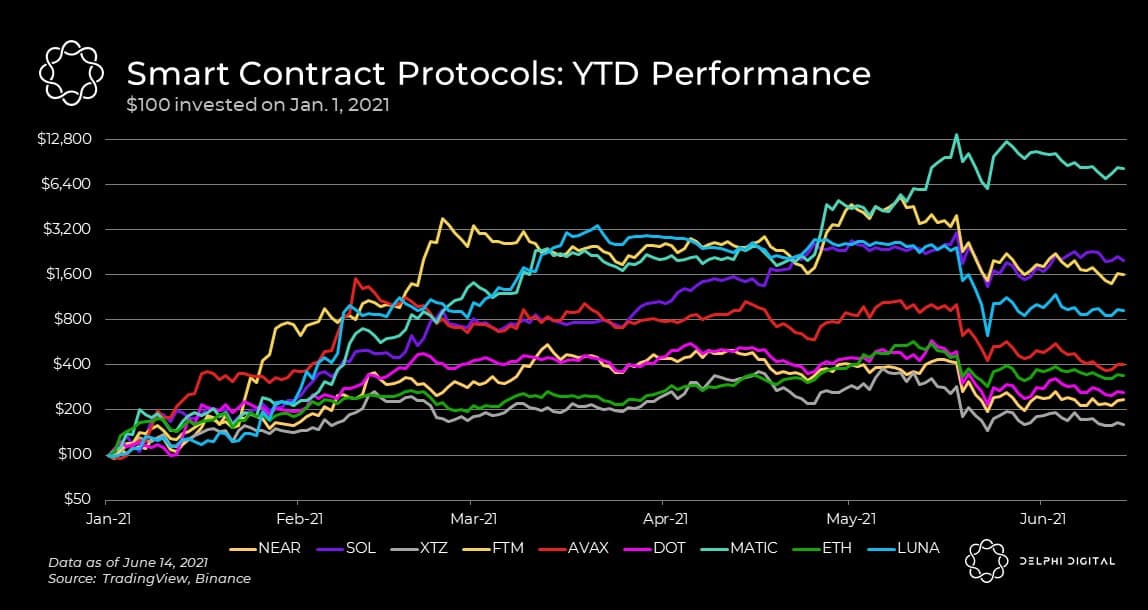 Erosion of the GBTC Premium
The easiest trade of 2020 for accredited investors and crypto hedge funds was to buy BTC from crypto exchanges and deposit it in the Grayscale BTC Trust. Doing so required investors to lock up their BTC for 6 months, but allowed them to sell for a large premium.
As the premium eroded and eventually flipped into a discount, a major source of BTC buying dried up. If retail investors start buying GBTC and pushing the premium up, it could ignite another bout of institutional arbitrage between GBTC and crypto-native BTC markets. However, the rise of alternative BTC investment vehicles, most notably exchange-traded products like ETFs, are likely to keep pressure on the GBTC spread; the days of massive premiums may be behind us.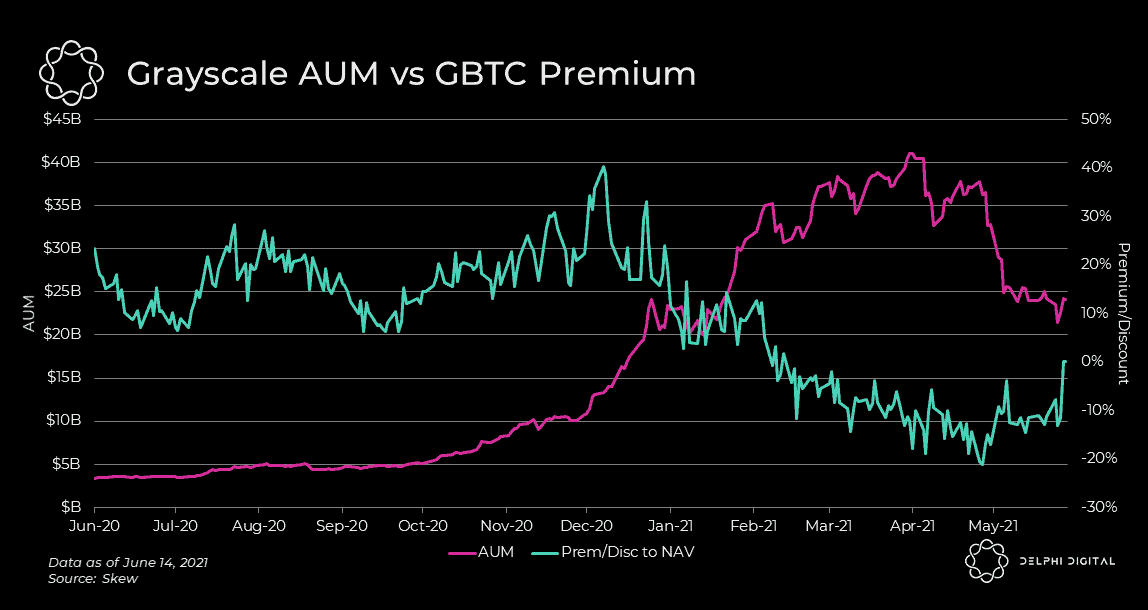 Single Digit Gas Prices
Average gas prices are sitting at their lowest levels in over a year as Ethereum usage dwindles. While the average gas price bottomed out at 11 gwei, transactions settled for even 7-8 gwei for short periods of time.
There are several reasons that could explain gas prices trending down. The most obvious is the drop in Ethereum usage as evidenced by falling DEX volume. A large amount of speculative activity moved to Polygon, further reducing demand for Ethereum block space. And finally, Flashbots off-chain MEV extraction market place has played a vital role in bringing gas prices down since earlier this year.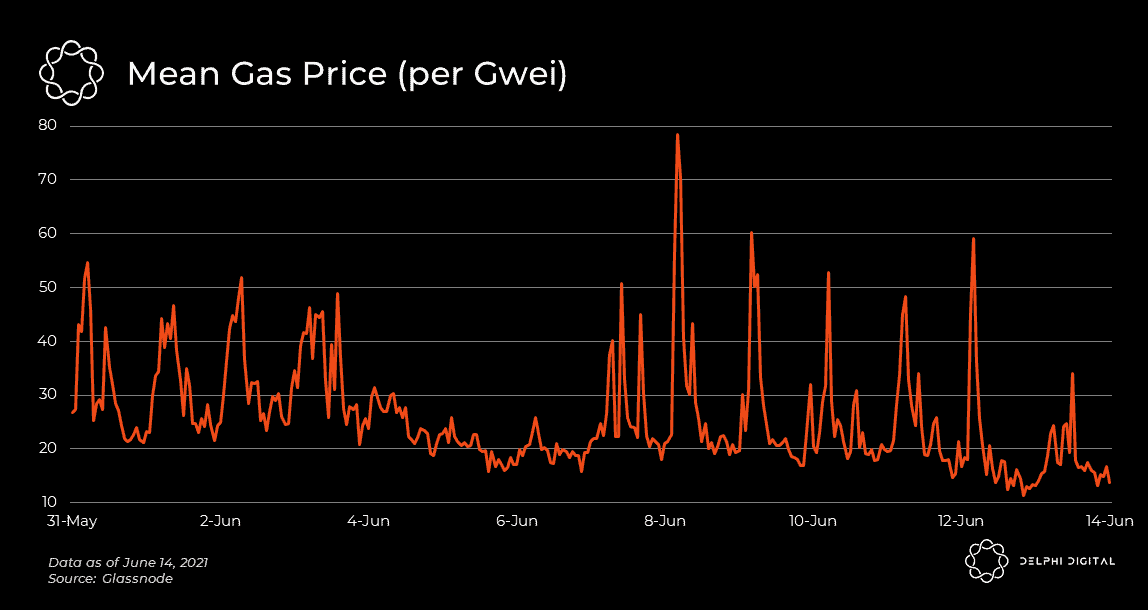 Axie's Monster Growth
Axie Infinity's growth over the past few months has been astounding. Looking at cumulative fees earned from the marketplace and breeding, Axie earned $1 mn in fees between Jun. 2020 and Mar. 2021, and earned a whopping $8.5 mn in fees from Mar. to Jun. 2021.
Users of Axie Infinity were largely priced out of playing the game, but the team migrated most essential features to Ronin — an Ethereum sidechain built by the Axie team. This migration (which happened in end June 2020) dramatically reduced the costs of playing Axie Infinity and helped them continue attracting more users.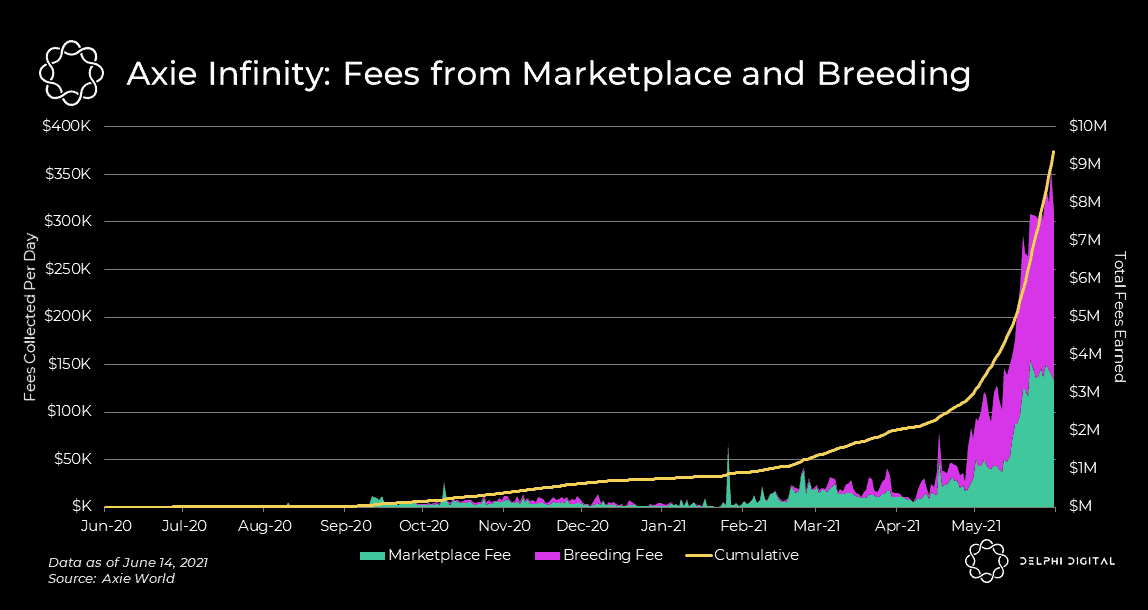 Notable Tweets
Yearn strategists game the PoolTogether no-loss lottery.
Few people know but we have strategies that corner the lottery and win most of the prizes. This has sparked the development of Pods which essentially pool tickets together.https://t.co/hEHe1JDP8B https://t.co/5nYMrqqXjk

— banteg (@bantg) June 12, 2021
Hedge fund magnate Paul Tudor Jones on Bitcoin.
Paul Tudor Jones, "#Bitcoin is math. Math has been around for thousands of years. 2+2 will equal 4, and it will for another thousand years. I like the idea of investing in something reliable, honest, secure, and hundred percent certain. #Bitcoin is a way to invest in certainty."

— Documenting Bitcoin ? (@DocumentingBTC) June 14, 2021
Alpha Homora breaks down the implications of its native launchpad.
1/7 As a part of the #AlphaLaunchpad incubator program announcement series

we're excited to share that the FIRST INCUBATED PROJECT has been built…

and is going to be launched on Alpha Launchpad soon! pic.twitter.com/jvQsV3Yega

— Alpha Finance Lab (@AlphaFinanceLab) June 14, 2021