Data Digest
Uniswap v3 performs through crash
BTC options OI and volume fall in tandem
Sharp increase in stablecoin issuance
Leaders of the market's relief rally
Key Takeaways
Uniswap v3 is unfazed by the recent crypto drawdown, and it's TVL hit an all time high despite prices dropping across the board.
v3's unique price curve has the ability to minimize IL (if executed right) and allows LPs to earn more fees per dollar deposited.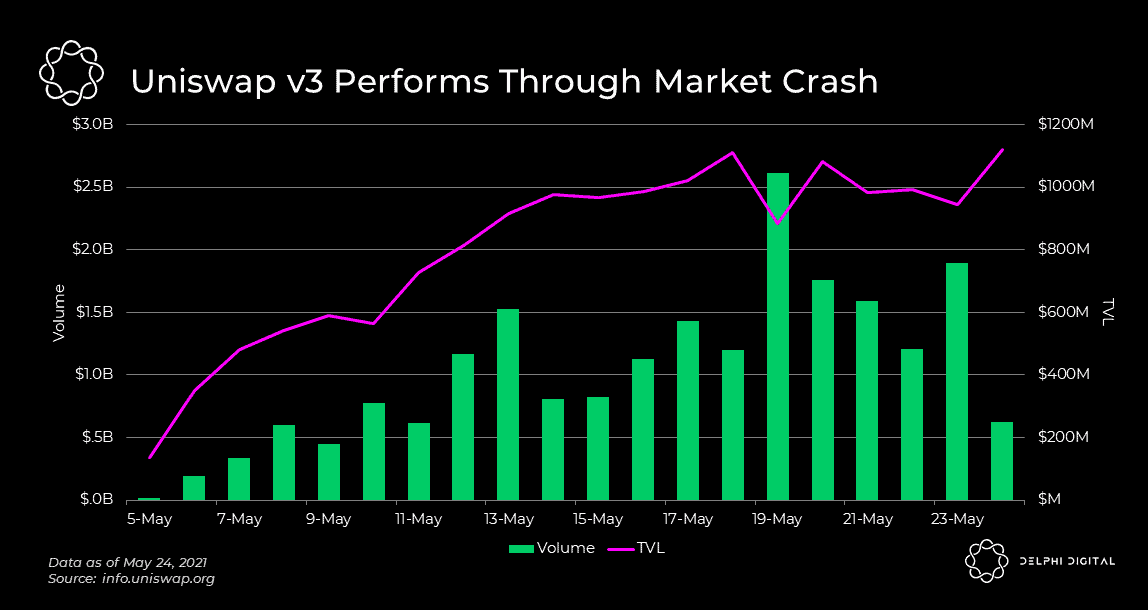 Key Takeaways
Bitcoin options volume and open interest are declining in tandem. Liquidations wiped off nearly 50% of OI in May.
Generally, a simultaneous decrease in price, OI, and volume is considered bullish. If OI and volume aren't moving, it means traders aren't trading the markets moves and their sentiment continues to be bullish.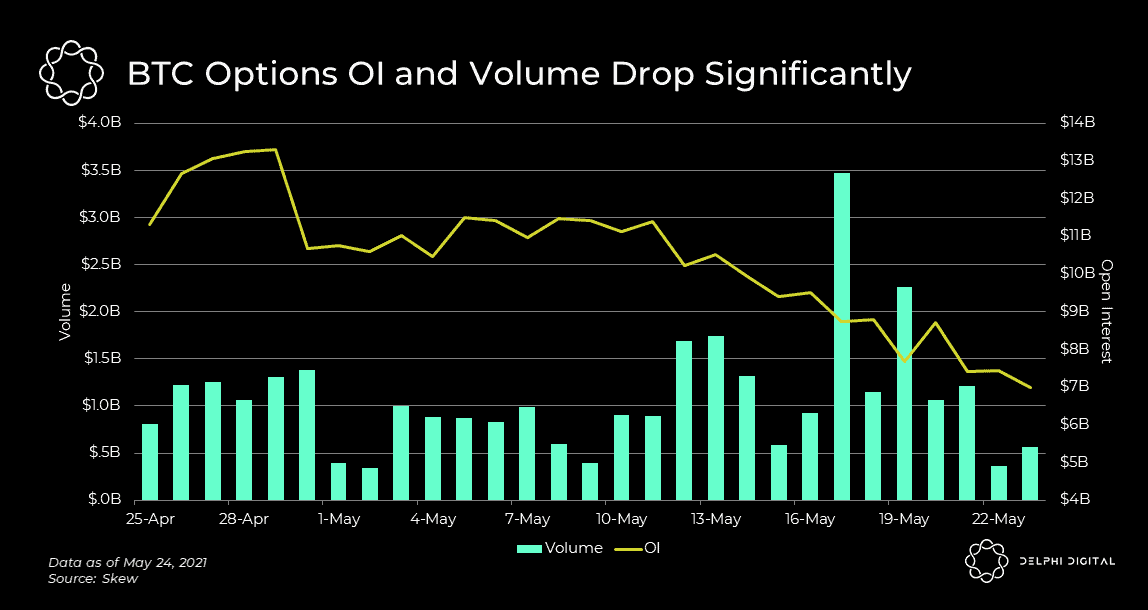 Key Takeaways
Circulating supply for fiat-backed stablecoins has sharply risen despite the market environment. USDC experienced the highest growth, with circulating supply growing from 15 billion to nearly 21 billion in the last 5 days.
While these inflows might be dip buyers loading up ammo, it could also just be stablecoin arbitrageurs. It's important to ensure circulating supply doesn't drop sharply to confirm these inflows will be deployed.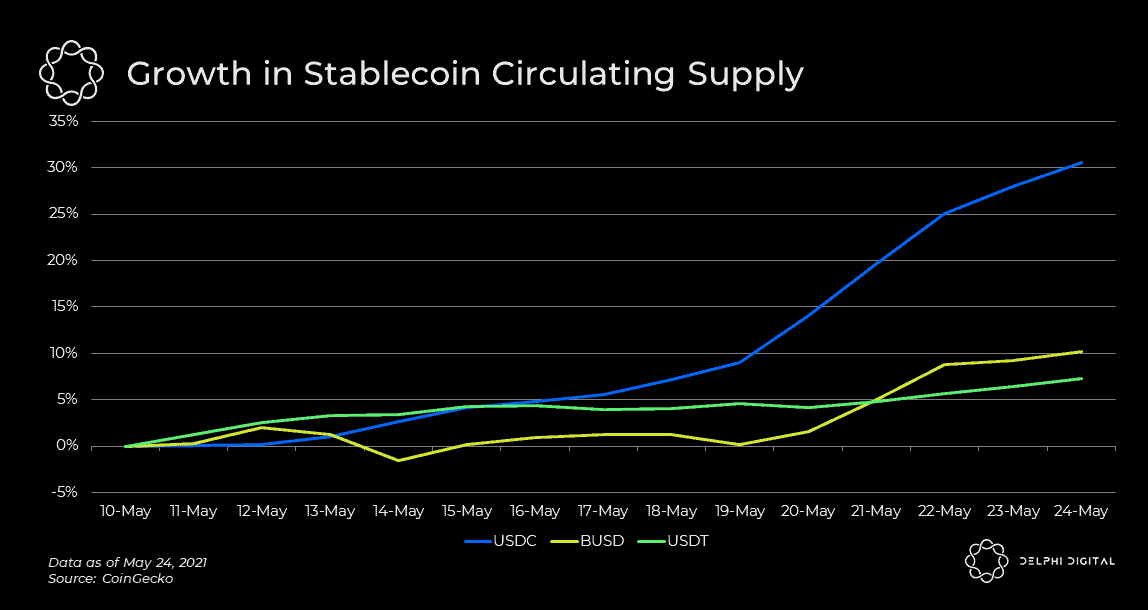 Key Takeaways
Following a weekend of distressing price action, DeFi coins have rebounded hard from Sunday's lows.
It's important to note this isn't particularly bullish yet. Given the sharp decrease in prices over the last week, a relief rally was inevitable.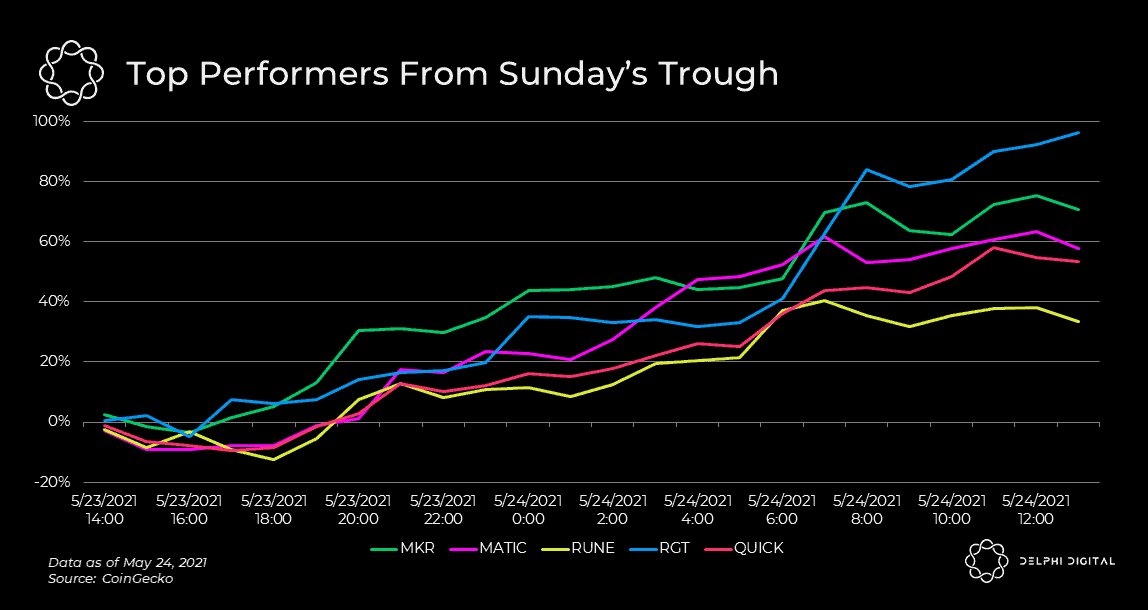 Notable Tweets
The CEO of a large Chinese mining pool talks about China's latest crypto ban.
Some thoughts about the impact of China's policy on #Bitcoin mining industry:
The current situation of #Bitcoin mining in China is not as serious as you think.

— 江卓尔 Jiang Zhuoer BTC.TOP (@JiangZhuoer) May 24, 2021
Charm Finance launches its second passive Uniswap v3 LP strategy.
New Alpha Vault for ETH/USDT is now live at https://t.co/8OhD8z1xmF!

? The world's first, and at the moment only, LP vault for @uniswap V3 just got even better: pic.twitter.com/rXZGxdaTew

— Charm (@CharmFinance) May 24, 2021
Ray Dalio is opening up to Bitcoin.
"Personally, I'd rather have bitcoin than a bond" in an inflationary scenario, @RayDalio said during a conversation with @mikejcasey at #Consensus2021.

Watch his full remarks by registering for our virtual event: https://t.co/PJg71S61Ru pic.twitter.com/qH4YUtfhI3

— CoinDesk (@CoinDesk) May 24, 2021