Metus vulputate eu scelerisque felis. Nulla facilisi cras fermentum odio eu. Scelerisque fermentum dui
faucibus in ornare quam viverra orci sagittis. A iaculis at erat pellentesque adipiscing commodo elit. In
fermentum et sollicitudin ac orci. Ultrices sagittis orci a scelerisque purus. Faucibus ornare
suspendisse sed nisi lacus sed viverra tellus in. Mauris cursus mattis molestie a iaculis at erat
pellentesque adipiscing. Volutpat diam ut venenatis tellus in metus vulputate. Eu consequat ac felis
donec et odio pellentesque. Eu mi bibendum neque egestas congue quisque egestas diam. Quam
lacus suspendisse faucibus interdum posuere lorem. Quam id leo in vitae. Ut faucibus pulvinar
elementum integer enim neque. Id ornare arcu odio ut sem nulla pharetra diam sit. Molestie ac feugiat
sed lectus vestibulum mattis. Ipsum nunc aliquet bibendum enim facilisis. Euismod nisi porta lorem
mollis aliquam ut porttitor.
Iaculis nunc sed augue lacus viverra vitae congue eu consequat. Gravida neque convallis a cras.
Nunc scelerisque viverra mauris in aliquam sem. Non odio euismod lacinia at quis risus sed vulputate
odio. Purus faucibus ornare suspendisse sed. Turpis egestas maecenas pharetra convallis posuere
morbi. Nec feugiat nisl pretium fusce id velit ut. Nunc congue nisi vitae suscipit tellus mauris a diam.
Posuere sollicitudin aliquam ultrices sagittis orci. Urna nec tincidunt praesent semper. Turpis nunc
eget lorem dolor sed viverra.
suspendisse sed nisi lacus sed viverra tellus in. Mauris cursus mattis molestie a iaculis at erat
pellentesque adipiscing. Volutpat diam ut venenatis tellus in metus vulputate. Eu consequat ac felis
donec et odio pellentesque. Eu mi bibendum neque egestas congue quisque egestas diam. Quam
lacus suspendisse faucibus interdum posuere lorem. Quam id leo in vitae. Ut faucibus pulvinar
elementum integer enim neque. Id ornare arcu odio ut sem nulla pharetra diam sit. Molestie ac feugiat
sed lectus vestibulum mattis. Ipsum nunc aliquet bibendum enim facilisis. Euismod nisi porta lorem
mollis aliquam ut porttitor.
Iaculis nunc sed augue lacus viverra vitae congue eu consequat. Gravida neque convallis a cras.
Nunc scelerisque viverra mauris in aliquam sem. Non odio euismod lacinia at quis risus sed vulputate
odio. Purus faucibus ornare suspendisse sed. Turpis egestas maecenas pharetra convallis posuere
morbi. Nec feugiat nisl pretium fusce id velit ut. Nunc congue nisi vitae suscipit tellus mauris a diam.
Posuere sollicitudin aliquam ultrices sagittis orci. Urna nec tincidunt praesent semper. Turpis nunc
eget lorem dolor sed viverra.
lacus suspendisse faucibus interdum posuere lorem. Quam id leo in vitae. Ut faucibus pulvinar
elementum integer enim neque. Id ornare arcu odio ut sem nulla pharetra diam sit. Molestie ac feugiat
sed lectus vestibulum mattis. Ipsum nunc aliquet bibendum enim facilisis. Euismod nisi porta lorem
mollis aliquam ut porttitor.
Executive Summary
March, 2021 has been a productive month for Delphi Ventures as we made numerous investments across multiple ecosystems.
The most apparent change as of late is that a multi-chain future is a reality. While Ethereum continues to dominate on developer mindshare, we are seeing fruitful early activity taking place on other chains through our existing portfolio companies and our new investments. This is all reminiscent of the early days of Ethereum.
In hindsight while most 2017 era Layer 1's were created mostly to cash in on ETH's success, Etheruem competitive layer 1's in 2021 are differentiating on technical tradeoffs and ideologies while offering new design spaces to support new types of applications. Within our portfolio, Thorchain is preparing for its multi-chain chaosnet (a cross-chain swaps) and Zapper/Debank have continued to roll out support to visualize one's cross chain assets while Alpha Finance has rolled out support for BSC.
Our new investments span new networks all together; Anchor is a savings protocol built on Terra, Pontem will release its own chain to offer a more creative sandbox for DIEM's (previously Facebook's Libra) developers and Arrow is launching options on Avalanche. We also invested in Covalent which will provide an API for visibility across all blockchains and backed BSCPad for an edge in the BSC ecosystem. For new layer 1's we have new stakes in Solana which is an innovative layer-1 that scales with Moore's law (throughput scales with hardware improvements) and is making in-roads with the Serum and FTX ecosystems and Terra, an application specific blockchain built using Cosmos SDK that is unique in its offering of multiple fiat-pegged, algorithmic stablecoins built natively into the network's economic design.
Gaming and NFTs continue to be a core focus: Axie Infinity has garnered significant attention as the team prepares for its private alpha with the ecosystem's top players and releases upgrades to their battle system to improve gameplay. Axie has amassed 25,000 DAUs despite not being on any app stores yet. There are several new gaming specific investments we will share in next month's update.
Beyond gaming itself, we are actively investing in the infrastructure around the segment. Fractional is the most logical NFT fractionalization design (and for baskets of NFTs) we have seen; specifically on the buyout mechanism vs. its competitors which is key to putting these puzzles back together. Recur is off to the races on allowing leading brands to develop on-chain experiences for fans and Upshot is helping to solve the issue around NFT appraisals. Upshot moves the space forward from appraising NFTs based on their last sale to crowdsourced insights on what NFTs are worth through incentivizing anyone to become an appraiser. Yield Guild is scaling its offering to millions of gamers through its play-to-earn model and has seen 129% growth in the number of YGG members to 5,568. Illuvium launched its governance token recently through a Balancer LBP and with its eagerly awaited game slated to launch later this year.
We also made several investments on the DeFi front. Alchemix allows one to get an advance on the yield they'd receive from farming through no liquidation loans. APWine brings together users that want to hedge interest rate risk and users who would like to speculate on it by tokenizing that yield and creating a market for it.. Fuji automatically optimizes borrowing and lending rates for users by moving their assets across various money markets based on where they'd receive the best terms . We are continuing to actively investigate the decentralized derivatives market and are eager to share a few pending investments.
While a discussion on markets is beyond the scope of this update, we do understand some participants' view that valuations feel frothy and some projects with limited tangible progress are sporting ever larger valuations. The frothy aspects of the market come with the exuberance as the space matures and grows into a full fledged asset class. We would propose most be weary of the more extreme aspects of the space: specifically NFTs at massive valuations with limited community and value capture, and copy cat projects launching on layer-1's outside of Ethereum with limited differentiation or a competitive go-to market strategy. Eventually the space will trade on a sector by sector basis akin to the traditional world instead of the entire space being correlated and trading in tandem. One near term catalyst will likely be Coinbase's IPO event, which should drive increased backing and sentiment for the space but could also offer a liquidity event for stakeholders there who may reinvest back into crypto.
We view the implementation of scaling solutions (Arbitrum, Optimism, Starkware, etc.) as a strong upcoming catalyst for the space. While Starkware has launched (supporting DyDx, ImmutableX and others), delays for Optimism and a pending release for Arbitrum will enable a much better UX for many existing and new applications. If L2s are delayed, it could negatively impact the space and also open the door for increased adoption on competing L1 chains. For new applications, it could make sense to launch on competing L1s for scale with a plan to integrate with an ETH based L2 for adoption.
This bull run will not be without it's share of dips along the way, but we are ever bullish on the future of this space and will continue to make many investments moving forward.
Portfolio Updates
3iQ is Canada's largest digital asset investment fund manager of bitcoin and Ether with more than C$1.8 billion in assets under management.
3iQ is pleased to announce that it has filed and obtained a receipt for a preliminary prospectus for the 3iQ Bitcoin ETF with the securities regulatory authorities in all of the Canadian provinces and territories of Canada (except for Québec)."With the success of our bitcoin closed end fund it is a natural progression for us to file for a physical bitcoin ETF to enhance our product suite in the growing digital asset space." – Fred Pye, Chairman and CEO of 3iQ. The Fund's investment objectives are to provide holders of units of the Fund with:
Exposure to the digital currency bitcoin and the daily price movements of the U.S. dollar price of bitcoin.

The opportunity for long-term capital appreciation.      

3iQ will act as the investment manager and portfolio manager of the Fund.
Alchemix lets you reimagine the potential of DeFi by providing highly flexible instant loans that repay themselves over time.
Over the past month the Alchemix team has had an ALCX integration with both Rari Capital's Fuse lending markets and Unit Protocol's CDP system. The team is also currently testing a new transmuter module, which will hook into yearn vaults and increase the Alchemix Vault's APY by ~20%. The timeline for this is approximately the second week of April.
We have also been working hard at work on Alchemix V2, and have completed the base work for it. As a tease, some of the work performed will allow alUSD3CRV pool to be on curve.fi as well as make it eligible for CRV gauges. Testing for the new implementation will take course over the next month and will undergo audits before release. 
Alpha Finance Lab is an ecosystem of DeFi products that will interoperate to maximize returns while minimizing risks for users. Alpha products focus on capturing unaddressed demand in DeFi in an innovative and user friendly way.
On March 17th, Alpha Finance announced the beginning of a multi-chain Alpha ecosystem with the launch of Alpha Homora vBSC launched. Since the launch, there has been approximately a 90% utilization rate of BNB lending in Alpha Homora vBSC. This has contributed to the combined TVL across all Alpha Homora products to surpass over $1 billion at the time of writing. The team also concluded the month not only with  an update to the protocol's tokenomics but also a new visual Alpha brand for the next growth stage of Alpha Finance. 

Anchor, a savings protocol on the Terra blockchain offers yield powered by block rewards of major Proof-of-Stake blockchains.
Anchor Protocol officially launched on March 17. In the last week, the protocol has attracted $142M in deposits earning 20% APY, with $260M in total collateral value. Current total borrow value is $95 million.
The team believes Anchor can serve as the benchmark rate for DeFi's emerging yield curve, with yield extracted from one of the only macro-entangled and unleveraged sources of cash flows in crypto markets — staking yield of PoS chains. Anchor launched with CoinList as a launch partner, which is offering Anchor as a savings product to customers on its platform. The team has also partnered with Lido to bring ETH liquid staking to Terra. Further staking derivatives from chains including Polkadot, Cosmos, and Kusama. Anchor has also launched a set of APIs such that any application, both crypto and non-crypto native can easily integrate Anchor and offer savings as a product to its users or customers.
March was an exciting month for Terra with the highly anticipated launch of Anchor Protocol — a high-yield (20% APY), stable savings protocol powered by staking returns from multiple Proof of Stake blockchains. On the demand side, the team is working to integrate Anchor's API into fiat on-ramps, fintech platforms, neobanks, crypto exchanges and financial applications as a vehicle for mass adoption of DeFi.
Anchor's partner HexTrust, a digital asset custodian, is working to provide custody support and access to UST and Anchor for institutional clients. As for US clients, the team is working with PrimeTrust to provide regulated rails to access Anchor Protocol via user bank accounts.
APWine brings a new primitive in the DeFi ecosystem, allowing people to tokenize their yield. This lets farmers trade yield in advance.
APWine is excited to announce that it has raised $1M in seed funding from Delphi Ventures, Spartan Capital, DeFi Alliance and other investors. In addition to the raise, the team has achieved over $4M in TVL and partnered with Harvest Finance to list its yield-bearing token iFARM for leverage in the beta version of the protocol.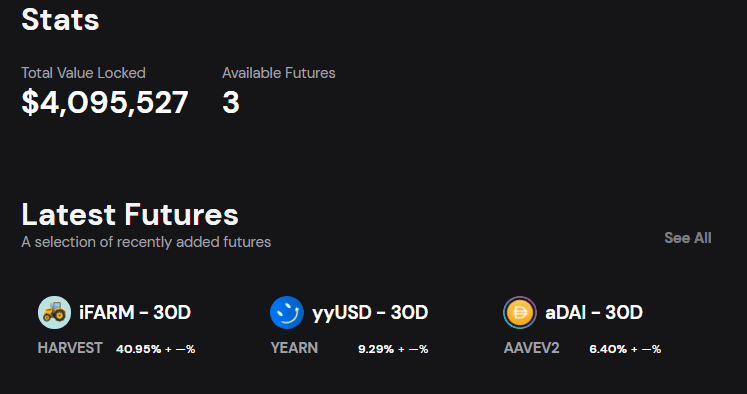 Armor is a decentralized brokerage for cover underwritten by Nexus Mutual's blockchain-based insurance alternative.
Armor DEX liquidity pools surpassed $42m in liquidity across Sushiswap, Uniswap, 1inch, and Balancer with an average of $4m in daily trading volume since launch. Earlier in the month, the team announced the launch of arCore Smart Cover System and played a pivotal role in assisting cream.finance during their recent DNS exploit.
On March 26th, it was announced that Armor and arNXM were whitelisted on Bancor after BNT holders passed a recent governance proposal. The project is also proud to report that it has surpassed over $1b total coverage with $5m in premiums paid. 
Arrow DFMs implement a low-level protocol for creating and settling options on publicly available asset prices. Cash-settlement operates through a network of decentralized aggregate counterparties (DACs) financed by liquidity providers in exchange for platform income.
The Arrow team is currently in the development phase with a testnet MVP slated for the latter part of Q2 and a mainnet launch in the following months. Items that are near completion include: most of the core Solidity contracts, including the contract factory, DFM aggregators, API contracts, base option contracts and the settlement library. The last month's core focus has been on the interaction between the factory contract and collateral API contracts to handle bounded market orders for cases when buy-ins are changing quickly. Additionally, the team has made significant progress building out our default pricing mechanism and probability model for the API/AMM back-end in Python.
Arrow has also extended their testing and development environment beyond the Ethereum-based local test net systems like Ganache by exploiting some new tools for developers on Avalanche. Specifically, by configuring the Avalanche shell (avash) and AvalancheGo with their solidity compiler we are able to run Arrow contract tests and web3-based application simulations on a local test version of the Avalanche C-chain. This is exciting for several reasons, not least of which is the ability to run side-by-side comparisons between Ethereum and Avalanche across a variety of options-related workflows. 
Axie Infinity is a decentralized game based on Ethereum platform introducing players to the adorable fantasy creatures known as Axie. The game allows players to breed, raise, battle, and even trade them in the marketplace.
Axie has made progress on their expansion and upgrade to the battle system (Battles V2) as they near a completion for free starter Axies. As for Sky Mavis, the team has begun the preparatory work for a private Alpha with some of the ecosystem's top players. If you want to be considered for this you should aim to hit the top of the leaderboard and be a leader within the Axie community.
The team has also made progress on the art for upgraded body parts and will lean on vertical progression to take your connection with Axies to the next level. This development ties in with Ronin, which currently stores over $1m of ETH, a new milestone for the Axie protocol! As for the broader project, AxieInfinity.com has reached 250,000 unique visitors, holders increase 37,000 (a 15% increase MoM) and over 25,000 DAUs. Keep in mind this is all being done in Axie's Alpha as the project has yet to hit app stores. 

The BSC Launch Pad is the first decentralized IDO platform for the Binance Smart Chain network.
BSCPad is proud to partner with Ferrum Network to collaborate on BSCView — a platform that allows traders access to a fully charting interface for pairs across the Binance Smart Chain ecosystem.
Charm is a decentralized options platform that applies a prediction market scoring rule to the options world via its Automated Market Maker (AMM).
On March 25th, Charm announced it closed a seed round from Divergence Ventures, DeFiance Capital and Delphi Ventures. Over the past month, the team has achieved $1.3 million of trading volume during its recent trading competition (with only $100k liquidity from LPs) as well as launched Cube Tokens on testnet. This implementation offers investors an easier way to get leveraged exposure to a wider range of tokens.
Covalent provides a unified API to bring full transparency and visibility to assets across all blockchain networks, including wallet data, Defi taxes, and network analysis.
Covalent closed a $2 million strategic round on March 24th led by Hashed with participation by Delphi Ventures, Binance, Coinbase Ventures, Hypersphere and other ecosystem partners. The team has also added Covalent API support for Avalanche and Fantom protocols respectively in addition to onboarding the likes of Zerion, 0x and Balancer as customers. 
DeBank is a dashboard for tracking your DeFi portfolio, with data and analytics for decentralized lending protocols, stablecoins, margin trading platforms and DEXes.
Over the past month DeBank has integrated the following features into its product suite:
DeFi Alliance is an international trade association created for decentralized financial market professionals to connect, collaborate and convene to celebrate the emergence of a healthy global DeFi ecosystem.
DeFi Alliance hosted its 2nd Liquidity Demo Day on March 31st with their 3rd Cohort. The following projects are among Cohort #3: Barn Bridge, DODO,  Ribbon Finance, Zerion, Swivel Finance, Injective Labs, DFV Finance, Primitive Finance, Szns and Alpha Finance. You can check out the Demo Day here.
Additionally, DeFi Alliance led the seed round investment in Recur, a trusted platform for brands to design and develop on-chain branded experiences for fans to buy, collect and re-sell NFTs.
Fractional is a decentralized protocol where NFT owners can mint tokenized fractional ownership of their NFTs. 
The team at Fractional has wrapped up its preliminary codebase and waits for appropriate inspection before mainnet deployment. The forthcoming governance token for the Fractional platform will be charged with keeping fractional ownership NFT buyers safe and making sure the platform stays performing well. Additionally, the project has raised an undisclosed amount in which Delphi Ventures took part in.
Harvest Finance is an automated yield farming protocol created for users looking to put their assets to work in high producing farming opportunities.
In the past month, Harvest Finance has deployed 15 new strategies, bringing its total to 55 across Sushi, 1inch and NFT strategies. In addition to this progress, the protocol has taken a more active approach to its treasury, as it participated in both APWine's and Babylon Finance's seed rounds. With these strategic partnerships, the team seeks to implement future strategies and integrations across both platforms.
On top of this, the team still had enough time to prepare and successfully launch on BSC for cross chain farming. To date, Harvest Finance has deployed strategies across Ethereum, BSC and Polygon. As a result the protocol has amassed over $460m in TVL across all platforms as well as generating $110 per share.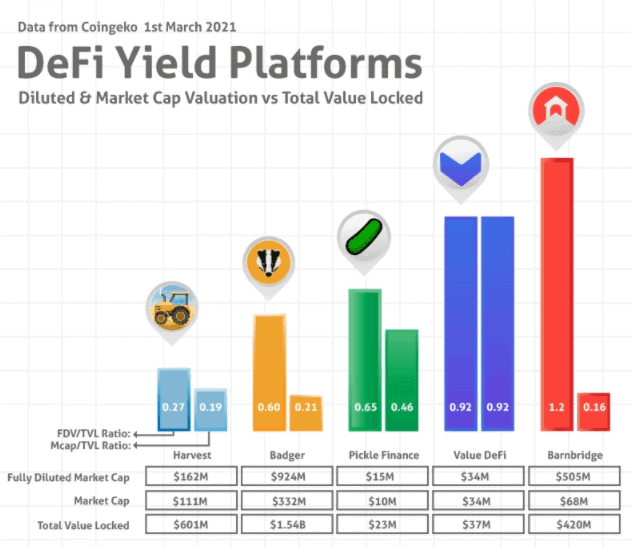 Fuji is a protocol that pools user funds together and continuously scouts multiple lending protocols to provide its users with the lowest interest rate available.
Fuji Finance has spent the month developing towards its Alpha launch in the coming weeks as well as wrapped up an undisclosed seed round with participation from Delphi Ventures and a few other investors. 
Illuvium is a decentralized, NFT collection and auto battler game built on the Ethereum network. Integrated with the hyper-scalable Immutable-X L2 solution, players of Illuvium gain access to zero gas fees for minting or exchanging of assets as well as sub-second transaction times, all with user maintained custody.
On March 30th, Illuvium launched its governance token ILV through a Balancer Liquidity Bootstrapping Pool (BLP) at a starting price of $50 USD. Earlier in the month, the team released a trailer of its highly anticipated game that is ready to launch in Q3.
InstaDApp is a smart wallet with an intuitive interface built on top of popular DeFi projects like MakerDAO, Compound, Uniswap, etc. for managing assets.
Over the past month, Instadapp crossed over $2 billion in TVL, an approximate 76x from where it was a year prior. The team has also partnered with Gelato to bring automation functionality to the platform with on-going development in the upcoming DeFi Smart Layer and recently launched the DSA-Connect SDK which will allow for existing projects to more easily integrate the DeFi Smart Layer into their apps. Thus, this allows Instadapp accounts to access other DApps outside of its own GUI. Additionally, the team has continued to add further features to its Maker Vault product, including Uniswap LP with all existing tooling including leveraging LP vaults for increased trading fee exposure.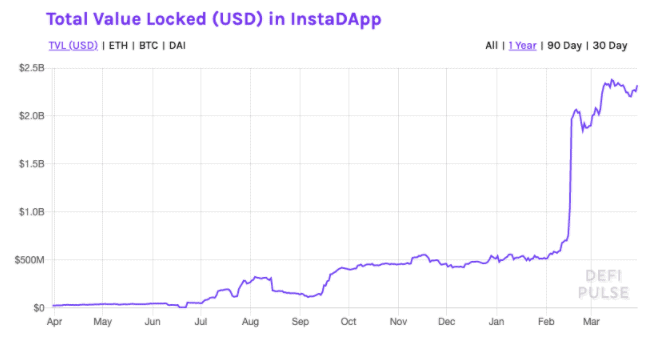 Nexus Mutual is a discretionary mutual offering an alternative to insurance for Ethereum users. People who join the mutual become members, and members can buy cover to protect themselves against hacks in smart contract code.
The Nexus Mutual has been building this month towards the Protocol Cover release slated for late April. This will expand coverage to include oracle failure, economic attacks and governance attacks as well as allow Nexus to cover non-Ethereum chains and Layer 2 systems. The protocol was proud to announce that it generated $800k in surplus even after paying out users for the yearn.finance hack for $2.4m that occured in February.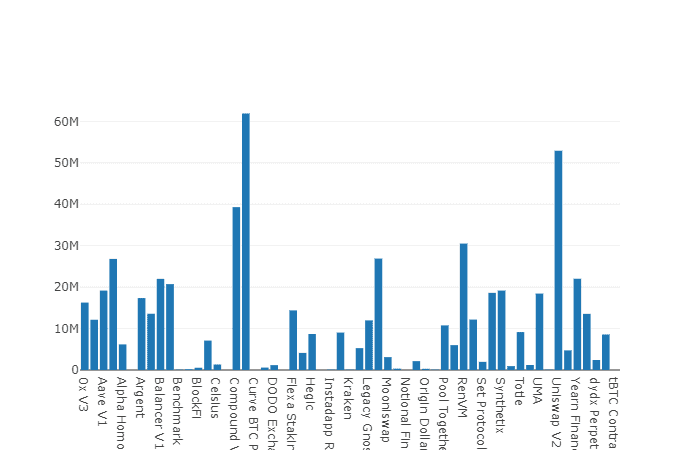 Pontem is a bridge between the regulated and unregulated worlds that will allow exchanging value between the two. It connects Diem to the decentralized world to provide users access to all the use-cases provided by an unregulated society, such as financial instruments, security tools and even games.
In the past month, Pontem has worked with the Web3 Foundation to deliver on its second milestone for the Web3Founder Grant Proposal. A follow up to this proposal is to be submitted by the team within the next week after addressing previous feedback. Additionally, the Pontem is in the process of completing its financing round where Delphi Ventures has participated in.
Recur designs and develop on-chain branded experiences for fans to buy, collect, and re-sell NFTs.
Recur is proud to announce it has raised $5m from Defi Alliance and included investors and funds such as: Gary Vaynerchuk, Courtside VC, Joseph Lubin, Tyler & Cameron Winklevoss, Scott Belsky, JST Capital, Delphi Ventures, Volt Capital, Nascent, CMT Digital, Hashed, IOSG Ventures, and more. The team has spent the remainder of the month partnering with multiple globally renowned brands as well as building out the team. If you wish to learn more about what roles are offered please check out the link here.
Solana is a fast, secure, and censorship resistant blockchain providing the open infrastructure required for global adoption.
Over the past month, the Solana ecosystem has undergone the following: 
Completion

of the Solana x Serum DeFi Hackathon;

Ecosystem fund

with MXC and OkEx: 

Multiple application layer projects have closed oversubscribed rounds: SolStarter, Mango, PsyOptions, HedgeHog and Phantom Wallet.

SPL integration on BitMax.

Tether launches on Solana mainnet.
Decentralized investing protocol and social network designed to change investing for the better, for everyone.
Syndicate is excited to announce a $1M seed round led by IDEO CoLab Ventures with participation from Electric Capital, Delphi Ventures, CoinFund, Robot Ventures, Kleiner Perkins, DeFi Alliance, Nascent, and 18 founders and angels.
With the raise, Syndicate will be growing their engineering team (apply here). The team has also opened a waitlist for investors and developers to join our closed beta (sign up here).
Terra is a programmable money for the internet that is easier to spend, and more attractive to hold.
March was an exciting month for Terra with the highly anticipated launch of Anchor Protocol — a high-yield (20% APY), stable savings protocol powered by staking returns from multiple Proof of Stake blockchains. With a suite of products ranging from CHAI for payments, Mirror for investments, and Anchor for savings, the team is thrilled to have established the backbone of a new decentralized financial system — with Terra's stablecoin UST at the core of it.
Since inception in November 2020, TerraUSD has grown to be the #5 stablecoin by market cap, at $1.4B, after USDT, USDC, BUSD, and DAI. Just in the last two weeks, ~$40M UST has been minted per day (with respective LUNA burn) to meet user demand.
Since November, UST has grown at a 221% month-over-month rate. TerraUSD is now accessible not only on Terra, but on Ethereum and Binance Smart Chain as well. UST is currently the 13th most traded asset on BSC's PancakeAMM and liquidity is progressively growing on Ethereum's Uniswap. We expect strong growth to continue driven primarily by cross-chain application integrations, Mirror Protocol, as well as with the recent launch of Anchor Protocol.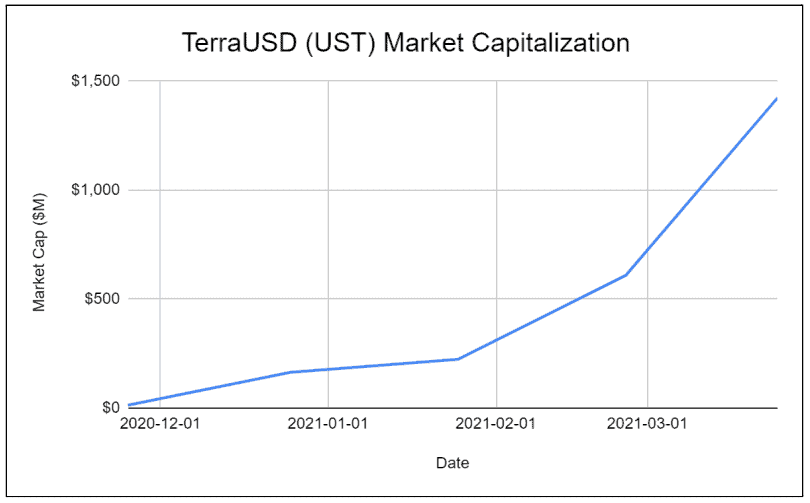 THORChain is a liquidity protocol designed to connect all blockchain assets in a marketplace of liquidity through cross-chain bridges and continuous liquidity pools secured by economically incentivised validators.
Over the past month, single-chain Chaosnet has seen $120m in pooled assets and $350m in total assets. The team is in the final stages of the multi-chain desktop and web application testing before the release of ASGARDEX. 
Tokemak
(Website |
Twitter
)
Tokemak is a decentralized liquidity engine for DeFi that is comprised of a series of reactors. Those who stake to a pool for a given asset are able to direct the liquidity for that asset to a venue.
Tokemak is currently wrapping up development of both frontend and backend as the team nears product launch. We recently hosted an-in depth podcast with the team that will be released soon and we shared a tweet storm covering the project.
A protocol that pays experts for honest insights — enabling real-time NFT appraisals.
Upshot has been playing a notable role in the new NFT Subgraph community where the team is working with projects across the Ethereum ecosystem in creating subgraphs and standards for NFTs, their markets and metadata. In anticipation of its beta-launch, the team has been adding the final set of features to the NFT appraisal platform in addition to redesigning the Upshot website, blog and FAQs. Upshot recently onboarded Corbin Pon, former co-founder and COO of Thesis, Fold and Keep to lead operations.
Decentralised infrastructure that allows anyone to create products and markets, be a market maker, or trade.
Vega is very excited to announce the team has raised $5M in their latest round led by Arrington Capital and Cumberland DRW, with participation from Delphi Ventures, Coinbase Ventures, ParaFi Capital, Signum Capital, CMT Digital, CMS Holdings, Three Commas, GSR, SevenX Ventures, and ZeePrime Capital. The raises provide the capital needed to ship the upcoming mainnet release and continue developing the protocol alongside the community with a packed roadmap of industry leading features, upgrades, and integrations with other blockchains and protocols.
YGG aims to scale this initial concept and bring play-to-earn to millions of gamers around the world, bringing the benefits of blockchain technology to those that need them the most.
Over the past month, Yield Guild has seen the following growth metrics: 
19% growth on # of Scholars at 287.

129% growth on # of YGG members at 5,568.

68% growth of total value of AUM at $3.9m.

Monthly growth rate of TVAUM.

Monthly growth rate of # of YGG members.
X DeFi is a decentralized wallet extension that empowers users to easily access the decentralised future via their web browsers.
In March, XDEFI has introduced the concept of "Master" seedphrase which provides users a way to back up their entire XDEFI wallet, and restore all their accounts and associated settings seamlessly. Additionally, the team added NFT Visualization where users can now visualize your NFTs within the extension. The remainder of the time was spent on integrations with both Ledger as well as Asgardex.
XDEFI is also proud to announce that it has secured $1.2M in seed investment from Mechanism Capital, Delphi Ventures, Morningstar Ventures, Alameda Research and Erik Voorhees.
A simple dashboard for DeFi that allows users to easily track and visualize all their DeFi assets and liabilities in one simple interface.
Zapper has begun to lay the groundwork for easy integration of EVM-compatible layer-2 blockchains with its recent implementations of Polygon and Binance Smart Chain. The following is a list of integrations from the past month:
General
Supported Yearn team with integrating Zapper API for v2 vault zap-ins.

Supported Yearn team with integrating Zapper API in frontpage of new yearn.fi app for vault balances.

Supported Armor.fi team with integrating Zapper API for their frontpage for viewing balances.
Ethereum
Protocol integration.

Alpha v2.

Alchemix. 

Aave AMM market.

Curve factory pools.

Float Protocol.

Unit Protocol.

Smoothy Finance.

Saddle Finance.

xToken.

xSigma.

Launchpool.

Big Data Protocol.

ONX.
Polygon
Support all token balance fetching for all tokens listed in the QuickSwap tokenlist.

Support viewing QuickSwap balances and staked balances.

Support bridging from Ethereum to Polygon from any of our 2000+ Ethereum tokens to 37 bridgeable tokens on the Polygon network.
Binance Smart Chain
Protocol integration.

Pancakeswap.
Transactional Support
1inch pools.

Curve factory pools.

Float protocol.

Launchpool.

Big Data Protocol.

ONX.

SnowSwap.
As always, should you want more information or an introduction to any of the above teams, please feel free to let me know.