Metus vulputate eu scelerisque felis. Nulla facilisi cras fermentum odio eu. Scelerisque fermentum dui
faucibus in ornare quam viverra orci sagittis. A iaculis at erat pellentesque adipiscing commodo elit. In
fermentum et sollicitudin ac orci. Ultrices sagittis orci a scelerisque purus. Faucibus ornare
suspendisse sed nisi lacus sed viverra tellus in. Mauris cursus mattis molestie a iaculis at erat
pellentesque adipiscing. Volutpat diam ut venenatis tellus in metus vulputate. Eu consequat ac felis
donec et odio pellentesque. Eu mi bibendum neque egestas congue quisque egestas diam. Quam
lacus suspendisse faucibus interdum posuere lorem. Quam id leo in vitae. Ut faucibus pulvinar
elementum integer enim neque. Id ornare arcu odio ut sem nulla pharetra diam sit. Molestie ac feugiat
sed lectus vestibulum mattis. Ipsum nunc aliquet bibendum enim facilisis. Euismod nisi porta lorem
mollis aliquam ut porttitor.
Iaculis nunc sed augue lacus viverra vitae congue eu consequat. Gravida neque convallis a cras.
Nunc scelerisque viverra mauris in aliquam sem. Non odio euismod lacinia at quis risus sed vulputate
odio. Purus faucibus ornare suspendisse sed. Turpis egestas maecenas pharetra convallis posuere
morbi. Nec feugiat nisl pretium fusce id velit ut. Nunc congue nisi vitae suscipit tellus mauris a diam.
Posuere sollicitudin aliquam ultrices sagittis orci. Urna nec tincidunt praesent semper. Turpis nunc
eget lorem dolor sed viverra.
suspendisse sed nisi lacus sed viverra tellus in. Mauris cursus mattis molestie a iaculis at erat
pellentesque adipiscing. Volutpat diam ut venenatis tellus in metus vulputate. Eu consequat ac felis
donec et odio pellentesque. Eu mi bibendum neque egestas congue quisque egestas diam. Quam
lacus suspendisse faucibus interdum posuere lorem. Quam id leo in vitae. Ut faucibus pulvinar
elementum integer enim neque. Id ornare arcu odio ut sem nulla pharetra diam sit. Molestie ac feugiat
sed lectus vestibulum mattis. Ipsum nunc aliquet bibendum enim facilisis. Euismod nisi porta lorem
mollis aliquam ut porttitor.
Iaculis nunc sed augue lacus viverra vitae congue eu consequat. Gravida neque convallis a cras.
Nunc scelerisque viverra mauris in aliquam sem. Non odio euismod lacinia at quis risus sed vulputate
odio. Purus faucibus ornare suspendisse sed. Turpis egestas maecenas pharetra convallis posuere
morbi. Nec feugiat nisl pretium fusce id velit ut. Nunc congue nisi vitae suscipit tellus mauris a diam.
Posuere sollicitudin aliquam ultrices sagittis orci. Urna nec tincidunt praesent semper. Turpis nunc
eget lorem dolor sed viverra.
lacus suspendisse faucibus interdum posuere lorem. Quam id leo in vitae. Ut faucibus pulvinar
elementum integer enim neque. Id ornare arcu odio ut sem nulla pharetra diam sit. Molestie ac feugiat
sed lectus vestibulum mattis. Ipsum nunc aliquet bibendum enim facilisis. Euismod nisi porta lorem
mollis aliquam ut porttitor.
Portfolio Updates
3iQ is Canada's largest digital asset investment fund manager of bitcoin and Ether with more than C$1.8 billion in assets under management.
3iQ coinShares Bitcoin ETF ($BTCQ) is the fastest bitcoin ETF to reach C$1 billion AUM in just a few weeks (link). 3iQ opens options trading for their Ether ETF (ETHQ). The ETF, launched in April, has already attracted C$245 million in capital. Fred Pye, Chairman & CEO of 3iQ had this to say regarding the launch of ETHQ options: 
[split]
"Ethereum's native digital asset Ether is a key component to the future of decentralized finance. Listed options on ETHQ will provide additional access for investors to gain exposure to Ether. This marks an important milestone in the development of financial infrastructure to support these innovative digital assets."

Alchemix lets you reimagine the potential of DeFi by providing highly flexible instant loans that repay themselves over time.
Over the past month, Alchemix is proud to have announced that alUSD withstood the recent market shock and maintained its peg. Additionally, the protocol noted it recently wrapped up a successful audit with Certik in preparation for its upcoming Chainlink price feed. Be sure to check out this recent podcast co-founder Scoopy Trooples has been on here, here and here.
Below are a few protocols metrics from May:
1.23 billion TVL

Over 2000 WAU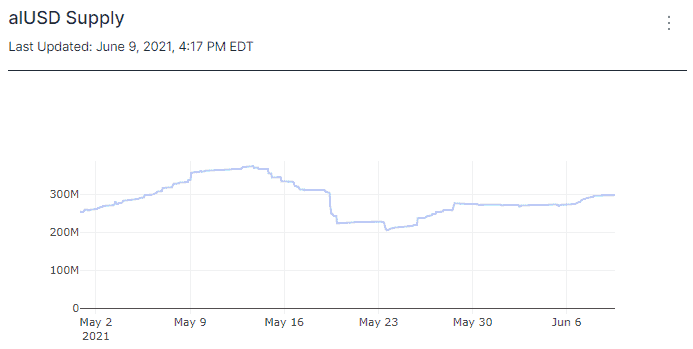 Alpha Finance Lab is an ecosystem of DeFi products that will interoperate to maximize returns while minimizing risks for users. Alpha products focus on capturing unaddressed demand in DeFi in an innovative and user friendly way.
This past month, Alpha Finance has introduced a new initiative called the Alpha Grants Program that allows the core development team to provide grants to Alpha Builders. These are well-organized development teams and individuals that have a proven track record of building in DeFi, that contribute to the Alpha ecosystem.
The protocol team also announced the Alpha Oracle Aggregator that is responsible for the aggregation of both Band Protocol and Chainlink oracle providers. The verified aggregated data allows us to ensure scalability, flexibility and security for the suite of Alpha products.
On May 12, Alpha Finance announced the official relaunch of Alpha Homora V2, and within 20 hours the protocol had over $1 billion in total-value locked (TVL). Alpha Homora V2 has expanded support for more lending assets as users can now deposit SNX, sUSD, DPI, SUSHI, UNI LINK and wBTC on top of the previously offered assets.
Additionally, since the protocol released updated tokenomics, the team has seen over 70 million ALPHA tokens staked, representing approximately 24% of the total circulating supply.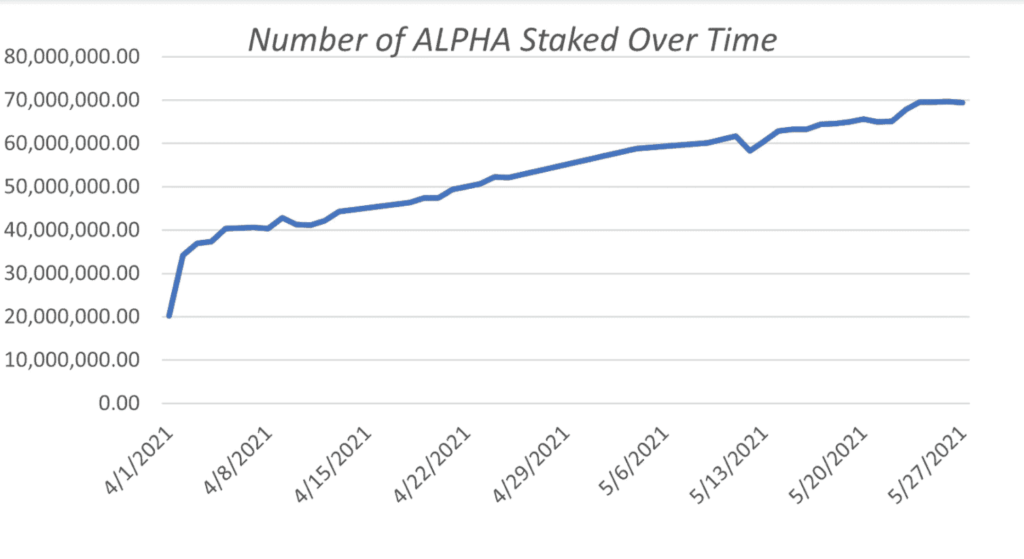 Anchor, a savings protocol on the Terra blockchain offers yield powered by block rewards of major Proof-of-Stake blockchains.
Last month, Anchor released the Anchor Earn SDK that allows third parties to seamlessly integrate their 20% yield saving on $UST with end-to-end integration possible in just 7 lines of code. Additionally, the protocol reduced airdrop claim fees down from the original $0.50 to $0.05, as well as the LTV for borrowers was reduced from 50% to 40%, and Anchor is now available on mobile via WalletConnect integration. Also, the team welcomed a new General Manager, Matt Cantieri, who was a former crypto lead at Microsoft's M12.
Like almost all other crypto projects, May was a tumultuous month for Anchor where users saw their APY drop below 20% (and has since recovered above 18%). Notably, the APY maintained its stable yield between the 18-20% band however, this sparked concerns within the community regarding Anchor's stability. The Anchor team responded with composure and took swift action to revamp and develop several features, including a brand new dashboard. 
Despite the liquidations and temporary instability, UST deposits into the protocol actually increased MoM from $250 to $290M, or a 16% increase. Additionally, a community community-proposal will be initiated by the Anchor team that will see both the threshold rate rise to 19.5% and the target rate to 20.5% respectively, allowing the protocol to retain a tiger band around 20% APY during even the most extreme market volatility. 
The next few weeks will see the protocol team put in place more guardrails around borrowing on Anchor Protocol, which will lower the risk of cascading liquidations. Also the data collected will be used to run stress-test simulations to continue to improve the robustness of the ecosystem. You can find a list of volatility events affecting Anchor along with proposed solutions here. All-in-all, what doesn't kill you makes you stronger and Anchor has admirably embodied this mantra.
APWine brings a new primitive in the DeFi ecosystem, allowing people to tokenize their yield. This lets farmers trade yield in advance.
The month of May saw AP Wine launch a fair liquidity bootstrapping event on Balancer that raised over 5.1 million USDC from over 800 participants. The team has also undergone several audits in preparation of future releases.
Armor is a decentralized brokerage for cover underwritten by Nexus Mutual's blockchain-based insurance alternative.
In May, Armor announced that the protocol now offers DeFi protocol for multiple chains and layer-2s. Additionally, the core development team has partnered with Consensys and Codefi DeFiScore to start a DeFi Defense DAO with the goal of making the decentralized finance space safer for all participants.
Armor is also the #1 Nexus Staker with over 61% of all staked NXM coming from Armor.
Arrow DFMs implement a low-level protocol for creating and settling options on publicly available asset prices. Cash-settlement operates through a network of decentralized aggregate counterparties (DACs) financed by liquidity providers in exchange for platform income.
The Arrow protocol has accomplished the following over the past month:
Modeled delta hedging strategies to smooth out variation of option prices for AMM

Created internal documentation and workflows for future users and developers

Streamlined UI/UX  for multiple workflows, most notably buy-options where the Arrow API permits users to interact directly with the pricing machinery prior to submitting transactions on chain.
Axie Infinity is a decentralized game based on Ethereum platform introducing players to the adorable fantasy creatures known as Axie. The game allows players to breed, raise, battle, and even trade them in the marketplace.
May saw the Axie Infinity team not only announce a new Series A funding round but the launch of the Ronin ramp integration for fiat gateway. The protocol has also reached 65,000 DAU for its card battler and the last 30 days saw nearly 600,000 users visit AxieInfinity.com.
Additional protocol metrics include:
– Volume up 291%
– NFT traders up 160%
– NFT sales up 409%

Charm is a decentralized options platform that applies a prediction market scoring rule to the options world via its Automated Market Maker (AMM).
In May, the Charm Protocol team Alpha Vaults, the first LP Vault for Uniswap V3. The launch was very well received that team also released a new ETH/USDT vault shortly after. Both vaults have generated around 5.48% in fees over the past week with total returns of 2.33%. This has beat out full-rage or V2 LPs by over 300% when compounded over 1 year.
Covalent provides a unified API to bring full transparency and visibility to assets across all blockchain networks, including wallet data, Defi taxes, and network analysis.
Covalent announced a $10 million public sale on Coinlist as well as successfully indexing the Moonbeam Testnet. As for community initiatives, the team has recently partnered with 1inch in its latest edition of DungeonsAmdData competition.
DeBank is a dashboard for tracking your DeFi portfolio, with data and analytics for decentralized lending protocols, stablecoins, margin trading platforms and DEXes.
DeBank has added both Fantom Protocol and OKEXchain to its suite of protocol tracking and swap aggregation tools
DeFi Alliance is an international trade association created for decentralized financial market professionals to connect, collaborate and convene to celebrate the emergence of a healthy global DeFi ecosystem.
In the month of May, DeFi Alliance announced it's accelerator programs Cohort 4 with participation from the following projects: Anchor Protocol, Apollo DAO, Bancor, Chainflip, dTrade, Galleon, HydraDX, Moola Market, Naos Finance, Pendle Finance, Rari Capital, HXRO, Sherlock, Solrise Finance, SushiSwap, Skolem, Ubeswap and ZK Swap.
Additionally, the team is hiring for a Community and Communications Manager. For more information please check out the job description here.
DeversiFi is the easiest way to access DeFi opportunities on Ethereum: invest, trade, and send tokens without paying high gas fees. DeversiFi is leveraging Starkware.
In May, DiversiFi saw its highest weekly trading and daily volume of $25 million during the 'Black Wednesday' market crash. Additionally the protocol has integrated with Zapper's portfolio view to allow users to view four new liquid DeFi markets as well as previous ones.
dYdX is a decentralized margin trading platform based on Ethereum that allows users to borrow, lend and make bets on the future prices of cryptocurrencies.
In May, the dYdX team released a new metrics dashboard for users to track all protocol activities from its Layer 2 implementation. Also the team is proud to announce that the protocol has eclipsed over $2 billion in cumulative volume and launched four new markets for the following assets:
Avalanche (AVAX)

Dogecoin (DOGE)

Synthetix (SNX)

Curve (CRV)

Ember Sword is a modern Free-to-Play PC/Browser MMORPG with a player-driven economy, a classless combat system, and scarce, tradable cosmetic collectibles.
Ember Sword completed a $1.5M land sale in seven hours in addition to announcing a $2M seed investment with participation from Delphi Ventures. Details of the landsale are below: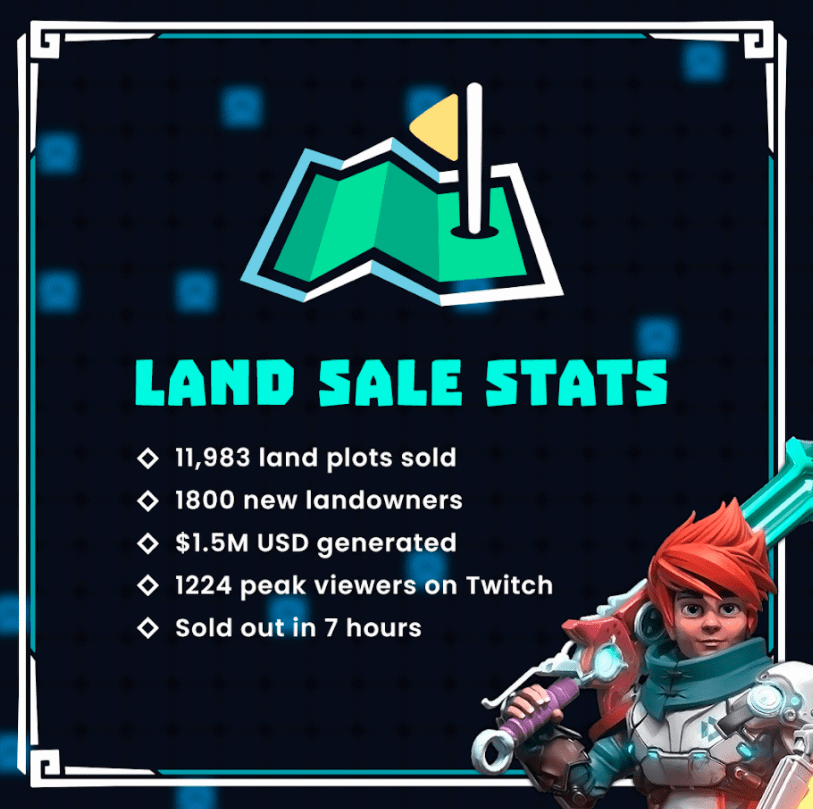 Fractional is a decentralized protocol where NFT owners can mint tokenized fractional ownership of their NFTs. 
Over the past month, the Fractional team has been working with testnet users to wrap up the final touches before mainnet launch.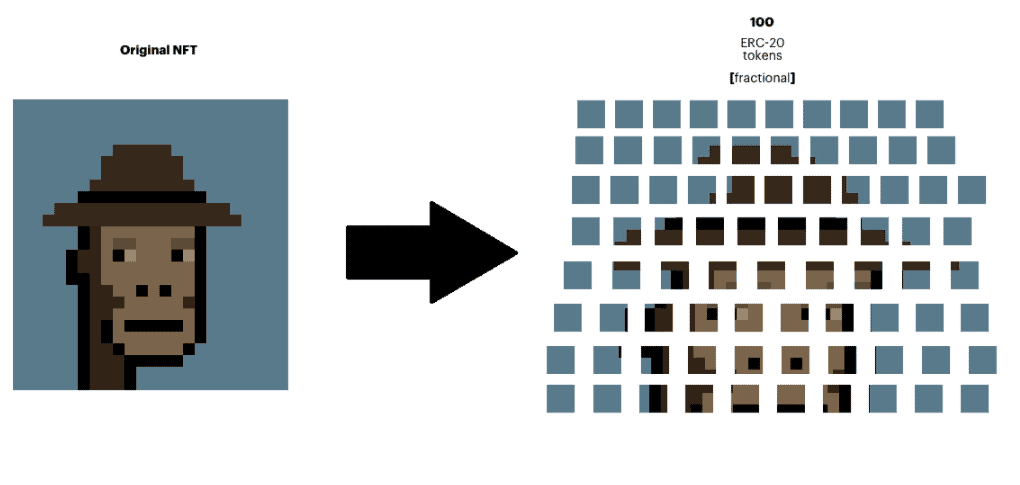 Harvest Finance is an automated yield farming protocol created for users looking to put their assets to work in high producing farming opportunities.
Earlier this month, the Harvest Finance team announced that its native token FARM can now be stored via Coinbase Custody. Additionally, the protocol has invested in CompliFi, a decentralized derivatives protocol. Along with the investment, the two protocols have released a high APY COMFI-ETH strategy as well as examining the possibilities around unique derivative farming strategies.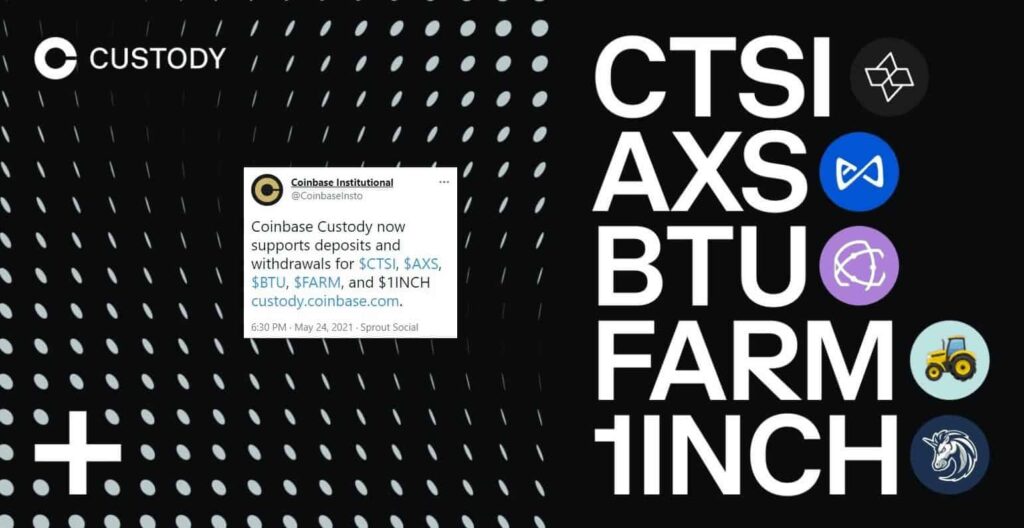 In addition to a new UX upgrade yet to be launched, check out the monthly protocol metrics:
$13,004,587 USD in gas saved

$5,698,042 USD in income generated

$450, 000 ,000 in TVL

0.17 FDV/TVL ratio

0.13 MCAP/TVL ratio

105 active strategies

Overly 25,000 active users
Fuji is a protocol that pools user funds together and continuously scouts multiple lending protocols to provide its users with the lowest interest rate available.
Fuji DAO released its Alpha version launched on mainnet on May 18th. Additionally the community has grown to over 2000 members between Twitter and Discord. Despite the recent market drop the Fuji DAO protocol has seen a lot of interest on the platform, Fuji DAO TVL is around nearly $100k in across two pools ETH/DAI and ETH/USDC.
Illuvium is a decentralized, NFT collection and auto battler game built on the Ethereum network. Integrated with the hyper-scalable Immutable-X L2 solution, players of Illuvium gain access to zero gas fees for minting or exchanging of assets as well as sub-second transaction times, all with user maintained custody.
The month of May has seen the Illuvium protocol team continue to build out the working game demo. The team has also announced a partnership with renowned Youtuber Clix with more coming in the coming weeks.
Immutable is the first layer-2 for NFTs on Ethereum that provides a zero gas fee and instant trade environment for games, applications and marketplaces. 
ImmutableX announced several big partnerships last month, including Wilder World, PolkaFantasy, Kinguin, GreenPark Sports (built by the founders of Youtube, Zappos, and Blitz) and, most notably, VeVe is moving to Ethereum using ImmutableX.
For more information on how ImmutableX stacks up with the rest of the NFT platforms refer to Delphi Digital's recent report ranked the top NFT platforms.

Lido is a liquid staking solution for Ethereum. Lido lets users stake their ETH – with no minimum deposits or maintaining of infrastructure – whilst participating in on-chain activities, e.g. lending, to compound returns.
In May, Lido contributed to the Open DeFi Hackathon by Gitcoin, which drew almost 1000 participants and 160 projects. The protocol also sponsored three challenges: 
Off-Chain Storage & Management for Lido Validators' Keys

Yieldspace-inspired AMM for stETH/ETH Pairs

OpenDeFi

, a hackathon that supported the composability of liquid staking derivatives across the decentralized finance space.
Lido Governance had a busy May with 15 unique proposals. Notably, Delphi Labs submitted a proposal for development of a liquid staking solution for AAVE (stAAVE). This development would automatically compound staking rewards and enable stAAVE holders to participate in Aave governance, among other improvements to the current staking model of stkAAVE.
MCDEX is a fully decentralized perpetual swap exchange based on Mai Protocol, allowing anyone to create any perpetual market. The project plans to launch on Arbitrum and BSC.
In May, the MCDEX team deployed on the Arbitrum testnet with isolated margin in anticipation of V3 of the protocol. Additionally the team has released a new homepage and is undergoing an audit from Quantstamp. Check out a recent post from Bankless that featured MCDEX's latest achievements.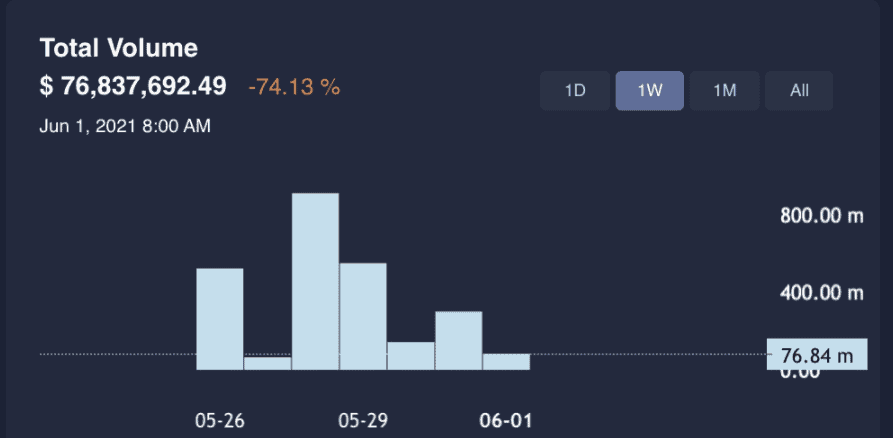 Nexus Mutual is a discretionary mutual offering an alternative to insurance for Ethereum users. People who join the mutual become members, and members can buy cover to protect themselves against hacks in smart contract code.
Over the past month, Nexus mutual has achieved the following:
Completely shifted MCR calculations to on-chain

Released yield token cover

Recur designs and develop on-chain branded experiences for fans to buy, collect, and re-sell NFTs.
Over the past month, the Recur team has performed the following: 
Seed Club is on a mission to help creators launch and grow social token based projects.
In mid-May, Seed Club announced its Open Web Community Hackathon for creators and communities.
Solana is a fast, secure, and censorship resistant blockchain providing the open infrastructure required for global adoption.
Over the past month, the Solana team has been organizing the Solana Season hackathon which saw over 12,700 applications from all over the world. Additionally, though scheduled to be listed on Coinbase, the SOL token has yet to go live on the platform due to technical issues on the exchanges end. Additionally, Solana protocol metrics can be found below:
Ecosystem TVL over $1.6 billion

Serum average daily volume over $200 million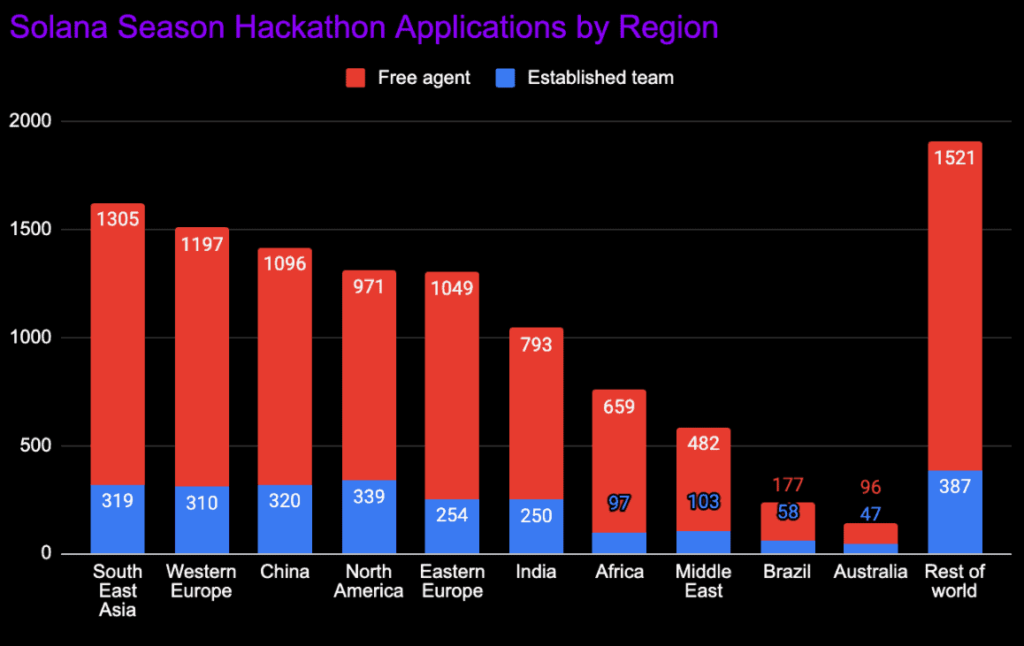 Solrise is a decentralized fund management and investment protocol on Solana that allows investors to gain exposure to assets from across the ecosystem without sacrificing security or time.
In anticipation of launch, the Solrise native token, SLRS, was listed on both CoinGecko and CoinMarketCap. The protocol has also seen over 16,000 funds from 12,331 unique fund managers on testnet.
Superfluid is a new token standard, with the power to describe cash flows, and execute them automatically on chain over time in a non-interactive way.
In the past month, Superfluid has developed its V1 subgraphs on The Graph to query flow rates, flow sums and more. Additionally the team joined the Safe App ecosystem with the launch of the Superfluid Gnosis Safe App on xDAI (link).
Decentralized investing protocol and social network designed to change investing for the better, for everyone.
The month of May saw three new funds launch via the Syndicate protocol: 
Terra Ecosystem Incubator

launched

as Syndicate DAO's second onchain ecosystem fund with the goal of empowering protocols and their communities to co-invest together in new projects. The fund is led by Terraform Labs, Delphi Digital and IDEO CoLab Ventures. 

Delphi Digital's INFINFT

, the first onchain NFT fund with the goal to push boundaries of NFT investing in ways not possible with traditional systems.The fund is led by Delphi Digital and

gmoney

and backed by

Gabby Dizon

,

Jihoz

,

Andrew Steinwold

, and IDEO Colab Ventures.

Komorebi Collective, the first DAO focused on female and non-binary crypto founders. The fund is backed by a number of prominent crypto personnel and funds including Mechanism Capital Dragonfly Capital IDEO, Kleiner Perkins and Stacks Accelerator.
Terra is a programmable money for the internet that is easier to spend, and more attractive to hold.
It has been an eventful month that not only saw a sharp price drop in LUNA, but caused UST to trade ~5% off peg for about 48 hours. Since then, the team has dedicated significant internal sources to mitigate future impacts from the broader macro climate on the Terra ecosystem. Check out a recap of events here.
As a first step to maintain the stability and trust in UST, Jump Trading has introduced a community proposal to adjust the liquidity parameters of Terra assets to make the expansion and contraction of the stablecoin money supply more efficient. Proposition 90 will effectively raise the on-chain swap spread capacity to $100 million at 2% spreads from the current $20 million redemption capacity at 2% spread capacity. 
Despite all of the recent volatility, the demand for UST did not contract. The stablecoins market cap grew by about 6% MoM, and the team expects growth rates to pick back up as trust in the asset returns in addition to new application launches on the Terra Network.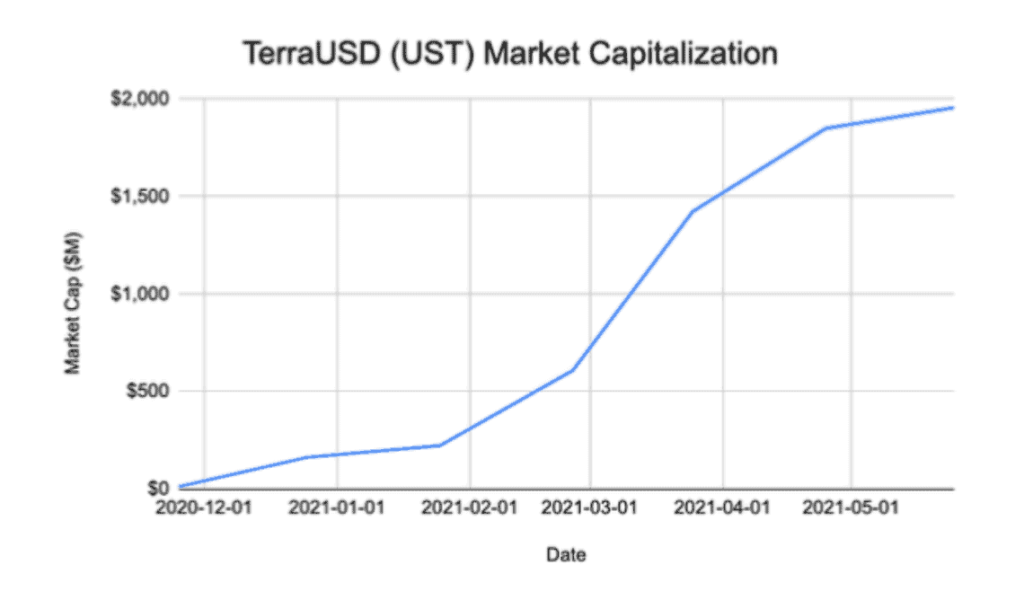 THORChain is a liquidity protocol designed to connect all blockchain assets in a marketplace of liquidity through cross-chain bridges and continuous liquidity pools secured by economically incentivised validators.
Over the past month, Thorchain has seen multiple updates to strengthen the MCCN in addition to a 1.5 million RUNE cap raise each week to account for an increased load on the network.
Tokemak
(Website |
Twitter
)
Tokemak is a decentralized liquidity engine for DeFi that is comprised of a series of reactors. Those who stake to a pool for a given asset are able to direct the liquidity for that asset to a venue.
In May, Tokemak has defined, developed and implemented the DeGenesis Event — a unique community engagement event to collateralize the protocol prior to launch and for users to acquire TOKE. Additionally, check out the recent in-depth AMA the team had with members of Delphi Ventures on key aspects of the protocol.
The team has released a detailed blog post on the TOKEnomics.
A protocol that pays experts for honest insights — enabling real-time NFT appraisals.
Over the past month, Upshot raised a Series A led by Framework Ventures, CoinFund and Blockchain Capital, with participation from Delphi Ventures. With the raise, the team plans to add more engineers and designers.
Towards the end of the month, the team announced it has launched on Polygon citing the protocols low gas fees which enable faster transactions and a more seamless experience for Upshot users.
Decentralised infrastructure that allows anyone to create products and markets, be a market maker, or trade.
Vega introduced the $VEGA token last month and announced token launch details. The token sale took place on CoinList on June 2nd and 3rd, 2021. Vega chose to give whitelist priority to existing community members from their Telegram and Discord.
"The token is an integral part in the operation of the proof of stake network and the governance of the protocol, and having a diverse group of community members holding it is crucial to the long term success of the project." – Source
YGG aims to scale this initial concept and bring play-to-earn to millions of gamers around the world, bringing the benefits of blockchain technology to those that need them the most.
Yield Guild Metrics for the past month include:
51% growth on # of YGG Scholars at 1,149;

61% growth on # of YGG members at 13,129 Discord members
X DeFi is a decentralized wallet extension that empowers users to easily access the decentralised future via their web browsers.
After receiving positive feedback frp, the community about the latest version, the team released 2.8.3 which included a new chain agnostic interface. The objective is to reproduce the user experience from a centralized venue in a decentralized fashion. Additionally features set to be released include:
Dark mode

Ledger support 

HD Wallet support 

Polygon integration
The team is also excited to announce that it has surpassed over 20,000 followers on Twitter and over 3,300 Telegram members. Be on the lookout for an upcoming access code campaign in the coming weeks as the wallet looks to onboard more users prior to public release.
A simple dashboard for DeFi that allows users to easily track and visualize all their DeFi assets and liabilities in one simple interface.
Earlier in the month, Zapper announced a $15 million Series A funding round in addition to achieving over 50,000 followers on Twitter. In anticipation of the milestone, the team launched Zapper_Learn in order to onboard more users.
The team has also released the following product releases and integrations:
Added support for Fantom Network

New Token Page feature to tract price across Ethereum, BSC, Polygon and Fantom

Ribbon Finance integration

Balancer V2 

Convex Finance 

Uniswap V3 

Bella Protocol

Aave (Polygon)

Sushiswap (Polygon)

Quickswap (Polygon)

Spookyswap (Fantom)

Pancakeswap (BSC)
As always, should you want more information or an introduction to any of the above teams, please feel free to let us know.