Market Update
The broader crypto market is seeing a slight pullback after the weekend run-up, seemingly weighed down by traditional markets, with major equity indices down on the day. Nonetheless, AXS, LUNA, and DYDX were among today's top gainers. AXS and LUNA hit fresh ATHs today following the implementation of AXS Staking and Terra's Colombus-5 Upgrade last week.
AXS Arbitrage? AXS Ranges High on Negative Funding Rates
Axie has been the star performer in crypto over the weekend due to the release of AXS staking on Friday. AXS is up +117% over the past 7 days.
AXS staking opened up opportunities for yield arbitrage via perpetual futures. This can be done by simultaneously buying spot AXS to stake, while shorting the AXS-perpetual future. The trade is delta-neutral — meaning there's no price risk —  and captures the difference.
However, the yield from this is somewhat muted relative to normal because funding rates for AXS perpetuals have been negative for 5 days now. The 8-hour funding rate is -0.1%,  equating to shorts paying longs ~110% APR to keep their position open. With AXS staking yields currently at ~189% APR, a net yield of ~79% APR (or 189% – 110%) is possible but is also subject to risks from AXS staking yields and/or perpetuals funding rates falling.
If many traders take the delta-neutral opportunity, it could cause funding rates to go further negative as shorts pile up. As funding rates decline, the profitability of the opportunity dampens as it becomes more expensive to keep a short position open.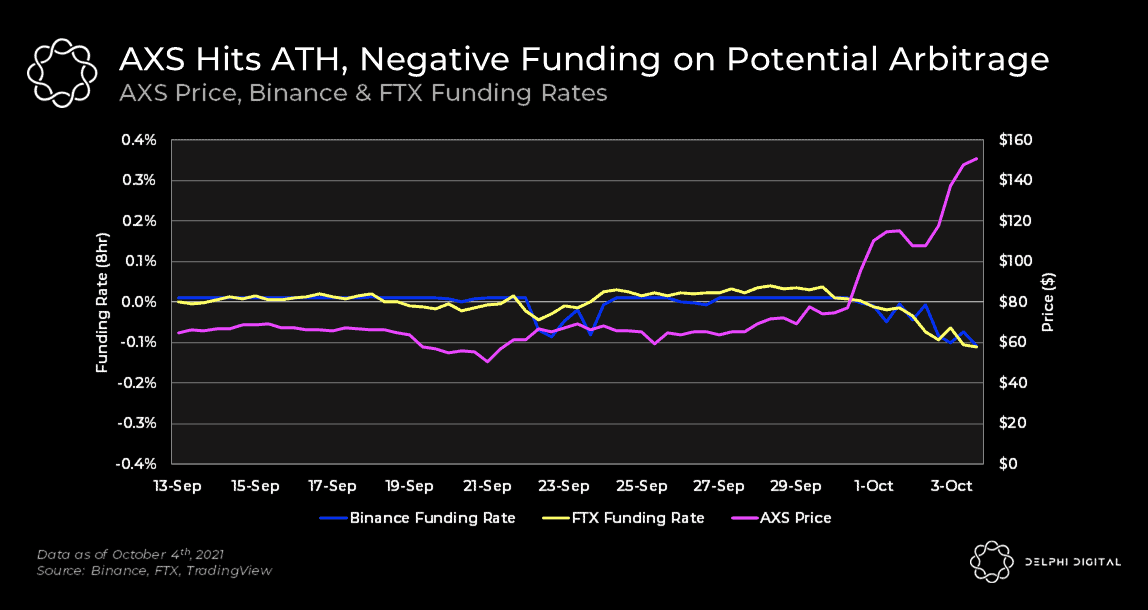 Columbus-5, Burn Baby Burn
Terra's highly anticipated Columbus-5 upgrade went through on Sept. 30. While there were no drastic price movements on the day, LUNA rallied considerably over the weekend, with price making new all-time highs for two consecutive days now.
The Columbus-5 upgrade was a major boost to the Terra network. The most significant change to the token economics was the decision to burn LUNA permanently instead of transferring it to the community pool. In addition, LUNA that had previously been sent to the community pool was burned to the tune of ~23.4m LUNA (worth over $1bn at current prices).
The supply burn places deflationary pressure on LUNA making it increasingly scarce, similar to EIP-1559 for Ethereum. This was a key driver for recent price action.
Another significant change worth mentioning is the adoption of Inter-Blockchain Communication (IBC) which will open Terra up to the Cosmos ecosystem. The implication of this is wider adoption of Terra's UST stablecoin, which could become the stablecoin of choice for Cosmos app-chains.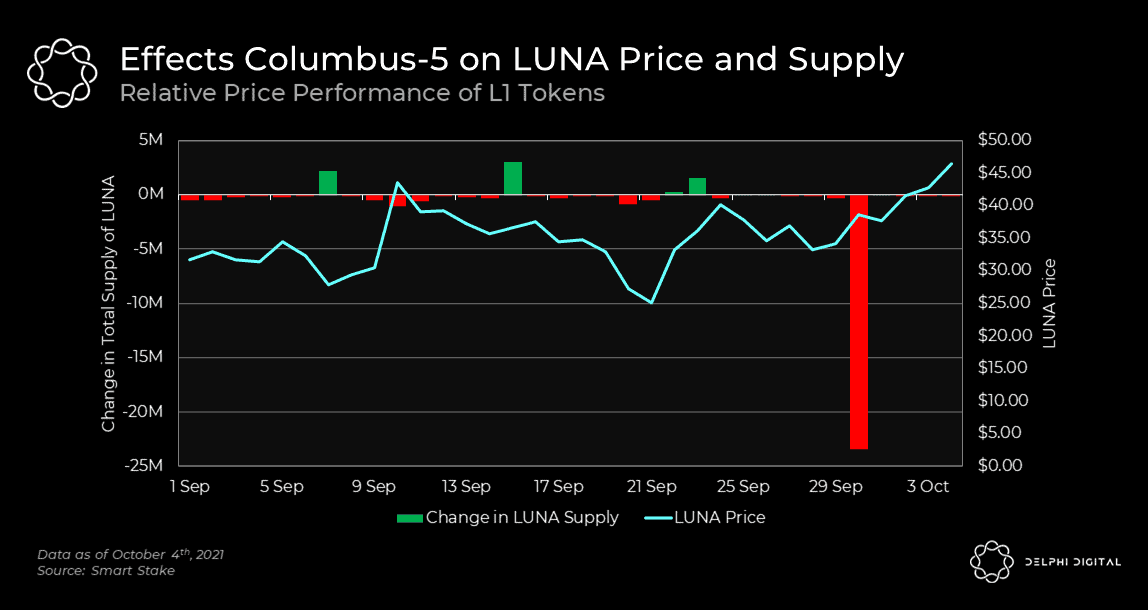 Toads, Kongz, Cats and Creatures
Attention seems to be shifting from NFT blue chips like Punks and BAYC to longer tail NFTs like CrypToadz and Creature. NBA Hall-of-Famer Shaquille O'Neal triggered a floor price surge of Creature World NFTs after changing his Twitter profile picture to a Creature.
CyberKongz, CoolCats, and GalacticApes saw floor prices rise considerably. Each of the three have positioned themselves as yield-generative NFTs. For example, with CyberKongz, holding a Genesis CyberKongz yields holders 10 $BANANA per day, which is worth around $950 at the time of writing. That equates to an annualized income of $346k based on today's price. CoolCats is attempting to recreate CyberKongz's success with the upcoming release of their $MILK token.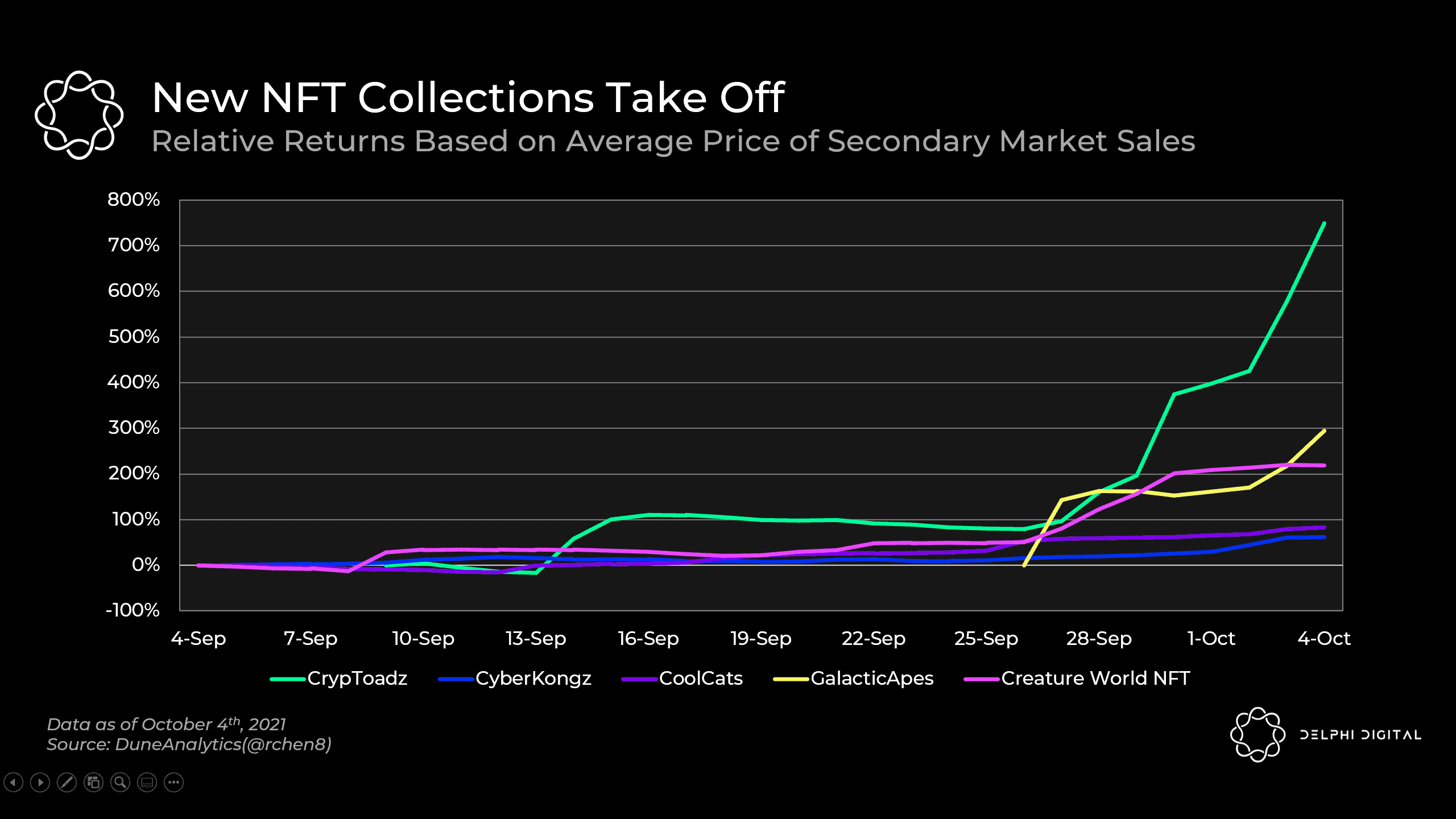 Layer 1 Tokens Rally Above September Lows
L1 tokens had a strong start to October, as they inched back up from the mid-September dip.
EVM compatible chains such as AVAX and FTM continue their outperformance against the field. AVAX, in particular, is holding strong as the top monthly performer.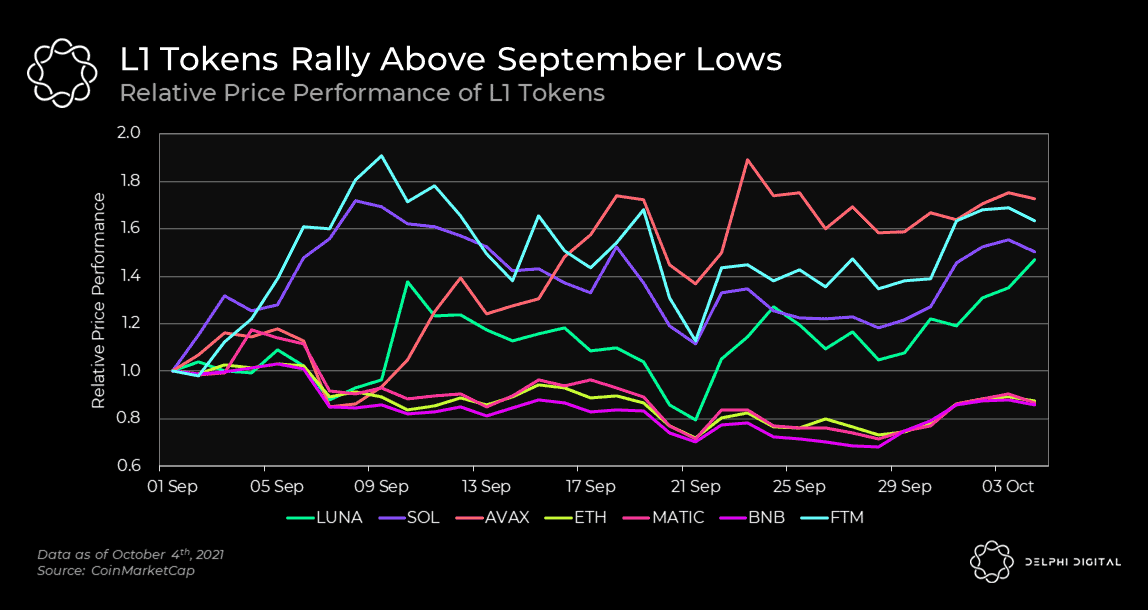 Notable Tweets
Terra Ecosystem Map
#Terra #Ecosystem Panorama updated on October 4, 2021

#payment #defi #nft #gaming #insurance #stablecoin #wallets #bridges #infrastructure #AMM

Terra $Luna Ecosystems has well prepared for this year-end uptrend 2021. What is a monster!

Follow us for earliest updates

—Terra Insights (@terra_insights) October 4, 2021
Ethereum Settled $6.2 Trillion in Transactions in the Last Twelve Months
In the past 12 months Ethereum settled $6.2 trillion in transactions.

This figure is up 369% compared to 2020, and was powered by a strong Q3 where Ethereum settled $1.5 trillion.

Probably nothing.

— Ryan Watkins (@RyanWatkins_) October 4, 2021
A Thread on Ethereum Happenings Last Week
1/ This week in #Ethereum, a thread

$ETH back over $3400

Visa unveils Layer 2 network for Stablecoins/CDBCs

Ethereum is doing 43x the fee revenue of $BTC

Over 2.7 billion locked in Layer 2's

423k ETH burned since EIP-1559

— Crypto Gucci (@CryptoGucci) October 4, 2021