Market Update
After a strong showing this week, BTC spent most of today chopping around between $47K and $48.5K. DeFi tokens continue to run with SUSHI, RUNE, SNX, and CRV leading the way.
ETH/BTC Doesn't Falter
Despite poor market conditions last week, ETH/BTC is still above its latest trend line break. Price was consolidating within a channel before breaking out. And after breaking through, price came back to re-test the upper trend line — typically a sign of continued strength.
The market seems unsure about which sector/asset to rotate into during this stage of the cycle. BTC is showing signs of life, but the rest of the market isn't lagging either. For ETH/BTC to continue moving up alongside BTC, ETH will have to outperform BTC — which isn't unrealistic during late-stage bull markets.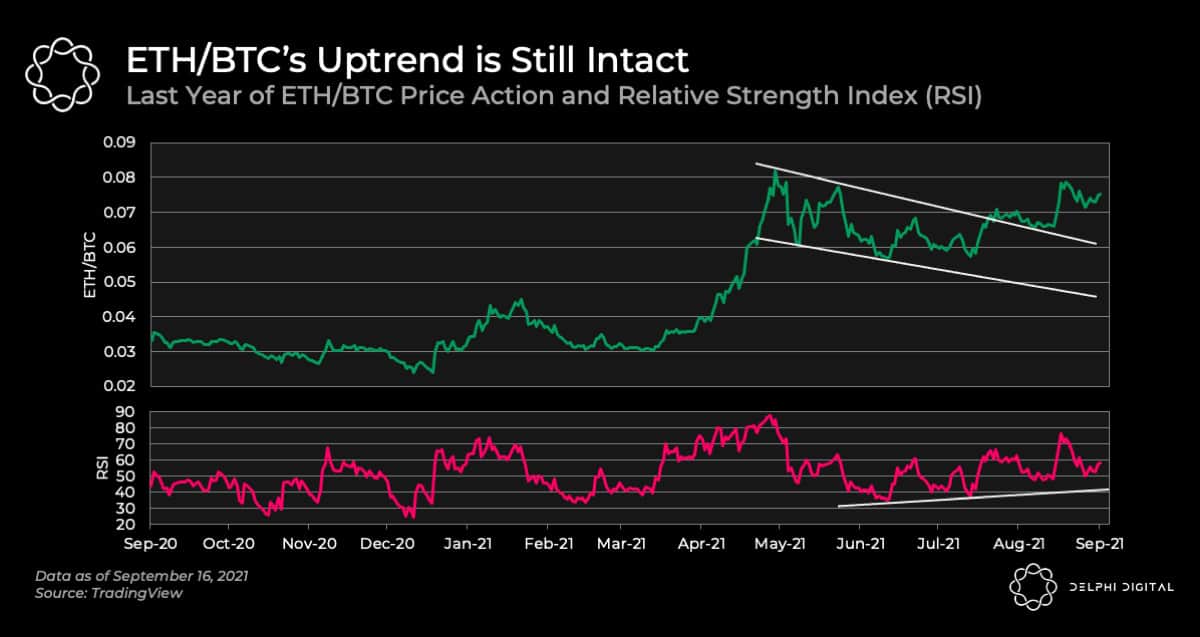 Sentiment is Fragile
After last week's sudden nuke, sentiment in crypto markets plunged from a state of greed right into fear over a single day. Given the last 10 days of price action, it's safe to say this was an overreaction. But this highlights how fragile sentiment currently is in the market, making it a ripe environment to chop traders up and catch leveraged positions offside.
Fluctuations in the Fear & Greed index are to be expected. As we saw during the Nov. – Jan. stretch last year as well and May. – Jul. this year, the market can remain at an extreme level of sentiment (either fear or greed) for an extended period of time.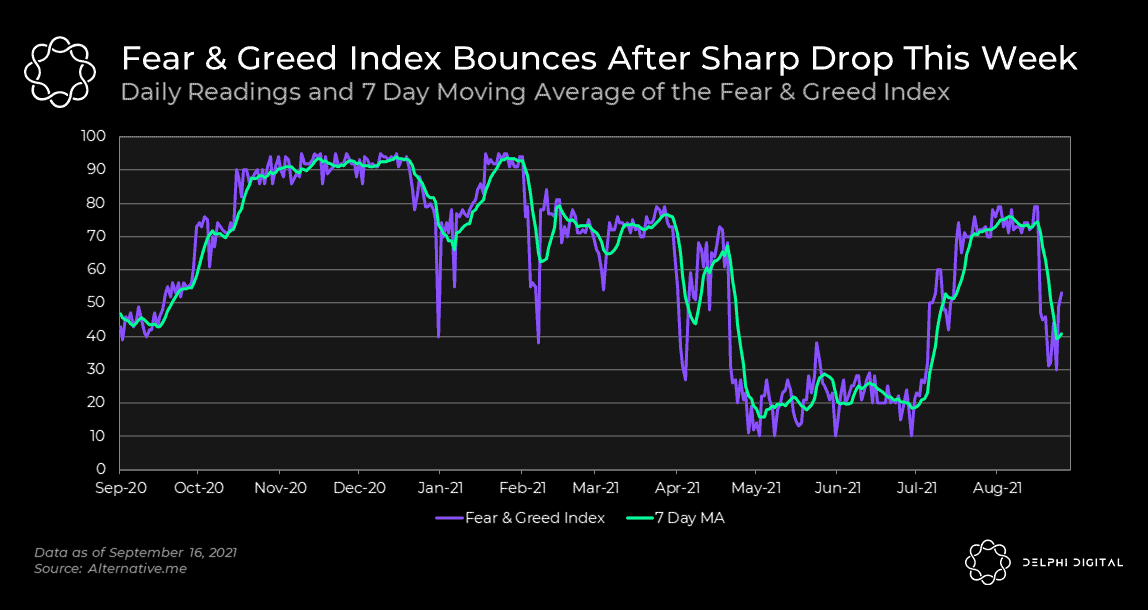 Stablecoin Inflows Increase, USDC and DAI Keep Growing
Stablecoins on Ethereum hit a total capitalization of $80B this month, indicating capital inflows to crypto — and specifically Ethereum — aren't slowing down.
BUSD, DAI, and USCD have fared well recently, increasing their supply by 37%, 23%, and 14% over the past 3 months. Meanwhile, USDT, the largest stablecoin on Ethereum by capitalization, only grew by 10% over the same period.
In terms of market share, USDT is the leader at 42% of the total supply. In second is USDC, which has grown into a sizable 33%. That's followed by BUSD (16%) and DAI (8%).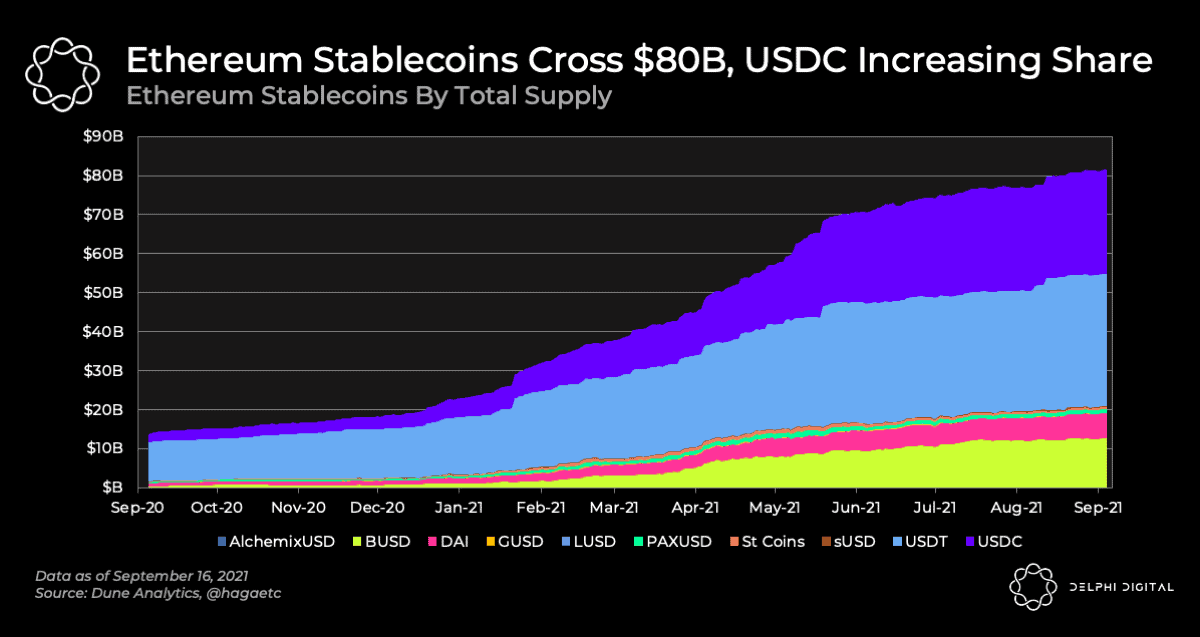 A Catalyst for L2 Szn
Hop Protocol is a cross-chain liquidity product that enables seamless interaction between L1s and their rollups. The protocol has grown its liquidity by a fair amount in the last month without any token incentives. Assets supported are currently restricted to USDC, USDT, and MATIC. Hop currently offers users the ability to move assets between Ethereum, xDAI, Optimism, and Polygon.
The team announced that support for Arbitrum, and for ETH and DAI, is coming to Hop soon. Given Arbitrum's strong initial traction and concentration of bridged assets in ETH/WETH, this could serve as a catalyst for Hop's growth.
Further, with Hop enabling easy exchanges between Ethereum and its rollups/sidechains, the experience of bridging in and out of these networks will become better and potentially serve as a catalyst for L2s.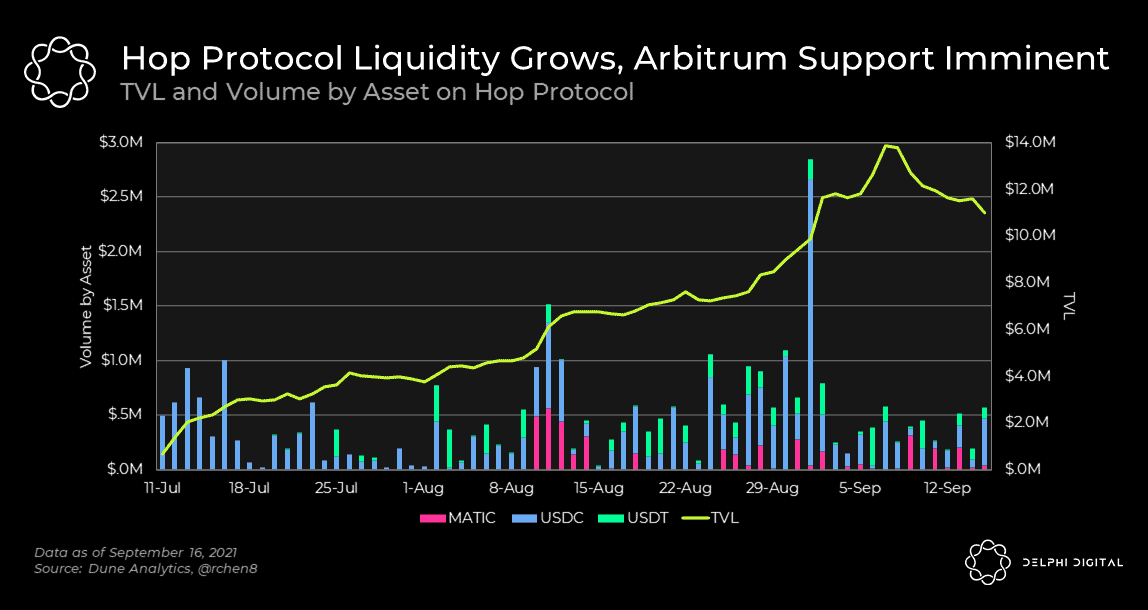 Notable Tweets
Vitalik Buterin makes it to TIME's 100 most influential people
HYPED to writeup @VitalikButerin for #TIME100 ~ this young man made a big part of my career possible from investments in the ETH presale to @AxieInfinity @SorareHQ @QuickNode @SkyweaverGame etc etc. I've NEVER been more excited about the potential of the internet thx to him. pic.twitter.com/XNPbMJYw8H

— AlexisOhanian 7️⃣7️⃣6️⃣ (@alexisohanian) September 15, 2021
A write-up on Polkadot's cross-chain communication
In Part 2 of @gavofyork's XCM blog series read about its versioning system & how it can keep a network of sovereign chains communicating as the language evolves at different rates between networks – without significant ops overhead on those maintaining it. https://t.co/jo9FtDZ7WB

— Polkadot (@Polkadot) September 16, 2021
Messari's Ryan Watkins digs into the catalysts and potential risk for Terra's UST stablecoin
In 2021 Terra's UST became a leading decentralized stablecoin reaching $2.5BN+ in circulation.

With Colombus-5 and Wormhole V2 going live in the coming weeks, UST growth will likely accelerate, setting it up to challenge DAI for the top spot among decentralized stablecoins.

— Ryan Watkins (@RyanWatkins_) September 15, 2021