Stablecoin Movements Back to May Highs
Daily stablecoin transfer volume went up to ~$57B today, which was only previously seen in May after the downward movement of ETH from $4.2k to $2.4k.
Stablecoin transfer volume tends to trend within $10-20B daily, and an increase in transfer volume of more than $20B seems to correlate with post-downward movements of ETH, even on a smaller scale; one can only hope this signals a bottom is near.
On-chain deleveraging has weighed on asset prices, which does create more dry powder for investors if and when they look to buy the dip (noting this is not the only cause of recent market weakness, however).
December Has Not Been Kind to Crypto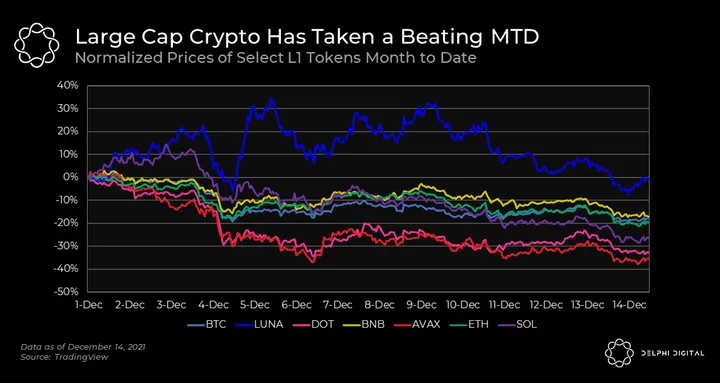 December has been a disappointing month for crypto as macro uncertainty brews. Prices of large-cap crypto assets moved sideways to start the month before taking another turn lower yesterday.
Despite the uncertainty, LUNA is an outlier as it's the only one that performed positively since the start of December; LUNA has been burnt every day since the start of December driven by increased UST minting.
These upcoming launches of Astroport and Mars Protocol have also likely contributed to LUNA's recent outperformance. Note: Astroport's Lockdrop started today and already has ~$80M in liquidity added.
Sentiment Turns Extremely Fearful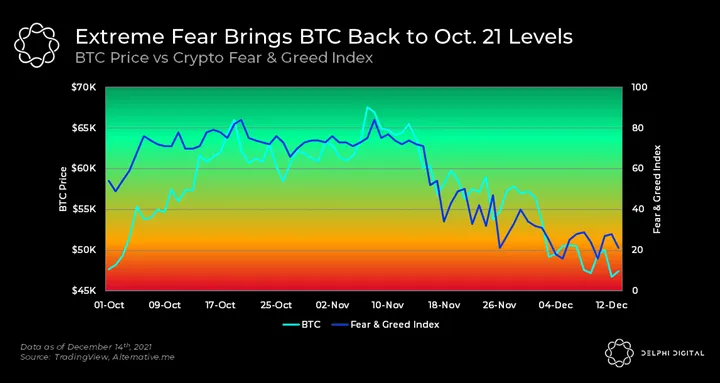 The markets have become extremely fearful as of recent, largely driven by the latest sell-off and heightened macro uncertainty. BTC has tumbled over 30% from its November peak and is now trading at levels last seen in early October; it's important to point out market sentiment appears to be much more "fearful" than we saw in October, however.
During the November FOMC meeting, the Federal Reserve confirmed its plans to start tapering asset purchases, a decision the Fed will likely remain steadfast on as it seeks to curb the highest inflation readings in four decades. Fed Chair Jerome Powell has also signaled recently that the timeline to wind down the Fed's bond-buying program may be accelerated, adding further concerns we may see another liquidity crisis unfold.
All eyes will be on the Fed as Powell hosts the final press conference of the year tomorrow following the FOMC's two-day meeting. Markets are on edge as each FOMC meeting is now considered "live" and may cause further volatility if they hold any surprises.
Nike Enters the Metaverse Arena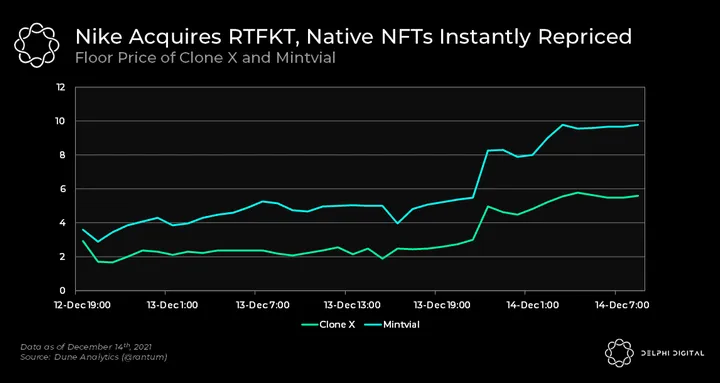 Nike announced that it has acquired the metaverse sneaker company RTFKT (pronounced as "Artifact"). With that, Nike joins the likes of Visa and Adidas as companies that have entered the NFT space.
RTFKT recently launched Clone X in partnership with Takashi Murakami, a Japanese contemporary artist.
Upon the announcement, Clone X and Mintvials (pre-revealed Clone X) were swept off their floor prices and nearly doubled in just a few hours.
Notable Tweets
Astroport's Lockdrop Starts
Will SushiSwap Join the Frog Nation?
ETH vs L1 Podcast