Market Update
It was just last week when we hit the range low, and now thanks to a sacrifice from BTC bears, we're back at the range highs. The rotation inside the range has certainly accelerated, but it's probably best not to celebrate till we make a clean break out of it. Outside BTC, most crypto's are enjoying a green day, while AXS and other NFT/gaming tokens take a breather.
Short Liquidations Fuel Move Up
After months of watching longs get liquidated for tens of billions of dollars, it was the shorts' turn to incur the wrath of the market. A massive short was liquidated on Binance, pushing the price of it's BTC-USDT perpetual future from $36,710 to $48,110 in two minutes. Yes, two minutes. On other exchanges, like Coinbase's spot market, the price of BTC barely reaches $40,000.
This isn't normal, and is likely the result of poor execution from Binance's liquidation engine. Nevertheless, it caused a 21% wick on the 1 minute candle, and close to $500 million in shorts were liquidated in that short time frame.
Additionally, it's possible that liquidations on Binance are severely under-reported. Earlier this year, Binance updated their API to only publish one liquidation per second, and this has caused several people — even analytics platforms — to question the integrity of Binance's liquidation data.
Failed break outs or break downs usually set up swift moves in the opposite direction, so it's still too early to confirm whether the latest rebound is sustainable.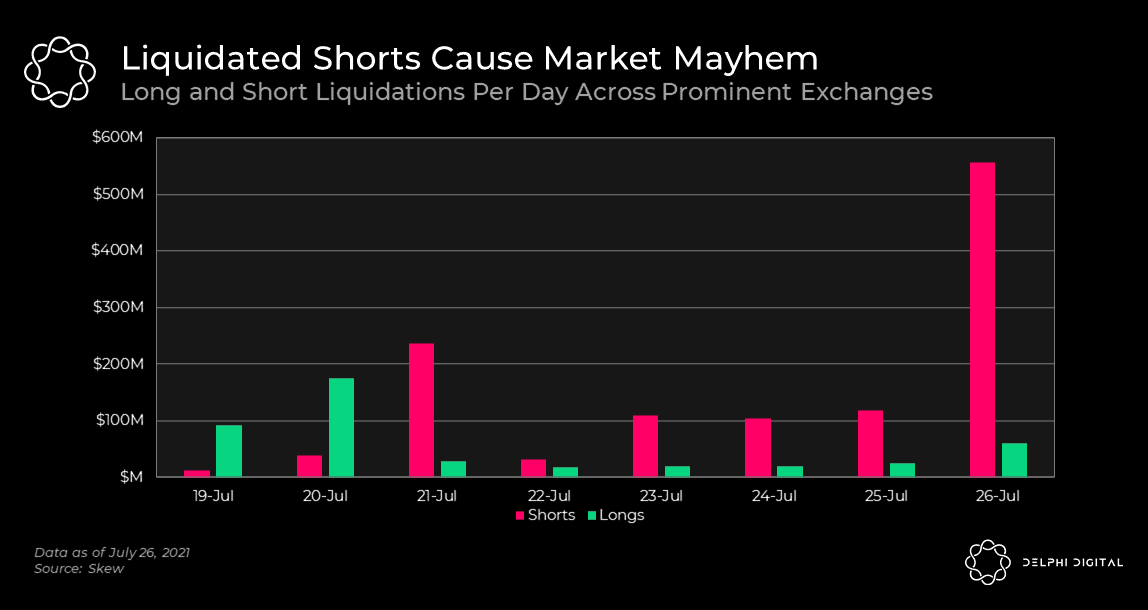 Options Activity Ramps Up
The derivatives market has been fairly stagnant since the great crash of May 2021, but we're starting to see signs of life again — particularly with options.
Open interest is up from $4.2 billion last week to nearly $5.6 billion now. Options trading volume, which has been fairly consistent through July, recorded over $450 million worth of trades today alone.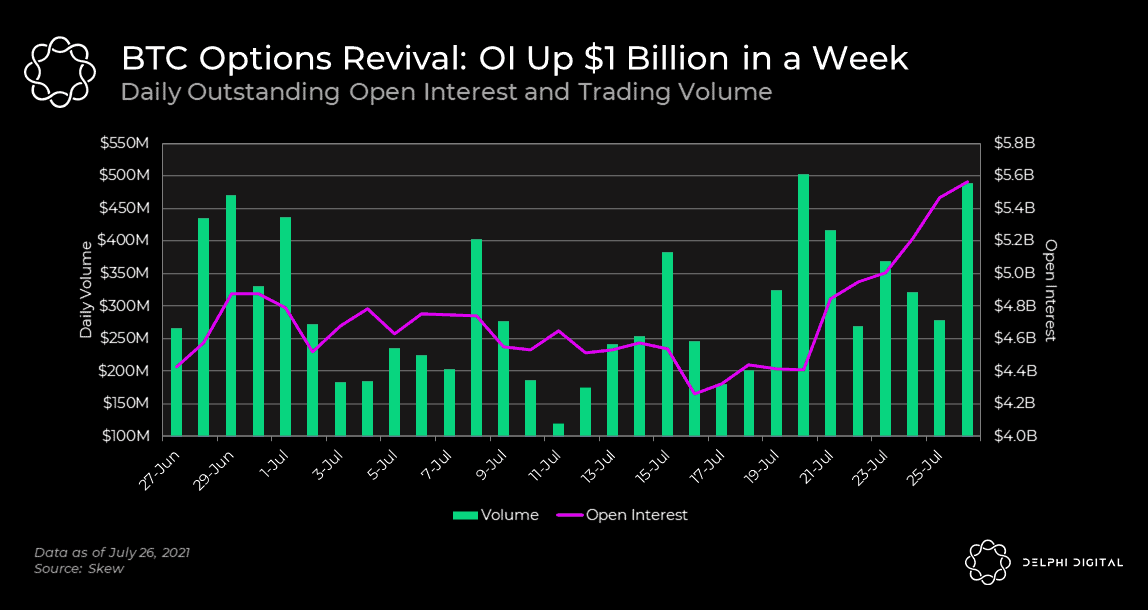 A surprising amount of volume was generated by a whale who made it their life mission to stock up on $40,000 BTC calls that expire at the end of this week. This had some major implications on the futures market, which we'll get to in a minute.
Notably, the $40,000 call generated the most volume so far today. But it's followed by three different strikes of puts, all of which also expire at the end of this week. The $38,000 puts are slightly out of the money (not profitable), while the $33,000 and $36,000 puts are even further out. Based on this positioning (high volume in OTM calls and OTM puts), it seem safe to assume that there are some big players betting on more volatility.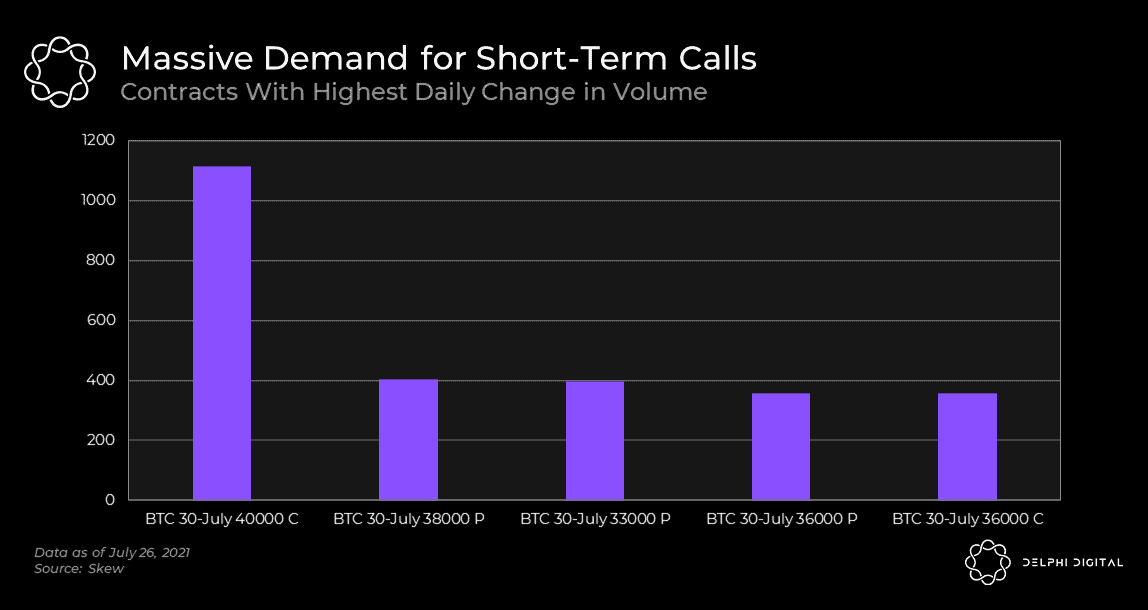 The onslaught of option buying today caused implied volatility across durations — especially 1 week options — to rise. Implied volatility rising means options are getting more expensive;  the market is now pricing these options with more volatility than before. There was a similar rise in implied volatility last week when BTC set its local bottom and began to climb up.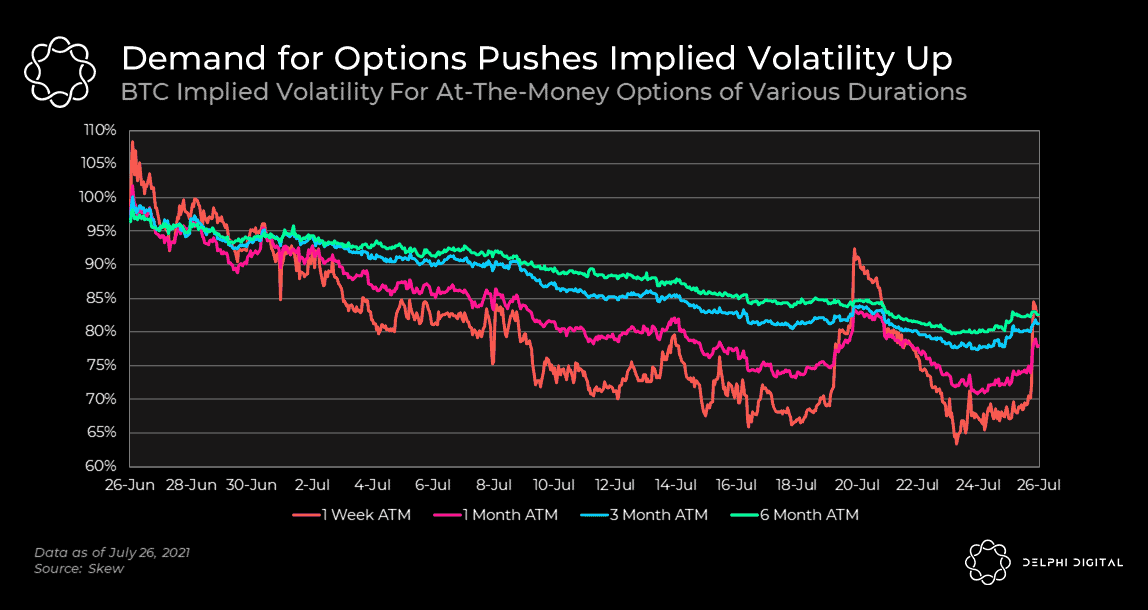 The Futures Curve and Options
There's a bit of dislocation in futures market, with 1 month annualized basis across exchanges deviating a fair bit.
Deribit's increase in basis boils down options market maker's on the exchange being forced to hedge by buying futures. Market makers provide liquidity to options where there's demand from buyers. Given the surge in demand for $40,000 calls, market makers who wrote these options are left exposed if BTC continues to rip. Since they wrote (sold) calls, they have an obligation to sell BTC to the option buyer if market price is above the strike price at expiry. To reduce this risk and hedge their position, these market makers buy futures (which is like buying spot BTC for a future date).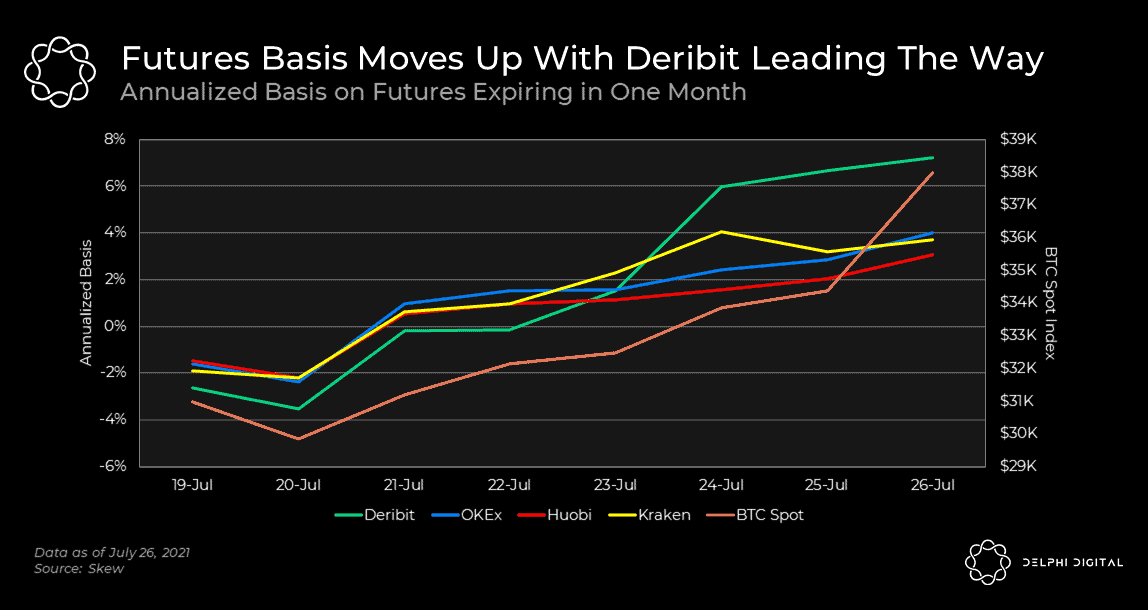 Notable Tweets
More context on Binance's liquidation engine woes.
muh convexity, tho, Binance handled these liquidation horribly imo

bitmex handle liquidations via limit orders and i thats probably good model, smoother and gentler into the market. pic.twitter.com/kZ3eU37ZvZ

— CL (@CL207) July 26, 2021
Yield Guild's IDO for YGG launches tomorrow!
Are you guys ready?

Commencing on July 27, 2021, at 10am EST / 10pm SGT

The YGG TOKEN SALE will be running for a duration of 24 hours.

— unless all tokens sell out sooner.https://t.co/Czc83ilIxc

— Yield Guild Games (@YieldGuild) July 26, 2021
Vitalik will voice a character in Mila Kunis' and Ashton Kutcher's NFT TV show.
EXCLUSIVE: Ethereum's @VitalikButerin will voice an animated character in Mila Kunis' new NFT show, @stonercatstv.@cheyenneligon reportshttps://t.co/e5EsDq4go1

— CoinDesk (@CoinDesk) July 25, 2021