The Power of Free Governance Tokens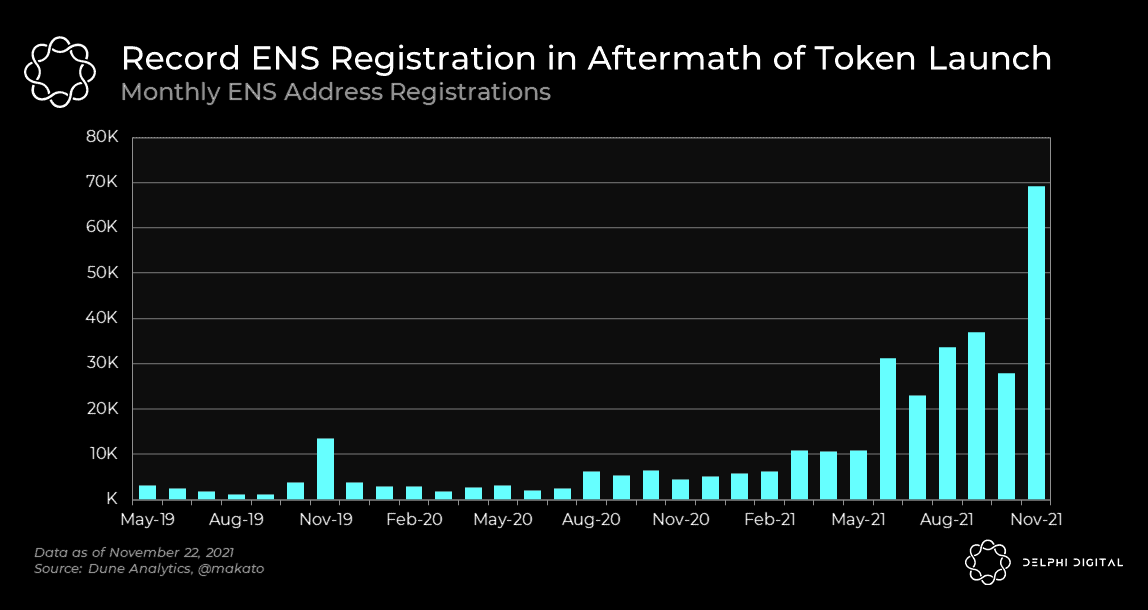 ENS registrations this month did laps over average monthly registrations since 2019. Whether this is a side effect of the ENS token launch or not is unclear, but the project sure does seem a lot more popular after giving users a fair bit of free tokens.
L2s Low on Gas?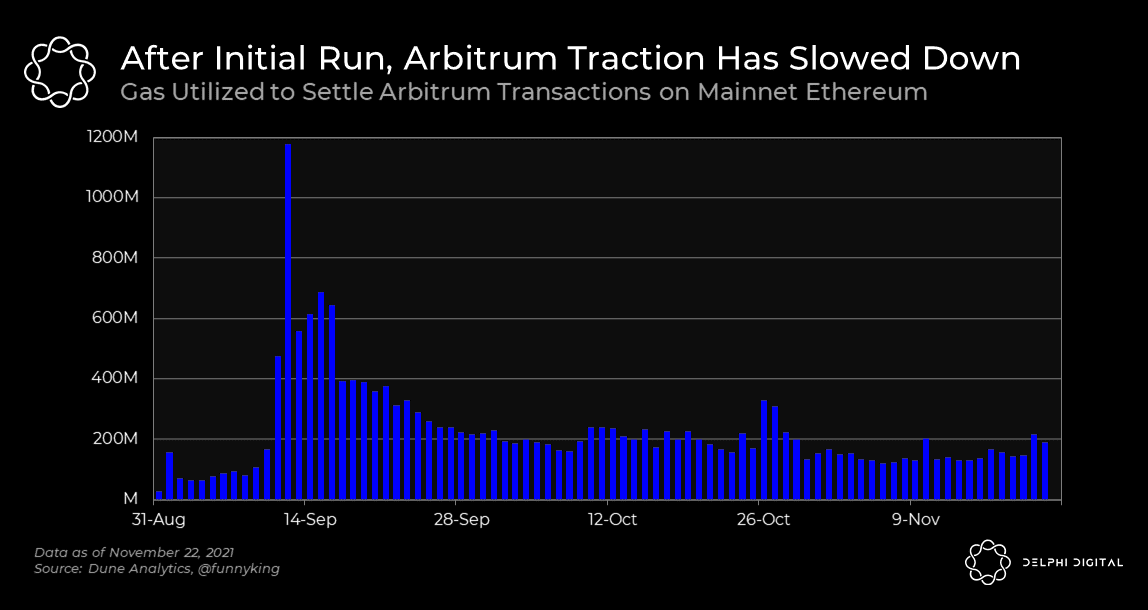 Arbitrum has seen a steep slowdown ever since the initial mania on the network. The rollup's consumption of Ethereum gas to settle transactions has gone down dramatically since mid-September.
Apps on Arbitrum are likely waiting for Arbitrum Nitro before bombarding the network with incentives. Currently, Arbitrum has a gas cap that limits the ability of protocols like MCDEX to run full-scale deployments. Once that hurdle is cleared, the sky is the limit.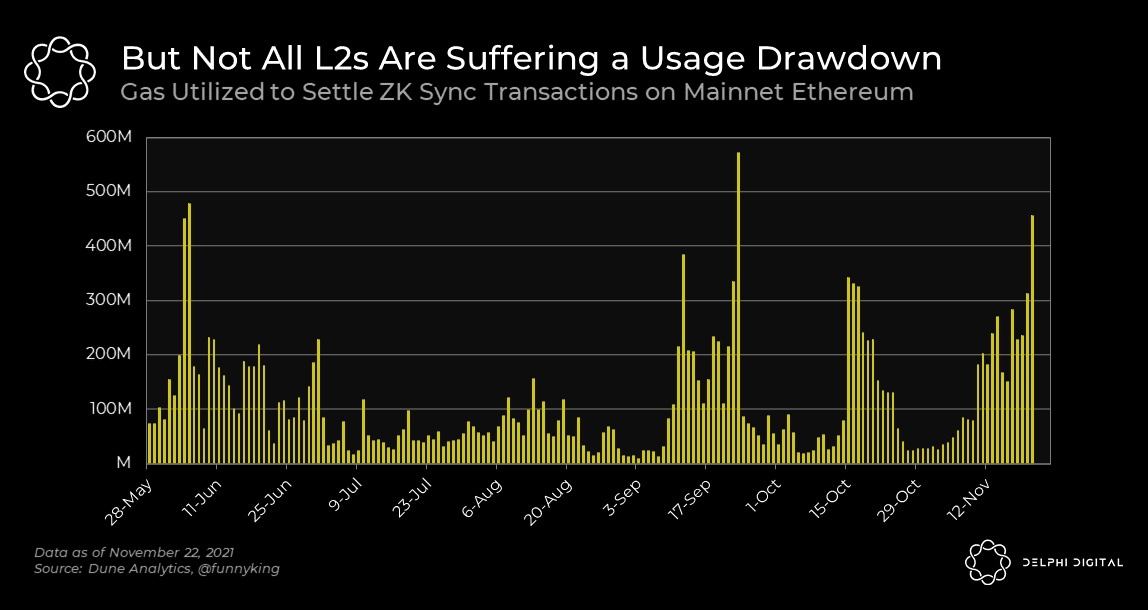 However, not all rollups are experiencing a downtrend in traction; we're seeing ZK Sync's usage, for example, pick up in recent weeks. Between Curve's deployment on the rollup and OKEx announcing withdrawal/deposit support on ZK Sync, the future of the network looks bright.
Six Months After Uniswap v3 Launch, Low Fee Tier Pools Shine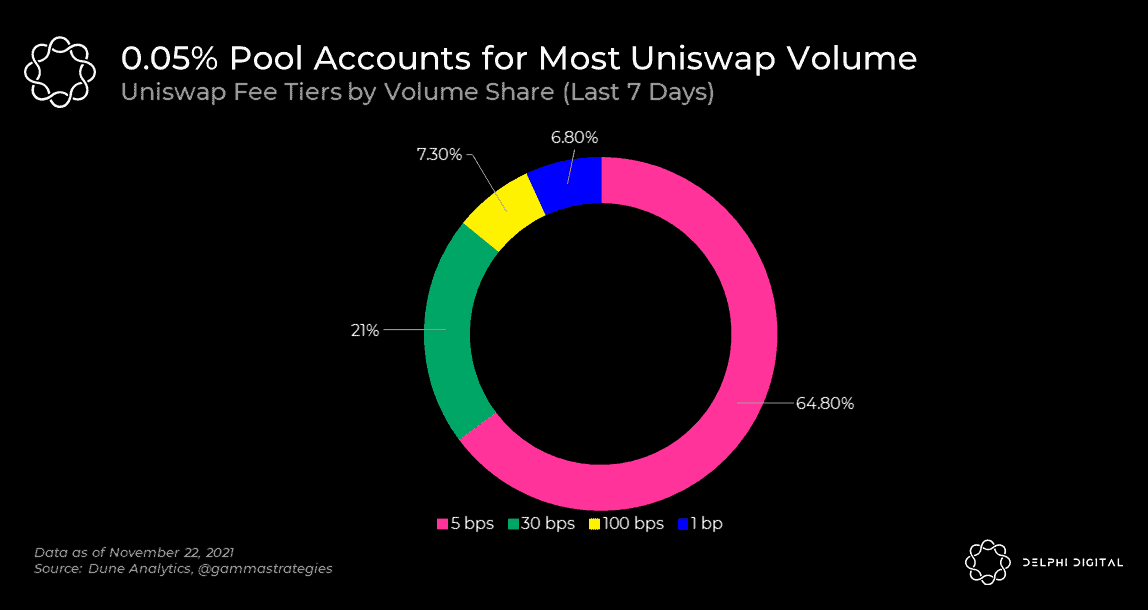 It's been just over six months since Uniswap v3 hit Ethereum mainnet, and if concentrated liquidity didn't excite you as a trader, then lower fee tiers surely have. Close to 65% of Uniswap's weekly volume was on the back of 0.05% fee pools, followed by the regular old 0.30% fee pool.
Notably, the 0.01% fee tier, which launched just over a week ago, accounted for just under 7% of weekly volume. As we noted last week, this could be the start of a fee war amongst the top DEXes.
King Dollar Sends Warning Signs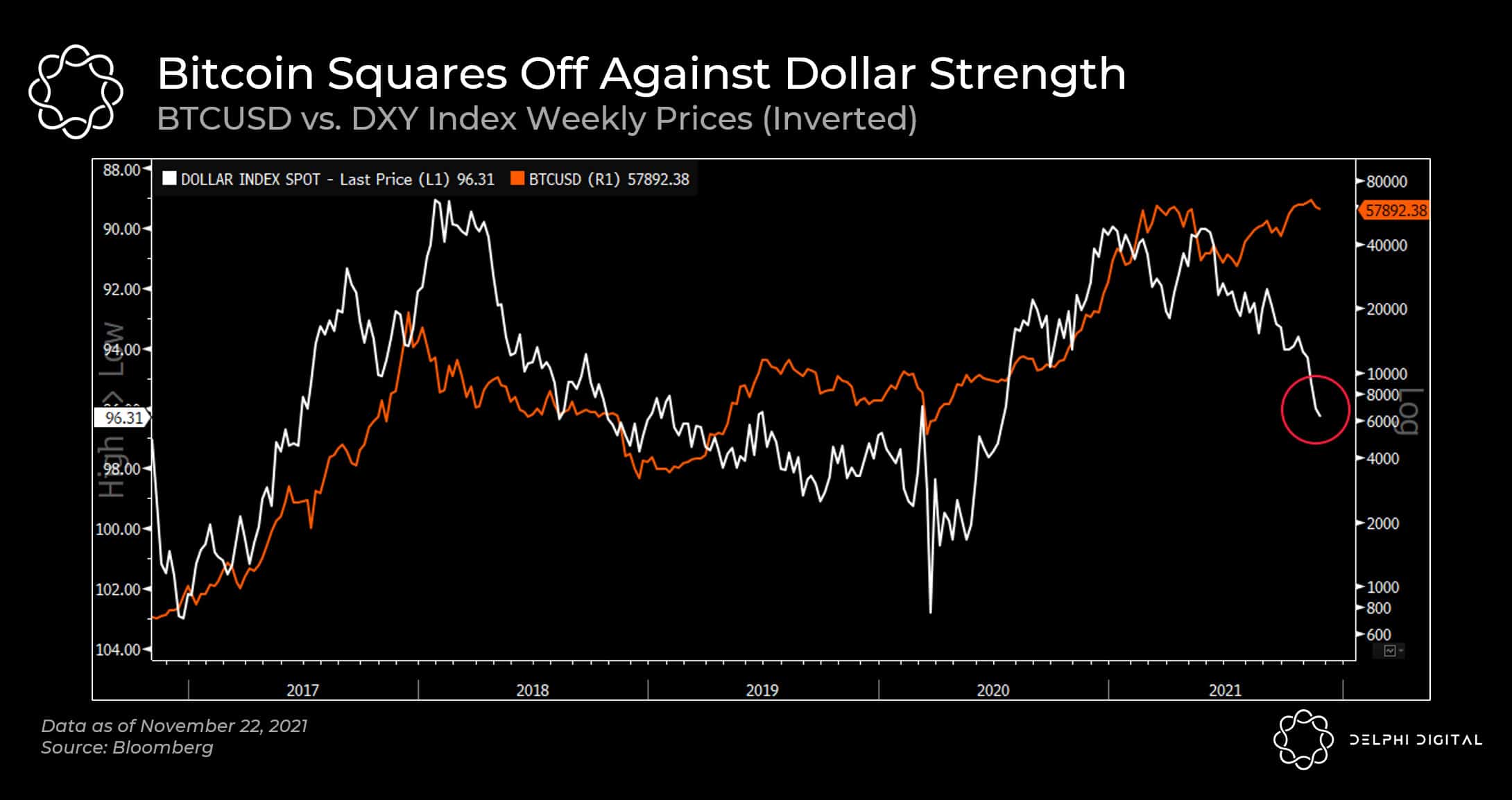 We're starting to see the world of global macro heat up heading into year-end and once again find ourselves coming back to the most important macro variable right now—the U.S. dollar—which has strengthened considerably in recent weeks. With growing expectations for tighter monetary policy and an acceleration in U.S. economic data, the dollar appears to be well-positioned against other major currencies.
We covered the implications of a stronger dollar in our latest markets report, Deleveraging, Volatility, & Mixed Market Signals, published last week. But this is one macro trend we're watching closely given its broad implications for both crypto and traditional markets.
As stated in the 11/18 markets report: "A stronger greenback would have you believe the same tailwinds that propelled global asset prices—including BTC and crypto—over the last 18 months are starting to reverse course. And that assumption wouldn't be entirely misguided; we see several indications that global liquidity growth is slowing, and the shift towards tighter policies to combat rising inflation and a strong (albeit fragile) economic recovery, especially here in the U.S. Consequently, we've seen a considerable run-up in the dollar alongside Fed funds rate futures, which now imply 100% chance of two rate hikes by end of 2022 and a nearly 40% chance of a third rate hike by next December."
Notable Tweets
Getting a job a crypto
1/ Getting a crypto job ?

Yesterday I offered to help people find a job in crypto.

I've received 600+ DM's asking for advice.

I figured I'd share some thoughts publicly for people trying to enter this industry.

— Yano (hiring!) (@JasonYanowitz) November 17, 2021
The Generalist's Mario Gabriele on Terra's potential
Terra might have the biggest TAM in crypto.

• Layer 1 infrastructure
• Collection of stablecoins
• Savings, investing, and insurance
• An ecosystem about to pop off

I dug into why we might see many more #LUNAtics in the years to come. ? ?https://t.co/C6lkpPAUyJ

— Mario Gabriele ? ? (mariog.eth) (@mariogabriele) November 21, 2021
Delphi Labs proposes moving ANC-UST liquidity from Terraswap to Astroport
0/ Today Delphi Labs has submitted posts to the governance forums of @mirror_protocol, @anchor_protocol and @pylon_protocol proposing that they transition liquidity mining rewards away from the existing Terraswap pools to the equivalent new @astroport_fi pools.

Here's why ?

— Luke Saunders ✦ ? (@lukedelphi) November 22, 2021