An Unlikely Winner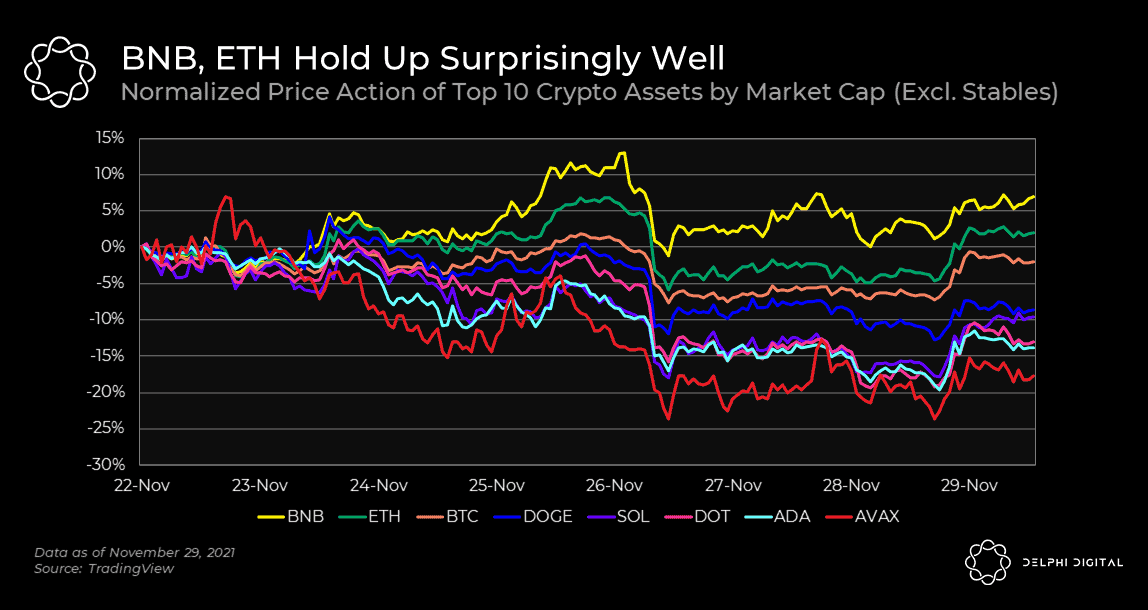 When it rains in crypto, it pours. And while BTC holding up well isn't a surprise, seeing BNB and ETH find strength during these conditions definitely is. Generally, BTC holds up the best on the way down as the most mature asset in the crypto ecosystem. AVAX, which was the top performer until a few days ago, has taken quite the beating. Then again: the higher the rise, the harder the fall.
The strength on BNB and ETH suggests these are the coins buyers are most interested in. So if and when the tide turns in favor of the bulls, these coins are likely to outperform other megacaps in the top 10. AVAX and SOL also have favorable setups as the former has proven the last several weeks.
Covid Uncertainty Isn't Affecting Implied Volatility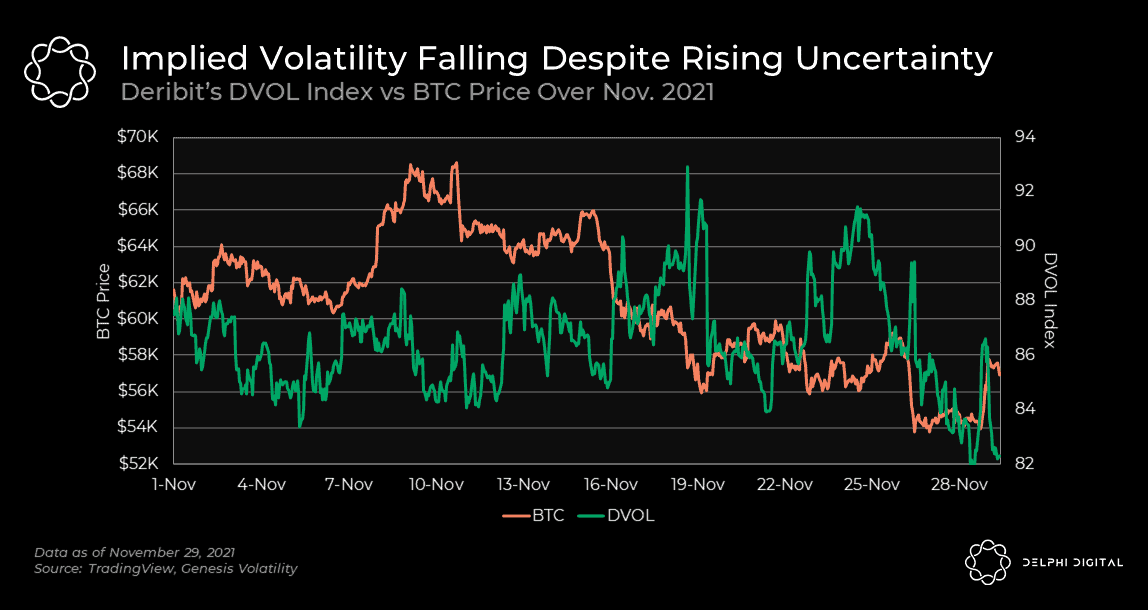 Uncertainty seems to be plaguing global markets on the back of growing coronavirus-related fears that whipsawed markets on Friday. Interestingly enough, the DVOL index, which measures implied volatility (IV) on a 30-day forward basis, has actually gone down in recent days. Implied volatility, more than anything else, is a measure of market uncertainty; when things get dicey, it tends to rise, and when things look unidirectional, implied vol usually falls.
It could be that everyone is unanimously bearish, but that hardly seems to be the case; its latest move could be explained by a lack of trading activity on options orderbooks. We'll be monitoring DVOL as the week progresses to see if it remains suppressed amid heightened uncertainty.
Near-Term Options Skews Don't Inspire Hope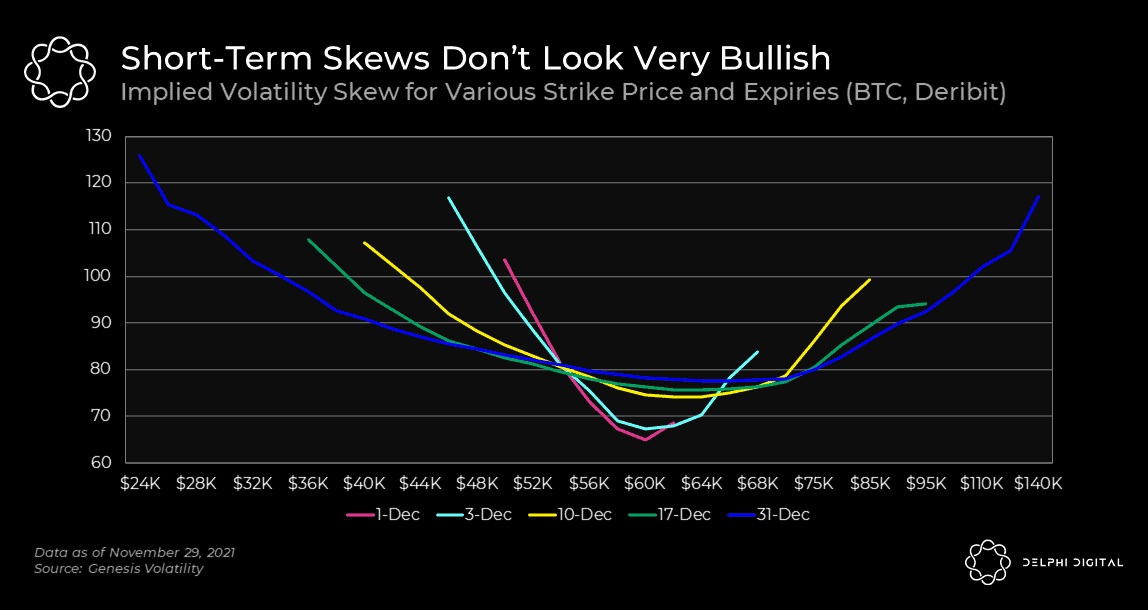 BTC's market price was roughly $57K when this data snapshot was taken. Everything to the left of $57K measures the IV of puts, while readings above $57K measure call IV. Seeing fatter, higher tails towards the left sides implies puts are getting more expensive as market participants turn their focus towards hedging spot or speculating on further downside. In a recent tweet, Genesis Volatility themselves noted a large amount of short-term put purchases.
The outlook for crypto going into the end of the year seems to be deteriorating a bit, but that doesn't mean a three-year bear market is underway. Looking at the quarterly and EOY expiry on Dec. 31, the skew is a lot more balanced than short-term weekly expiries. We aren't likely to see large out-of-the-money call purchases on any of these expiries, but that's a function of how close we are to expiry rather than sentiment.
Mar. 2022 and Sep. 2022 skews, while not pictured, look more positive than these near-term expiries.
Trading Activity Takes a Dip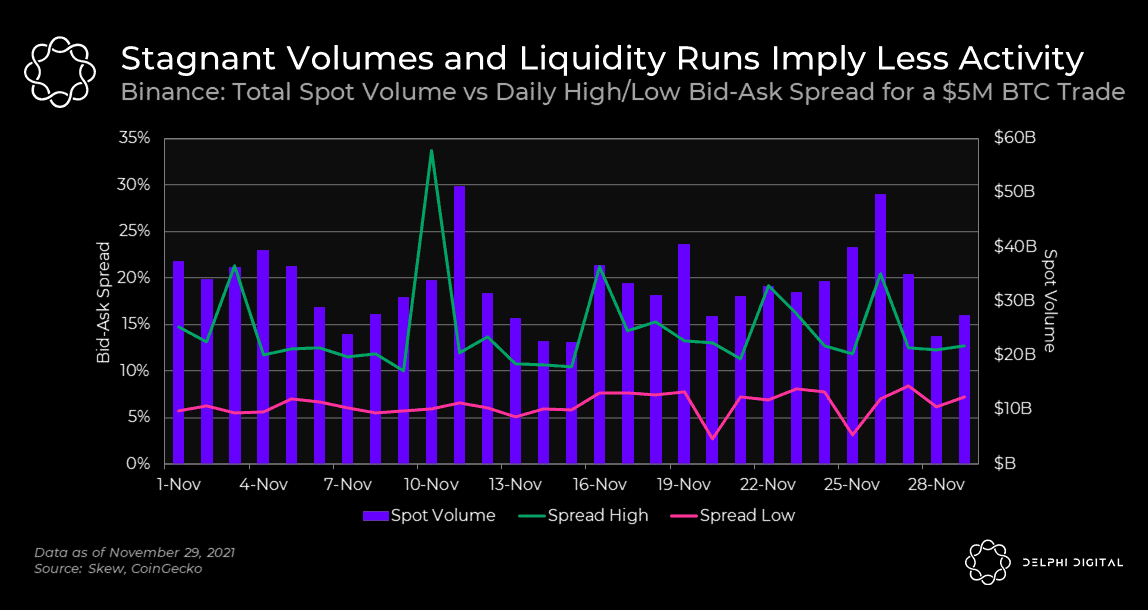 Throughout November, we've seen Binance's total spot volume stagnate while spreads for a $5M BTC trade got wider. The reason for the daily high on this spread spiking on certain days is almost certainly a consequence of lower trading activity. When orderbooks are not as lively, large orders cannot be filled as easily and incur more slippage, which causes the bid-ask spread to increase.
All in all, the market doesn't look too hot here, but taking the long view, we believe any near-term downside volatility will wind up being rather short-lived. This will be especially true if the macro environment shifts in favor of a more prolonged accommodative policy.
Notable Tweets
Lido is decentralizing
As both a part of our commitment to decentralization, as well as our efforts to identify and minimize risk related to validator operators, Lido is happy to publish its first node and validator metrics report. https://t.co/FECIhsJW5K

— Lido (@LidoFinance) November 29, 2021
StarkNet Alpha is locked and loaded!
StarkNet Alpha✨
First step on Mainnet ✅https://t.co/wMKS3QrfqQ pic.twitter.com/s0mr3Tr72R

— StarkWare (@StarkWareLtd) November 29, 2021
How to get started in the wild world of crypto
0/ How to get started in Crypto – the Playbook. I have a lot of new followers, and a ton of web3 curious who have DMed me we. So I wanted to share some lessons learned from my 18-month journey going all in. These are notes I took for myself. ? ?

A multi-thread thread ??

— Justinalanis.eth (?,?)(?,?) (@distorcean) November 28, 2021