Market Update
ETH continues to show strength and is trading above $3,500 for the first time since May. BTC has been taking a breather after a strong multi-week run. FTM, FTT, DPX, and RGT are notable breakouts in the altcoin market.
ETH Primed For Takeoff
With ETH/BTC breaking out of a multi-year long-term wedge, ETH is poised to trend higher so long as BTC retains its current price range.
ETH perpetuals have low funding rates, and at the current price, there's optimism that this breakout has legs and trend continuation should ensue. For those of you interested in diving deeper, we covered ETH's price action & fundamentals in Delphi's ETH market overview.

ETH Inflation Rate Craters
Before EIP-1559 was implemented on Aug. 5, ETH's annualized daily inflation was hovering at ~2.7 to ~3%. Ether's inflation rate has trended down sharply since and averages an annualized emission rate of 1% since the EIP went live.
Yesterday's data revealed sub 1% inflation rates, hovering around 0.6% annual inflation. Although it's unlikely that this sustains until the PoS merge, EIP-1559's impact on ETH's inflation is the equivalent of two BTC halvings (using 3% as pre-London inflation). Significant, to say the least.

In the 25 days since EIP-1559, approximately ~150,000 ETH (~0.13% of Circ.) has been burned. At the time of writing, OpenSea's contracts alone contributed to 30.67% of all ETH burned (~27k ETH), while Uniswap V2 and V3 contracts contributed 20.44% (~14k ETH) to this number. The NFT craze is single-handedly driving ETH burns higher and higher.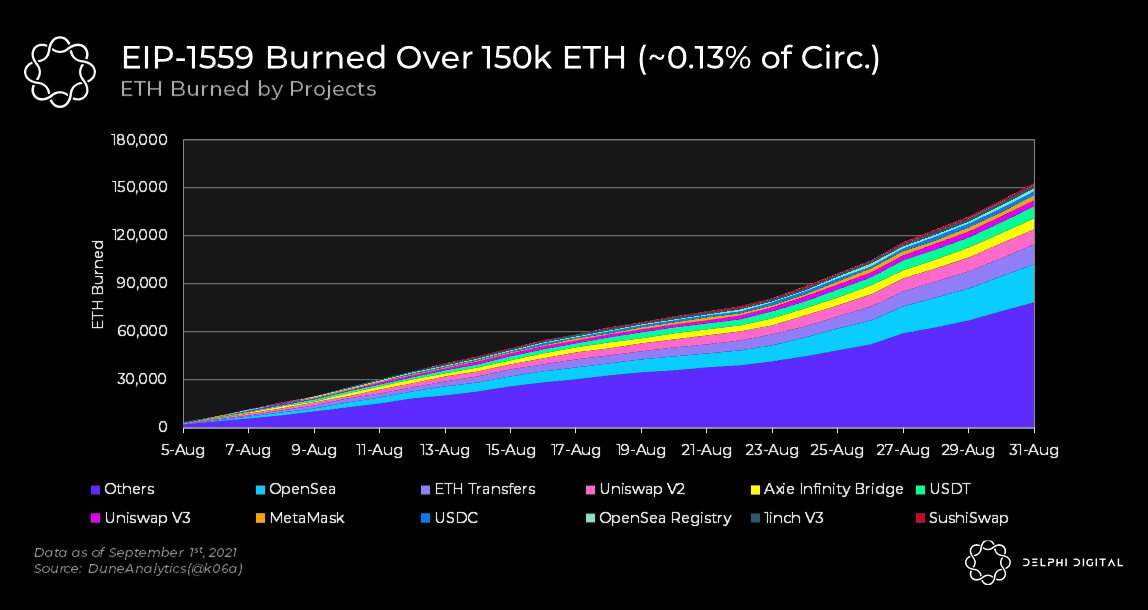 AR Price Catches Up To Traction
As the demand for NFT storage on Solana heats up, one of the main beneficiaries of this NFT mania is Arweave. Its native token, AR, has been hitting all-time highs consistently over the past week and shows little signs of slowing down. The vast majority of NFT projects on Solana leverage Arweave as the data layer to permanently store the media associated with their NFTs.
Upon looking at network data, it seems like AR's price is finally catching up to Arweave's traction with cumulative weave size growing consistently (currently at 12.2TB).

Notable Tweets
A thread on the recently hyped LOOT NFTs
gm

we like the loot

a ?? on why pic.twitter.com/QQjtAaPlDS

— Not3Lau Capital ? (@Not3Lau_Capital) September 1, 2021
The next stage in Delphi Labs' evolution
1/ Announcing the next evolution of Delphi Labs ?

Delphi Labs is no longer taking on any external consulting engagements to focus fully on building and incubating projects

This was always the end goal for Labs, we just got here quicker than expected https://t.co/XnXRzdhxLc

— José Maria Macedo (@ZeMariaMacedo) September 1, 2021
The much anticipated Arbitrum One is live on mainnet
WE KNOW YOU'VE BEEN WAITING…

WE'RE PROUD TO ANNOUNCE…

?ARBITRUM ONE?

BRIEF YOURSELF BELOW ?, WE'LL SEE YOU IN L2.https://t.co/fQT8EyyldL

— Arbitrum is live on mainnet! (@arbitrum) August 31, 2021