Ahhh I'm Getting Liquidated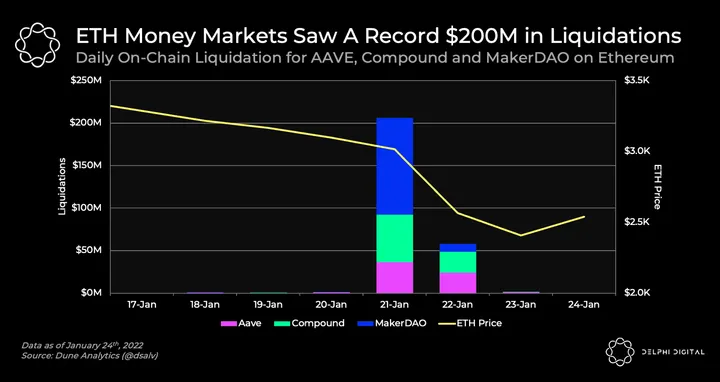 As a major correction sent ETH falling from $3.2k to $2.5k in the past week, on-chain liquidations surged as positions started to hit their liquidation point.
Over the last Friday, money markets on ETH experienced their largest liquidation event to date, amounting to over $200m. MakerDAO was responsible for more than 50% of liquidations.
Panic came when the second-largest vault owner with $600M of debt on MakerDAO, nicknamed 7-siblings, was at risk of liquidation. $60M was liquidated from their vault. The vault owner managed to repay some of their positions to prevent further liquidations. If they had been fully liquidated, the market would have seen a significant cascading liquidation. You can read the full analysis by MakerDAO here.
For more details on the state of crypto markets, our members-only Market Insights brief dissected the recent sell-off.
MakerDAO Profits from Liquidations

MakerDAO stands to profit from all the liquidation events happening recently. With January yet to end, MakerDAO has already earned $17.5M in liquidation revenue. That's multiples more than recent months and surpassed the revenues generated during the May 2021 drawdown. MakerDAO uses liquidation penalties to buy back and burn $MKR to return value to token holders.
MakerDAO charges a liquidation penalty to the vault owners if the value of their collateral reaches its liquidation price. This fee is added to the vault owner's total debt as DAI.
Open Interest Down on Market Uncertainty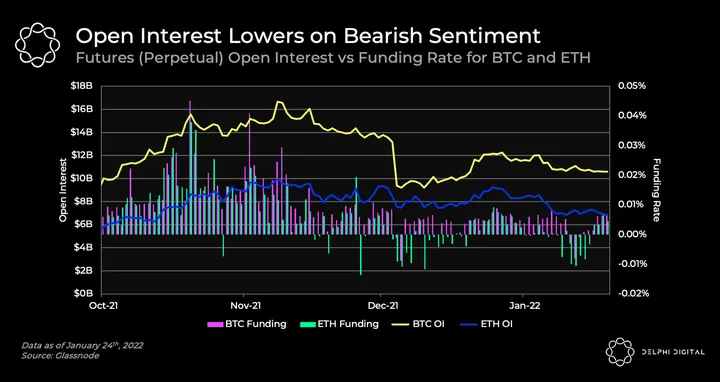 Open interest moved down as the markets turned bearish from hints of impending rate hikes. BTC and ETH futures OI have contracted by $6B and $3.1B, respectively, since their peaks in November.
As prices soured, traders with highly leveraged long positions have been closed out multiple times over the past few weeks. Funding rates remain neutral, with longs and shorts staying even and traders undecided.
All eyes will be on the upcoming Jan FOMC happening on January 25th and 26th, as it will likely determine where the markets will head next.
Fantom's Rise Up the Ranks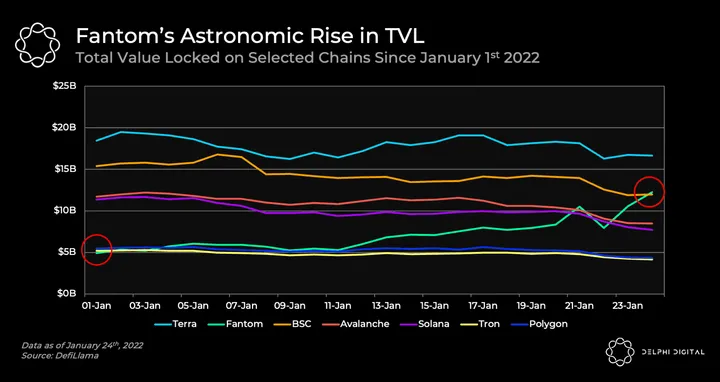 Fantom started the year at the 8th spot in TVL rankings by chain. Since then, it has climbed up to the 3rd spot, with the flippening of BSC occurring earlier today. As the snapshot of ve(3,3) nears, many projects like Radial, veDAO, and 0xDAO came up with liquidity mining launches that vampire attacked other protocols to gain TVL. These projects share a lot of resemblance to defi summer projects in 2020.
Mercenary capital came over to Fantom to yield farm these projects as they were providing incredible yields on single-sided staking.
Notable Tweets
Illuvium Private Beta Registration Opens!
BlackRock Launches Blockchain ETF
NFT Profile Picture Now on Twitter!