ETH/BTC Rebounds From Key Support From Oversold Regions
After days of hovering at the bottom of the 0.06 to 0.08 range, ETH bounced from support rather abruptly to 0.066. Daily RSI14 also recovered from oversold levels (30), adding promise.
While it's too early to tell whether this is mean reversion or part of a larger move, ETH/BTC recovered strongly from this key support and could continue to range inside the yellow wedge drawn below.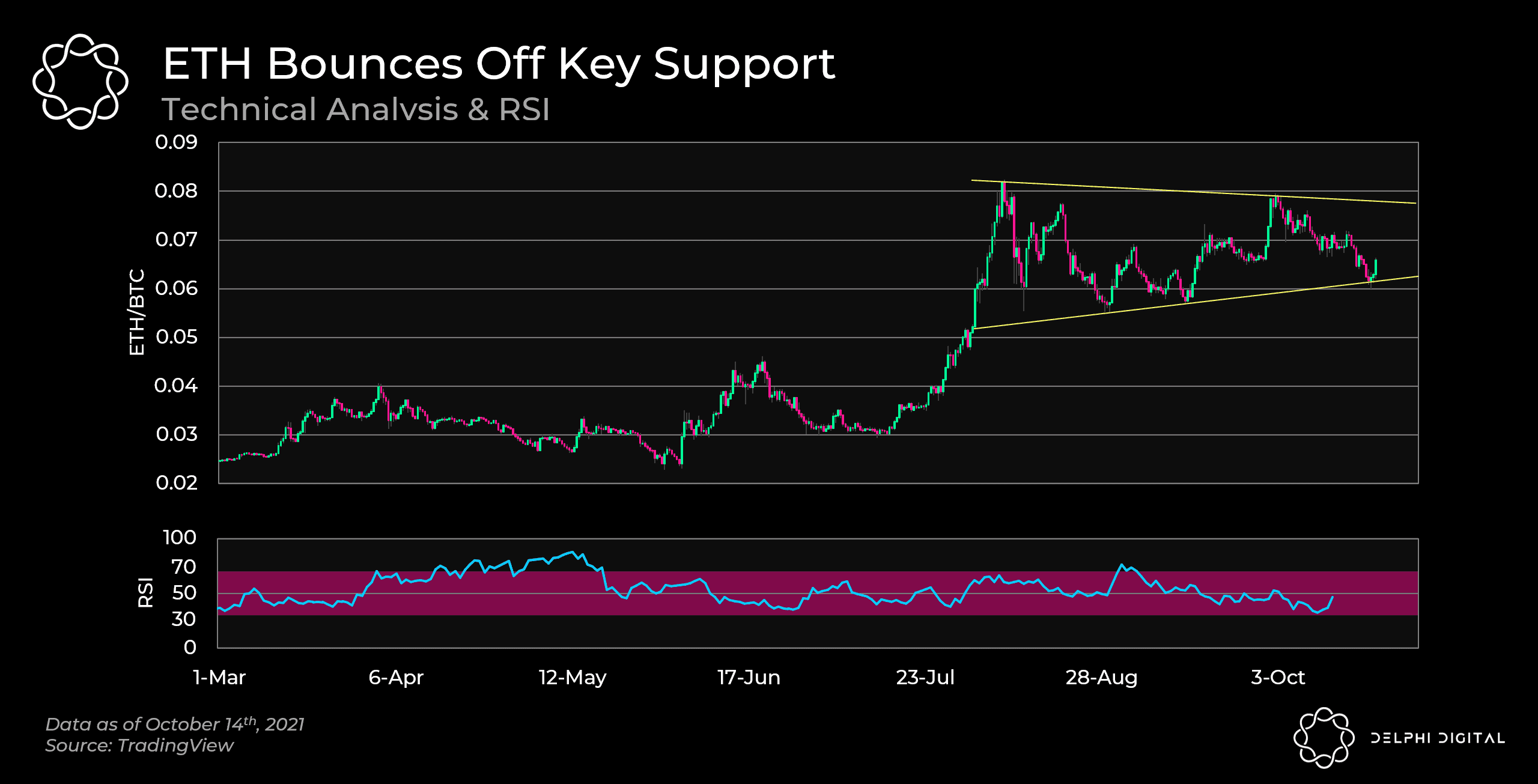 Banker Joe Launch Drives Avalanche TVL Higher
Trader Joe's TVL (and, by extent, Avalanche's TVL) increased by close to $700m following the launch of Banker Joe, Trader Joe's new lending product. In the past 3 days, TVL on Trader Joe has increased by $700m, which firmly puts it above BenQi's TVL after being neck and neck for weeks.
However, it's important to note this momentum may not continue given that JOE token incentives for deposits/borrows are notably lower now after the liquidity inflow.
If you'd like to gain a deeper understanding of Trader Joe and Banker Joe, we suggest reading our recent institutional report.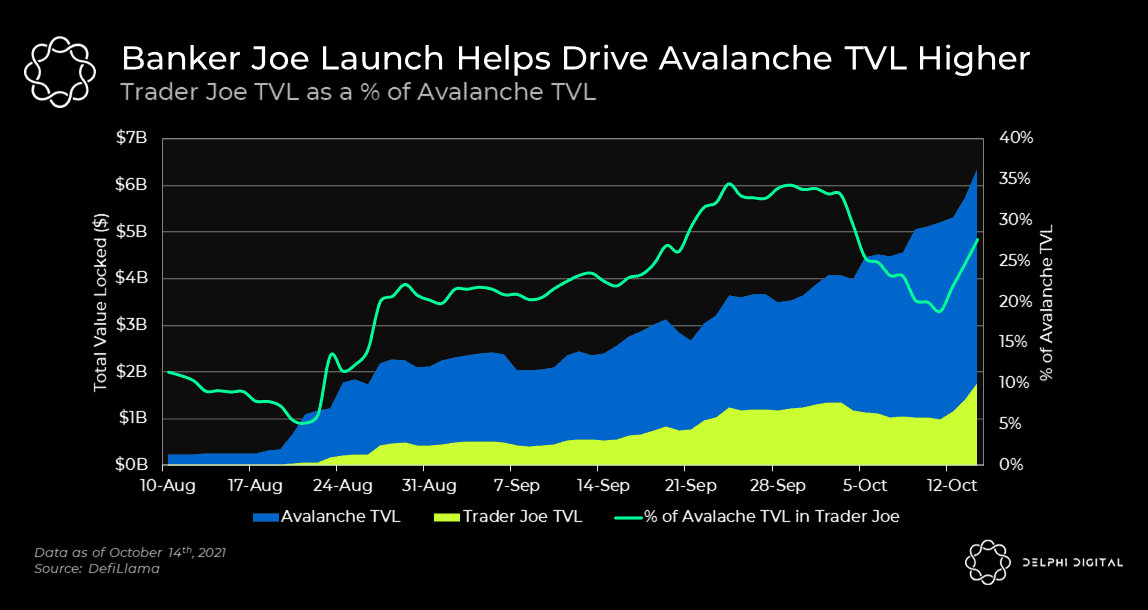 BNB Leading CEX Tokens, HT Suffers
BNB has performed well in the last 3 days following Binance's $1b ecosystem fund announcement. While other ecosystems have done similar initiatives, this is the largest ecosystem growth fund to date. As the battle between L1 ecosystems continues to heat up, this should help attract new users and mercenary capital.
Unfortunately, the same cannot be said about FTT and especially HT. While FTT has underperformed BNB, HT has performed far worse as it fell nearly 50% since September. Volume collapsed on their centralized exchange due to regulatory crackdowns in China, sending HT into distress with no end in sight.
DeFi Perp Tokens
The DYDX token has come out strong since it's launch on September 8th, reaching a current FDV of $22.7b. With the goal posts set so high now, other Perp protocol tokens have taken the opportunity to stretch their legs.
Beneficiaries from this narrative include newer protocols like TCR (TracerDAO) and FST (Futureswap). Both projects are freshly launched and have relatively small market caps. The exception to the trend has been Perpetual Protocol which is the laggard of the group.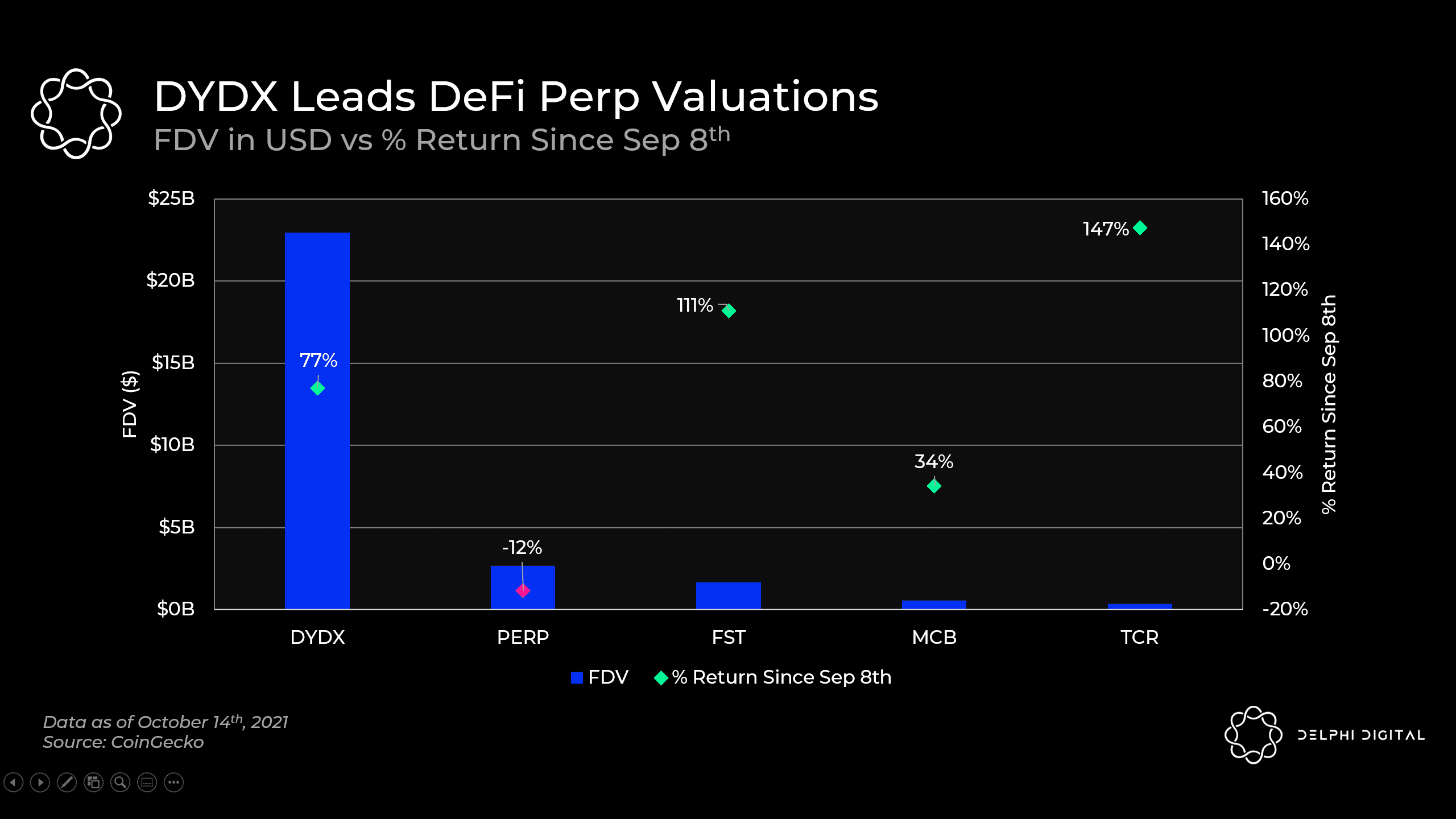 Notable Tweets
Avalanche Bridge Numba One.
Top 5 bridges, avalanche bridge has flipped everything else pic.twitter.com/Een8sKzmWU

— Lex Moskovski (@mskvsk) October 14, 2021
Difference between ZK and Optimism for dummies.
Two rollups walk into a bar. The barman asks: "Can I see your ids?". ZK Rollup says: "I can prove to you I'm over 18, but I won't show you my id". Optimistic Rollup says: "If nobody can prove I'm underage in 7 days that means I'm over 18"

— L2BEAT (@l2beatcom) October 14, 2021
North Vancouver First City Heated By Bitcoin.
BOOM

north vancouver will be the world's first city heated by bitcoin, thanks to @MintGreenHQ https://t.co/yJutzWLPE0

— Meltem Demir◎rs (@Melt_Dem) October 14, 2021