Market Update
BTC and the rest of the market are already back in the green after yesterday's "dip." The market was choppy through the Asian and European sessions but buyers took control at the New York open. Other crypto assets have been on a tear today too. MATIC, SUSHI, HNT, and GRT stand out amongst the top 100.
ETH Burns Can Further Heat Up
On Monday, we spoke about EIP-1559 burns amounting to 17,000 ETH ($53 mn at the time) in the first five days since the London Hard Fork. Just two days later, 10,000 more ETH has been burned, taking the total up to 27,000 ETH or $88 million in cumulative burns.
The old style of Ethereum transactions where miners receive the entire fee now co-exists with EIP-1559's burn-and-tip transactions. Interestingly, EIP-1559 transactions still account for the minority of Ethereum transactions since launch. As the rate of adoption grows, it seems logical to expect ETH burning to steepen.
You can see in the chart that there are periods where the rate of EIP-1559 transactions spikes higher than the average. We found that these readings are clustered between 12 and 4 AM UTC, which is roughly morning in Asia and late evening/night in the West.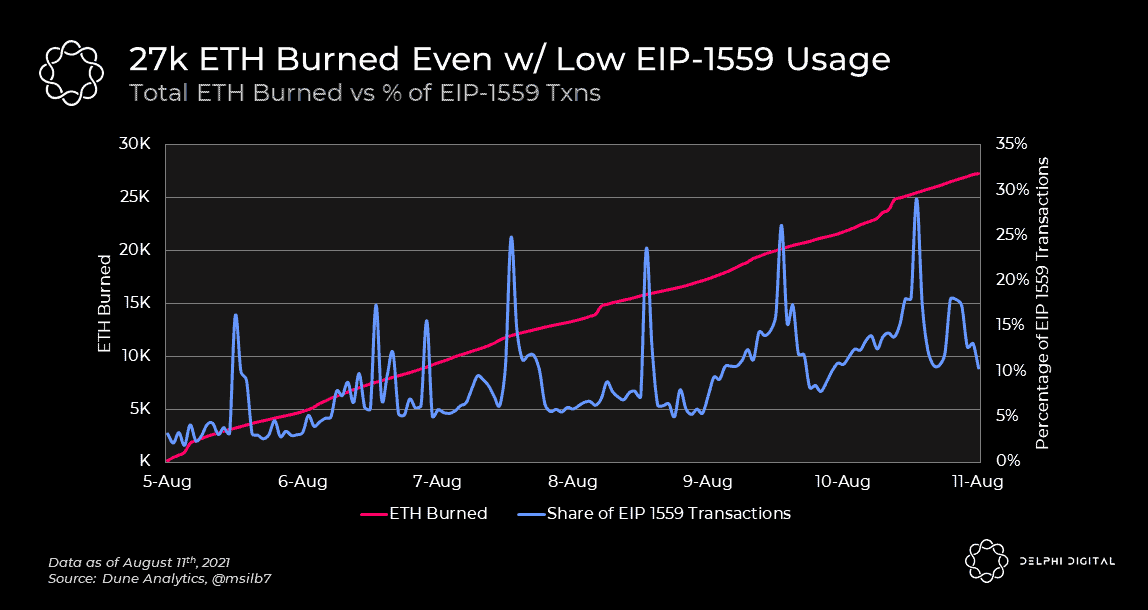 Cautiously Optimistic
AXS has pushed off for yet another rally, moving up 50% in the last two days despite a pullback over the last few hours. It's worth noting that spot volume across exchanges fell dramatically as price consolidated between $40 and $50. However, after setting a new all-time high, AXS's spot trading volume didn't keep up with the price trend. Falling volume on higher prices is typically a sign that a trend reversal is in play.
To explain how price goes up without more spot buying, it's very likely that shorts getting liquidated on AXS perpetuals created "forced buying" and pushed price higher. Spot demand followed thereafter. A large amount of forced buying and selling on perp contracts also point towards trend reversals — and Bybt's liquidation data says a record number of AXS shorts were liquidated yesterday.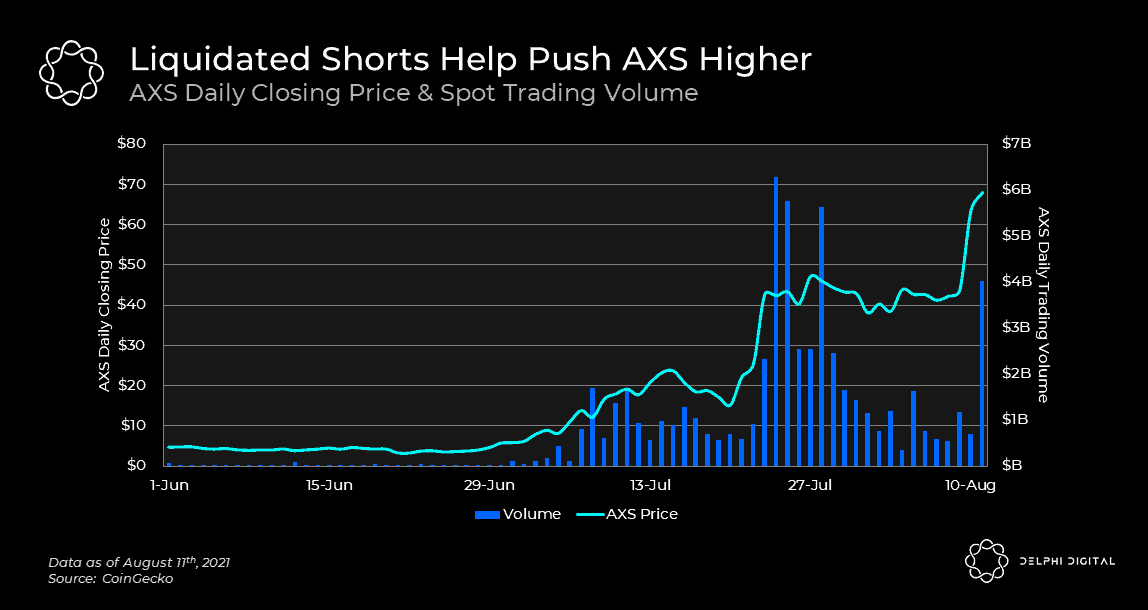 Sometimes you reach these inflection points with market data but the fundamentals look as sharp as ever. Axie had a record breaking month in July — not only in terms of price, but also in pocketing over $200m in monthly revenue (implying a run rate of $2.4 bn).
While distributions from the treasury will be decided by community governance later on, it's expected that most of the revenue will eventually be passed on to AXS stakers.
Taking into account the run rate implied by July's volume and AXS's current fully diluted valuation of $17.9b, the token trades at a P/E of 7.5. There's a coherent argument to be made that AXS is still reasonably valued.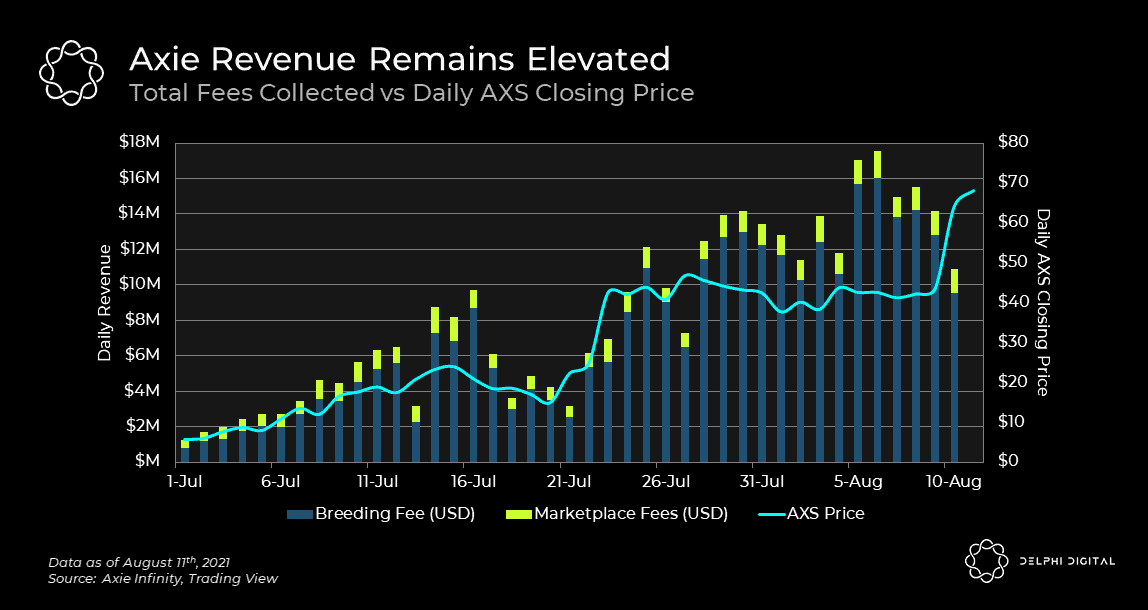 DeFi Loans Hit New ATH
The top three DeFi money markets just crossed $20 bn in cumulative loans outstanding. Despite overly bearish sentiment and an aggressive down trend between May and July, usage of money market protocols didn't dwindle whatsoever.
We've seen Compound gain some market share in recent weeks while Maker's hold deteriorated. AAVE and COMP are both up over 100% from their July price troughs while MKR is just shy of a 100% bounce since.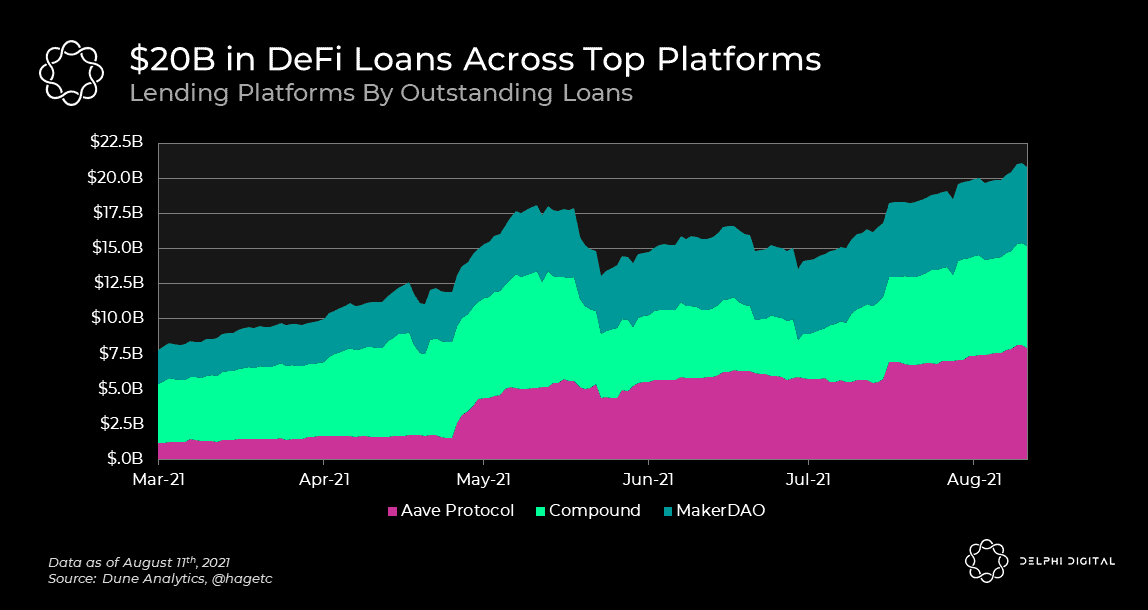 Lido's Continuing Dominance
Lido's stronghold over ETH 2.0 liquid staking grows by the day. Other competitors with the exception of SharedStake and Stakewise are growing as well — just not at the same pace as Lido.
A few weeks ago, Lido introduced a staking referral program similar to ones conducted by crypto exchanges. Referrals have historically proven to be an effective marketing tool in crypto and could have played a role in Lido's recent growth.
Additionally, with Vitalik breaking down MEV and reorgs after the PoW/PoS merge, there's belief that Lido could help facilitate a lot of MEV extraction given the number of validators the DAO will eventually work with.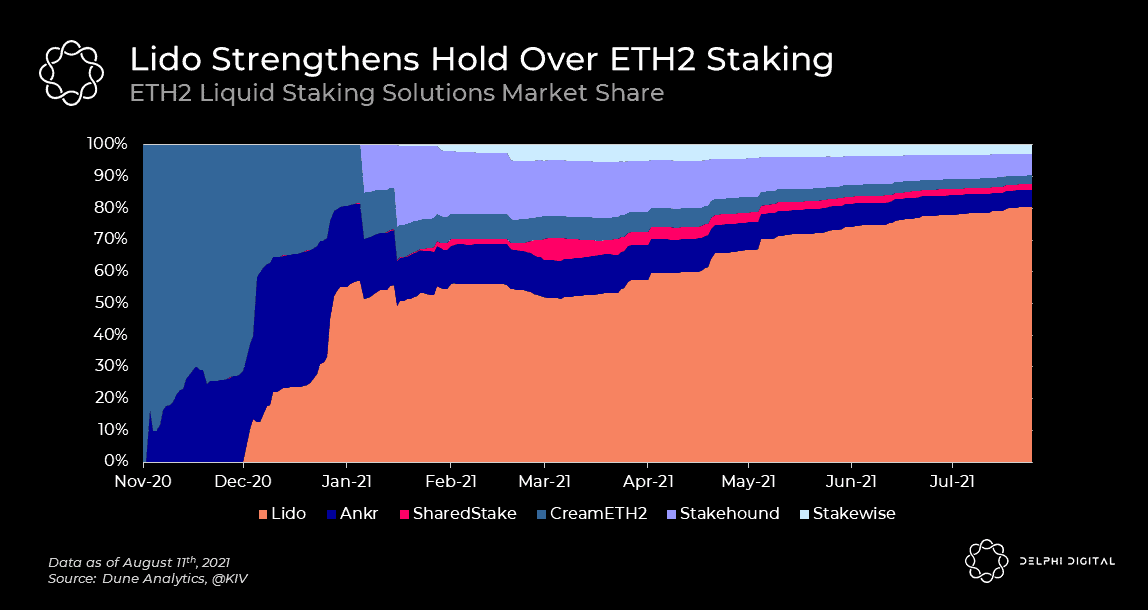 Notable Tweets
Axie Infinity reduces breeding fees to 2 AXS.
We've reduced the AXS portion of the breeding fee to 2 AXS.

This is another move to demonstrate the attention and care we put into balancing the Axie economy.

When making this decision, we looked at the relative value of AXS vs. SLP as a percentage of the breeding fee. pic.twitter.com/5SyRBVqLCQ

— Axie Infinity?? (@AxieInfinity) August 11, 2021
Delphi Labs' developer Larry maps out the "blockchain universe."
world map of blockchains (made by me) pic.twitter.com/Ee0I4yQr8C

— The Larry (@larry0x) August 11, 2021
Beta Finance will initiate a phased launch one week from now.
We're excited to announce Beta Finance will be initiating our 2-Phase launch on August 18! For Phase 1, users will be able to lend, borrow, and short tokens from our Beta Verified Markets, and retroactive BETA rewards will be distributed to early users!https://t.co/jtgwFs64rj

— Beta Finance (@beta_finance) August 11, 2021