Market Update
It's been a choppy day for the market, and price action is looking very similar to May 2021 — which means we could be in for another period of ranged price action for majors. But the majors found a strong bid on the North American open, so there may be hope yet. As has been the case for the past few weeks, L1 tokens are the biggest winners today, led by FTM, SOL, AR, and ATOM.
Ethereum is Congested
It costs $10 to do a simple ETH transfer again, and median gas is now up to 150 gwei with occasional spikes to 1000-5000 gwei (not a typo). For most users, even transferring ETH across the network is no longer viable.
NFTs and the "mint-mania" are the primary reason for this, as collectors clog the chain minting their shiny, new NFTs. Tuesday's market movements also played a key role, as several DeFi loans closed in on their liquidation thresholds.
But the argument that "nobody is using ETH because of high fees" is incoherent. The reason fees are so high is because more people are using Ethereum than the network can handle. L2s offer a solution to this, but they're just starting to get off the ground.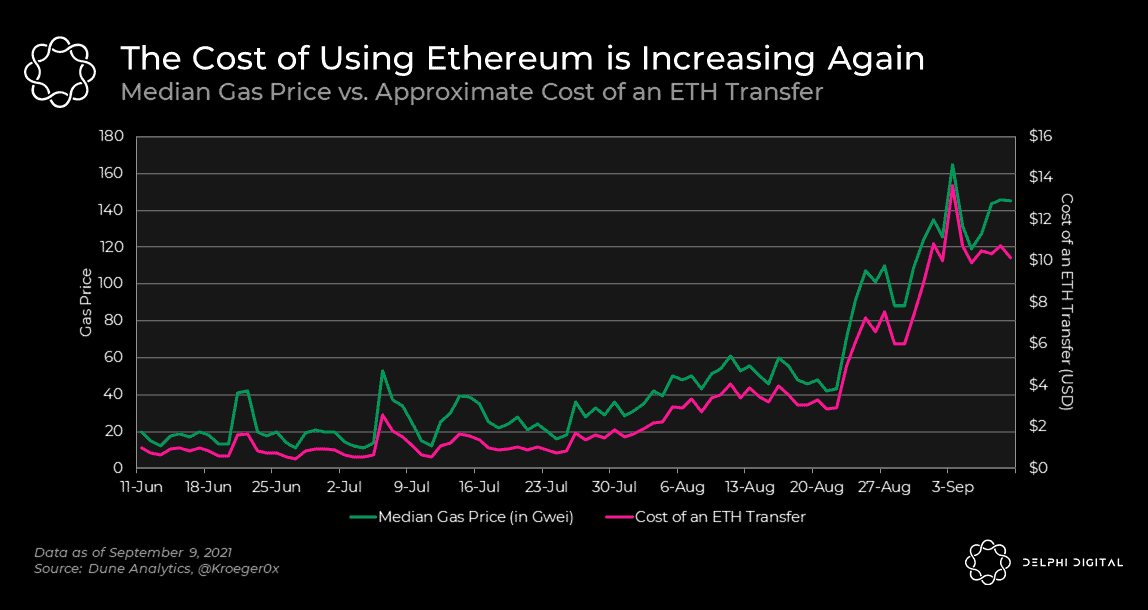 L2s Need a Jolt
Optimism enjoyed a month-long head start over Arbitrum and has consequently seen more traction, but Arbitrum's open ecosystem and deployments could be the spark that propels long-term growth. Optimism had a 50K daily transaction limit on launch, but that doubled to 100K in late August.
There's little doubt that L2s are the ideal scaling solution for Ethereum, however, they do need to introduce some kind of incentive to incite a mass migration from the Ethereum base chain. From the boom in L1s, the most obvious solution seems to be a token — and we'll show you why.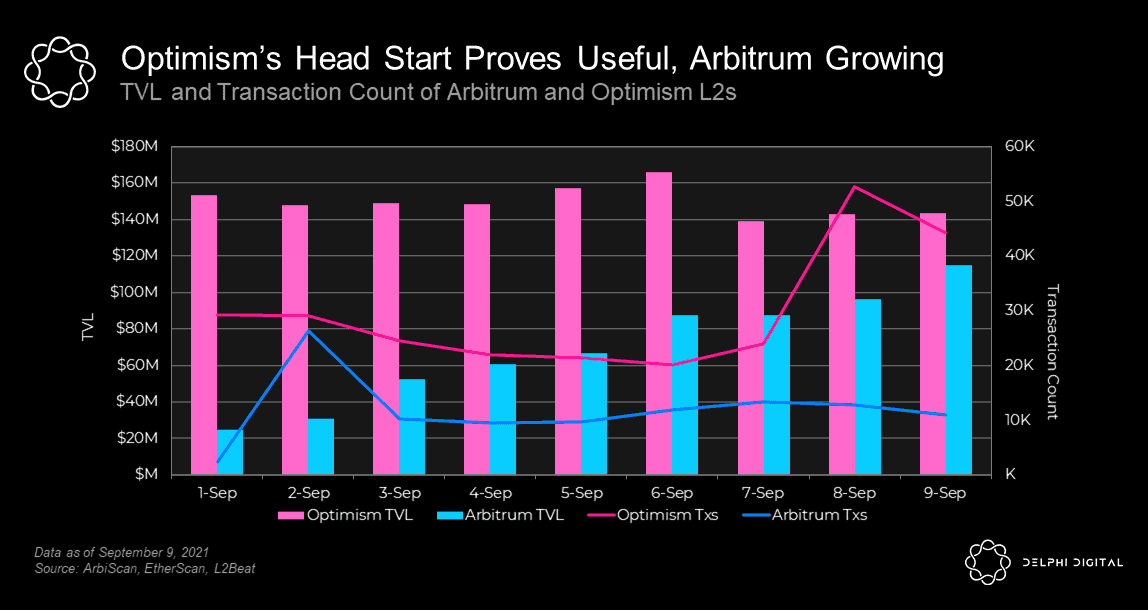 Note: The above chart has been revised to appropriately reflect Arbitrum TVL growth
Other L1s Are Seizing the Day
Non-Ethereum L1s have grown significantly this year, as evidenced by Solana and Terra's large additions to TVL in recent months. Avalanche and Fantom look to be in the early stages of attracting more capital due to their incentive programs. The growth curve for Solana, in particular, looks the most exciting with the chart almost vertical at this point.
Also noteworthy is Solana recently surpassed Terra in TVL. Solana currently stands at $7.86B in TVL versus Terra's $7.05B.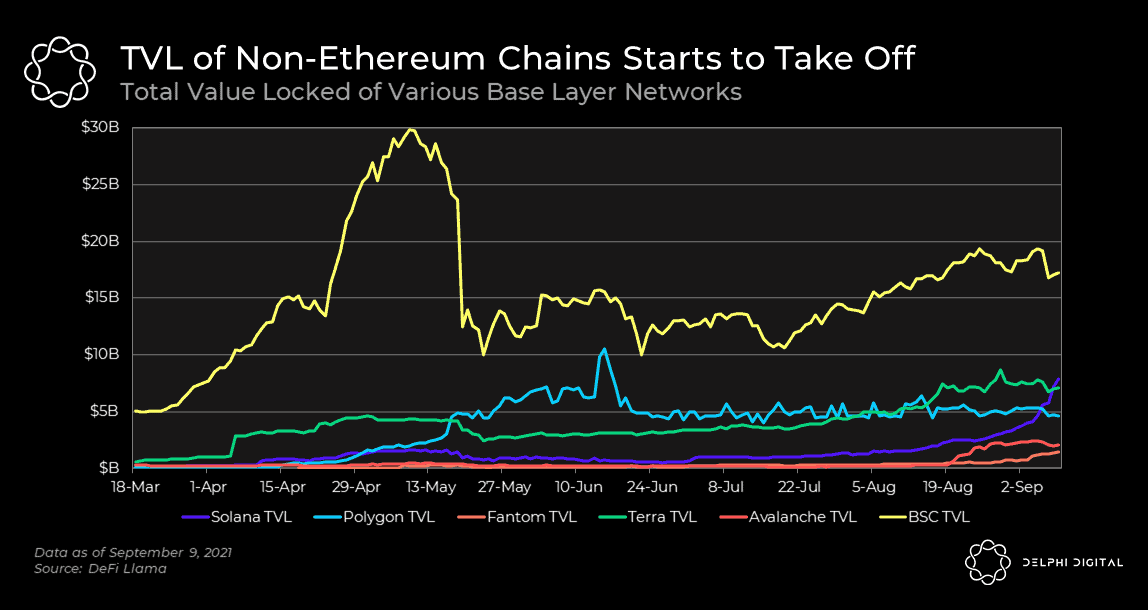 Driving Capital Flows
As mentioned, Solana has the cleanest-looking growth curve among major L1s. Elsewhere in the pack, Avalanche and Fantom are banking on big incentive programs, and Terra is seeing a surge in growth with several new projects primed for launch in the coming months.
Looking at the price performance since the Jul. 2021 bottom — which coins stand out? SOL and FTM lead the market with AVAX, LUNA, and NEAR not too far behind. BNB (Binance Smart Chain) and MATIC (Polygon) were both top performers between Jan. and Apr. but TVL (and token price) have fallen out of favor vs. other networks.
The idea here is pretty clear: a token that performs well encourages investors to pour capital into the ecosystem, thus funding growth and user acquisition. It's no coincidence that the best-performing tokens are the ones attracting the most capital right now.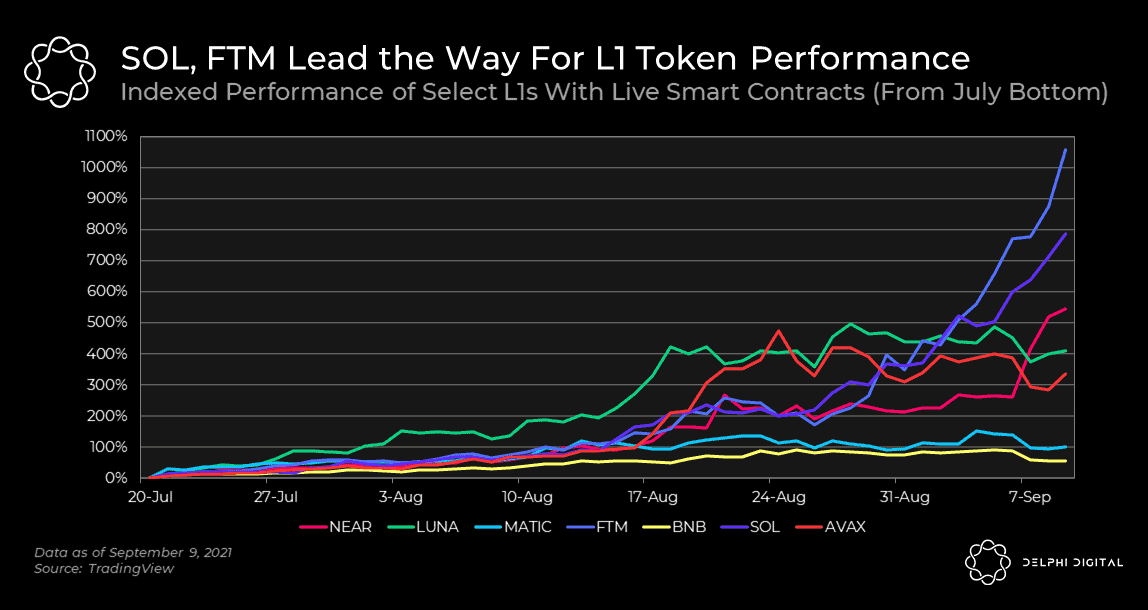 Notable Tweets
101 Bored Apes sell for $24.393M on Sotheby's, for an avg. price of $242K per ape
#AuctionUpdate 101 Bored Ape Yacht Club NFTs just sold for $24.4 million and 101 Bored Ape Kennel Club NFTs achieved $1.8 million in our Ape in! auction – the most significant #BAYC sale to date. Congrats to all the apes out there ?? pic.twitter.com/e7UghlgtKy

— Sotheby's (@Sothebys) September 9, 2021
Delphi's Kevin Kelly speaks to Real Vision about the business models of Web 3
Kevin and I share a passion for the future of Social/Community tokens. He is also my go-to expert on this topic. He is going to explore this fast developing world for us all to learn from in a new series. I cant wait!

Even better – its entirely free.https://t.co/R0IB9gmMZW https://t.co/adOzs7DcrP

— Raoul Pal (@RaoulGMI) September 9, 2021
Terraform Labs announces initiative to fund vital infrastructure
1/ TFL is announcing Project Dawn, a new funding initiative for critical infrastructure improvements and core technologies to supplement the accelerating growth of the Terra ecosystem.

Details: https://t.co/Viv9VkAApT

— Do Kwon ? (@stablekwon) September 9, 2021