Market Update
Today has been a rather sleepy day in the market, with the majors starting to consolidate at resistance (not a good sign). Market momentum over the last week has been pretty crazy, so a pullback from here is on the cards.
Exchange Exodus; Bullish for DEXes?
Yesterday marked the single largest daily outflow of BTC from exchanges since mid 2016. This was presumably catalyzed by Binance's announcement of dramatically lower withdrawal limits for non-KYC customers. Binance and Coinbase were the top two exchanges in terms of absolute outflow.
The million dollar question right now is whether this will benefit decentralized exchanges. Popular DEXes like Uniswap and Sushiswap cannot support BTC — only wrapped BTC — so them trying to capitalize on BTC leaving exchanges is out of the question. However, multi-chain DEXes like Chainflip and THORChain could benefit from this in the long-term.
But if the trend is a generalized shift away from centralized exchanges, then DEXes across the board will be able to capitalize on this.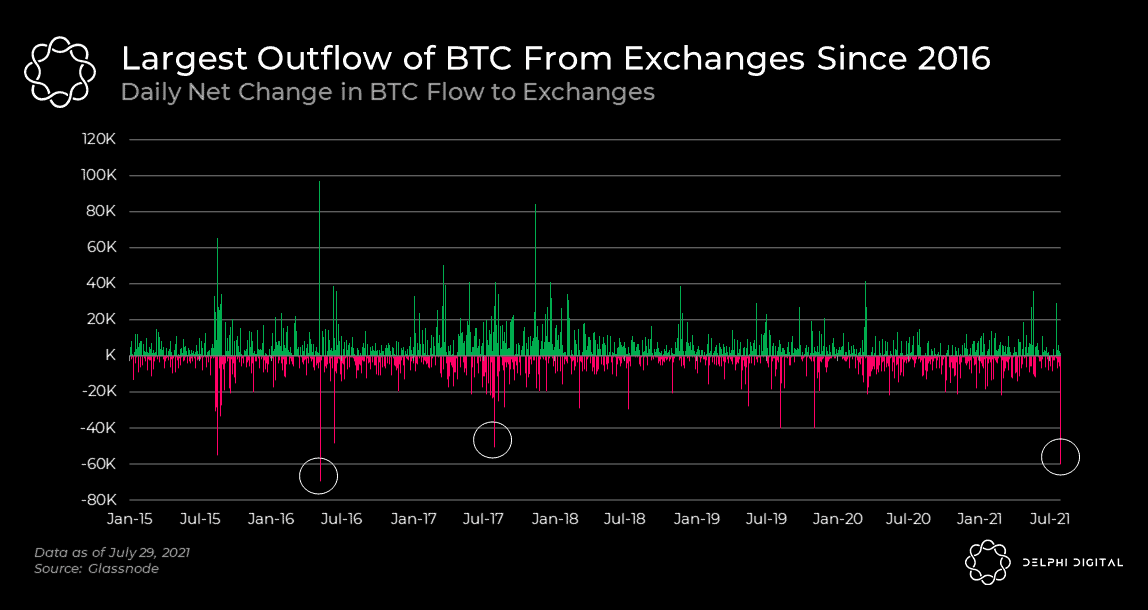 Staking LUNAcy
Today LUNA saw an upward movement of approximately 15%, which was likely caused by the increase in LUNA staked and LUNA burned.
1.14 million LUNA were burnt from the circulating supply today thanks to the burning/minting mechanism that arbitrages UST's (Terra's native stablecoin) peg. If UST is trading above $1, you can arbitrage by burning $1 of LUNA to mint 1 UST to be sold on the market for profit and if UST is trading below $1, you can buy the discounted UST from the market and redeem $1 worth of LUNA.
Additionally, we also saw an additional 3.59m of LUNA tokens being staked and removed from the liquid circulating supply. In total, 4.73m of LUNA, which represents around 4.5% of the liquid circulating supply, were removed from LUNA's liquid supply.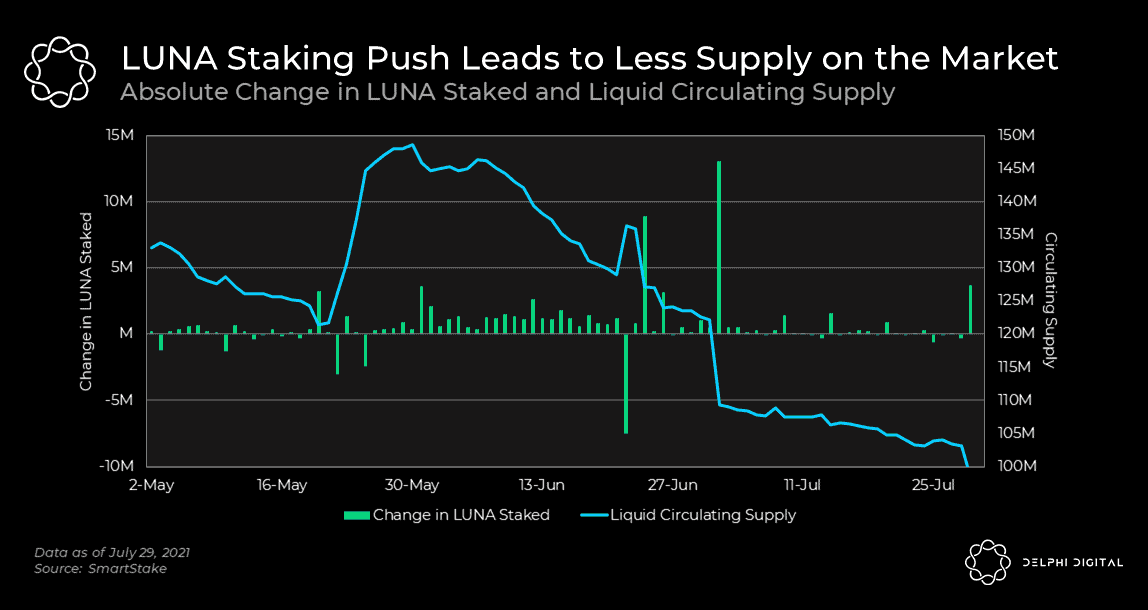 CryptoBlades Propels BSC Usage
Binance Smart Chain just hit a new high in transactions per day. But interestingly BSC's flagship product, PancakeSwap, hasn't seen a meaningful increase in on-chain volumes.
A new game, CryptoBlades, is almost single-handedly pushing BSC usage to new highs. CryptoBlades is an NFT RPG where players team up to fight other players and conduct raids. In the last 24 hours, CryptoBlades is responsible for over 7.5 million transactions to BSC. This accounts for roughly 60% of BSC's total transactions over the same 24 hours.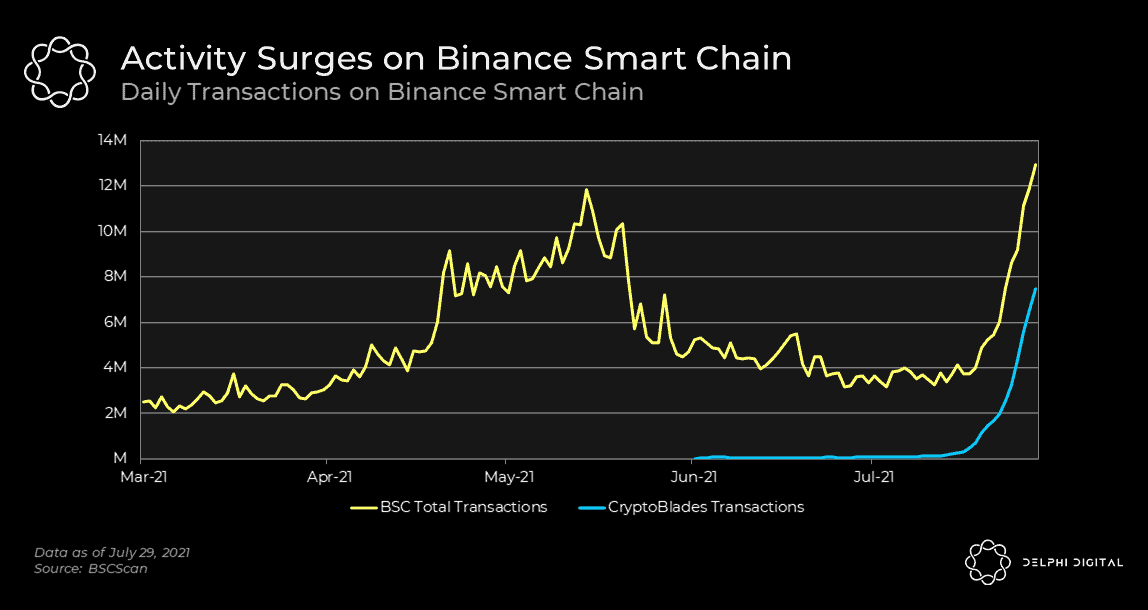 Axie Turns Heads on TikTok
On Crypto TikTok, videos tagged with #axie and #axieinfinity are dominating view and video count. Axie Infinity related videos have risen to to become the second most popular crypto hashtag on Tiktok in the month of July, beating out everything except #bitcoin and #btc. Surprisingly, Axie content has even beaten out #nft.
This trend isn't too surprising given the fundamental growth Axie has seen, and AXS' monster rally over July.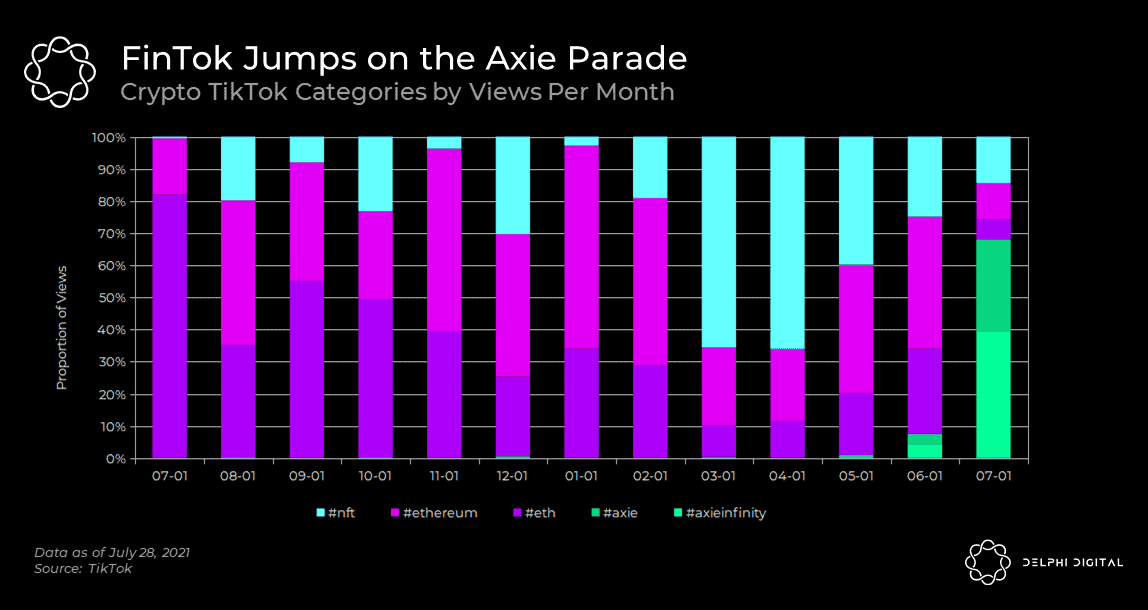 Notable Tweets
A new AMM primitive from the giga brain at Paradigm.
I've been working on a new type of automated market maker with @danrobinson and @haydenzadams.

The Time-Weighted Average Market Maker, or TWAMM (pronounced "tee-wham"), helps traders on Ethereum efficiently execute large orders.https://t.co/nvCPDJIrlY pic.twitter.com/XgdW5Jixd7

— Dave White (@_Dave__White_) July 28, 2021
A last minute change in language creates broader tax reporting obligations for crypto companies.
1/ The new bipartisan infrastructure bill in the Senate includes new tax reporting obligations for crypto.

— Jerry Brito (@jerrybrito) July 29, 2021
A good thread on TradFi Bitcoin products.
$GBTC's share has surpassed the final wave of share unlocks and will soon be fully tradeable. I wrote yesterday that its likely we wont see the extreme discounts for a while as supply tightens. Could even see slight premiums in near future. pic.twitter.com/vKgRlzexUE

— James Seyffart (@JSeyff) July 29, 2021