GBTC Slowly Recovers From BITO Launch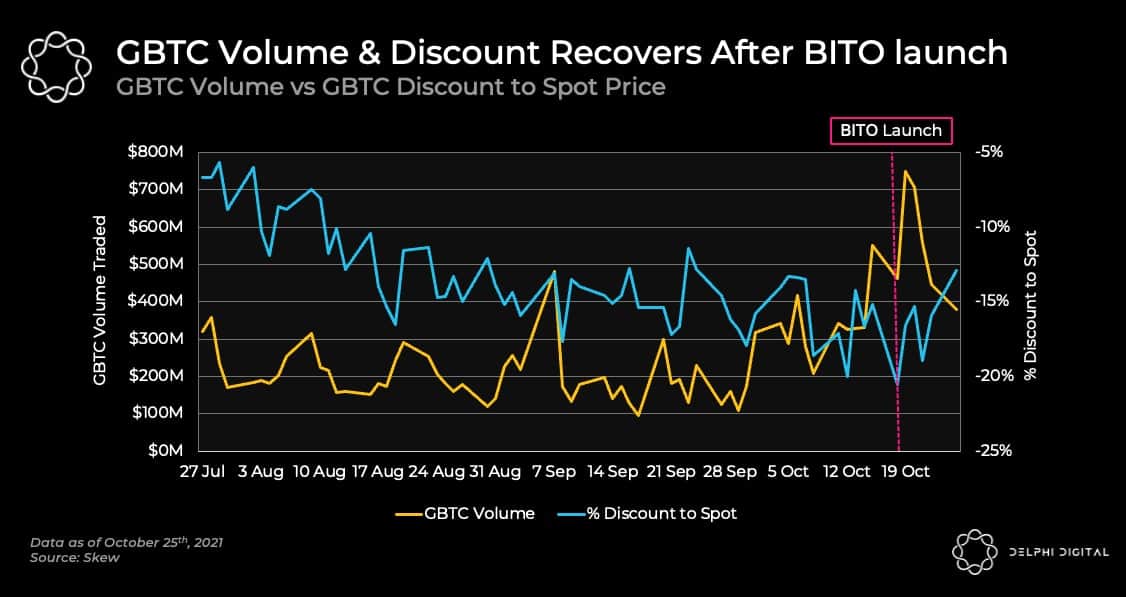 Extreme Greed Amidst a BTC Dominance Pullback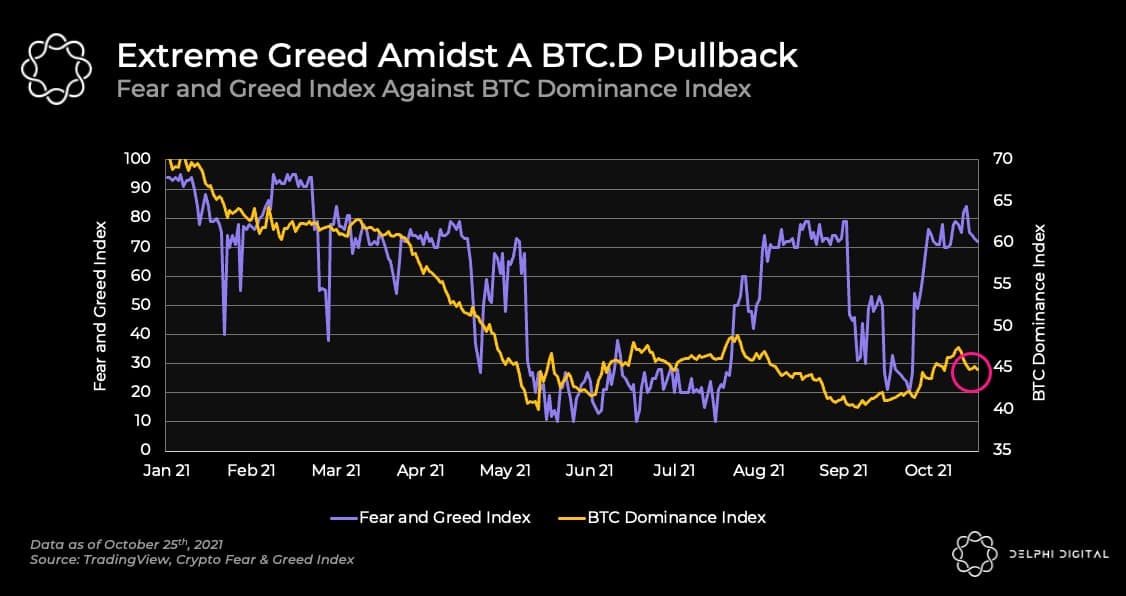 After rising for a month with ETF anticipation, we've seen a slight pullback as the broader crypto market rallied. ETHBTC has surged 12% this week alone, alongside notably strong performance from other L1s (SOL, AVAX, etc.).
A word of caution (especially when deploying leverage), the Crypto Fear and Greed Index is back to highs we haven't seen since early March, officially marking "Extreme Greed" levels. However, this doesn't mean a deep pullback is guaranteed, especially since momentum is a key input into the index's calculation. The adage "the market can remain irrational longer than you (or bears) can remain solvent" is especially true in crypto.
ETH Futures Open Interest Reaches New High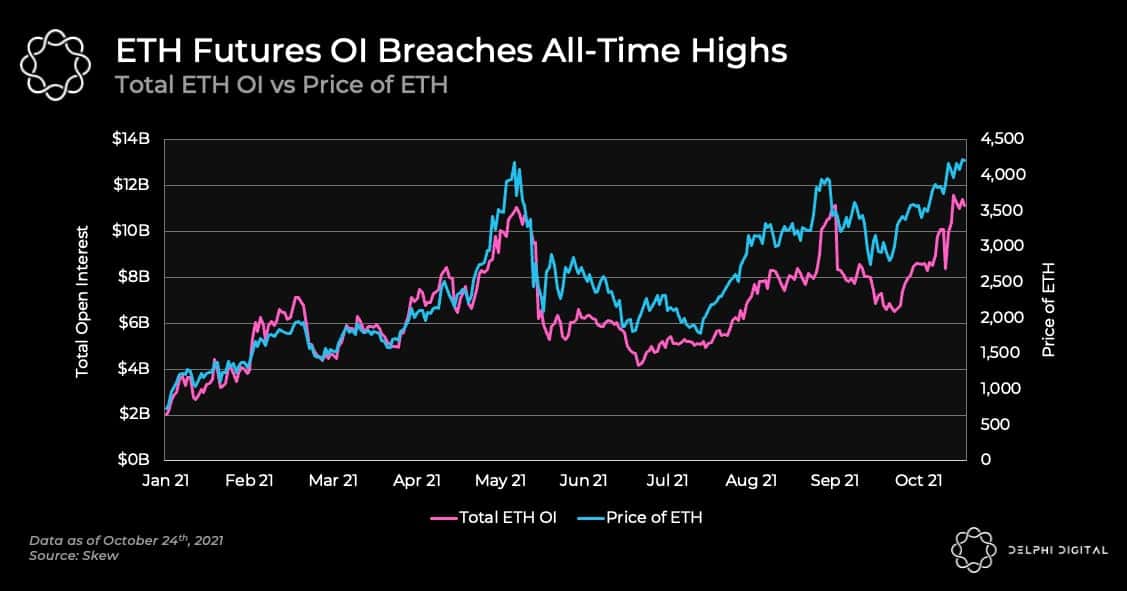 ETH had its highest daily close ever yesterday, closing at $4,220 on Coinbase, but its latest price rally coincided with new record highs in futures open interest. Binance and FTX still lead the way as the largest two exchanges, currently making up ~41% of ETH open interest.

While this move up in open interest may signal excessive leverage, it's worth noting that the perpetual funding rate, a useful measure of froth in this futures-dominated market, is nowhere close to the mania levels seen in January to April 2021. This could be due to a combination of delta-neutral traders farming yield with cash and carry trades, as well as bears stepping up with short positions as ETH grinds higher.
SCRT, ONE, FTM Outperforms Other L1s This Week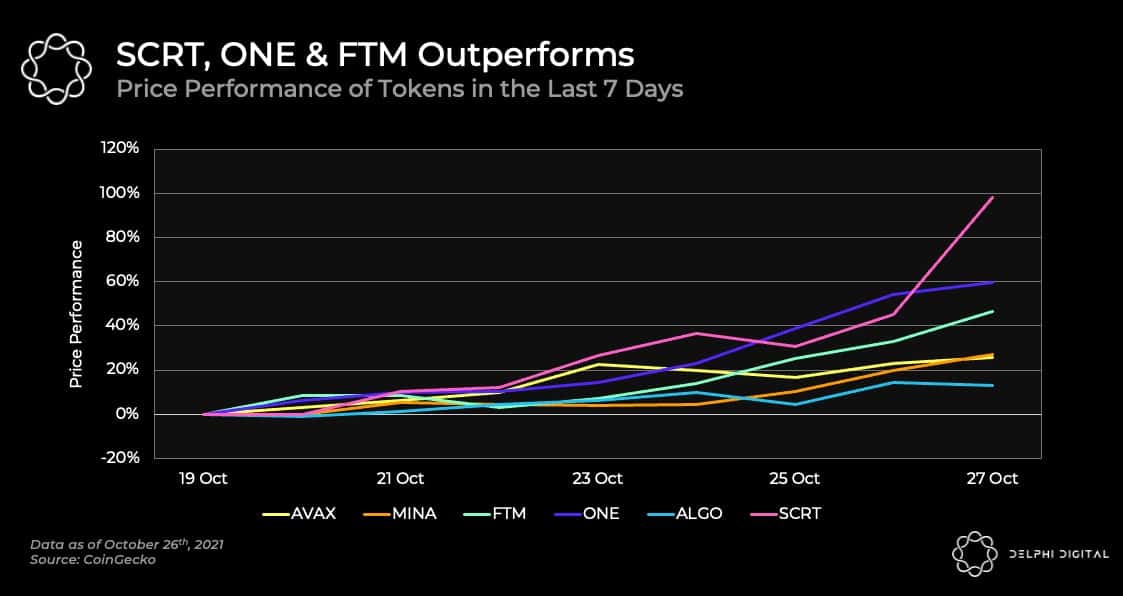 In a previous report, we covered how major L1s are relentless and have been outperforming almost every other category since the June 2021 crypto bottom. This week, this has trickled down to smaller L1 tokens such as SCRT (+98%), ONE (+60%), and FTM (+47%).
Despite being outperformed by SCRT and ONE in the last 7 days, FTM has had a monster October so far, almost tripling its token value from $1.20 to $3.20 since the monthly open.
Notable Tweets
China's global share of bitcoin mining finally drops to 0 after banning it for the 1283127th time.
China's share of #Bitcoin mining down to zero.
Oh well ?‍♂️ pic.twitter.com/7CmQkJ31fy

— Bitcoin Archive ??? (@BTC_Archive) October 26, 2021
A masterclass from our very own @lex_node.
If you talk to lawyers in the space who are working on SEC defenses for DeFi projects, one of the biggest issues is that internal chats/communications (discoverable by SEC) lapse into talking about the project as if it were any tech start-up instead of a FOSS project

— _gabrielShapir0 (@lex_node) October 26, 2021
FTX lists stETH, stSOL liquid staking derivatives.
— FTX – Built By Traders, For Traders (@FTX_Official) October 26, 2021