Market Update
Today was yet another volatile day for crypto. There was a furious leg down during the Asian open, followed by a V-shaped recovery. Since then, markets have been choppy and indecisive.
Long Term Holders Are Unfazed
Despite experiencing a heavy sell-off over the last few days, long-term holders seem to be unfazed and continue to HODL.
According to Glassnode's on-chain data, this cohort continues to accumulate. Therefore, this leg down was likely caused by speculators taking a risk-off stance in anticipation of macro and regulatory headline risk factors.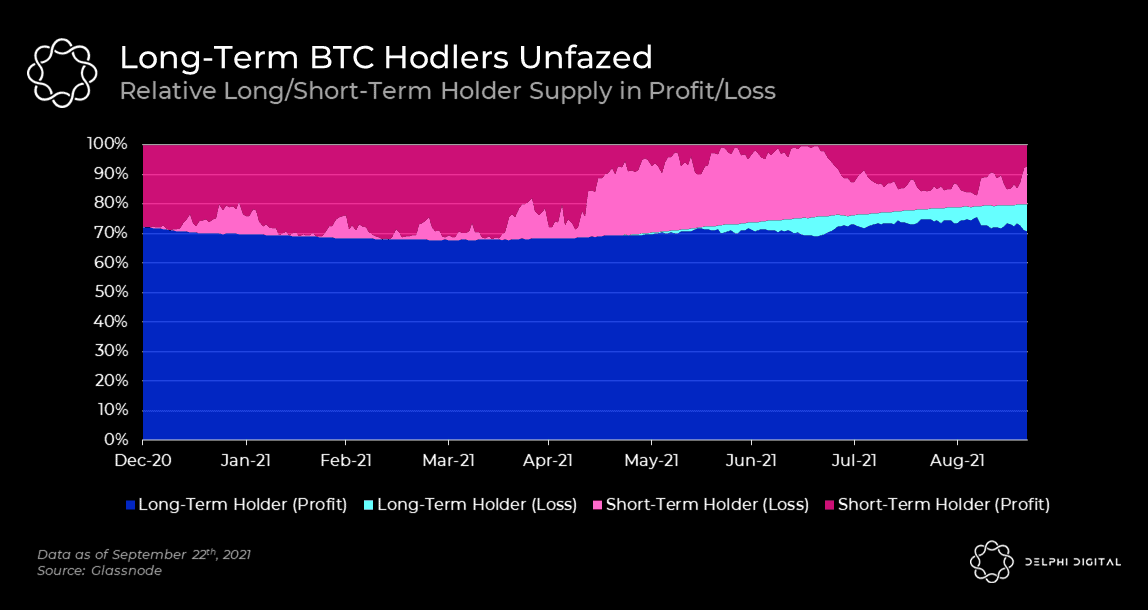 We Are Not Alone
It can be easy to think that the recent downturn has been isolated to crypto markets, if you haven't ventured out of the crypto echo chamber lately. But when you widen your gaze, it's clear this was a wide sweeping move that affected other asset classes as well.
The Evergrande contagion scare has driven Bitcoin's correlation to the S&P 500 to recent highs (1M moving average), reinforcing the fact that this move down in crypto markets was part of a wider risk-off move.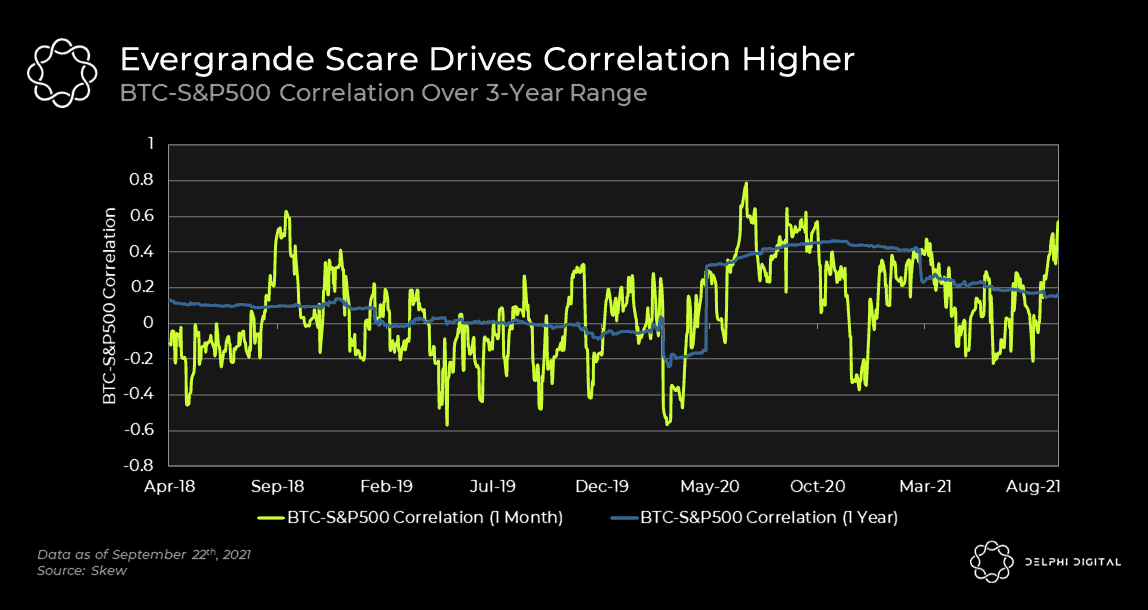 BTC Open Interest Haircut, Extreme Fear
In a truly bipolar fashion, the Crypto Fear & Greed Index went from 79 (extreme greed) on the 7th of September to 21 (extreme fear) today. As mentioned in Monday's Daily, we are witnessing some deleveraging as BTC Futures OI is currently at $13.1b after peaking at $18.6b on the 6th of September.
The last time open interest was at these levels was prior to the run-up in August, which also coincides with January 2021 levels. This shows that market participants are taking a much more cautious approach with leverage, which is a good thing for the health of the markets. Historically, even though the Fear & Greed Index can stay depressed for quite some time (as seen in May to July 2021), the Extreme Fear level has presented good buying opportunities.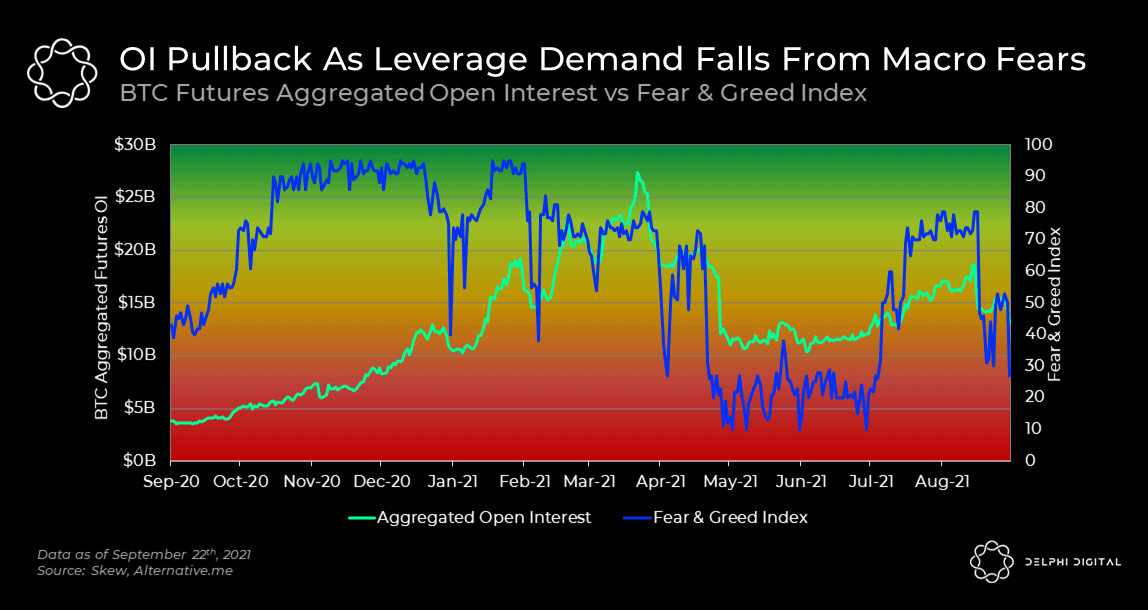 NFTs – The Ultimate Trojan Horse
On a completely separate note, the mainstream appeal of NFTs implies that its use cases for the typical individual are going to be much bigger than DeFi. We all know this is probably true, but we at Delphi wanted some empirical data to find out to what extent.
Google Search Interest reveals that NFTs are generating much greater interest online relative to DeFi. What's more surprising is – on two separate occasions (mid-March and end-August) – NFTs had nearly as much search interest as Ethereum! This signals that, as a concept and movement, NFTs have the potential to be much bigger than any single L1. We've already seen the budding Tezos and Solana NFT ecosystems, so unless Ethereum L2s gain adoption fast, it's likely that this excess demand will spillover on other chains.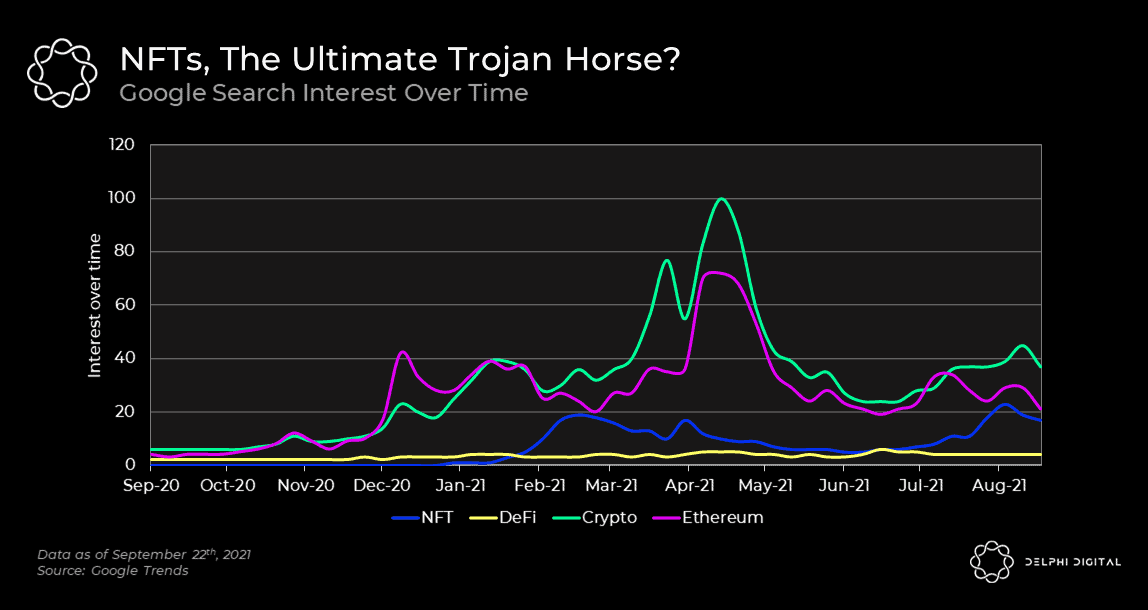 Notable Tweets
Crypto.com and 76ers partnership. We are taking over.
NEW: https://t.co/UXIzUH8XgR and the Philadelphia 76ers agree to a partnership, the website's first in the NBA https://t.co/44WpYu9LU9 via @crypto

— Bloomberg Crypto (@crypto) September 22, 2021
dYdX clearly leading DeFi perps.
Yesterday, on-chain perpetual swaps trade volume on Ethereum made a new daily ATH at $2.83B (+3.3% compared to prev. ATH). pic.twitter.com/yCcpwuLaXm

— Lars (@lars0x) September 22, 2021
U.S. Congress debates lifting the debt ceiling.
"The budget battles over the debt ceiling of 2011 and 2013 under the Obama administration created financial uncertainty and deflated business investment, costing the U.S. economy as much as $180 billion and 1.2 million jobs by 2015" https://t.co/6pAevxduDe

— Joseph Zeballos-Roig (@josephzeballos) September 22, 2021