Market Update
This week started off with positive price action across crypto. BTC broke $50k again, signaling some optimism. However, today DeFi and L1 tokens saw a small sell-off. Meanwhile, SHIB is outperforming everything else, up over 70% in the last 24H.
The Basis Shock
As BTC began to rally into October, basis didn't rise as aggressively as one would've imagined. BTC has become a perpetuals and futures-dominated market. The lack of aggression in futures indicates that sentiment may still be fragile and traders aren't too comfortable upping their leverage right now.
Notably, basis on Huobi detached from the rest of the market. Huobi is a Chinese exchange, with a presumably large concentration of volume in mainland China. The Chinese government's efforts to further clamp down on crypto in the country is no doubt causing Huobi's futures pricing to deviate from other exchanges. OKEx seems to have fared well in this regard, which could possibly indicate that their user base isn't as tied to China, or perhaps there is another underlying reason.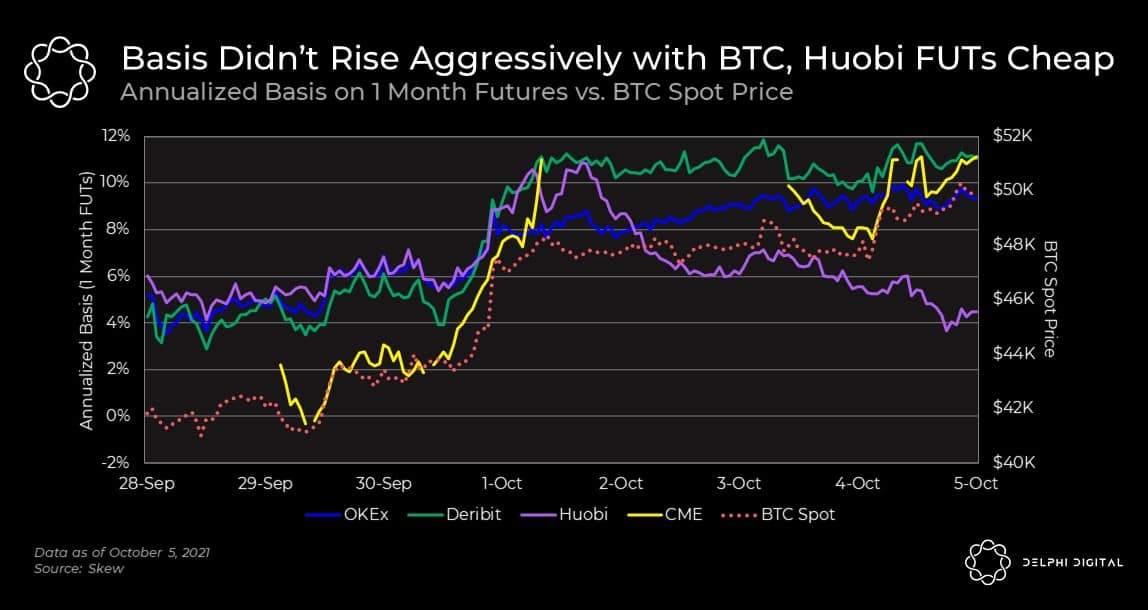 Options Recover Post Rally
Open interest for BTC options is on the rise again, increasing by over $2B following last month's $3.2B expiry. The uptick coincided with BTC's rally into the beginning of October.
After a large expiry, open interest tends to bounce back as freed-up capital from expirations moves back into the market. But with Sept. options expiring, and with the market in a tight spot, it took longer than usual for that capital to start re-entering the market.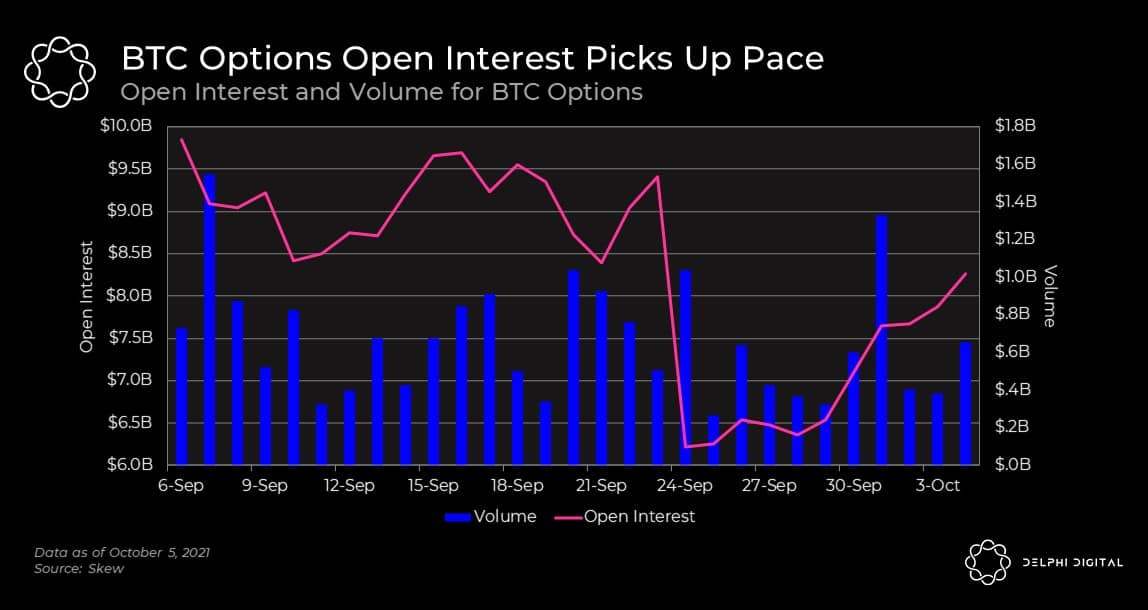 Options Skew Signals Optimism
Option skews help us establish a rough base for forward-looking market sentiment. The Oct. 2021 skew has a tail towards lower strikes (higher implied volatility) but not towards the higher strikes. Typically, this means the options market isn't too positive in the near term.
However, Nov. and Dec. 2021 skews look positive with higher implied volatility for strike prices above the current market price. Skews for expiries in 2022 are more balanced and signal a more neutral outlook given how far out these options are dated.
Note: This chart was taken from the Delphi Chartbook — a monthly report that highlights key trends in crypto and traditional markets in an extremely comprehensible manner. If you want access to Delphi Digital's advanced markets content, consider subscribing to Delphi Insights.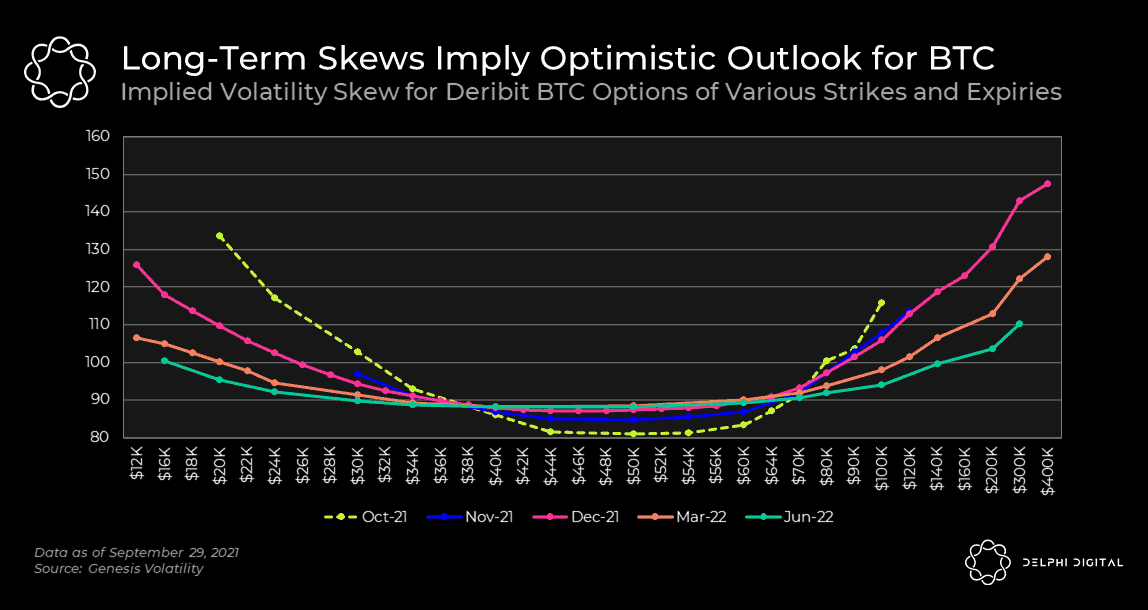 OpenSea is Still Thriving
OpenSea volume hit a local maximum at the end of August, with activity peaking and then quickly cratering. However, transaction volume and count started reverting higher over the back half of September.
The daily transaction count on OpenSea hit an all-time high of nearly 90k txs yesterday, despite lower trading volume in dollar terms relative to August. Smaller-cap NFTs have been the main catalyst for more trading activity as floor prices for select collections soar relative to higher market cap NFT collections.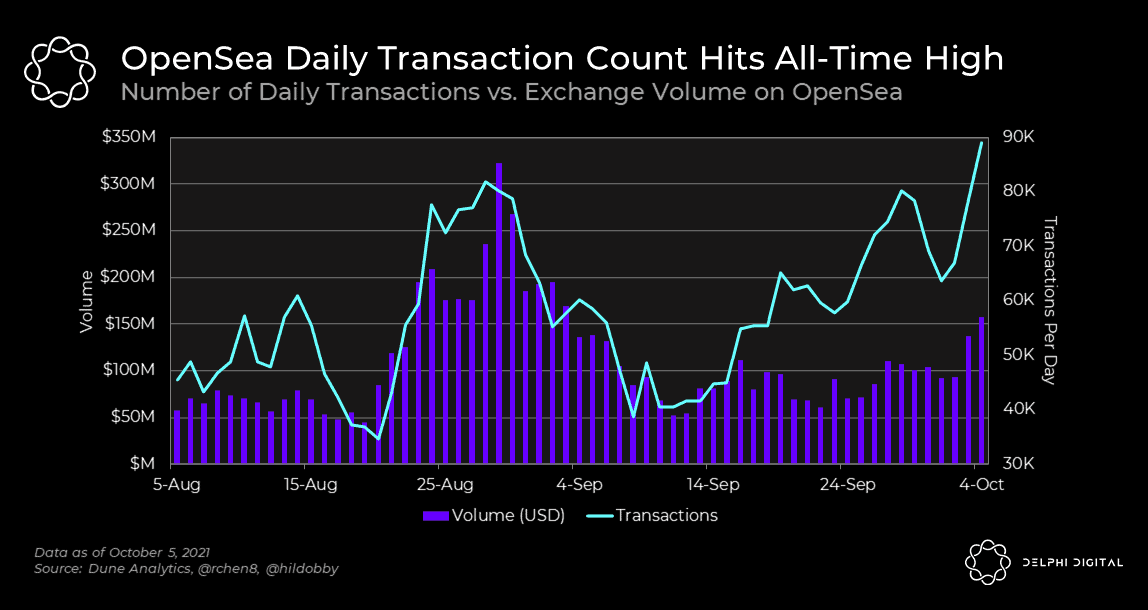 Notable Tweets
Sky Mavis closes a Series B round.
We've raised a $152 M Series B led by @a16z for @SkyMavisHQ!

✨The funds will be used to fuel the expansion of Axie Infinity and Ronin, our scaling solution for digital nations.https://t.co/5vRXmHarlp

— Axie Infinity?? (@AxieInfinity) October 5, 2021
StarkNet Alpha is coming!
#StarkNet
Alpha
Mainnet
November
Get readyhttps://t.co/nKi46GuyPV pic.twitter.com/coSLPSJs8J

— StarkWare (@StarkWareLtd) October 5, 2021
Episode 1 of the Terra Autumn Delphi Podcast series is out!
Episode 1 of the @PodcastDelphi #TerraAutumn series is out, interviewing the Don himself @stablekwon

8 more interviews with dope @terra_money ecosystem founders coming over the next few weeks ?https://t.co/ZreGeJIi33

— José Maria Macedo (@ZeMariaMacedo) October 5, 2021