The major Amazon-owned streaming website Twitch has begun to offer a 10% discount on all Twitch Prime subscriptions paid for via crypto with BitPay. This is an interesting turn of events given that the company had supported cryptocurrency payments in the past before dropping them. Now however, the discount is effectively promotional suggesting a directional bet on the future of digital assets. Given that Twitch has hundreds of millions of monthly active users and continues to show strong growth across key metrics, this is encouraging to see. Interestingly, Twitch is looking to expand into additional categories beyond gaming. They recently announced Twitch Sports, starting with exclusive contracts for four soccer clubs, as well as an exclusive contract with Logic the rapper whose debut stream pulled in over 100K viewers. Streaming continues its advance to the mainstream.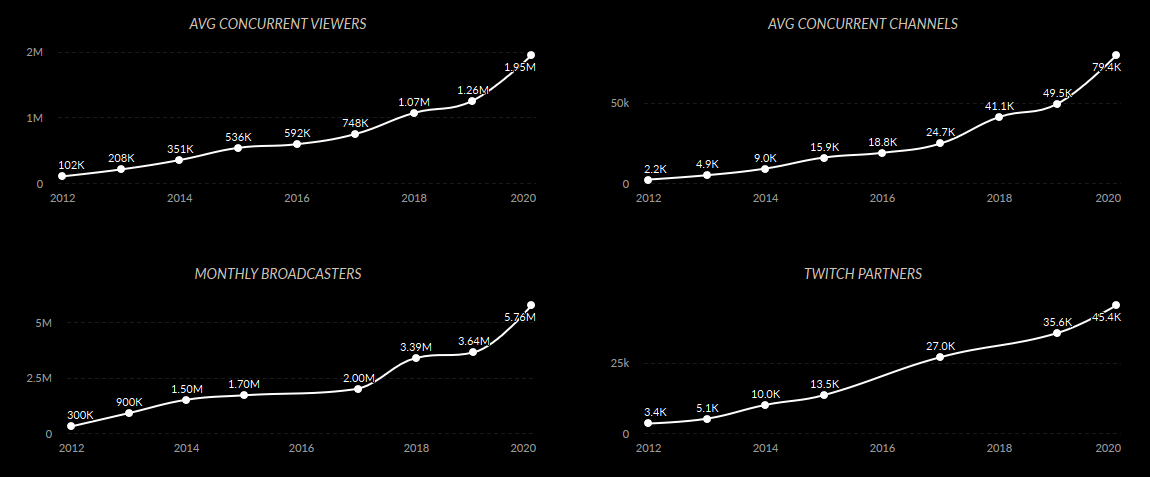 Source: TwitchTracker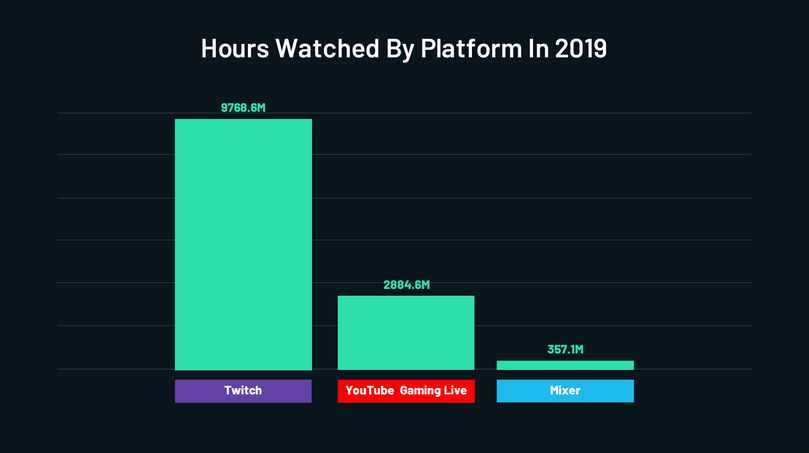 Source: Newzoo
Yes, that is almost 27 million hours watched every day. Twitch comfortably remains the largest streaming service on that planet despite YouTube Gaming starting to show strong growth (total hours watched grew 46% in 2019). The only other real contender now is Facebook Gaming after Microsoft's Mixer failed spectacularly. Having spent hundreds of millions of dollars on the project, they ultimately gave in and have instead partnered with Facebook Gaming. Not before being forced to pay out the value of Ninja's ($30M) and Shroud's ($10M) exclusivity contracts in full, however. The pair are both now free agents with cash in hand. Ironically, Microsoft would go on to stream their Xbox Showcase on Twitch the day after Mixer officially closed down…
A natural extension of allowing subscriptions to be paid for with crypto would be supporting the same for livestream donations. Chargeback fraud has plagued this corner of the market for years, with PayPal disputes often being resolved in the "donators" favour causing huge disruption in addition to any incurred resolution fees for the streamer. This is a small part of a much larger problem, with chargeback fraud on track to exceed $31B globally in 2020. It's a great example of where crypto will likely alleviate some of the downsides that have failed to be resolved thus far.
"We found that accepting crypto delivers higher average order values, often 2–2.5 times higher. We also found that accepting crypto attracts new customer segments and lowers payments costs. Also, it's often the case that half the cost of traditional pay methods accepting crypto nearly eliminates fraud-related chargebacks." – Bill Zielke, BitPay's Chief Marketing Officer
An optimist might further suggest that they are looking to increase overall engagement and familiarity with crypto in preparation for exploring deeper game integrations with Twitch, in-house Amazon Games, and projects using their Lumberyard game engine. Limited-edition streamer-themed game cosmetics have already been starting to take off across various games.
Ninja's Fortnite game skins and emotes.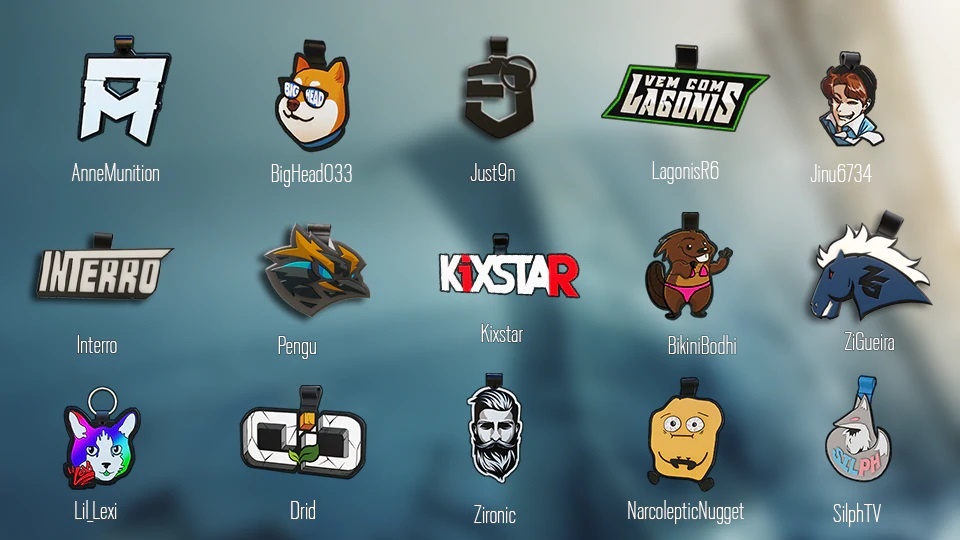 Rainbow Six streamers with their own in-game weapon charms.
Livestreams are an incredibly powerful distribution mechanism through which to boost engagement or motivate certain user activities. It is easy to see a world in which the future of interactive streams would involve the airdropping of limited-edition items in some form that looks like NFTs, or at least lets the items exist in a tradeable environment. We have seen glimpses of the future suggesting user-generated content dominance, and this seems like a logical stepping stone. Imagine if not only I'd got such a limited-edition item from the Fortnite Travis Scott concert, but anyone watching (or donating, or doing X) via a popular streamer on Twitch would have also gotten some sort of proof-of-attendance or proof-of-view memorabilia aligned with the streamer's brand.
Interestingly, this is how Riot Games' Valorant totally crushed their launch. The only way to receive a key to its closed beta was to watch streams on Twitch. The longer you watched the streams for, the greater your likelihood of getting a drop (there was actually a law of diminishing returns at play past a certain point). The result? Valorant broke Twitch's single-day hours watched with 34 million hours streamed on the first day. They also had the second most concurrent viewers ever, right behind the 2019 League of Legends World Championship Final (also owned by Riot Games). Granted, it wasn't NFTs or crypto on the backend, but there definitely exists a symbiosis for those willing to explore it. In time, we may well see the granularity of qualification criteria for stream interaction and engagement increase. Whilst we are yet to see any of these tactics employed by participants in the blockchain game space, it presents a fascinating opportunity to stimulate engagement and game the Twitch rankings to bootstrap eyeball time.