Market Update
After yesterday's solid price action, ETH had a slow day while BTC attempted to make up for lost ground. Layer 1 network tokens continue to lead the market, while DeFi prices continue to stagnate.
Monster August for L1s
Layer 1 coins have done extremely well over August, thanks in part to several announcements of ecosystem-wide liquidity mining. AVAX ripped upon the announcement of a $180M liquidity mining program, followed by a relentless bid on SOL. Fantom's liquidity mining, though misunderstood, also sparked a rally in FTM. KSM and DOT look primed to join the party.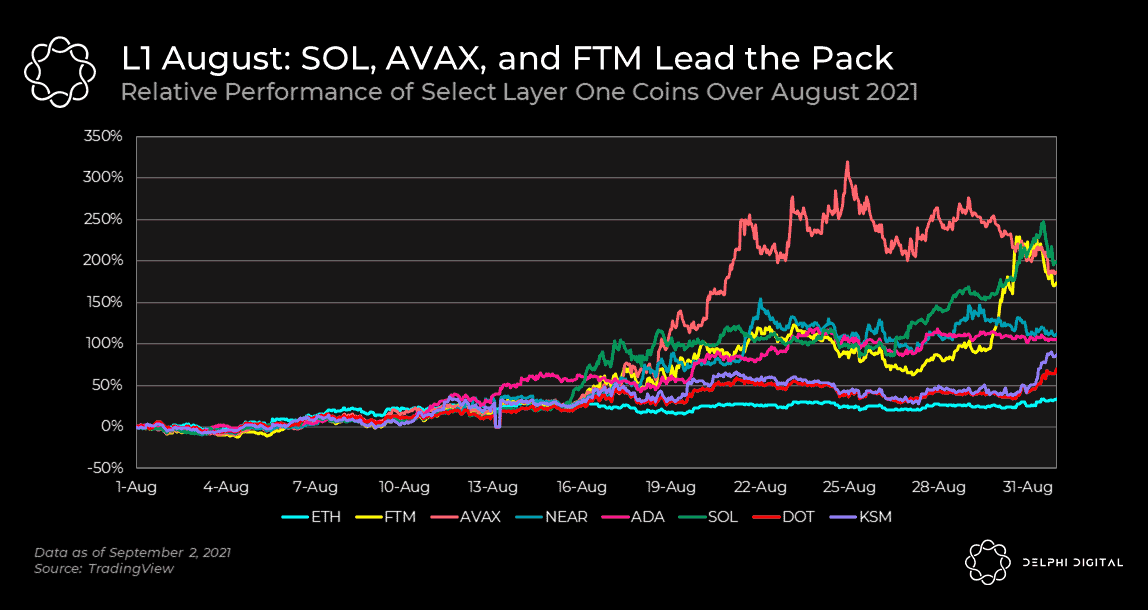 Funding Chads Up
Funding was at healthy levels throughout August, but made a massive push up as traders aped into ETH perp longs. Funding began to spike just before ETH's monster candle yesterday, which makes it clear that the perp market played a key role in pushing ETH above $3,500.
Funding at high levels is a concern, as it implies more leverage in the market, and thus more traders that could be caught offside and liquidated. However, if we zoom out, funding isn't all that high compared to what we saw in May this year.
All in all, it seems like the market is starting to accept that this cycle isn't over. But just to play devil's advocate, this could also be the most elaborate bull trap in the history of crypto.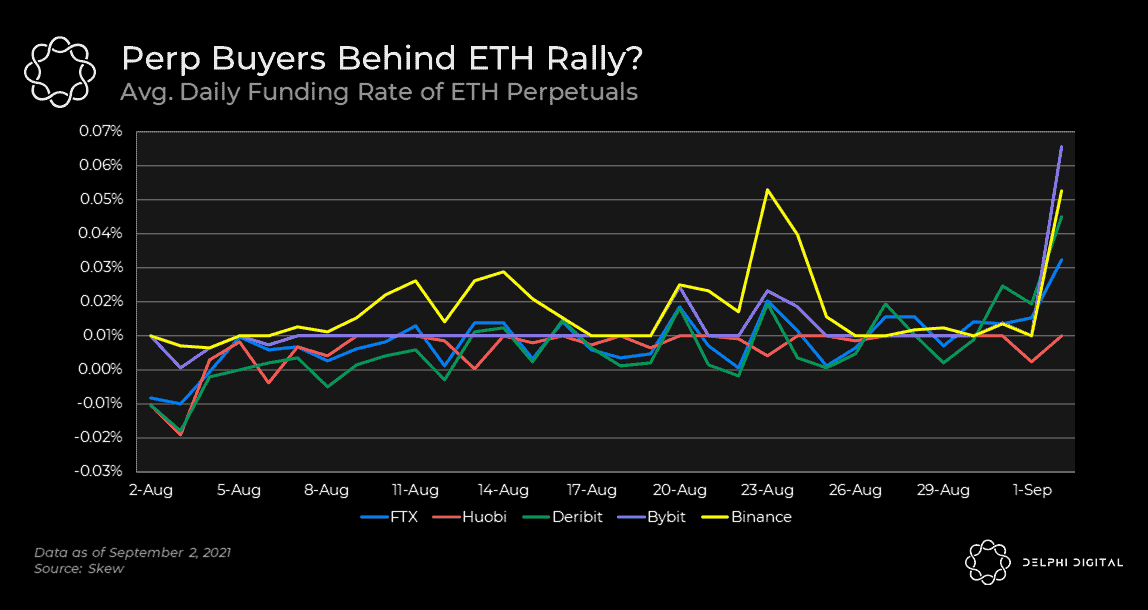 BTC has lagged for most of this week but finally seems to have found some footing as it makes its way back to $50K. ETH/BTC has pulled back around 3% as a result.
As ETH and other crypto assets started to run, a narrative that trend structure is similar to summer 2020 — where BTC consolidated and everything else rallied — began to emerge. The spike in funding, however, shows us that there's still demand for BTC in the market as traders began to long BTC in anticipation of it catching up.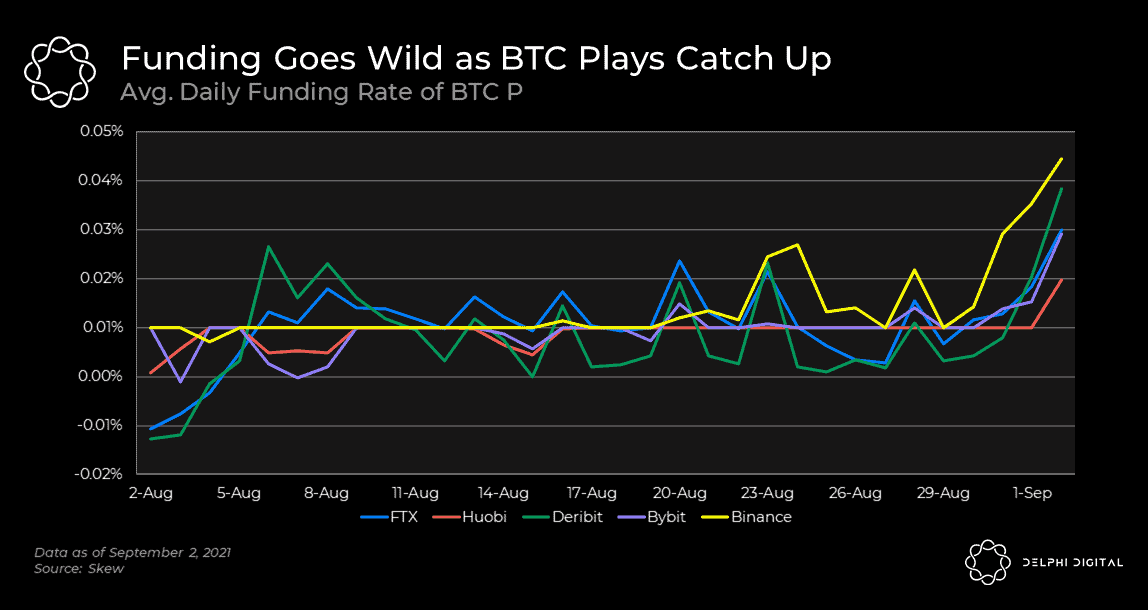 Volatility Ticking Up
Implied volatility for short-term options is beginning to increase again, which means the cost of buying these options is going up too. Realized volatility for ETH is also starting to increase after a flat August.
In our ETH market report, we noted that options seemed cheap and could be a capital efficient (but risky) way for investors to gain exposure to ETH. If ETH continues to trend upwards, implied volatility, and thus options premiums, will continue increasing too.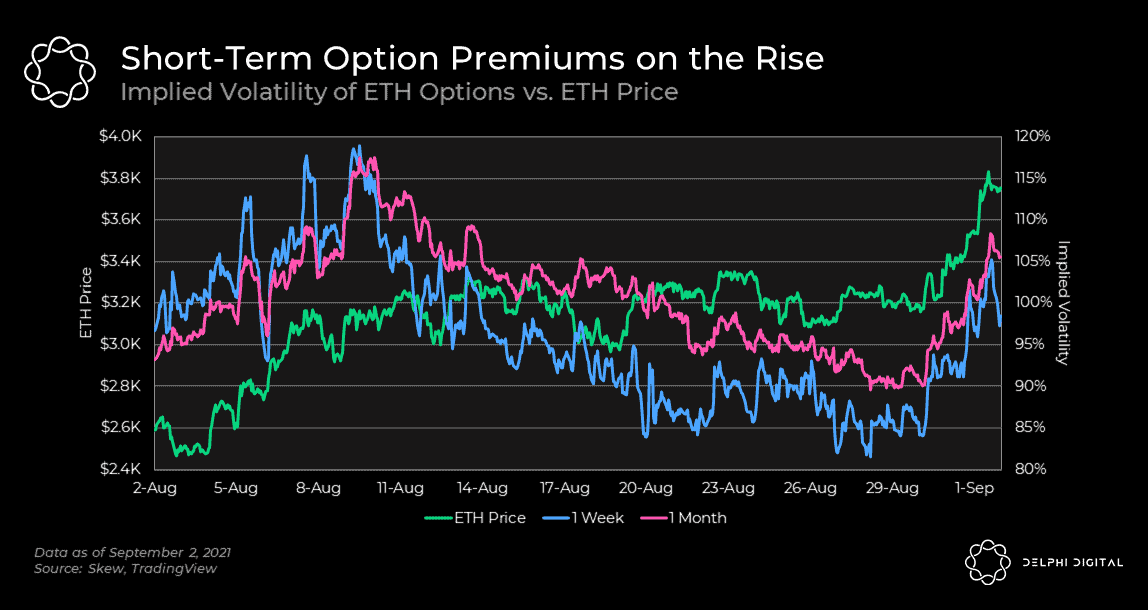 Notable Tweets
Singaporean regulator says Binance is not licensed to operate.
ICYMI: https://t.co/ypPw7YF3eX placed on investor alert list by Singapore regulatorhttps://t.co/OJcpz1sAWO

— The Block (@TheBlock__) September 2, 2021
A thread addressing the perceived negative impact of EIP-1559
"EIP-1559 sucks. After it was implemented gas prices skyrocketed!"

This take is propagated a lot and I think this is far from true. Correlation is not causation. I suppose gas prices would be much higher now if we didn't have EIP-1559. How does EIP-1559 save you $ETH? ?? pic.twitter.com/zNGf9uf7AX

— korpi (@korpi87) September 2, 2021
Patrick O'Shaugnessy talks to Yield Guild's Gabby Dizon about the metaverse and its impact.
My conversation with @gabusch, founder of @YieldGuild

This is a peek into a rapidly changing world online where people earn a living playing video games at huge scale.

Markets are being installed into games via crypto and the results are wild.

Enjoy!https://t.co/jCZve2HkJZ pic.twitter.com/BHKBQc43UM

— Patrick OShaughnessy (@patrick_oshag) September 2, 2021