With Great Leverage Comes Great Responsibility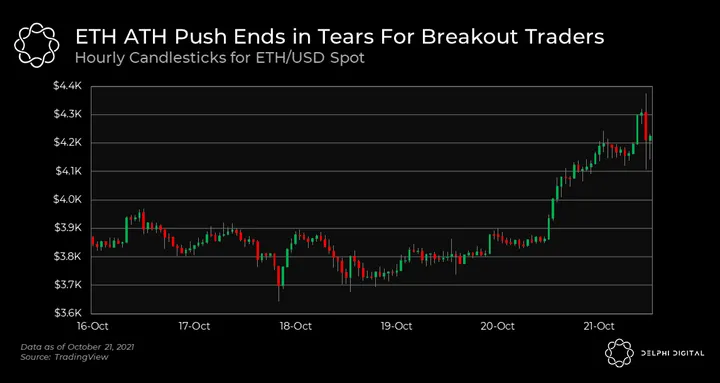 Earlier today, ETH did what we've all been waiting for: it pushed towards its all-time high price. However, it missed the mark by roughly $10 on Coinbase, and subsequently slid 6% in less than 10 minutes. Traders who opened levered longs in anticipation of the breakout were immediately squeezed. Given price instantaneously recovered, this was an obvious shakeout orchestrated to wipe out over-leveraged apes.
As we enter the next phase of the crypto bull market, consider this a lesson: keep your leverage in check and don't try to get ahead of the market. Crypto can be brutal if your risk management is lax. The vast majority of us shouldn't even be touching leverage.
Bitcoin ETF Traction
The ProShares Bitcoin ETF is off to a solid start with over $1.1B of inflows in the first two days. This is the fastest in history an ETF has reached the $1B mark in AUM. Trading volume on secondary markets is also on track to trade over $3B in volume in its first week of launch!
Despite the perceived inefficiencies and notable detractors, there seems to be strong demand for the ETF. (Plus, as we noted yesterday, the ETF is not that bad). But it begs the question: if a futures ETF is doing this well upon inception, what kind of a welcome would a proper spot ETF receive?
L1s Can't Stop, Won't Stop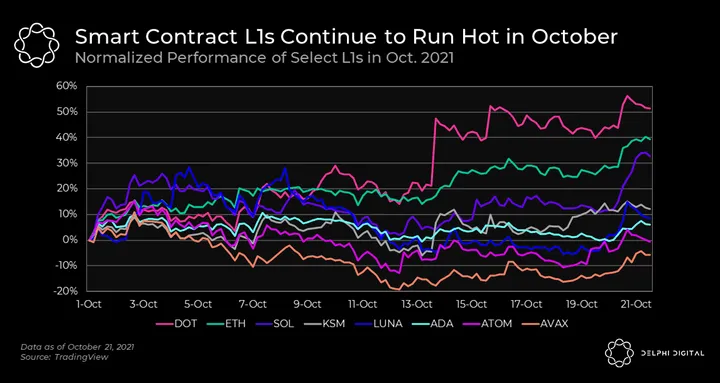 BTC is and has been leading the market for a few weeks now. When BTC momentum slows down, L1 tokens often perform better than any category. L1s have been the best performing tokens since the June bottom — and quite frankly, they boast the highest YTD returns too.
Since the start of October, L1 tokens in general have been struggling to keep up with BTC's strength. The outlier here is DOT, on the back of Polkadot's announcement that Parachains are finally coming to mainnet in mid-November.
Most L1 tokens (especially SOL) experienced a strong catch-up move today. AVAX, on the other hand, is struggling to keep up with the rest. However, this could end up being a lucrative opportunity as AVAX is a top performer in the second half of 2022 thus far.
Loading Up on Calls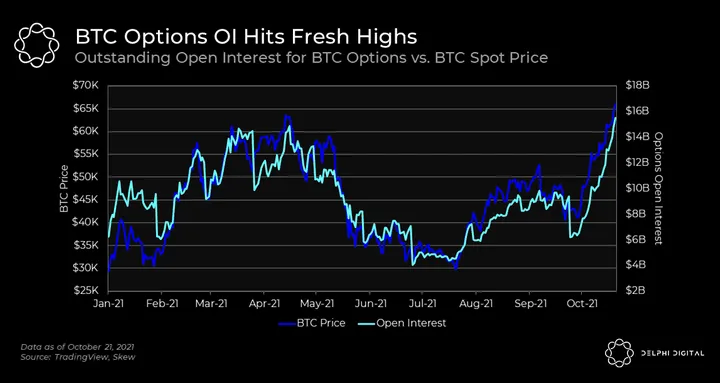 In other news, BTC options open interest is at an all-time high. This was expected given BTC's new all-time high and futures markets hitting record open interest levels too. Most activity is centered around short to mid-term call purchases.
As we noted in our State of Global Markets, the growth in futures and perps volume highlights the growing importance of derivatives for price discovery.
Notable Tweets
Nice
The Moon meets the Cosmos
The Bitcoin ETF's AUM could be limited by CME contract caps