Chart of The Day: Lido Now the Top Protocol by TVL

Lido overtook Curve today to become the leading protocol by TVL. This came as risk assets deposited in Lido (mostly ETH/SOL) moved up post-FOMC talks.
Lido has gained a lot of TVL over the past year as more users prefer to have ETH2 yield exposure through liquid staking. Lido now holds 32% of all ETH staked in the ETH2 deposit contract.
Curve, on the other hand, has seen its TVL start to decline slowly since the start of the year. Users started moving away from Curve and Convex as yields started declining. Opportunities for higher yields on other chains have also siphoned away some liquidity.
However, the lead is not set in stone yet. 4pool is currently deployed on Curve with ~$4M in TVL. With the next voting period coming, the 4pool will be heavily incentivized as Frax, Terra and the other 4pool alliances will be directing rewards to 4pool. We can expect 4pool to boost Curve's TVL as capital will swarm in to yield farm.
---
[Excerpt from May. 4th NFT Insights]
Now that we've made it through the Yuga Labs land sale, it's time to focus on the next big event in the NFT gaming space — the launch of Crypto Unicorns!
Crypto Unicorns is a blockchain-based game centered around unicorn NFTs that can be used in a farming simulation and various battle loops. It's one of the games that our team at Delphi has been excited about for a while now (Note: Delphi Ventures is an investor in Crypto Unicorns). Farming and breeding gameplay has just launched this week (3 May), while other gameplay types will be coming later in the year: Jousting (Q2), Racing (Q3), Team RPG (Q4).

This is not a strategy guide — just bringing your attention to the game launch and sharing some thoughts. A few useful resources:
Similar to other crypto gaming ecosystems (eg. Treasure DAO, Axie Infinity), there are a couple of ways to get involved:
Passive: $RBW is the governance token for Crypto Unicorns and is valued based on its voting power and potential future success of the game. While not a direct equivalent, a simple way to think of $RBW is that it is the $AXS counterpart of the Crypto Unicorns Universe. $RBW is trading on various DEXs and has a max supply of 1,000,000,000. Based on Polygonscan, the estimated circulating supply of $RBW currently is ~43M, of which ~33M is locked into the staking contract for various durations of time, leaving ~10M freely circulating.
Active: You can play the game, which requires owning Unicorn and Land NFTs. These can be purchased on OpenSea, on the Polygon chain. Gameplay is hosted on the web browser and on-chain transactions are on Polygon.
There are 3 main things you can do in-game that generate different resources/assets which can be sold:
Breeding — Two unicorns can be bred together to form an egg, which can be hatched into a baby unicorn after 24 hours. Breeding requires $UNIM, $RBW, and berries. Each unicorn can be bred up to 8 times, requiring a higher number of resources as the number of breedings increases.
Gathering — Unicorns can be sent out to gather resources, returning with seeds, crafting materials, $UNIM, or even $RBW. Gathering requires berries and takes 24 hours.
Farming — Planting seeds that can be grown into berries after some time. Farming does not require unicorns, but if you assign a unicorn whose class matches the land to farm, you will earn a farming bonus.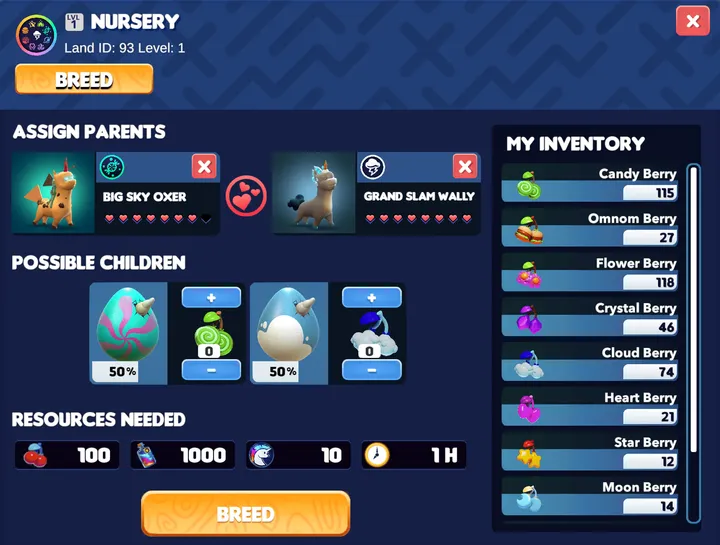 Some of my thoughts:
Read the game guides to familiarise yourself with the game mechanics. Especially the tips and tricks section which contains a lot of useful info.
There are many different ways to play the game while earning items that can be sold for yield. Prices for various items on the Rainbow marketplace will fluctuate according to supply and demand so keeping track of the prices allows you to identify the most profitable strategy.
There have been a couple of technical hiccups within the 1st 24 hours of launch — game servers were overloaded and there is currently a backlog of transactions. Breeding has also been pushed back by a week (~9 May). This means there is no rush to start playing immediately and you can take your time to get prepared.
Once breeding & evolution is enabled, there is likely going to be a rush to breed unicorns quickly. There is a relatively short supply of unicorns compared to lands (10,000 genesis unicorns vs 30,000 initial lands).
Breeding strategies may include:

Breeding floor unicorns, with lesser consideration for stats and genes.
Selectively breeding unicorns with classes, stats, and parts that are in high demand. This requires a deeper understanding of the breeding mechanics such as genes and boosters. In the early days, this may not be so important since stats do not affect farming/gathering but once the other game loops launch, this will be crucial. For example, in the jousting game "Speed" & "Endurance" scores are likely to be very important so you will want to breed unicorns with the correct stats.
Breeding rares, such as mythics and hidden classes.

There will be a rush to gather the right resources to breed unicorns quickly. Berries in particular could be one of the main limiting resources in the early weeks.
Keeping track of the various item prices on the Rainbow marketplace allows you to do calculations to determine what is the most profitable strategy at each point in time. This will probably fluctuate greatly.
To maximize efficiency in the game, be sure to take advantage of all the bonuses available. For example, lands receive an adjacency bonus and having adjacent matched lands allows for faster farming, gathering, and crafting. There is also a Summer of Love event over 3 months where you can earn additional rewards as you hit various milestones. Breeding is the focus of the first month of this event.
Happy farming and breeding!
For more, Delphi members can see the latest NFT Insights here.
---
[Excerpt from a Delphi Pro Report]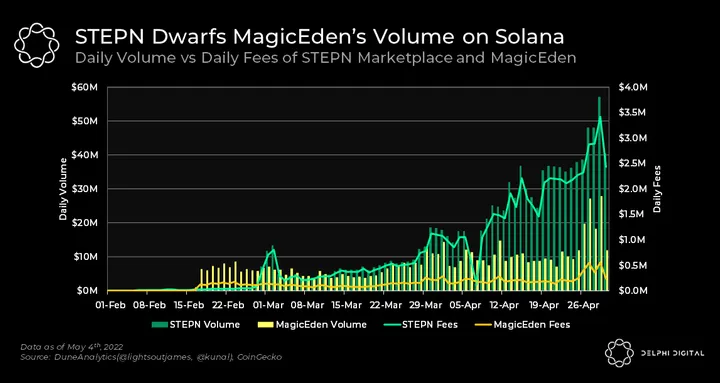 Note: The above graphic is an ESTIMATE of the Daily Volume on STEPN's Marketplace. In the absence of official data, we can only estimate marketplace volume with the SOL that is deposited/withdrawn.
Let's dive into the methodology for calculating volume. Volume is estimated using SOL deposited/withdrawn from the STEPN app. This is used as a close proxy to its actual volume as SOL in the app has only one function – to buy sneaker NFTs. We assume that every SOL deposited is used to purchase sneakers, and every SOL withdrawn is from sneaker sales. Excess SOL deposits (Daily Deposits > Daily Withdrawals) are excluded here and considered idle SOL in the app. Excess SOL withdrawals are considered SOL leaving the STEPN ecosystem and are included in volume calculations. The caveat here is that excess SOL withdrawn is also taken into account as volume. But this has usually only accounted for a small percentage of daily volume. Each sale consists of a buyer (deposit) and a seller (withdrawal), so the final count is divided by two. The final SOL count is then multiplied by the daily SOL price to derive the daily volume.

The chart shows that the volume has grown rapidly to as high as $57M per day. This alone makes STEPN a dominant force in the Solana NFT ecosystem. Comparatively, MagicEden, the largest NFT Marketplace on Solana, did $18.1M(7D Avg) in volume vs STEPN which did $43.8M(7D Avg). And as such, this makes STEPN the

biggest NFT marketplace on Solana by volume

.
It's important to note these volumes drive significant fees to STEPN as they charge a 6% fee (2% trading fee, 4% royalty fee) for every sale that happens on the STEPN marketplace.

The 2% trading fee is reserved to sustain the team's operations with a minimum commitment of >5% funneled back into the STEPN ecosystem

. The high fees have been earning the team around $2-3M daily at current volumes, with their cumulative fees earned from Feb 1st- April 30th estimated to be $68.2M.
GMT/GST Utility and Economics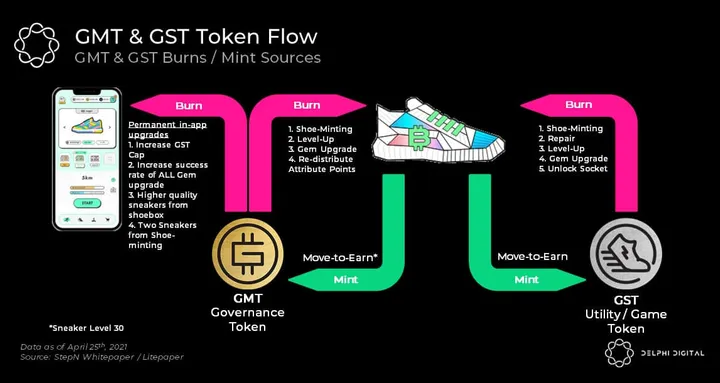 GST has a wide array of sinks, with the main sink so far coming from shoe-minting (equivalent to breeding). Leveling up, upgrading gems, and unlocking sockets provide further sinks for GST – all of which assist in controlling supply. These functions help keep GST within the ecosystem as it is required for repairing sneakers and incentivizing users to upgrade their sneakers to unlock a higher earning potential (Level-Up, Gem Upgrades, and Unlocking Sockets).
STEPN also has future plans to burn GMT for sneaker minting and upgrades, as well as boosting functions of your STEPN account. Currently, two of these features are live: burning GMT to both mint shoes and level-up at levels 5/10/20/29/30. Our view is that these burn functions will have to be activated thoughtfully given GMT's low circulating supply to prevent an unintended supply shock. Currently, ~10% of the total GMT supply is circulating. Only 7% is unlocked from the Binance Launchpad sale, and the remaining 3% belongs to their treasury/ecosystem fund.
GMT's primary value accrual comes from its treasury which is built up from the various taxes implemented in-app. Alongside value accrual from taxes, GMT will be burned to facilitate several different mechanisms and functions in the future. But at this point, GMT's only value accrual is through burns from sneaker level-ups.
We introduce a novel game economy design concept, with net-positive and net-negative sinks, in order to better understand the potential medium to long-term impact of STEPN's currently available sinks (socket boosts, repairs, and generating new sneakers). These are largely net-positive sinks that increase emissions and inflationary pressure on GST and GMT in the long run
For more, Delphi members can see the full Delphi Pro Report here.
Notable Tweets
Analyzing NFT Data
Binance Approved in France
Synapse Integrates Cross-Chain NFTs