Powell's Hawkish Comments Spark Volatility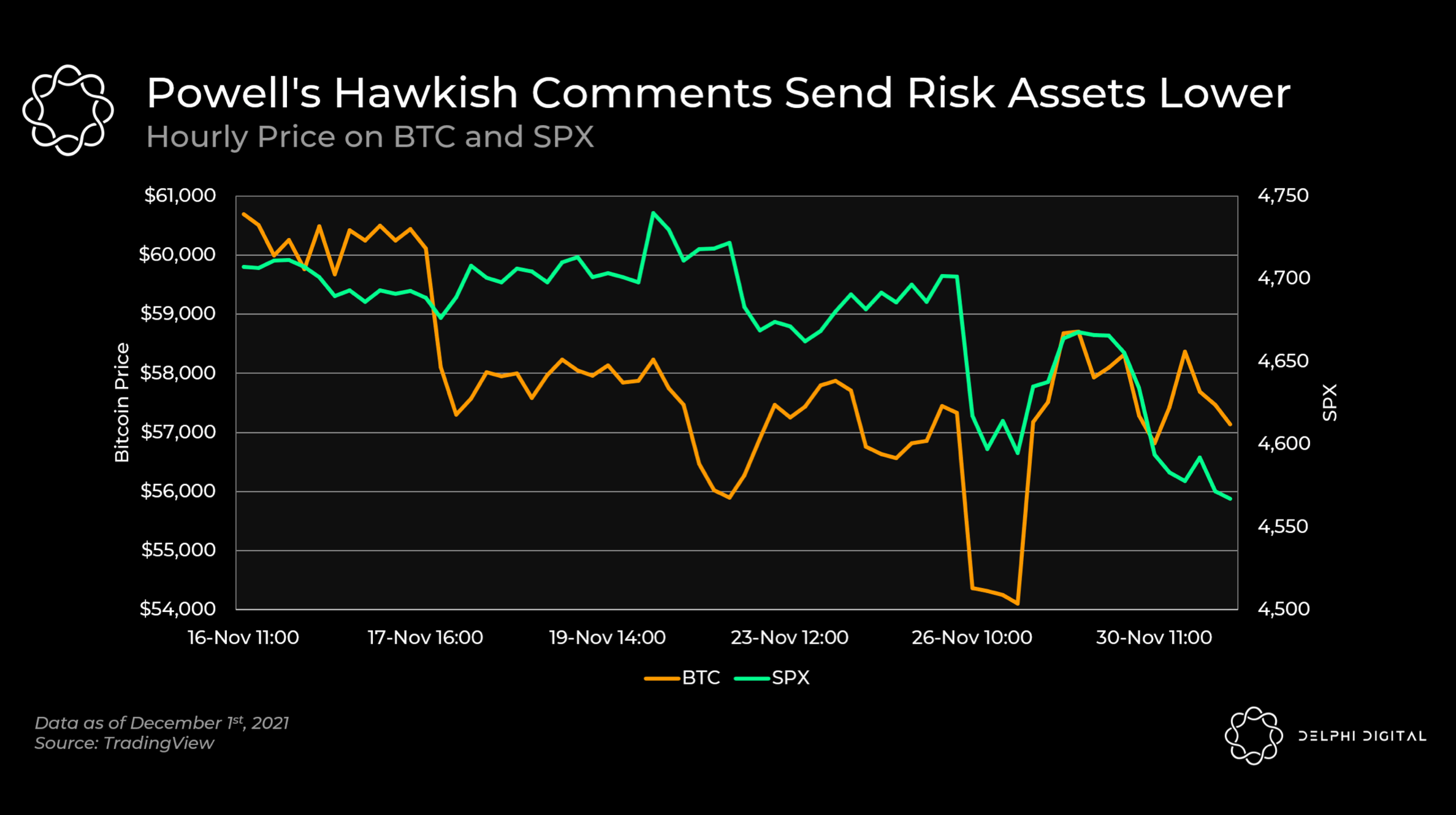 US equity markets opened higher today, recovering from yesterday's dip incited by Fed Chairman Jerome Powell's comments. At a Senate briefing, Powell said the risk of persistently higher inflation has increased and noted it may be appropriate to consider wrapping up their balance sheet taper plans sooner than initially planned.
This doesn't mean the Fed will stop expanding its balance sheet, but rather it implies an acceleration of the rate at which they plan to decrease their monthly asset purchases. The Fed will reduce its asset purchases from $120B to $105B this month, and Powell's recent comments suggest we could see that number fall a lot faster. This is likely to be a topic of Debate at the FOMC meeting in December, but the market has already started to price in expectations for tighter monetary policy as we head into 2022.
With bond purchases potentially ending quicker, the slowdown in global liquidity growth contributes to a somewhat negative outlook for both the equity and crypto markets alike in the near term. Adding to those fears is the sudden emergence of the Omicron variant of the coronavirus, which caused quite a bit of volatility across global markets this past week. Overall, there are reasons to exercise caution as an investor until we have more clarity.
LUNA New ATHs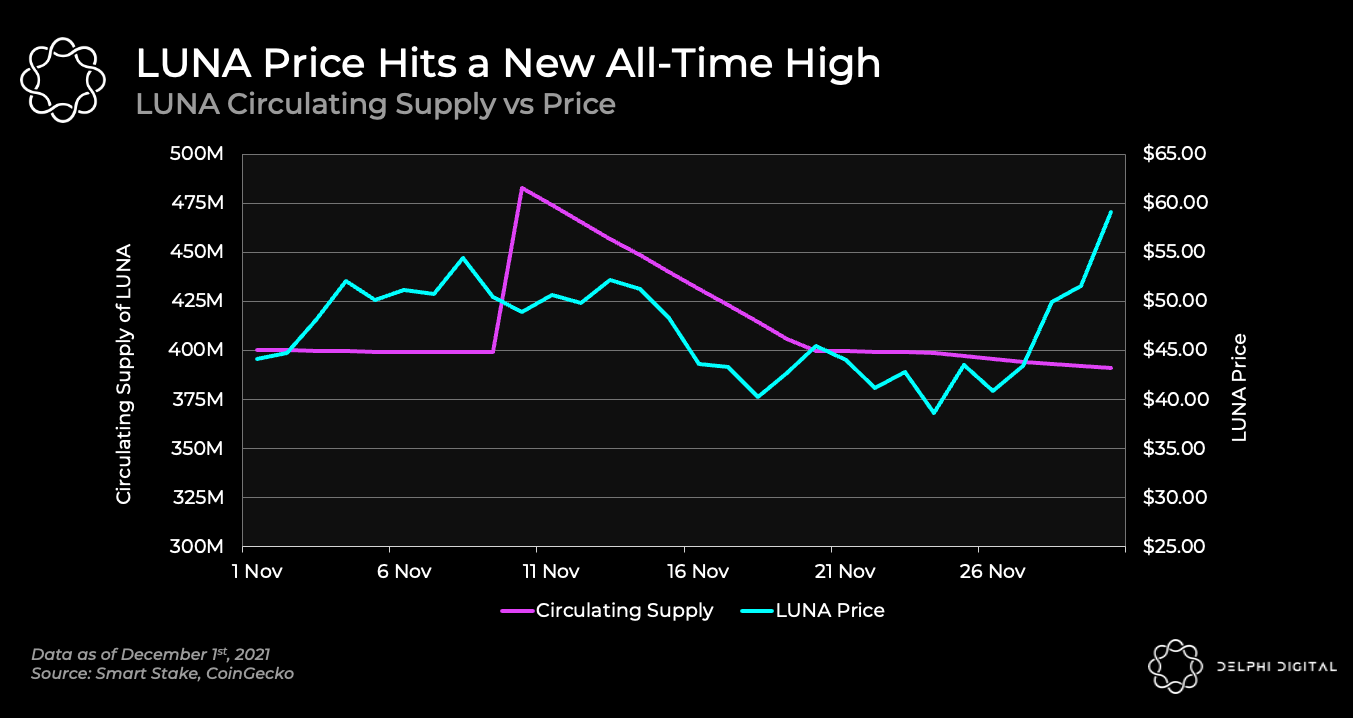 LUNA hit a fresh all-time high yesterday, undeterred by Powell's hawkish comments that sent the broader crypto market lower. Notably, ETH also shrugged off the downturn as it rallied past $4700 and inched closer to a new high.
LUNA's circulating supply saw a sharp spike on Nov. 11,  caused by an increase in the amount of LUNA to be burned from the community pool over the next two weeks. Approximately 88.675M LUNA will be burned over this period. Circulating supply has since reverted to levels seen before the spike, with over 8.2M LUNA burned in the last 7 days.
Recent stablecoin regulation threats could act as a tailwind for UST growth, potentially attracting capital inflows from more centralized stablecoins whose operations have been called into question.
Net ETH Emissions Decline MoM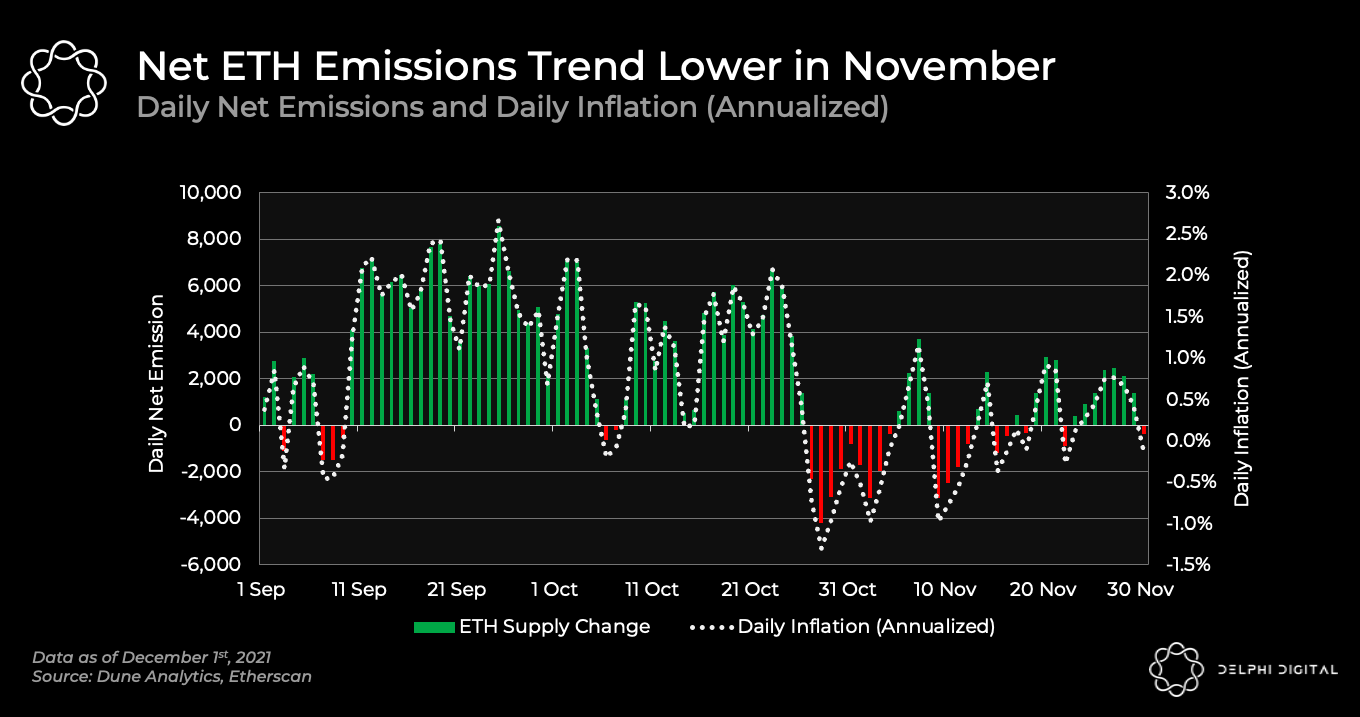 As mentioned in yesterday's post, ETH/BTC broke through a key upper trend line yesterday, which typically leads to overwhelmingly bullish sentiment for ETH in the market.
Keeping that positive vibe alive, monthly ETH emissions have also started to decline. Net ETH emissions for Nov. 2021 were the lowest seen since EIP-1559 was implemented. Other than ETH transfers, Uniswap and OpenSea remain the top contributors toward the ETH burn. If you would like to dig deeper, you can find the burn leaderboard here.
Close to 1.1M ETH has been burned since EIP 1559 was implemented less than four months ago. In dollar terms, that translates to roughly $5B worth at current prices, or a little over $15B (2.7% of circulating supply) annualized.
DEX Volumes Back on Track, Inch Closer to ATH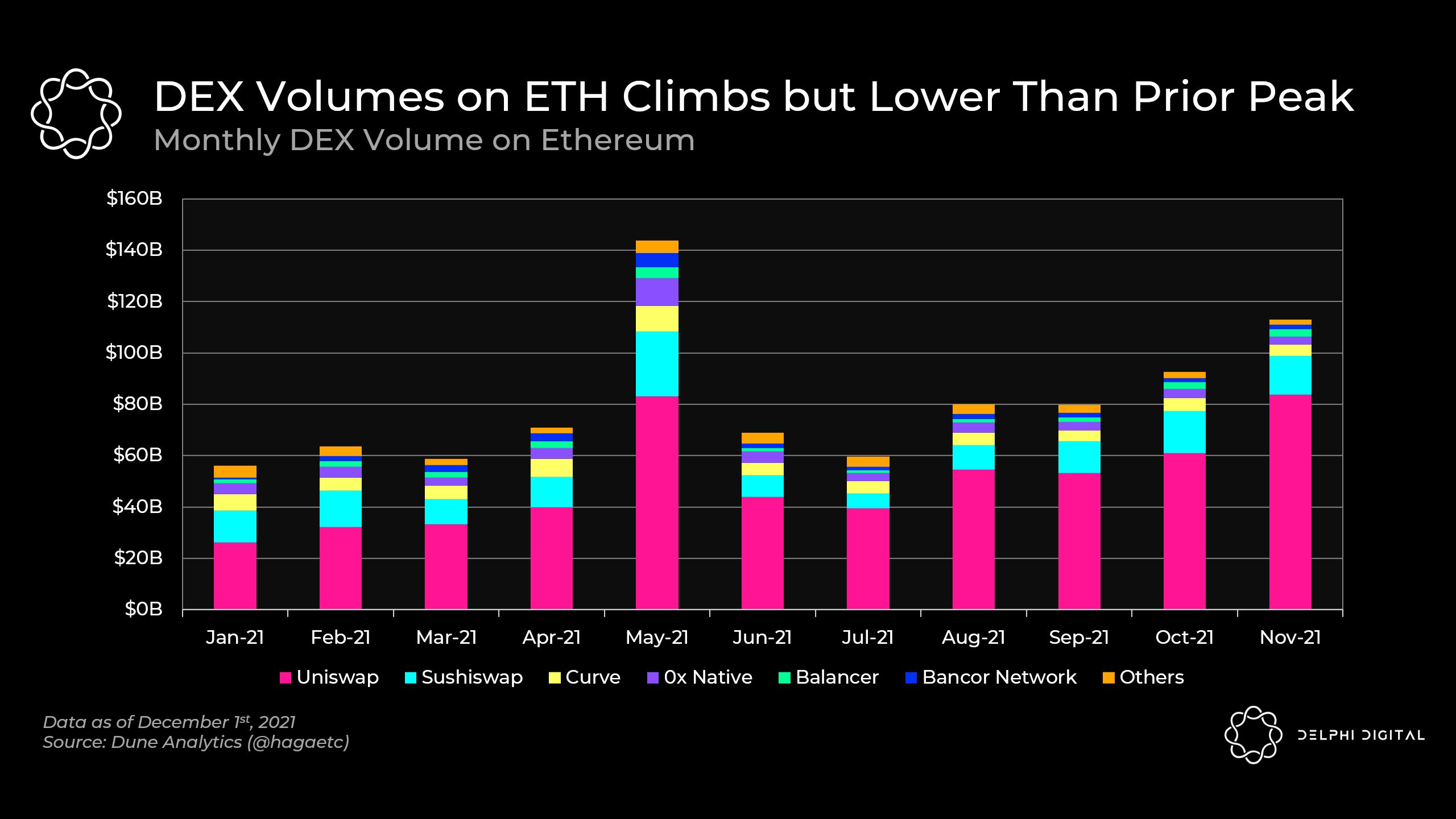 As crypto markets bounced back from the correction earlier this year, trading volume on Ethereum DEXes have consistently increased, although they're still below peak levels set in May. One key change in the on-chain landscape since then is the emergence of alternative L1s with liquid DeFi ecosystems. Ethereum's DeFi TVL dominance over other chains has deteriorated meaningfully since May. The significant increase in trading activity moving to DEXes on these alternative networks is likely one of the main reasons Ethereum DEX growth has been slower.
Another interesting observation: Curve has the 2nd highest TVL amongst Ethereum DeFi protocols at ~$19.2B, yet it only did ~$4.3B of volume in November 2021. Compare that to Uniswap, which has ~$10.4B TVL, and facilitated ~$83.8B of volume over the same time period. Of course, a lot of this is explained by Curve's focus on pegged assets while Uniswap lets you trade any Ethereum-based token. But a large amount of stablecoin volume has moved to Uniswap since it implemented lower fee tiers, seemingly causing Curve's volume growth to slow down. Curve's TVL is also inflated by CRV emissions to LPs, many of whom are just trying to farm more tokens.
Notable Tweets
A teach-in on LayerZero.
I know asking you to watch a 10 minute video is an act of aggression, but if you are interested in cross-chain / interop take the time for this one. First time we demo

in the wild
A thread on Bancor 3: the latest iteration of the Bancor DEX.
1. Last night we saw Bancor 3's unboxing video with [email protected]_Dad ,@ChainLinkGod, @Arthur_0x and the @Bancor crew. It's the biggest thing in DeFi since #UniswapV3 and will change everything.

A Thread ICYMI:

—The No Bull Investor (@NoBullInvest) November 30, 2021
Macro analyst Lyn Alden's discusses what she finds wrong with Proof of Stake blockchains.
My latest public article discusses some of the centralization problems of blockchains related to proof-of-stake and custodial stablecoins.
https://lynalden.com/proof-of-stake/

—Lyn Alden (@LynAldenContact) November 30, 2021