Market Updates
All eyes are on Proshare's Bitcoin Futures ETF today, the first Bitcoin-linked ETF in the US, as it made its trading debut. Over $1B worth changed hands on its first day (including after-hours trading volume). Spot BTC remains steady in the ~$63-64k range, but has yet to break above its prior all-time high near ~$65k. Finally, the Valkyrie Bitcoin ETF launch—due to debut tomorrow with the memorable ticker BTFD—underscores this week's focus on new financial products.
GBTC On Fire (Sale)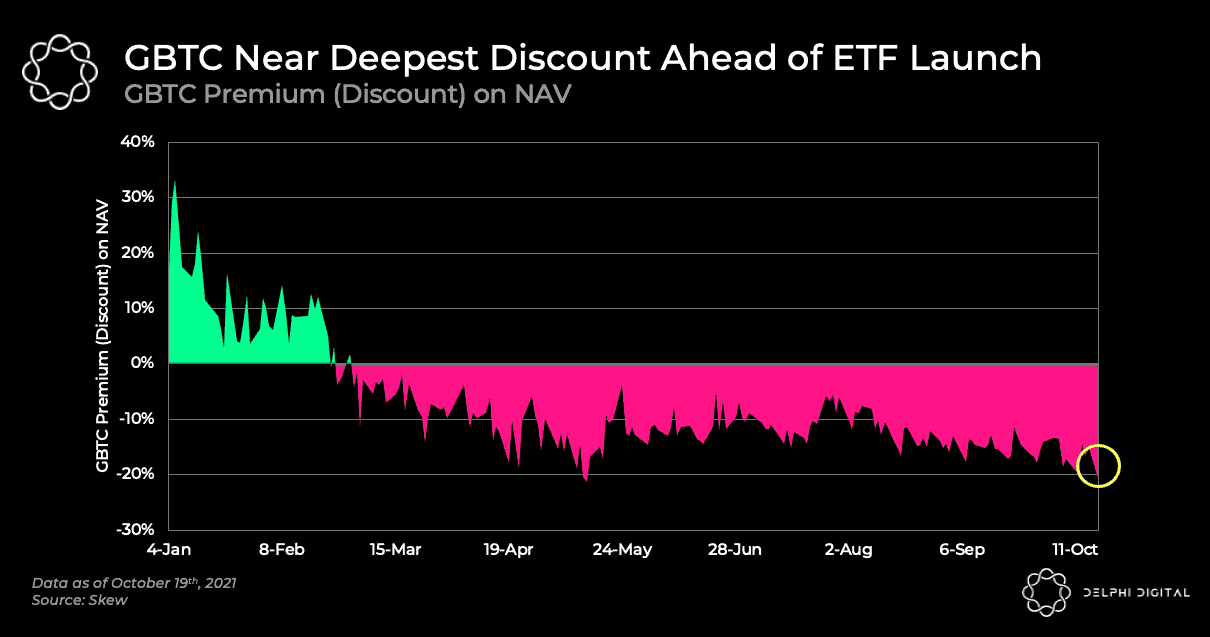 GBTC is currently trading near its steepest discount of the year on the back of the ProShares Bitcoin Futures ETF launch today.
Due to the nature of GBTC, the shares are locked up for 6 months and GBTC holders subject to such lock ups are unable to trade in reaction to market movements. There is also no redemption function in the trust itself, which makes its tracking less efficient.
Today, Grayscale filed to convert GBTC into a Spot Bitcoin ETF, probably in reaction to competition posed by the Proshares and Valkyrie ETFs. If successful, the discounts seen on GBTC will be cleared quickly as ETFs tend to track their underlying much more closely.
Activity on Terra Climbs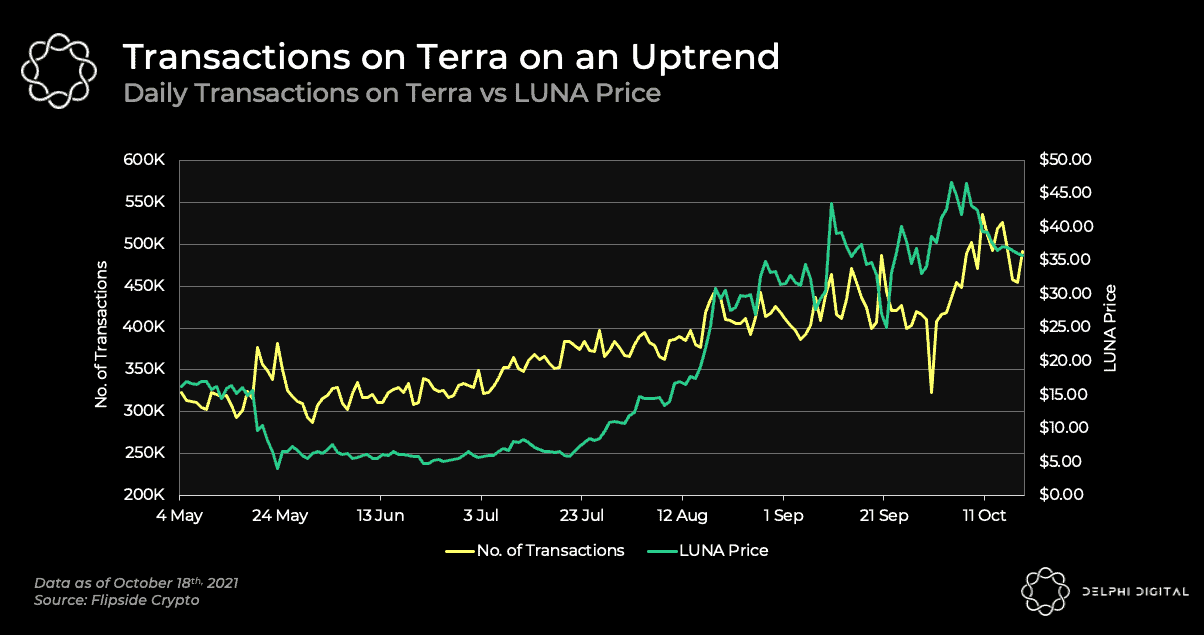 Transactions on the Terra Blockchain have increased considerably since the middle of the year.
This growth comes on the back of several new protocol launches including Nexus Protocol, Valkyrie Protocol, and a bunch of NFT mints over the last few weeks.
The price of LUNA has taken a breather since hitting fresh highs post-Columbus 5 and currently trades around ~$36, roughly 27% off its ATH.
Binance Burns Big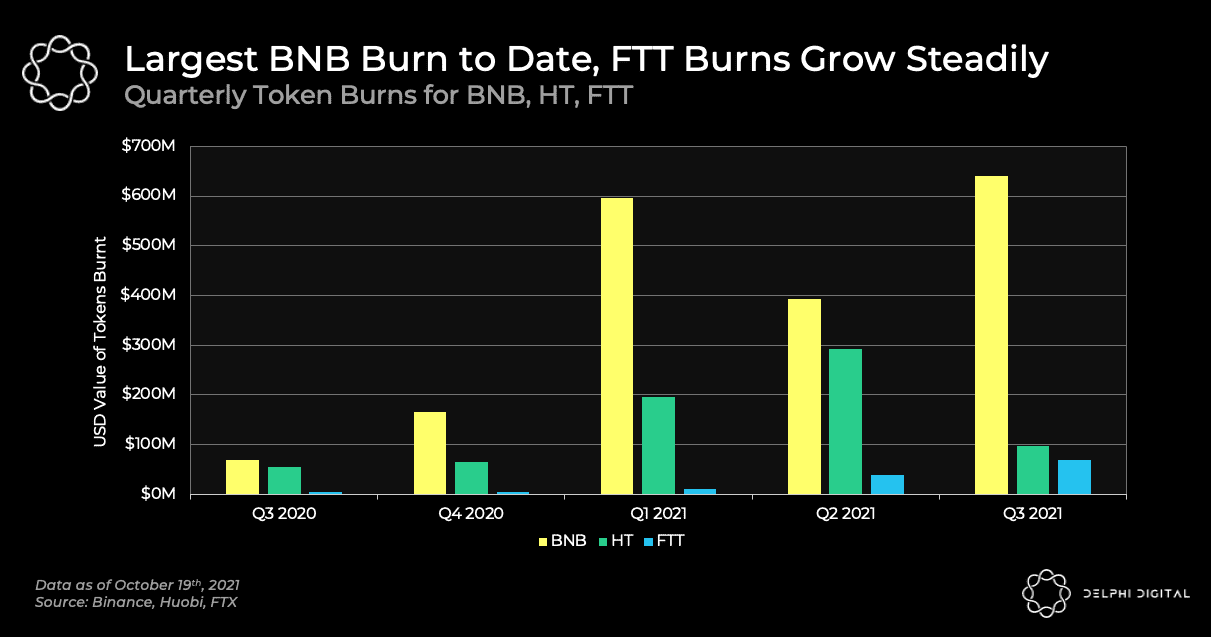 Binance just announced their largest ever BNB burn at $635.44m in the 3rd quarter of 2021.
An important point to note is that the formula for Binance quarterly token burns are not specifically disclosed, hence it is difficult to ascertain whether the burns are a direct result of higher trading volume and revenue. FTX  burns FTT equal to a third of exchange fees while Huobi dedicates 15% of total revenue to HT burns, drawing a direct correlation between the two.
Both Binance and Huobi have been plagued with regulatory issues in China over the last month, with the former announcing restricted access for mainland customers last week and Huobi halting new registrations for Chinese users in September, in compliance with Beijing's crypto ban.
FTX has yet to announce a dramatic overhaul to its China user base and has been growing relatively consistently versus the other two.
Token Swap Proposed (FTT-BIT)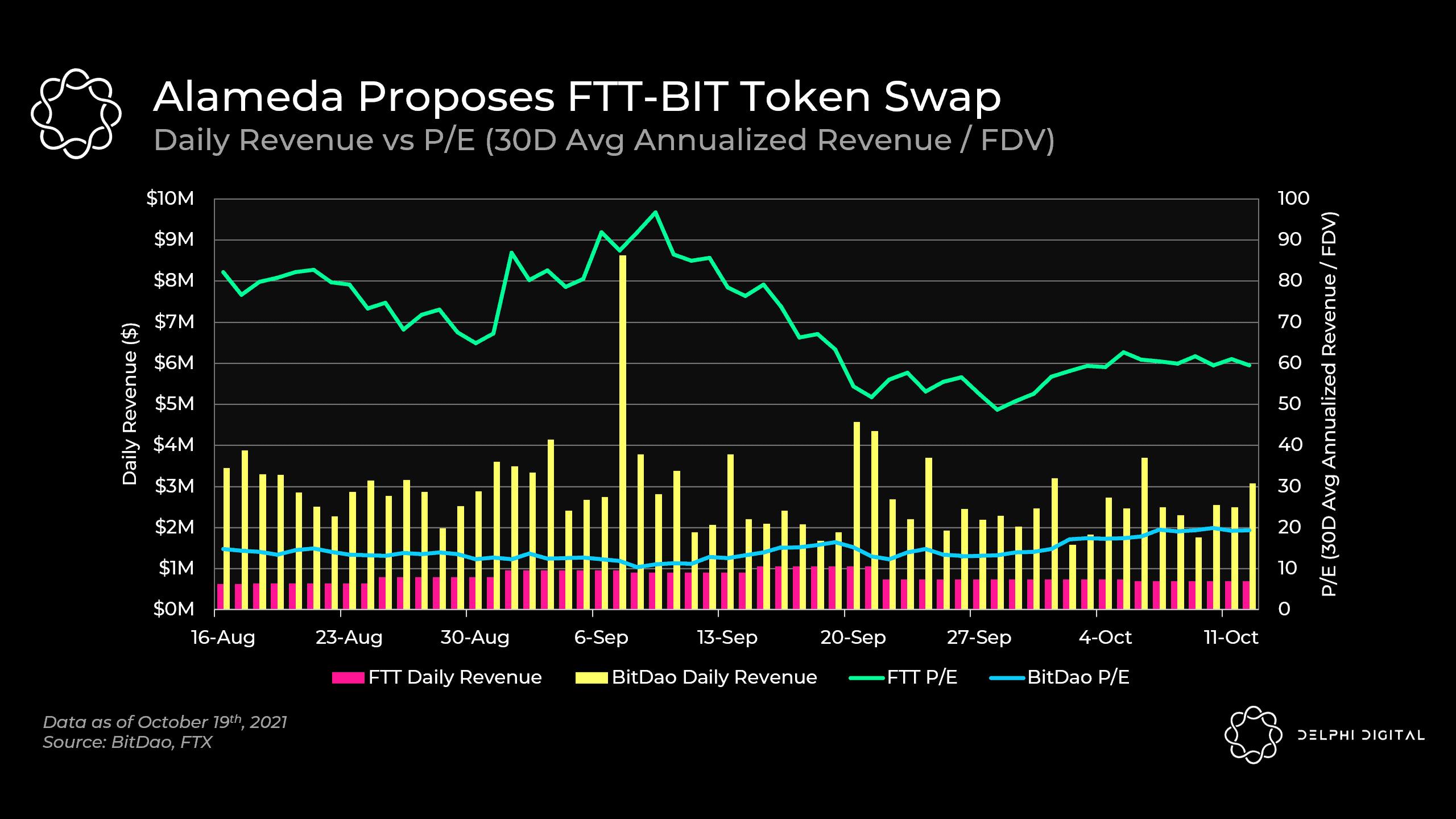 Alameda Research has proposed a $180m token swap of FTT and BIT to the BitDAO Treasury, with a commitment of not to sell for 3 years.
The move expands FTX's exposure to ByBit as BitDAO's treasury is funded by 0.025% of ByBit's futures trading volume.
FTT currently trades as a higher price multiple when the two are measured against the amount of revenue dedicated to either token burns (in FTT's case) or a treasury (BIT). Notably, BIT tokens earn higher daily revenue than FTT tokens, which can be backed into by breaking down FTT's weekly token burns.
Notable Tweets
Huge Volumes on $BITO Bitcoin Futures ETF Launch
BIG NUMBERS: $BITO has traded $280m worth of shares in first 20min. That already puts it in Top 15 opening day launches of all-time, more than $GLD & $QQQ. $ARKX & $BUZZ were two from this year that made list. It has legit shot at $1b and top spot. We'll see, via @tpsarofagis

— Eric Balchunas (@EricBalchunas) October 20, 2021
Facebook Chooses Coinbase as Custody Partner for Its Pilot of the Digital Wallet, Novi
Coinbase shares jumped 4% following the announcement; Facebook is up 1.25% on the day.

Details below by @morgan_chittum

— Blockworks (@Blockworks_) October 20, 2021
Chainalysis Adds BTC to Its Balance Sheets
We are excited to share that we've worked with our longstanding partner @NYDIG_BTC to add #bitcoin to the Chainalysis balance sheet

https://t.co/OQBmZDmLbI?amp=1

— Chainalysis (@chainalysis) October 20, 2021