NFT Volume Drying Up on Other Chains, Ethereum Remains Vibrant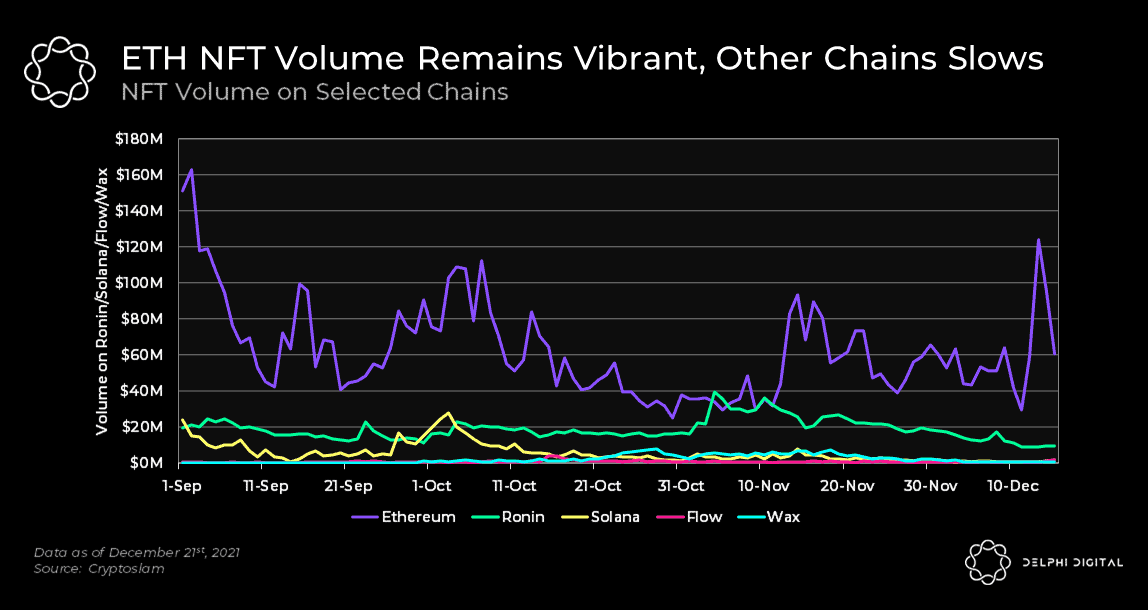 NFTs have made their way onto multiple L1 chains as Ethereum faces scaling problems and expensive transaction fees, which has made it challenging for some users to participate as the barrier to entry is rather high.
Other chains have tried to replicate Ethereum's success in the NFT space and attract users, mainly by offering cheap transaction costs. Despite this, Ethereum still holds the throne for NFT volume.
Ethereum-based projects continue to attract brands as it remains the preferred L1 to launch NFTs. Recently, Adidas Originals launched an NFT in partnership with BAYC, PUNKS Comic, and gmoney. Check it out here!
YFI Token Revamps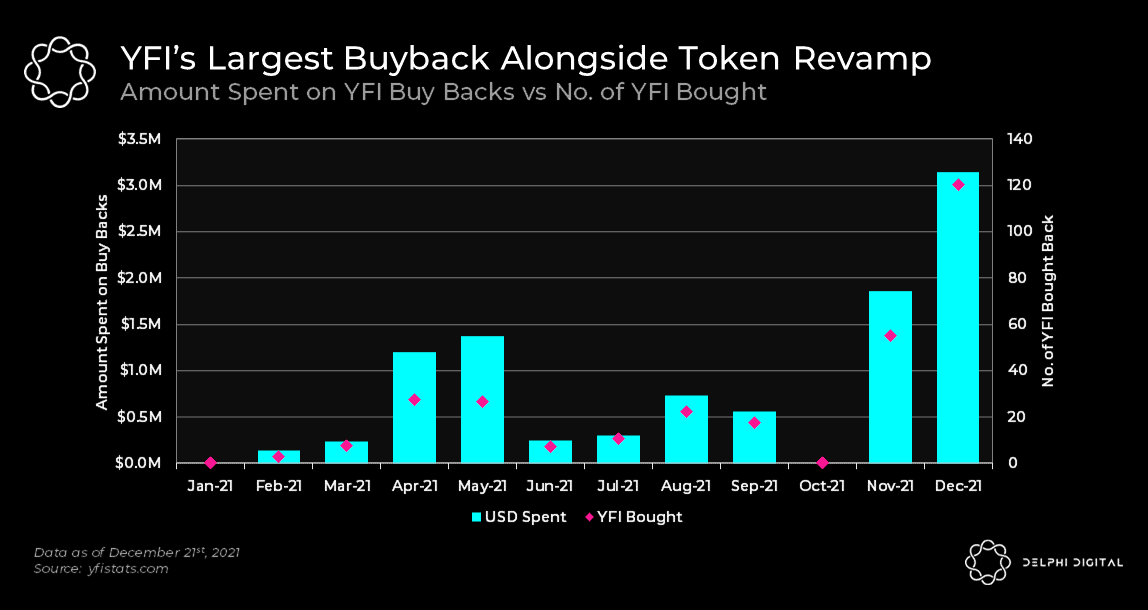 Yearn Finance has recently started aggressive buybacks, with ~$3.1M or 120.5 YFI being purchased, marking the largest buyback yet.
Yearn released a proposal suggesting the evolution of Yearn's token economics, which suggests that the Treasury expects to direct ~$35-45M to buybacks annually.
The buyback enhances value accrual and incentivizes active governance participation for its token holders. So far, crypto markets interpreted the buyback positively. YFI is up 80% in just the last week alone.
Binance's Cash Margined OI Back to Pre-Correction

Binance's BTC open interest took a hit with the recent sell-off, and cash-margined positions have led to the recovery in OI. Cash margined OI recovered to pre-correction levels, while crypto margined OI is relatively flat.
However, there is little indicating whether these are long or shorts. Interestingly, Binance is the only exchange to have cash margined OI recover sharply (~$1b).
Grayscale's Difficult Fight

Grayscale's GBTC discount has dropped past -20% versus NAV, a record low since inception.
GBTC allowed investors to gain exposure to Bitcoin through a traditional investment vehicle. However, it came with the caveat of a 6-month lockup alongside a 2% annual management fee.
This year, ProShares launched a Bitcoin Futures ETF ($BITO), which allowed investors to have exposure to Bitcoin without the lockup as well as a cheaper fee of 0.95%. This has made GBTC a tougher sell, as a 6-month lockup on a volatile asset is relatively unappealing.
Furthermore, Grayscale has seen difficulties in converting itself into a spot ETF. SEC Chair Gary Gensler has said that he prefers a bitcoin futures ETF over a spot one. Coinbase has spoken out about the matter and urged the SEC to approve GBTC into an ETF. If successful, we can see the discount on GBTC quickly cleared up by arbitragers.
Notable Tweets
BitMEX Launches its Token
We're thrilled to announce the minting of our token, BMEX

The Token for True Believers!

Learn how to be eligible for our #BMEX #airdrop here: https://bit.ly/3mn11Dc
Layer 3 Scaling Solutions
Multiple scaling layers, all maintaining the security of L1.

—StarkWare (@StarkWareLtd) December 21, 2021
Binance Enters Dubai
#Binance signs agreement with Dubai World Trade Centre Authority to establish an industry hub for global virtual assets.

—Binacne (@binance) December 21, 2021