Market Update
NFTs (and specifically CryptoPunks) enjoyed a fantastic run over the weekend. During the Asia open, BTC takes a breather while consolidating below $40,000 as ETH/BTC wakes up from its multi-week slumber.
CryptoPunks Went On A Tear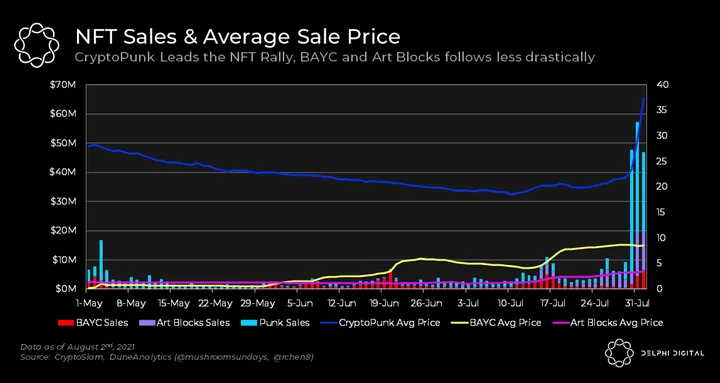 Art Blocks, BAYC & Punks See Increased Adoption
In terms of the number of holders, Art Blocks & Bored Apes Yacht Club (BAYC) holders have more than doubled since early May. Art Blocks' larger supply and BAYC's relative affordability (versus Crypto Punks) have been a catalyst for adoption. However, it's not an apples-to-apples comparison between the 3 projects: BAYC and CryptoPunk have a fixed supply of 10k pieces, whereas Art Blocks has an expanding supply of around 76k at the time of writing.
CryptoPunks remain an exclusive project held by few. Since May, CryptoPunks only increased its total holders by 500 (or 27%) in the last 3 months. Over the same period, Art Blocks and BAYC holders have grown 114% and 137%, respectively.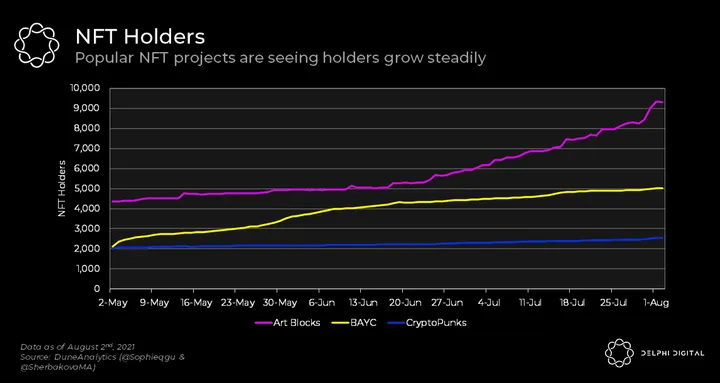 OpenSea – The Go-To NFT Marketplace
For a brief period back in October 2020, Rarible was the market leader in the issuer-agnostic NFT marketplace sector. Its steady decline over time can be attributed to trade mining incentives (which led to a lot of wash trading for mining RARI tokens). Remember, organic traction is always better than incentive-driven traction. Another reason would likely be OpenSea's open & permissionless nature as compared to closed marketplaces (a much more curated process) like SuperRare.
OpenSea extends its market share lead at the expense of, well, almost every other NFT marketplace despite not having a token. This further cements OpenSea's position as the market leader for NFT marketplaces with no signs of slowing down (more on that in the next chart).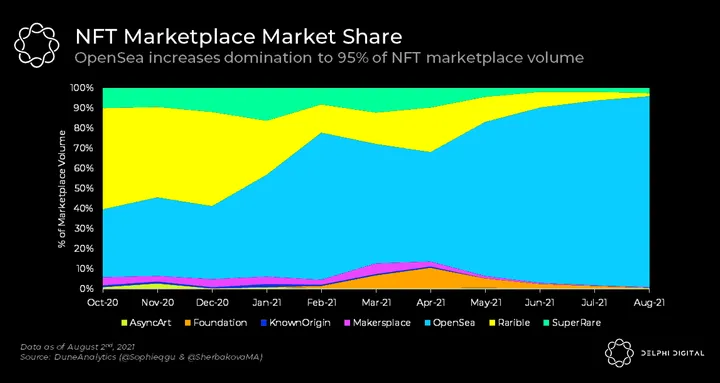 OpenSea volume surges past
As NFT buying soared over the weekend, OpenSea processed a record $57.3M in daily volume. In addition, July was OpenSea highest monthly volume ever, with over $250M in volume. It's worth noting that even with these stellar numbers and a 96% market share, this does not represent the entire NFT market as it does not include volume projects with their own marketplaces like Larvalabs (Punks, Meebits and Autoglyphs) and Axie Infinity.
Arguably, OpenSea has developed the strongest network effect in the space, as evidenced by its surging volume and market share.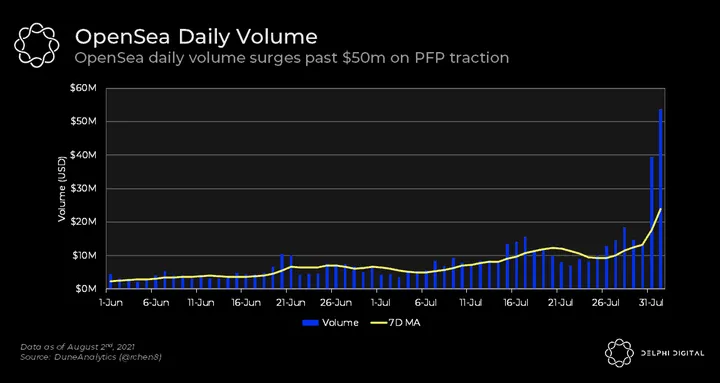 Notable Tweets
Cultural capital
Flight to NFT quality
A guide to Parallel drops