Market Update
Today's daily was inspired by the Delphi Chartbook — a monthly initiative to update our subscribers on each month's market trends. Sign up to Delphi Insights here to receive a curated Delphi Chartbook at the end of every month.
NFTs Continue To Capture The Attention Of Speculators
Well-established NFT projects such as CryptoPunks, Bored Ape Yacht Club and ArtBlocks have been the main beneficiaries of the current NFT hype, but they're not the only ones capturing significant attention.
One example is Gary Vee's NFT project Veefriends, which has seen notable floor price appreciation of almost 750% since May 15th. Coolcats has also benefited, with floor price up approximately 1750% since its recent launch on July 1st.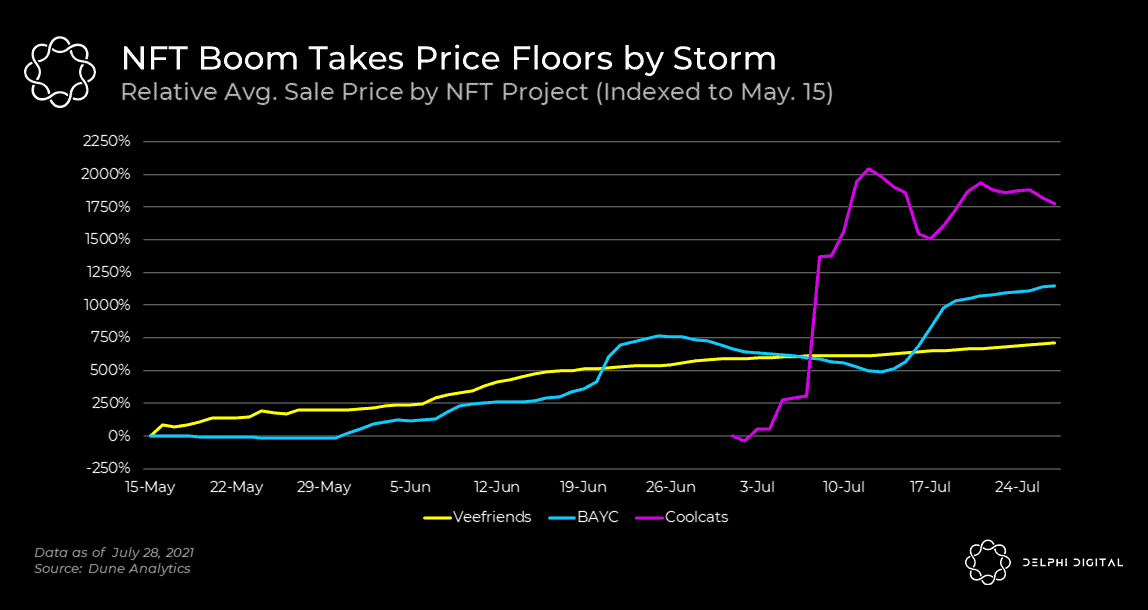 DAI At Risk?
With increased regulatory oversight over stablecoins, most dollar-pegged coins are at risk. This is most obvious for USDT and USDC. Let's take a look at the risks associated with MakerDAO's DAI. Over 70% of the assets backing the DAI stablecoin are centralized. USDC makes up the majority of this figure accounting for >60% of Maker's vault assets.
It's important to note that even though DAI is still the most widely adopted decentralized stablecoin, the rise in the share of USDC in MakerDAO's vaults means DAI is not out of regulators' reach.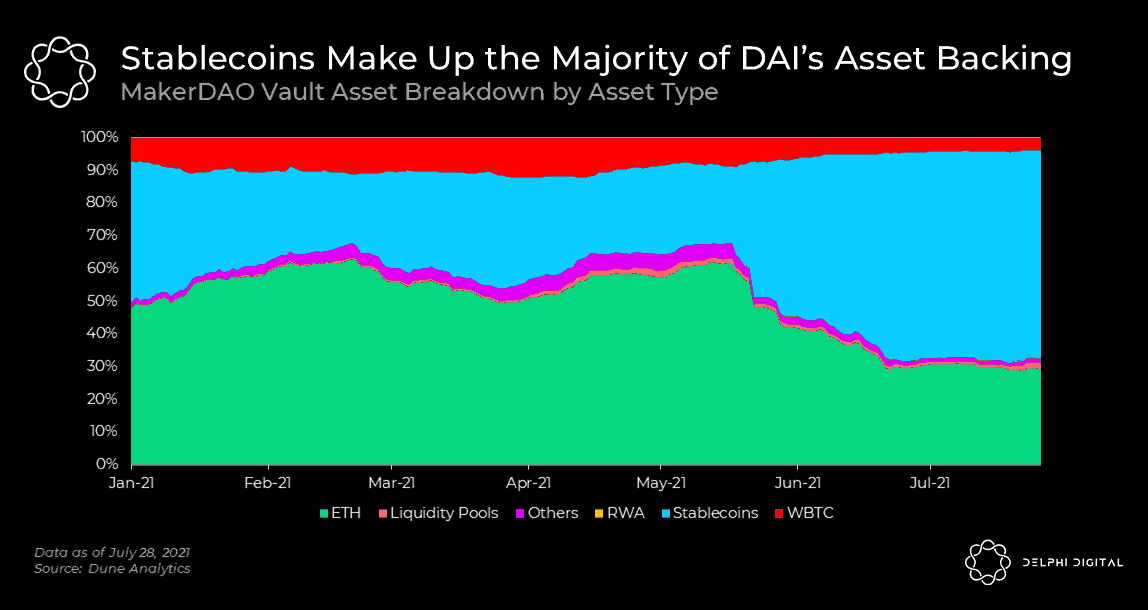 More All-Time Highs For AXS Price and Axie Revenues
One from July's Delphi Chartbook, Axie Infinity maintains its upward momentum over the past month with AXS price seeing a recent high of $53.5 on July 27th. Axie revenues also had a big month, amassing a total of over $170 million (data as of 26th July – latest 30 day data shows $214 million in protocol revenue).
The interplay between Axie's revenues and AXS price is noticeable. This makes sense given the majority of revenues come from Axie breeding fees paid in AXS to the treasury, which significantly decreases the circulating supply of AXS – causing a supply side squeeze.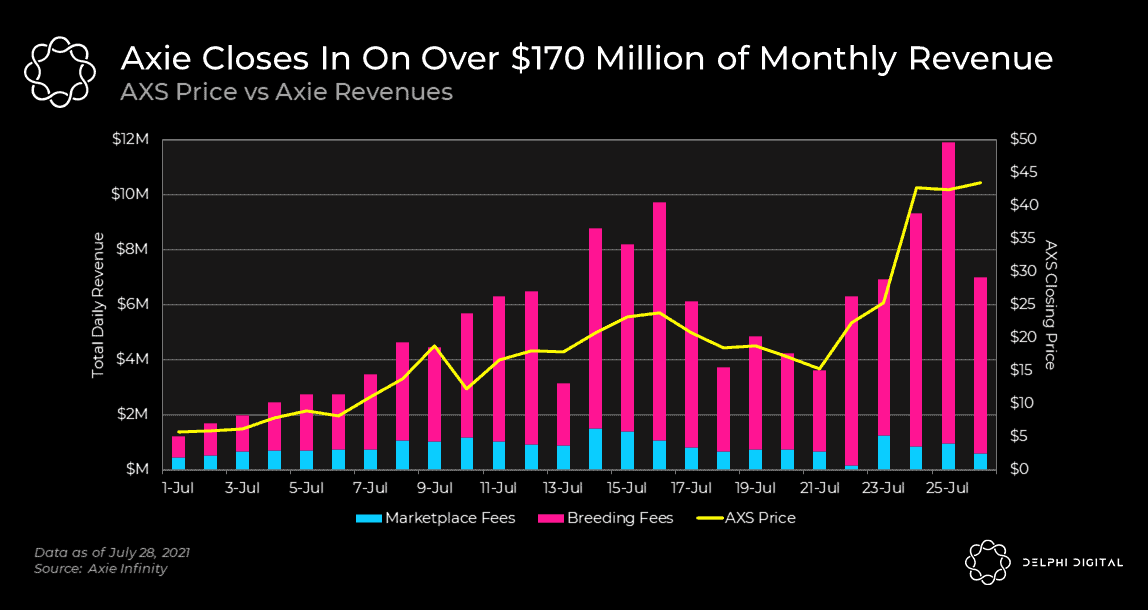 Bitcoin's Short Term Momentum Strengthens
Another one from the July chartbook, all eyes are on Bitcoin as it backs off from its recent high just north of $42k. This is after what some speculators brushed off as merely an overdue short squeeze on July 26th, which pushed the price from ~$35k – $40k within a few hours.
Momentum indicators support the recent price surge with the 14 Day Relative Strength Index breaking out of a downtrend that kicked off in early Q1. The 14 Day Relative Strength Index—a momentum indicator that looks at the overbought or oversold conditions—broke out of a downtrend that kicked off in early Q1. When bitcoin rallied to $30k up to $40k in late July, the RSI saw a sharp uptick, suggesting BTC moved into overbought territory.
All in all – it remains to be seen whether Bitcoin will see follow-through to the upside or if this was the final gasping breath for the bulls.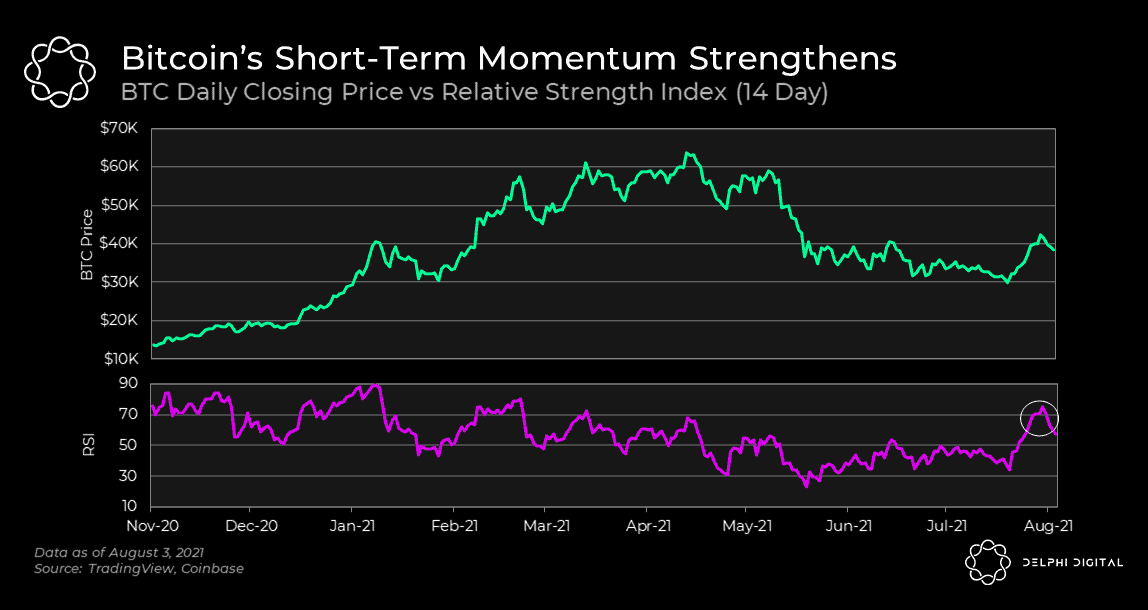 Notable Tweets
The Future of Work
On a long enough timeframe the future of work just reduces down to play-to-earn.

— Spencer Noon (@spencernoon) August 2, 2021
Tokemak's Discord presale distribution so far.
Incredible, unprecedented distribution of commitment sizes for the #DeGenesis Over 50% of participants committed under $5000. ??? – 90 minutes remain to whitelist yourself in our Discord, final whitelist @ 5pm UTC, event ends 9pm UTC https://t.co/H2rpjF5bmY #Tokemak $TOKE ☢️ pic.twitter.com/VUpznHJZzg

— TOKEMAK (@TokenReactor) August 3, 2021
Google reverses anti-crypto advertising stance.
Google will now allow #Bitcoin advertising for wallets and exchanges, starting today!

About time! ?

— Bitcoin Archive ??? (@BTC_Archive) August 3, 2021