Market Update
As the market goes deeper into risk-off mode while the dollar index (DXY) is displaying strength, wider crypto markets continue displaying weakness across the board. Thankfully, there is some Optimistic layer 2 news to share with our subscribers.
DeFi In Pain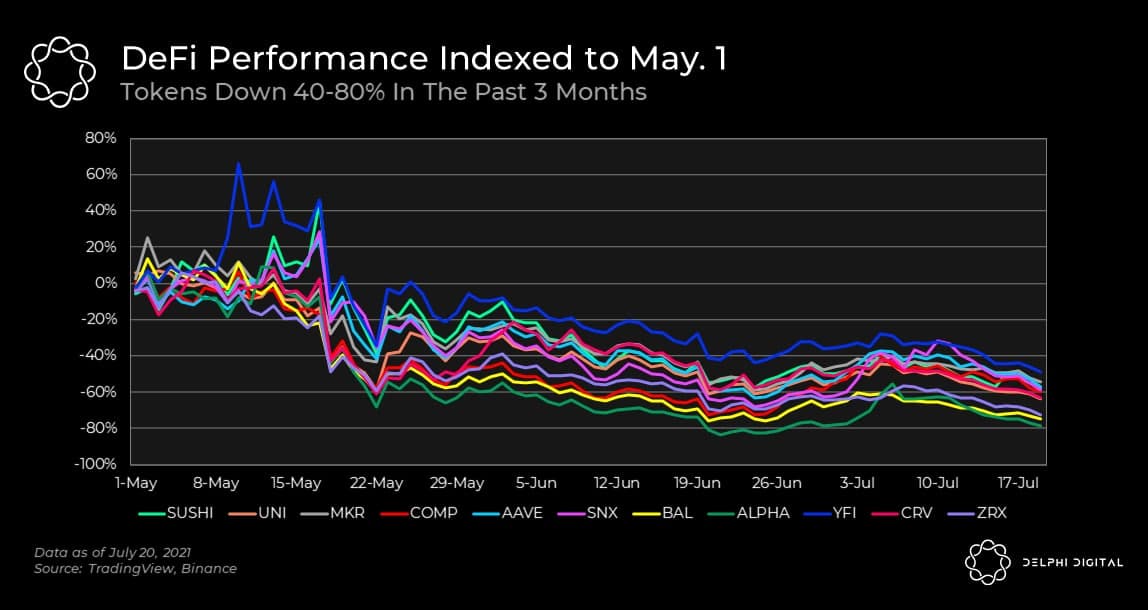 User Activity Growing Fast On Optimism
Uniswap V3's launch on Optimism has visibly jolted overall network activity with the latest data showing 780 unique senders and over 2,500 transactions per day. Take note that Optimism is still not public and can only support up to 50,000 transactions per day.
With leading protocols such as Uniswap v3 and Synthetix launching on Optimism, this could serve as a very powerful headstart against competing Layer 2 projects. The battle for Layer 2 dominance is just getting started, definitely worth paying close attention to this space.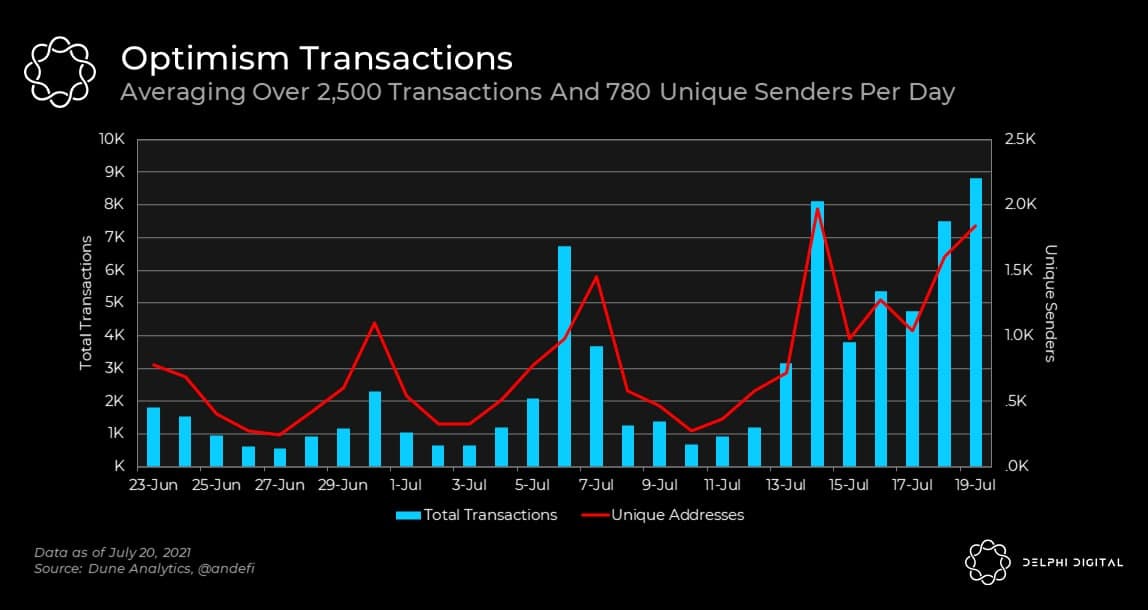 Uniswap V3: The Key Driver For Optimism
Not surprisingly, the amount of ETH bridged to Optimism is making all-time highs on the back of Uniswap v3's launch on Optimism.
In just a week, Uniswap V3 on Optimism already commands $5m in TVL and $1m in Daily Volume.
On a separate note, if you haven't tried dApps on Optimism, you might want to give Lyra Protocol's trading competition on Optimism testnet a spin.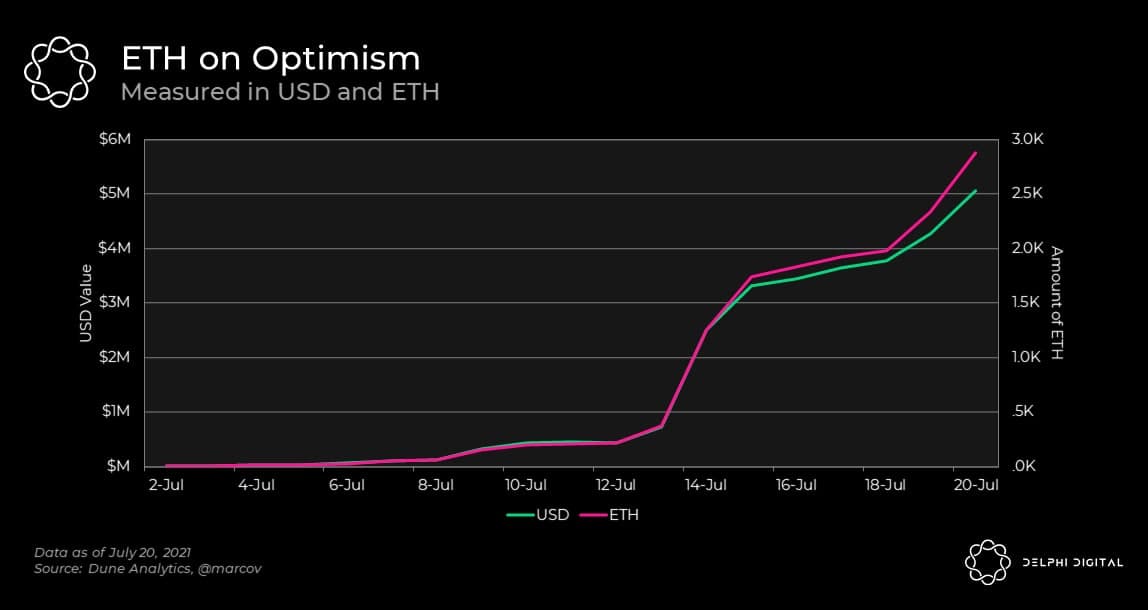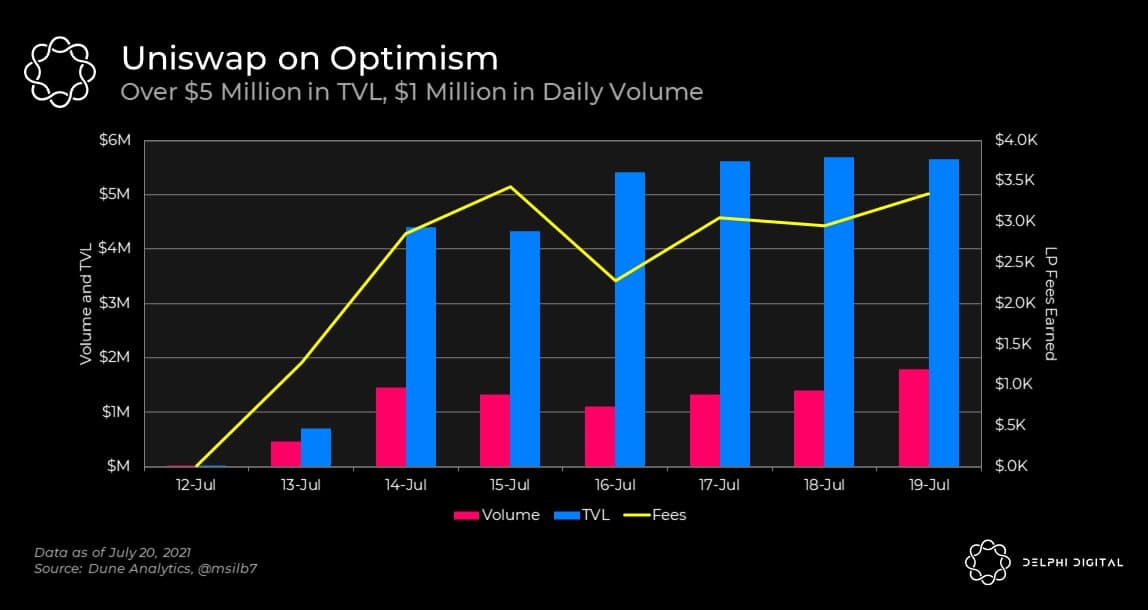 Notable Tweets
A thread on SushiSwap v3 – Trident.
1/n a thread on @SushiSwap's new plans for v3 and its implications for the ever-increasing defi competition in the smart contract world of dexes:
The keys for users are the implications for liquidity provision, capital efficiency, and composability

— Calvin Chu (@calchulus) July 20, 2021
Vitalik's take on reorgs after the merge.
During the last few weeks there has been a lot of discussion around the possibility of miners running custom software that accepts bribes to reorg the chain.@gakonst and I explain how this will become harder after the proof of stake merge:https://t.co/ghwikceVBr

— vitalik.eth (@VitalikButerin) July 20, 2021
Silver lining for Axie players?
We will deploy a server improvement tonight!

There will be some side effects:

• Daily quest progress will be reset.
• Energy calculations may be wrong.

There will be many more optimizations in the coming weeks! pic.twitter.com/8hSuDrV7bI

— Axie Infinity (@AxieInfinity) July 20, 2021