Help, I'm Getting Liquidated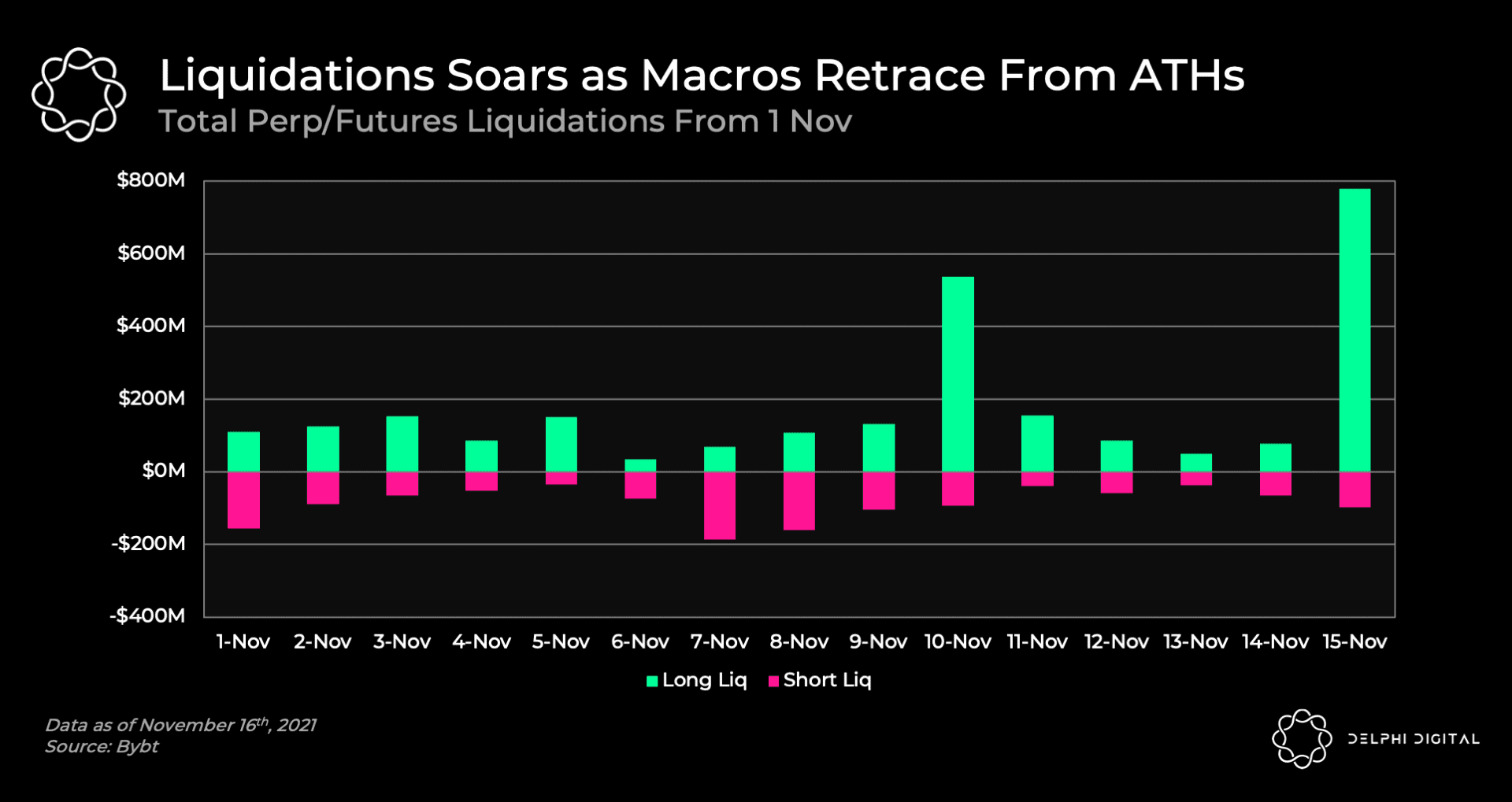 BTC had a great run up through the first half of November, setting a new high near $69,000, but two major retracements of ~10% in the past week alone (one from ~$69,000 to ~$63,000 on Nov. 10 and another today from ~$66,000 to ~$60,000) has investors and traders alike back on edge.
Leveraged traders were victims of liquidations as prices dropped and markets deleveraged. Prior to this, open interest was at peak levels for most trading pairs; typically, flushing out excessive leverage is healthy for markets over the longer term. However, market structure may need some time before order book depth and trader activity recovers.
Note: as a reminder, Binance's API only reports 1 liquidation per second, so this number is likely materially higher.
Funding Resets, Where to Next?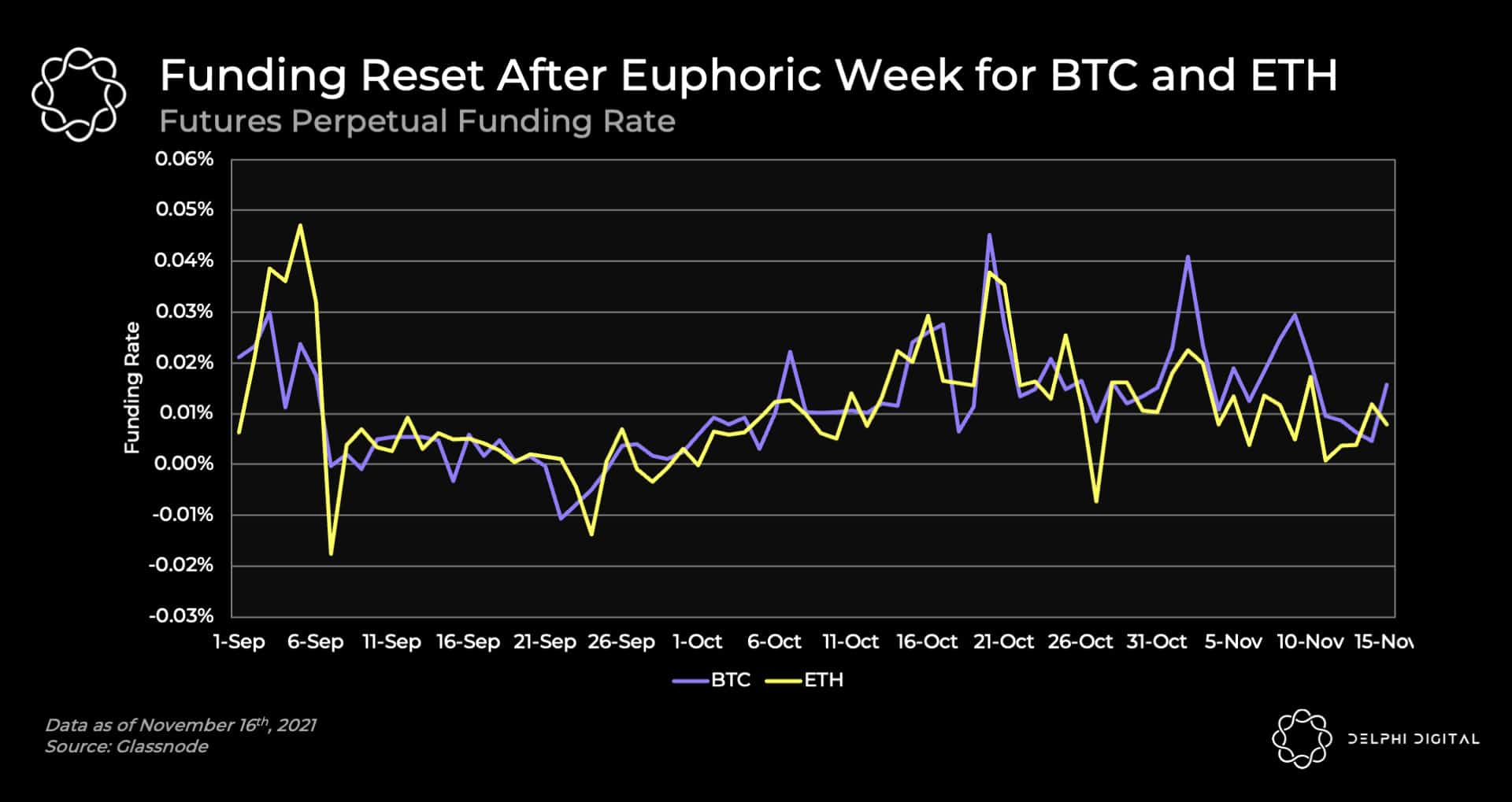 As euphoria hit amid new ATHs for BTC and ETH, funding rates ranged upward as traders' appetite for leverage soared. However, as markets retraced, funding rates reset back near neutral levels.
Note that the funding rate shown here is up till 15 Nov, before the most recent big retrace. While Bybit funding continues to be high, funding rates went negative on BTC and ETH on FTX today. This could suggest short-term bearishness among the  "smart money" crowd.
AVAX Price Run Up Follows TVL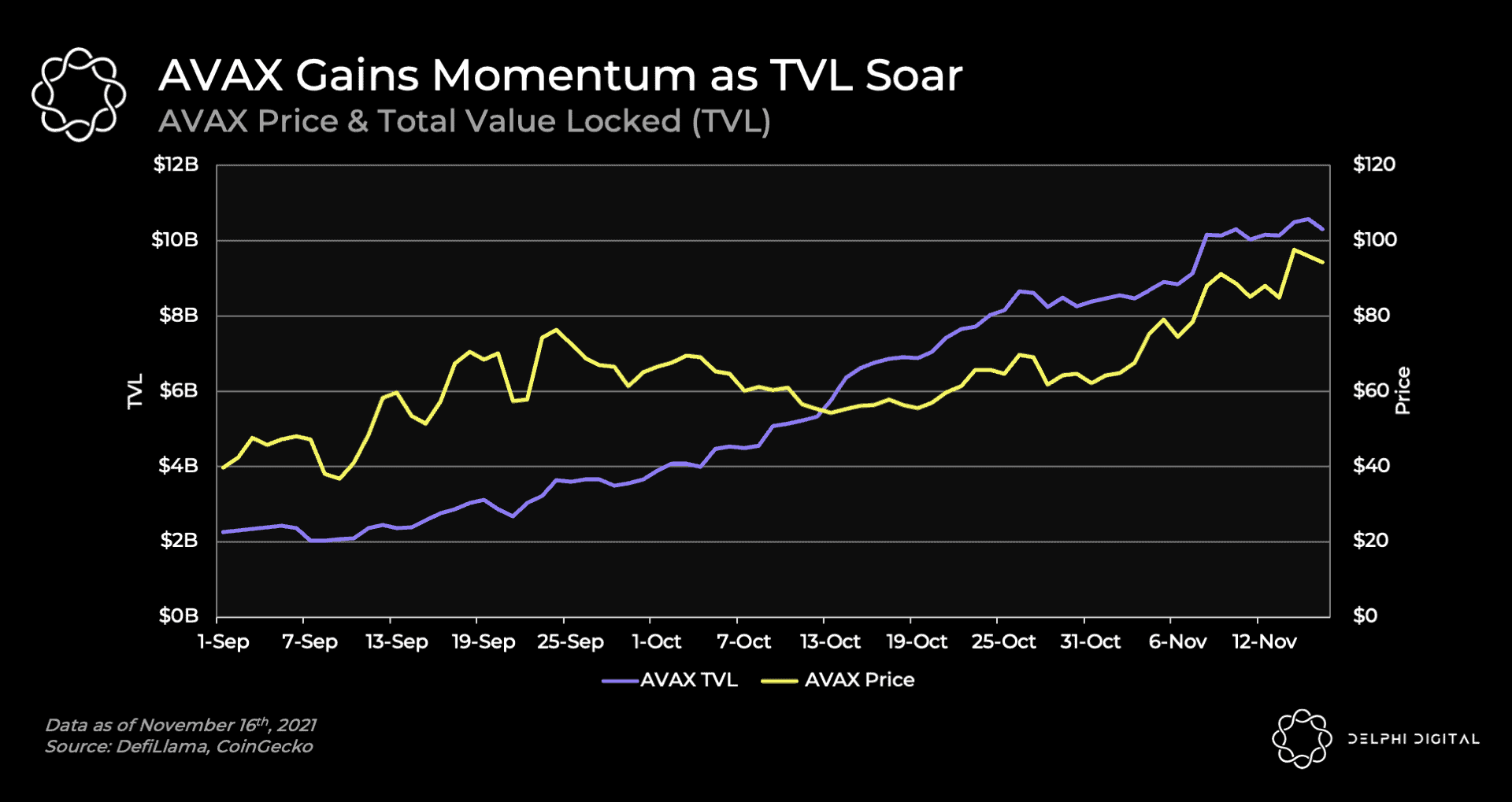 Multiple incentive programs on different L1s came to attract capital and usage on their chain. However, Avalanche stands out as they seem to be one of the few that's managed to maintain and continue attracting capital onto its chain.
Aside from its incentive program, Avalanche's unique consensus mechanism and active support from some of the biggest names in the industry has led Avalanche's DeFi TVL to cross $10B as its native token (AVAX) hit fresh all-time highs (~$101) just this week (AVAX is currently trading ~$96 at the time of writing).
MetaMask Swap Trending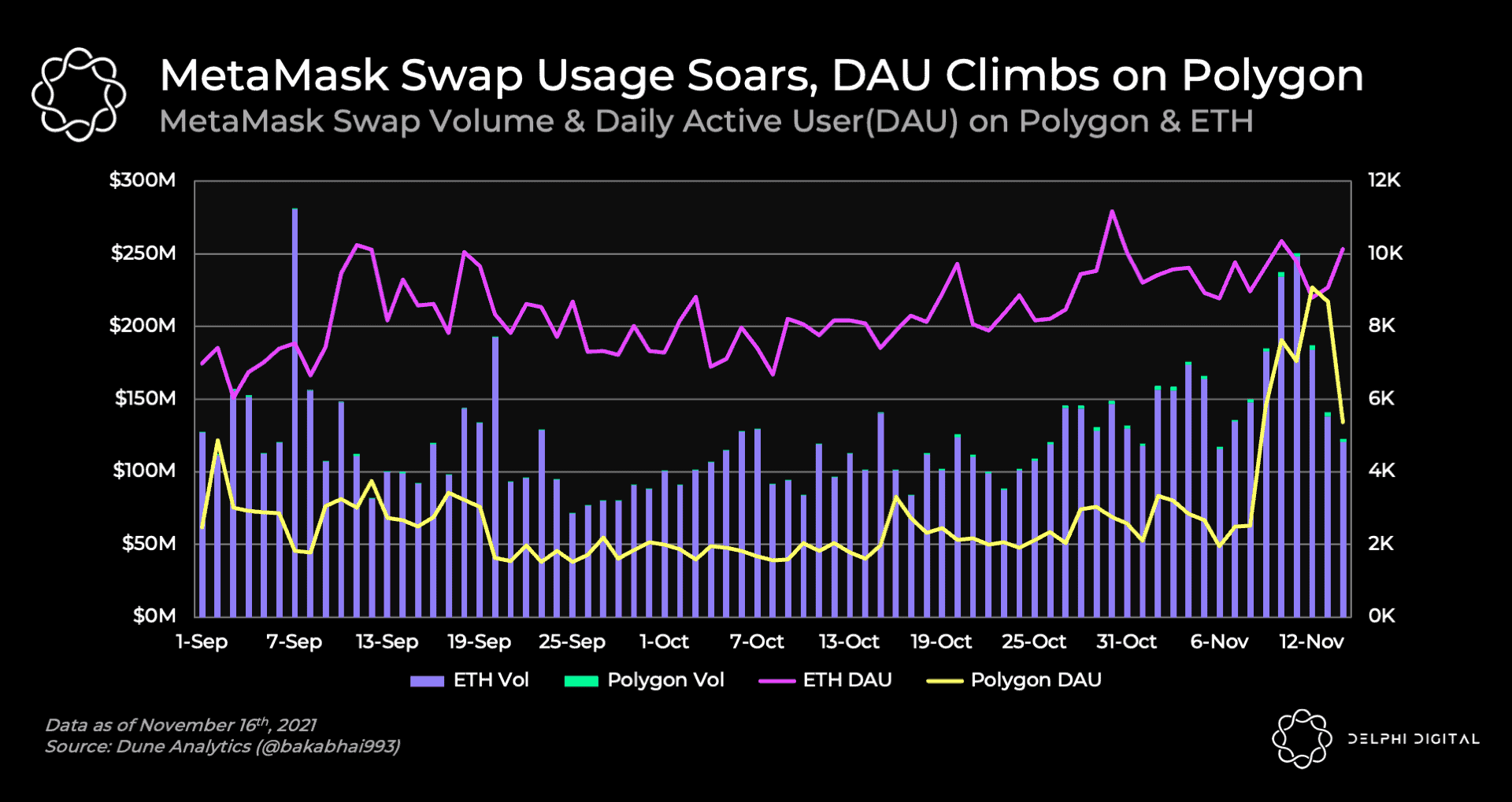 Metamask's Swap feature has seen a huge usage increase in recent days, with an obvious spike in DAUs on Polygon in the last week. This is likely attributable to the MetaMask's token rumor that has been going around on Crypto Twitter. The increase in Polygon's MetaMask Swap usage can be just users attempting to Sybil to game MetaMask's airdrop.
However, since the $RBN Sybil farming saga, many projects are rethinking token airdrops to make sure tokens are fairly distributed. For example, ParaSwap was the first to present its methodology by using a unique filtering process to prevent airdrop farming by users.
Notable Tweets
A Comprehensive Thread on How Crypto Will Eat Fiat
Crypto will eat fiat.

But it's not in the way you think.

Monetary policy sovereignty of every country on earth will be weakened by crypto in coming decades.

A rundown of how it may play out, in short term & long term

— Tascha (@RealNatashaChe) November 14, 2021
Polygon Miden Enters The ZK-Rollup Arena
1/7 We are proud to reveal the newest member of the Polygon family – Polygon Miden, an upcoming STARK-based, EVM-compatible Rollup!

The project is led by @bobbinth, former Facebook's lead ZK researcher who led the development of Winterfell.

A on why this is exciting…

— Polygon | $MATIC – We're hiring! (@0xPolygon) November 16, 2021
StarkWare Valued at $2B
EXCLUSIVE: Ethereum Layer 2 developer StarkWare raises $50 million, now valued at $2 billion (via @Yogita_Khatri5)

— The Block (@TheBlock__) November 16, 2021